It doesn't matter if you're a Windows or Mac user because data loss can occur on both operating systems. Just one wrong click can cost you an important document that you've been working on for the last month, your entire library of family photos, or perhaps just a funny video you downloaded from the internet five years ago and would hate to lose.
If any of those three scenarios sounds familiar, don't worry: you're not the first person in the world to lose important data. When most people lose important data, they either take their computer to their local data recovery place, or they simply move on because they believe that restoring deleted folders and files on Windows and Mac isn't possible.
---
Is It Possible to Recover Deleted Folder?
The simplest answer to this question is YES. However, there are several factors that come into play when it comes to data recovery, and you need to be aware of them to ensure that you get all your folders and files back.
First and foremost, it's important that you start restoring deleted folders and files as soon as possible. The longer you wait, the greater the chance that it won't be possible to recover them. Why? Because some application or even the operating system itself might overwrite them.

If you have a very large hard drive that's mostly empty, you probably have some time to spare, but it's impossible to tell how much exactly. To increase your chances of successful data recovery, it's best to avoid waiting longer than necessary, and you should also avoid using various hard drive repair tools, which are likely to do more harm than good.
Ideally, you want to immediately use the best data recovery tool that supports all the file formats you need to recover as well as the file system used by your operating system. One such tool is Disk Drill, and the next two sections describe how you can use it to recover deleted folder on Mac and Windows computers.
---
How to Recover Permanently Deleted Folders on Windows
Let's take a closer look at several methods that can help you recover permanently deleted folders on Windows. We recommend you try the methods in the order they're described below to achieve the best results possible. 
Use Data Recovery Software for Windows
Data recovery software for Windows can recover even permanently deleted folders from all kinds of storage devices, from internal hard drives to external USB flash drives and memory cards. 
When it comes to Windows 11/10/8/7 data recovery, Disk Drill is a simple choice because it lets you recover up to 500 MB of data for free and can recover hundreds of file formats from NTFS, FAT32, EXT, HFS+, and many other file systems.
To Recover Deleted Folder on Windows:
Step 1: Download Disk Drill for Windows.

Step 2: Open the downloaded file and follow the installation instructions.
Step 3: Launch Disk Drill for Windows and click the

Search for lost data

button next to the hard drive where your lost folder was located.
Step 4: Wait for Disk Drill to find all recoverable files.
Step 5: Select which files you want to recover and begin the recovery process.

That's how simple it is to learn how to recover deleted folder in Windows 10 using Disk Drill. To solve even the most difficult data loss scenarios, Disk Drill for Windows comes with a unique Deep Scan feature that performs a thorough search of your entire drive to find and reconstruct lost files.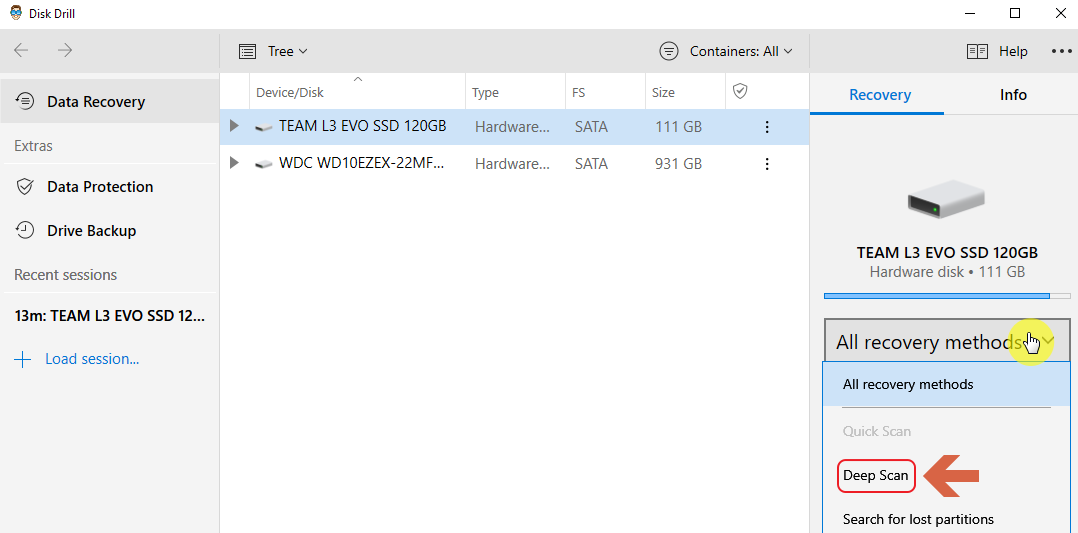 But regardless of how severe the situation is, all you need to do is click the Recover button and wait a short while for Disk Drill to recover deleted folders and the files inside them.
Use the File History Feature
Recent versions of Windows come with an incremental backup feature called File History. When enabled, this feature automatically backs up the Documents, Music, Pictures, Videos, and Desktop folders. Follow these steps to recover your lost folders using File History:
Type Control Panel in the search box on the taskbar.
Select Control Panel from the list of results.
Type File History in the search box in Control Panel.
Select Restore your files with File History.
Navigate to where your lost folder was located, select it, and restore it.
Recover Using the Backup and Restore Feature
Still shipped with new versions of Windows is Backup and Restore feature that was first introduced with the release of Windows 7. Using this feature, you can restore files from both local and network backups.
Type Control Panel in the search box on the taskbar.
Select Control Panel from the list of results.
Navigate to System and Maintenance (or System and Security on Windows 11) > Backup and Restore.
Choose Select another backup to restore files from if your backup isn't detected.
Follow the steps in the recovery wizard.
Try the Windows File Recovery Tool
Microsoft provides its own data recovery tool for Windows, called Windows File Recovery, and you can use it to recover the content of any permanently deleted folder.
Unlike Disk Drill, the data recovery tool we recommended earlier in this article, Windows File Recovery doesn't have a convenient graphical user interface, and it supports much fewer file formats. Still, the tool is completely free, so there's no reason not to try it.
To install Windows File Recovery, you need Windows 10 2004 and above. If you meet this requirement, then you can follow these steps:
Launch Microsoft Store.
Enter "Windows File Recovery" in the search bar and press Enter.
Install the tool.
Because Windows File Recovery doesn't have a graphical user interface, you need to run it from the Command Prompt or Windows Terminal. Here's its syntax:
winfr source-drive: destination-drive: [/mode] [/switches]
Two modes of operation are supported by Windows File Recovery (regular and extensive), and there's a number of switches that you can use to, for example, scan for a specific file by using a file name, file path, file type, or wildcards. For more information about them, read the official documentation.
Download the Folder from OneDrive
Was the permanently deleted folder stored in the OneDrive folder on your computer? Then you might be able to recover it from your OneDrive backup by following these steps:
Go to: https://onedrive.live.com/
Log in to your OneDrive account.
Look for the permanently deleted folder. Make sure to check the Recycle bin folder.
If you find the folder in the Recycle bin, restore it.
Alternatively, download the folder to your computer.
You can also check other devices that synchronize with your OneDrive account because the permanently deleted folder could be on one of them.
---
How to Recover Permanently Deleted Folders on Mac
Permanently deleting the wrong folder on a Mac computer doesn't necessarily have to be a disastrous event. There are multiple recovery options that you can explore to restore your deleted folders and all of their content. 
Use Data Recovery Software for Mac
In addition to Windows, Disk Drill is also available for Mac computers, and it's just as easy to use and polished as native Mac apps.
Steps to Recover Deleted Folder on Mac:
Step 1: Download Disk Drill for Mac.
Step 2: Open the downloaded file and follow the installation instructions.
Step 3: Launch Disk Drill for Mac and click the Search for lost data button.
Step 4: Wait for Disk Drill to find all recoverable files.
Step 5: Select the folder you want to recover and begin the recovery process.
Because it takes just a couple of steps to recover data with Disk Drill for Mac, even complete beginners can use it to get their folders and files back, avoiding spending a large amount of money on data recovery services or wasting hours of time learning how to use various other data recovery solutions that are available for download on the internet.
In addition to being able to recover deleted folders from Mac computers, Disk Drill for Mac can also recover data from any external storage device, including your iPhone/iPad/iPod, USB flash drives, digital cameras, memory cards, and more.
The Mac version of Disk Drill comes with several extra free disk tools to help you better manage your data and avoid future data loss.
The list of tools packed in Disk Drill includes a S.M.A.R.T. disk monitoring utility that can alert you to potential hardware issues, a duplicate finder that allows you to easily find and remove duplicates to save storage space and keep your files organized, a disk space analysis tool that makes finding space hogs effortless, or a reliable data protection solution called Recovery Vault, just to name a few.
All recent versions of macOS are supported by Disk Drill for Mac, and there are two legacy versions available for users who still use Mac OS X 10.6.8 – 10.11.x and Mac OS X 10.5 – 10.6.8.
Recover Lost Folders from a Time Machine Backup
All recent versions of macOS come with a backup utility called Time Machine. When enabled, Time Machine backs up your personal data to a dedicated backup storage device, and you can use it to easily restore it from there:
Click the Time Machine icon located in the Menu Bar.
Choose Enter Time Machine.
Navigate to the location where your folder was located.
Use the timeline on the right edge of the screen to find the most recent version of your folder.
Click Restore to restore the selected folder.
Download the Folder from iCloud
If you're an iCloud user, then you might be able to download an online backup of the deleted folder. To do that:
Go to: https://www.icloud.com/
Log in to your iCloud account.
Click iCloud Drive.
Look for the missing folder and open it.
Press the Command-A shortcut to select all items.
Click the Download button to download the content of the missing folder.
Unfortunately, iCloud doesn't make it possible to download an entire folder—only files. If the folder you want to download contains other folders, then you'll need to download their content separately. Don't blame us; blame Apple!
Pay Data Recovery Professionals to Recover Your Folder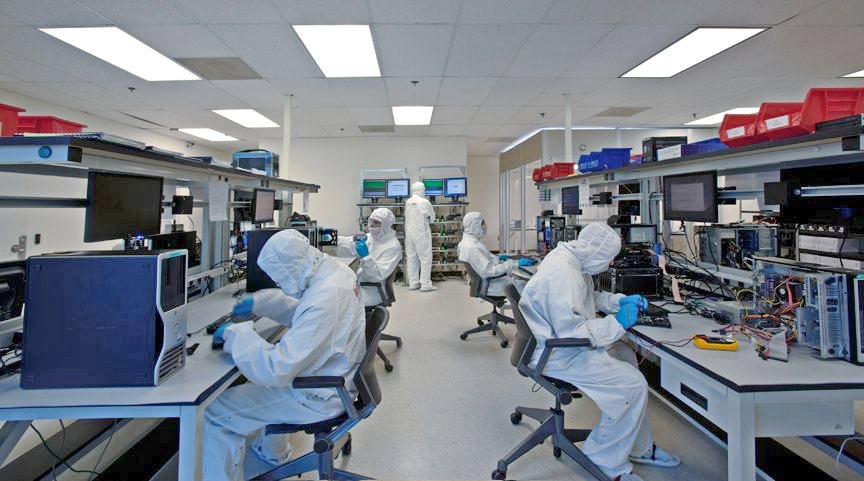 While the recovery techniques described in this article are all fairly straightforward and capable of delivering great results, the DIY approach isn't your only option.
If you're struggling to recover the permanently deleted folder or don't have enough time to try the above-described solutions, then you can pay data recovery professionals to get the folder back for you.
Professional data recovery is a great choice (and often the only one) in data loss situations that involve mechanical damage to your Mac. Data recovery professionals are equipped with sophisticated tools that allow them to extract data from badly damaged storage devices, including internal hard drives.
The best data recovery services won't charge you any money unless they can recover your data, and they will provide you with an accurate price quote beforehand to prevent unpleasant surprises.
---
How to Ensure You Never Lose Another Folder
As we've explained in this article, deleted folders can often be recovered, but that doesn't change anything about the fact that you should always strive to ensure that you don't lose important folders in the first place. The following methods can help you achieve this goal:
🛡 Turn on built-in backup features: Both Windows and macOS come with useful built-in backup features that you can activate to automatically back up important folders. The main backup feature in Windows is called File History, while macOS has its Time Machine backup tool.
☁️ Save folders to the cloud: Dropbox, Microsoft OneDrive, Google Drive, and Apple iCloud are just some of the many cloud backup services that you can use to store important files on resilient servers managed by experienced IT professionals. 
🧘 Be mindful when using your computer: Making mistakes is human, but many mistakes that lead to the loss of important folders can be avoided by being more careful. More specifically, you should never perform any actions on your computer unless you know exactly what they will lead to.
🎮 Separate work from play: If at all possible, then you should separate work from play by using two different computers or at least two sets of storage devices. Running two operating systems on a single computer is also an option, but it requires more technical skills.
🦠 Use up-to-date antivirus software: Malware is a common cause of folder loss, and keeping your antivirus up to date is the least you can do to protect yourself against infection.
---
FAQ
---
Conclusion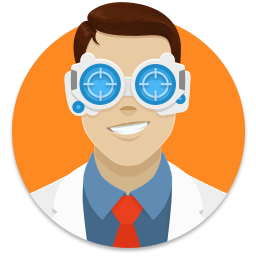 Losing an important folder or file can feel downright devastating, especially if you're not familiar with easy-to-use data recovery solutions like Disk Drill. Regardless of whether you use Windows or Mac, you can always rely on Disk Drill to recover your data without any expert knowledge.
Why waste money on expensive data recovery services that don't even give you any guarantee of success when you can take matters into your own hands and recover deleted folders and files in just a few minutes?
✔ In addition to data recovery, you can use the extra free disk tools that come with Disk Drill to keep your data organized and protected against data loss.