Free iCare Data Recovery Alternative
Do you have a Data backup plan? What would you do if your business or company experienced a data loss catastrophe ? Would your company survive? Well, the statistics are astonishing, most companies never re-open again after experiencing a big data loss disaster. A well-organized data recovery plan can improve employees confidence and enable them to work freely with no scheduled downtime. Disk Drill offers an affordable data recovery solution that can greatly benefit your business or company in terms of data loss management and strategic data recovery plans.
Below are some tips you should consider when creating a data recovery process
1. Understand all the risks
Data loss scenarios can range from drive failures, accidental deletion and system crash. If you don't have a good data recovery strategy in place, you are putting your business at a great risk.
IT system failures are considered as one of the greatest threats to businesses, with hardware, software, and electrical failures also posing some considerable risks. Natural disaster and fire threats are less likely to happen, but can cause the most devastating data loss scenarios.

Data recovery for free
Your Companion for Deleted Files Recovery
iCare data recovery Pro or Disk Drill Pro can help you recover your most crucial business files in case of an accidental deletion, drive formatting or file damage. Disk Drill has a Recovery Vault that can be activated upon installation. Recovery Vault keeps records of all your deleted files, even after you've emptied your recycle bin. It's an awesome feature that lets you recover lost files and document with just a one click action from the Disk Drill menu.
2. Know your Data Recovery Needs
A good data recovery process is very crucial for your company or business survival. Your files and documents separate your company from any other in your country. If data loss scenarios were to occur at any level of your business infrastructure, the impact would be felt across the entire business firm. In case of a data loss scenario, you must know how you would survive the disaster and what you can do to restore back business operations on your firm. Disk Drill is an alternative software to iCare data recovery standard and can be used to recover lost files.
3. Determine how critical your business
or company data is
The most important aspect of having a data recovery software is the complexity and importance of your company or business data. When you assess all your business risks, you will be able to develop or come up with a data recovery plan that will ensure that all your business infrastructure departments files can be recovered in case of a big data loss disaster.
If you are looking for a data loss management software, Disk Drill offers an affordable data recovery plan that is worth all your risks. Disk Drill free version can be downloaded for free and used with some few limitations. However, if you want to safeguard your business files and documents with the Recovery Vault, you will have to upgrade to the Pro version that allows one to enjoy unlimited features. If you are looking for an alternative data recovery app, you can also try the Free iCare data recovery software that is available for Windows and Mac platforms. iCare data recovery pro, Disk Drill Pro and Free versions are available across the two popular platforms ( Windows and Mac) and can be used to recover deleted files, damaged documents and retrieve data from a lost drive partition.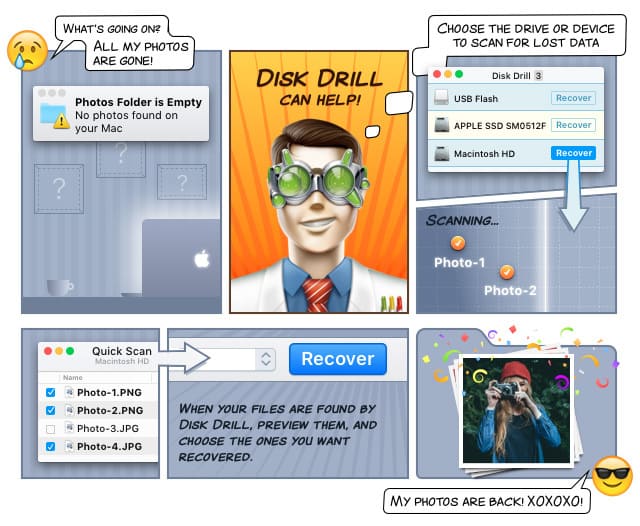 Advantages of Using Disk Drill Data Recovery Software
The program finds and restores your deleted files with ease.
Disk Drill free version allow one to preview recoverable files.
Supports both basic and dynamic drives.
Supports external and internal hard disks, SD card, USB/flash disks and any other drive supported by Windows (up-to 3TB in size)
The program comes with an easy-to-understand tutorial that guides you on how to recover lost files
When downloading iCare data recovery or Disk Drill for Mac and Windows as an alternative, please refrain from using cracked versions. Disk Drill is free to try on both Windows and Mac PCs, and you can easily download it to your computer. Pirated software may contain harmful Trojans and viruses that might cause irreversible damages to your computer. Downloading genuine Disk Drill versions will enable you to perform data recovery process on your PC and also access free Customer Support when needed.