The Android operating system has taken advantage of the proliferation of mobile devices to become the most popular OS in the world. With all those devices out there, it is a certainty that some users will experience data loss at some point in time. This could happen for a variety of reasons that we will discuss later in this article.

For now, let's assume that you have experienced some data loss and are in need of an Android data recovery tool for the macOS.
This is very important!
In all Android data recovery cases, you need to stop using your device as soon as you realize that data loss has occurred. This gives you the best chance of recovering that data. You will also have to root your device to use these data recovery applications.
Best Android Data Recovery Software for Mac OS X
So the first thing to do is not to panic, stop using your device, and read on. Here are the 5 best Android data recovery software applications for Mac OS X.
---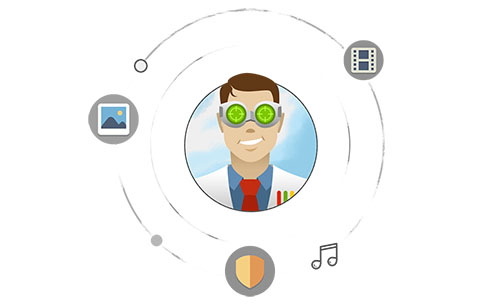 Disk Drill is an Android data recovery application for Mac OS X that can be used with all popular Android devices. If your device can be rooted and supports USB mass storage mode, Disk Drill can be used to recover your lost data. This tool can recover any type of files including photos, videos, text messages, and music to name a few.
By treating your Android device as a regular disk, all of the search algorithms built into Disk Drill can be employed in your data recovery efforts.
Features
Advanced Recovery for All Devices One tool for all devices – recover data from Android and iOS mobile devices, Windows and Mac computers, external drives, SSDs, USB thumb drives, and more.
Clean GUI Easily navigate through Disk Drill and recover files like a pro. The user interface is friendly to absolute beginners.
Bootable Recovery Recover files from a computer that won't boot by installing Disk Drill on a USB thumb drive (or any external storage media).
S.M.A.R.T. Reporting S.M.A.R.T. (Self-Monitoring Analysis Reporting Technology) is how a hard drive logs any issues that may lead to potential failure. Disk Drill Free Unlimited Preview – Preview as many document, powerpoint, spreadsheet, photo, and video files as you want, even with the free version.
Advanced Mobile Recovery Recover files from your Android and iOS mobile devices onto your computer.
Data Management Tools Disk Drill offers more than just data recovery. It also offers backup and data shredder utilities, as well as a duplicate finder.
👍 Pros
Beautiful and super user-friendly GUI
Multiple scan types
Portable
Free version lets you preview as many files as you want
Lifetime license model – you only need to pay once and you can use the product forever
One tool for all devices – even if you need to recover Android only once, you can use Disk
Drill for data recovery for Mac, PC, external hard drives, USB thumb drives, etc.
💲 Price
Pro (1 user, 3 simultaneous activations)  – $89.00
Lifetime Upgrades for Pro – $29.00
Enterprise (10 users, unlimited activations) – $499.00
Lifetime Upgrades for Enterprise – $99.00
A basic version is available as a free download and it will show you what data you can recover using Disk Drill Pro. This tool is definitely worth a look if you need to recover data from an Android device.

Data recovery for free
Your Companion for Deleted Files Recovery
How To Recover Deleted Files from an Android device:
Plug in your Android device.
Launch Disk Drill by opening Finder > Applications and double-clicking the Disk Drill icon.

You may be prompted to allow USB debugging on your Android device. Tick the box that says "Always allow from this computer", then click "OK."

On the left sidebar, click "Android Devices." Expand the list by clicking on the dropdown arrow to the left of your device's name, then select the disk you want to recover files from. For the best results, leave the scanning options to "All recovery methods", then click "Search for lost data."

You can wait for Disk Drill to complete the scanning process, or you can browse the data it has already found by clicking "Review found items." The found items list will continue to populate anyway.

Browse the results for the files you're looking for. You can narrow your search by using the search bar on the top right corner, or by using the filters on the left sidebar.

Once you locate your missing files, you can preview them by hovering your mouse pointer beside the file and clicking the eye button that appears. To proceed with recovery, select your missing files by ticking the boxes on the left and clicking "Recover."

On the pop-up that appears, use the dropdown menu to choose where you want to save the files.

---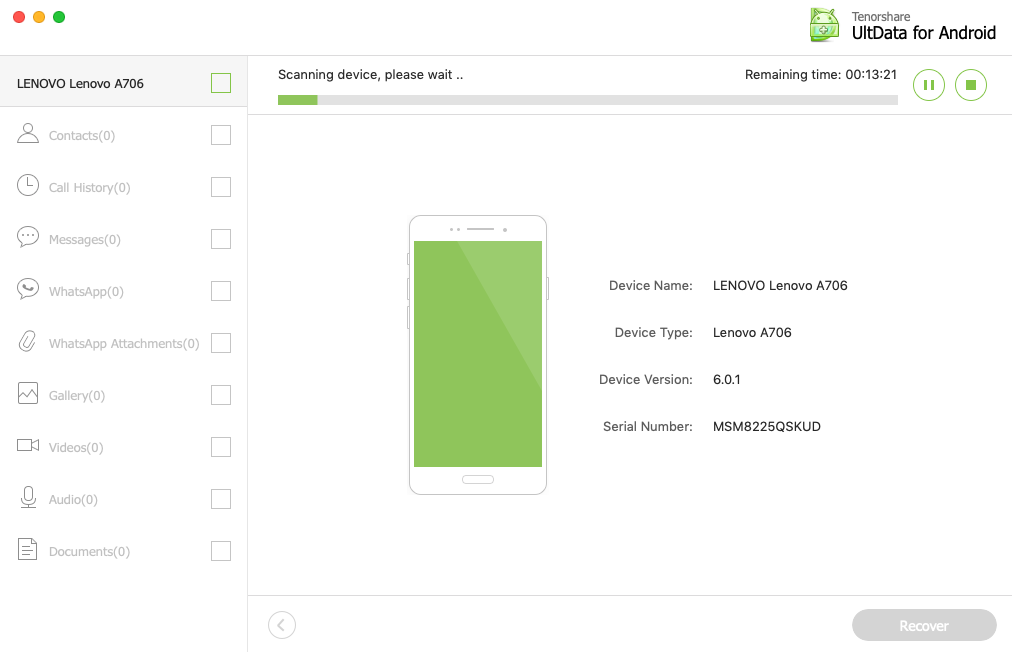 Here is another Android data recovery app that can run on Mac OS X. The application can recover 8 different file types from your Android, including photos, videos, and contacts. Most Android phones and devices are supported by this software tool and it works with any version of the Android operating system.
The software features a user-friendly interface where you can preview the files that can be recovered. Simply connect your device to your Mac, let the software scan and search, and then recover the files you want. You can download a free trial of this software to test it before you purchase it.
Features
Advanced Android Recovery Restore deleted photos on mobile, WhatsApp data such as messages, photos, videos, and documents, WeChat data such as messages, contacts, photos, and more, etc.
Photo Enhancement Automatically increase the resolution on recovered image files so they look better.
Google Drive Recovery Recover WhatsApp contacts, messages, calendar entries, call history, and more directly from Google drive.
File Preview Preview files before attempting recovery.
👍 Pros
Supports over 6,000 Android phones, including Xiaomi, Huawei, OPPO, and more
Specific tools for recovering WhatsApp and WeChat data, which can be annoying to recover
Preview files for free
Can work without root
Lifetime license tier – the lifetime license is the most expensive tier, but at least you can pay once and use it forever
Photo enhancement feature is a unique and useful offering
👎 Cons
Lifetime license is expensive considering it only offers recovery for Android phones
Ugly GUI
💲 Price
Individual (1 Mac, 5 Devices)
$55.95 per month
$59.95 per year
$69.95 (Lifetime License)
Business (1 Mac, 10 Devices) – $72.95 per year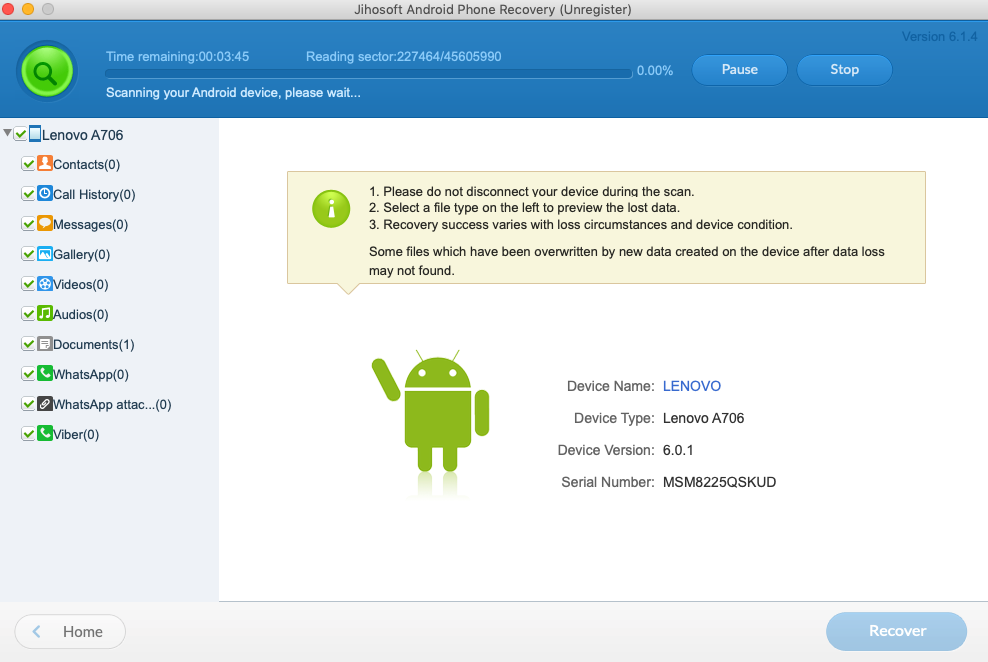 This data recovery app will recover your Android files to your Mac OS X system. It supports any device running version 2.1 through 7.0 of the Android OS. You can recover media files like photos and music as well as mobile databases like call logs and messages. They can be exported to your Mac in TXT, CSV, or HTML formats.
You can download a free trial version of the software to preview what can be recovered from your device. This tool allows you to recover from both the internal and external memory of your Android device.
Features
Advanced Android Recovery Recover messages, call history, documents, and photo, video, and audio files on Android phones.
WhatsApp Recovery Recover WhatsApp chat history.
Viber Recovery Recover Viber chat history, call logs, photos, and videos.
👍 Pros
Recover WhatsApp and Viber chat history without any backups
Recover deleted SMS messages as well deleted WhatsApp and Viber chat messages
Works with over 6,000 Android devices, including Huawei, Honor, Asus, and more
Can recover some files without root
👎 Cons
The software only recovers WhatsApp chat messages. Recovering WhatsApp media files (photos, videos, and audio) requires a separate download called Jihosoft WhatsMate, which requires another license
💲 Price
Personal (1 Device, 1 PC) – $49.95 Lifetime License
Family Edition (5 devices, 5 PCs) – $99.90 Lifetime License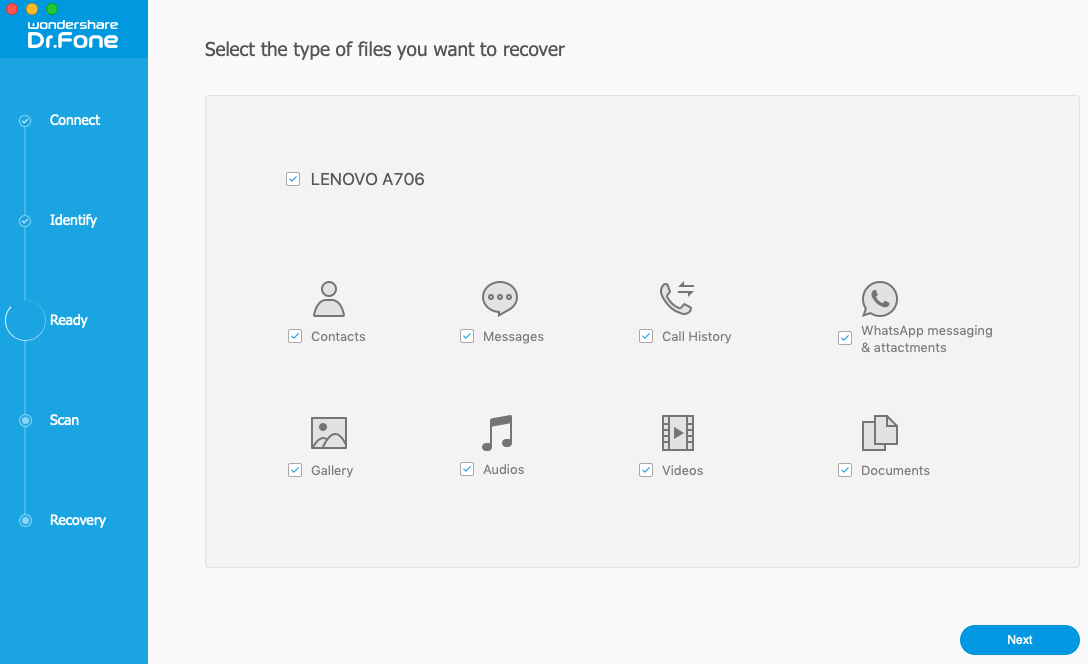 Wondershare's Android data recovery application is called dr.fone and it runs on Mac OS X. It can recover files from both internal and external memory and offers a preview to determine which files you actually want to recover. This app can recover 8 file types including photos, videos, and messages.
You need to have an Android device running operating system version 5.0 or later to use this data recovery program. The tool promises flexible and safe recovery with no danger of overwriting your files with a simple connect, scan, and recovery procedure. A free trial version is available to download.
Features
Advanced Android Recovery Recover contacts, messages, call history, documents, photos, videos, audio files. (Full Toolkit Only for Android devices)
1-Click Phone Transfer Transfer messages, contacts, contact blacklist, photos, videos, voice memos, calendars, and more between Android devices, iOS devices, and Android and iOS devices. (Full Toolkit Only)
Backup and Restore for WhatsApp Backup and restore WhatsApp and WhatsApp Business files. (Full Toolkit Only)
WhatsApp Transfer Transfer WhatsApp chats and WhatsApp Business chats between iOS and Android devices. (Full Toolkit Only)
👍 Pros
Sleek GUI – Wondershare apps typically have really good-looking GUIs that are easy to use even for beginners
Works with over 6,000 Android devices
👎 Cons
The full toolkit is expensive. Dr.Fone actually offers an iOS data recovery standalone tool for $59.95, but as of now Android data recovery is only available as part of the Full
Toolkit, which is $149.95
Most unique features are also only available with the Full Toolkit
💲 Price
Dr.Fone Full Toolkit – $149.95 per year for up to 5 devices + $4.95 for 24 months warranty (keeps the products in your shopping cart in case you need to reinstall the app)

The last tool on our list is Android data recovery from AndroidSoft. It runs on the most current version of Mac OS X. It features standard and advanced scanning modes to fully recover data from internal and external memory. You can select the file type to scan which may reduce scanning time, especially when in advanced mode.
Photos, video, and text messages are among the 8 file type that this app can recover from your Android device, and they can be exported to your Mac in a variety of formats. You can download a free trial version which will let you verify if you have files that can be recovered.
Features
Advanced Android Recovery Recover messages, call history, contacts, photos, videos, and more from SIM cards, internal memory, and SD cards.
Advanced Scanning Standard and Advanced scanning mode for quicker or deeper recovery, depending on what the situation demands.
WhatsApp Recovery Restore WhatsApp contacts and history.
Data Export Export messages and contacts as VCF, CSV, and HTML formats.
File Preview Preview found files before recovery.
👍 Pros
Supports over 2,000 Android devices
Lifetime License pricing model
One standard price
The most affordable tool on this list considering the free upgrades
👎 Cons
Supports less Android devices than the other tools on this list, but considering the free upgrades this number might change
💲 Price
Data Rescuer – $59.95 (Lifetime License with free upgrades)
Why Would You Need Android Data Recovery Software?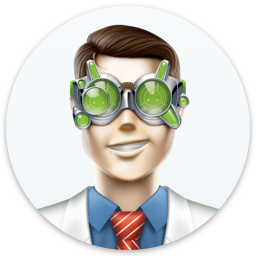 There are a variety of reasons you might need to use one of the software applications listed above. Of course, you may have just inadvertently deleted the wrong file, in which case it is strictly human error that is to blame for your data loss. Some other reasons are:
Restoring your device to its factory settings
Data loss due to a virus attack
Corrupted SD card
Failed or incomplete system upgrade
In order to recover files with these data recovery applications, you will need to root your device.
Overview of Android Data Storage
Android devices store their data on the device's hard drive (internal memory) or on a removable Micro SD card or other external storage devices (external memory). Like most other modern operating systems, when a file is deleted on an Android device, it is not immediately removed from the machine. The operating system marks the area where the file resided as reusable, and when your system needs more space, it can overwrite your previous file.

For this reason, it is critical that you stop using your device as soon as you suspect that you have experienced data loss. Continuing to use your phone or tablet will increase the chances that the files you would like to recover have been overwritten and can no longer be saved.
Android Versus iOS Data Recovery
iOS data recovery is very similar to data recovery performed on Android devices, and many of the software tools we have discussed have versions that will work with your iOS devices.

Though storage is handled differently internally for an Android or iOS device, ❗you should stop using your device as soon as you suspect data loss has occurred. Failure to do so risks overwriting the remnants of your files before a data recovery app can retrieve them.
Perform Regular Backups
Though a backup will not always help if the data you have lost was recently created, following good backup practices is something all mobile device owners need to do if they value their data.
Your photos, videos, music, and other files should all be backed up regularly. No data recovery tool will help you if your device is lost or stolen while storing your valuable data.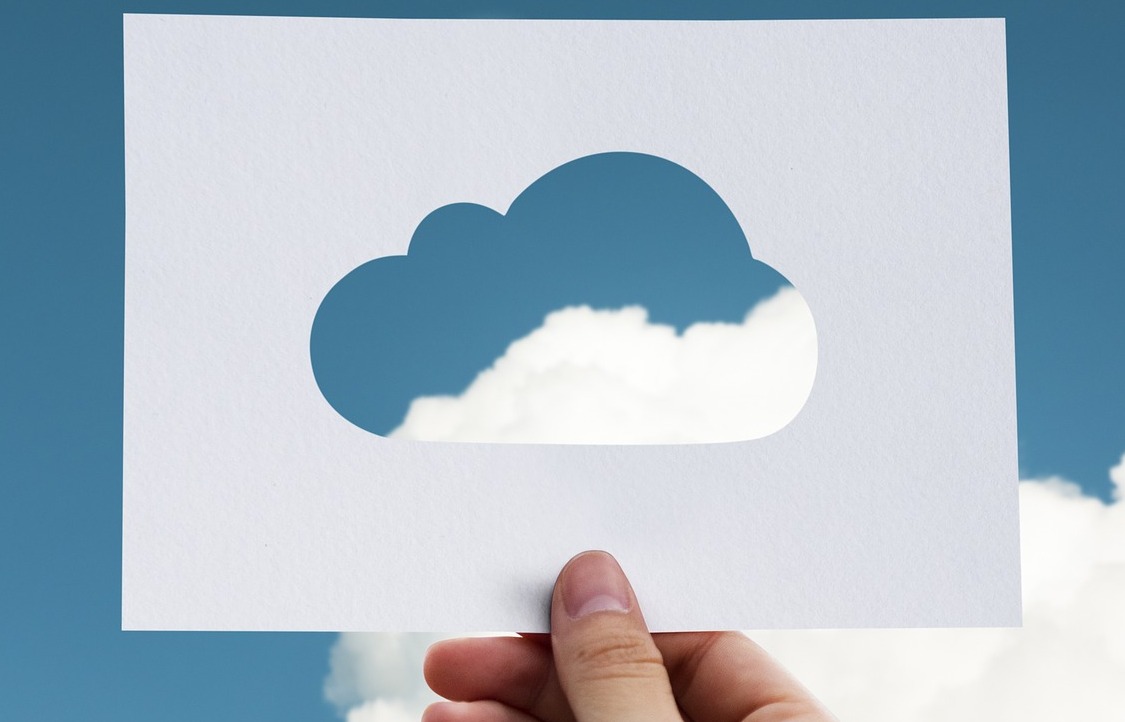 You can use backup applications that run on your computer or backup your Android device to the cloud. Both are worthy choices, though a cloud backup will allow you to backup new files immediately if you wish.
---
Conclusion
If you value the data on your Android device, you should have one of these programs on your Mac for the unfortunate eventuality that you lose some data. We hope that you are successful with your Android data recovery and get back all of the files that were inadvertently deleted. Using the tools described above will give you a good chance at a favorable outcome.
FAQ