WhatsApp
is one of the most popular instant messaging services out there, offering a host of exciting features while being available across platforms and operating systems. This article is intended for those who are thinking about using the WhatsApp Mac app to communicate with other people and would like to learn more about what WhatsApp does and how to use it. But the article can also benefit existing WhatsApp users who would simply like to learn more about the service.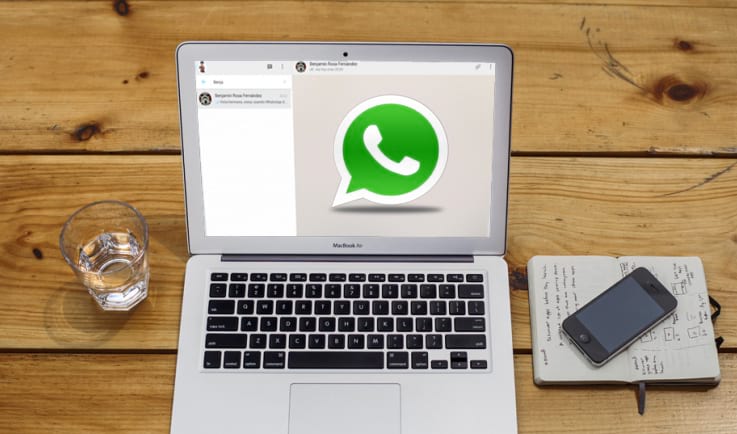 How to Download WhatsApp for Mac
You have two options how to download WhatsApp for Mac. Option 1:
Go to: https://www.whatsapp.com.
Click the Download button at the top of the page.
Download WhatsApp for Mac.
Option 2:
Go to the Mac App Store.
Search for "WhatsApp Desktop Mac".
Download WhatsApp for Mac.
It doesn't really matter which of these two options how to download WhatsApp for Mac you choose, so pick the one that seems easier to you.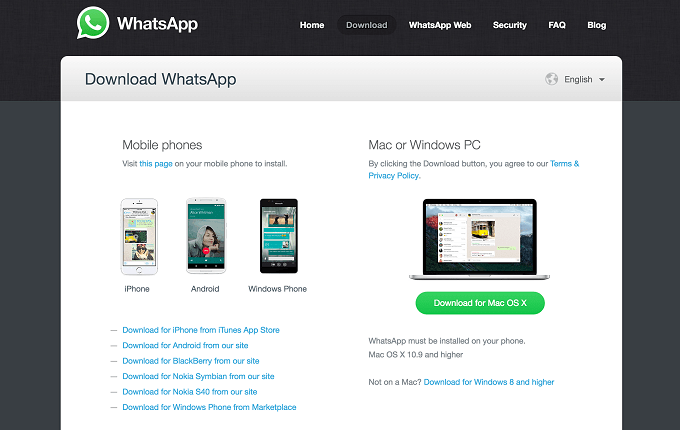 How to Uninstall WhatsApp Desktop Mac
Should you ever decide to manually remove WhatsApp Desktop Mac, this is how to do it:
Start Activity Monitor and look for a processed called "WhatsApp". If you see one, end it.
Open the Applications folder and look for an application called "WhatsApp".
Drag it to Trash to delete it.
Open Finder and search for WhatsApp-related files and folders. If you see any, delete them.
How to Use WhatsApp on Mac
Before you can use WhatsApp Desktop on your Mac computer, you need to grab your smartphone and scan a QR code to synchronize your WhatsApp contacts and conversations directly to your desktop. Whenever you receive a WhatsApp message, you'll be able to see it and respond to it both on your smartphone and on your Mac computer. The WhatsApp Desktop app is divided into two main sections, with your contacts displayed on the left and a chat window displayed on the right. Below the chat window is a text box where you can type a message. To the left of the text box is a button with a smiley face. Press this button to select emojis. To the right of the text box is a button with a microphone icon. Press this button to send a voice message.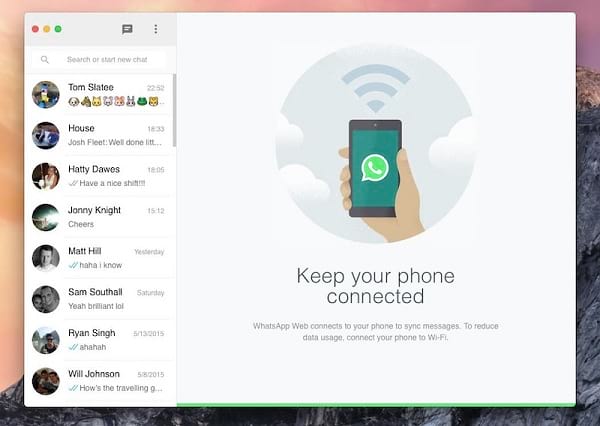 WhatsApp notifications appear in the Notification Center, but the app gives you the option to mute them if you would prefer to receive them only on your smartphone or not at all. To enjoy all the features offered by WhatsApp, you, of course, need an internet-connected computer with a microphone and webcam. Most modern webcams have an integrated microphone, but some older models don't have any.
Why Use WhatsApp on Mac
According to
statistics
, WhatsApp has over 1.5 billion monthly active users, with new users discovering and falling in love with it every day. There must be a good reason for such mind-blowing popularity considering how fierce WhatsApp's competitors are. For starters, WhatsApp is free and readily available across multiple platforms and operating systems, including Android, iOS, Windows Phone, BlackBerry OS, Symbian (there are Windows, macOS, and web app clients.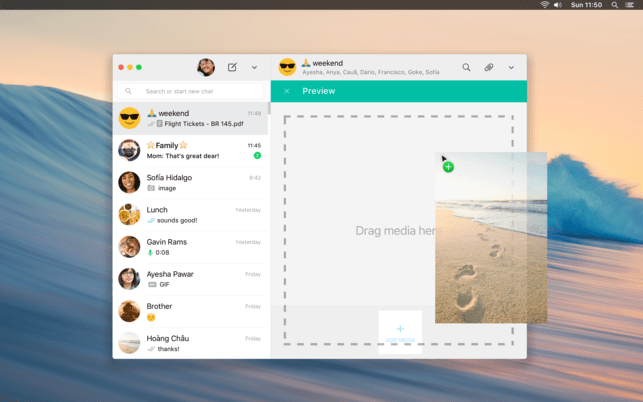 Apart from sending text messages, WhatsApp users can also make voice and video calls, share images, videos, and other media. Because WhatsApp sends messages over the Internet, the users can avoid SMS fees and talk to their friends and family for free. WhatsApp supports group conversations, allowing up to 256 people to share messages, photos, and videos at once. All WhatsApp conversations are seamlessly kept in sync across devices, making it easy to start a chat on a computer and finish it on a smartphone a hundred miles away. Even though WhatsApp is owned by Facebook, being acquired by the company in February 2014 for approximately $19.3 billion, it cares a lot more about security and user privacy than its parent company does. It uses end-to-end encryption by default, ensuring that no third party can see your messages and hear your calls — not even WhatsApp or Facebook.
History of WhatsApp for Mac
Brian Acton and Jan Koum, former employees of Yahoo!, founded WhatsApp in 2009 after being rejected by Facebook when applying for jobs at the company. WhatsApp's initial goal was to allow its users to display statuses next to their names so that others could see what they're up to. The developers expanded on this concept when Apple added the support for push notifications to iOS in June 2009, eventually releasing WhatsApp 2.0 with an instant messaging component. The addition of instant messaging caused the number of WhatsApp users to jump to 250,000 in short time, helping the developers secure $250,000 in seed funding from Yahoo!. With the funding, the developers were able to keep improving WhatsApp by adding new features and optimizing it to perform smoothly. It didn't take a long time before WhatsApp became one of the top 20 apps in the App Store. By 2014, it had around 500 million global active users. In February the same year, Facebook acquired WhatsApp for $19.3 billion, which was Facebook's largest acquisition to date. Due to Facebook's dubious reputation, a considerable number of users decided to leave WhatsApp after the acquisition, many migrating to Telegram. The massive migration prompted WhatsApp developers to start making links to another messenger called Telegram unclickable and uncopiable. In 2016, WhatsApp removed its $1 annual subscription fee, which was in place since 2009 to prevent the service from growing too fast. The removal of the subscription fee made WhatsApp more attractive to users without a credit card, helping to grow despite its competitors getting better and better. Without the subscription fee, WhatsApp is now testing tools that allow its users to use WhatsApp to communicate with businesses and organizations, which can be seen as an alternative to traditional display ads. Because WhatsApp is owned by Facebook, it's also very likely that it generates a wealth of data for sale to third parties.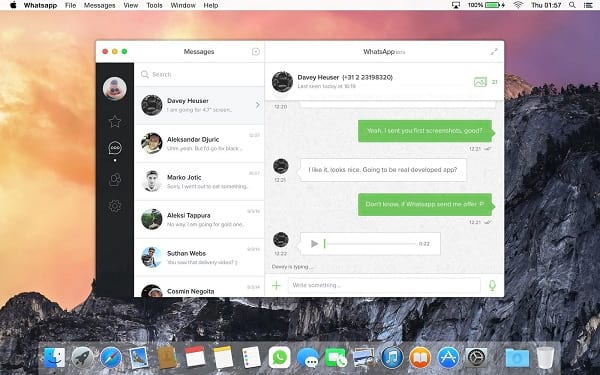 WhatsApp Versus Alternative Clients
Even though WhatsApp developers are working tirelessly to make WhatsApp for Mac better with each release, there's no denying that alternative WhatsApp clients for Mac are sometimes more compelling than the official client. We've selected three most popular alternative WhatsApp clients, so you can judge for yourself whether they are better than the official client.
Franz is a multi-service messaging app that combines Slack, WhatsApp, WeChat, HipChat, Facebook Messenger, Telegram, Google Hangouts, GroupMe, Skype and several other services into a single, sleek application. Each service can be added multiple times, making Franz perfect for businesses, marketers, and social media personalities. If you're tired of having to sign in to multiple messaging services every time you set up a new computer or work from a new location, Franz can eliminate your digital woes by allowing you to simply sign in to your Franz account and start communicating. Because Franz is built on an extensive plugin architecture, developers can easily add their own functionality and integrations.
Rambox is a free and open source messaging and emailing app that supports nearly 100 different services, including WhatsApp, Skype, Slack, Gmail, Facebook Messenger, Telegram, and many others. Apart from macOS, it's also available on Windows and Linux. Rambox can display notifications natively if the messaging service supports it, require a master password to be opened, run in the system tray to stay out of the way, or use a Proxy if your network blocks some services, just to name some of its features.
ChitChat (formerly WhatsMac)
ChitChat (formerly known as WhatsMac) is a native Mac app wrapper for WhatsApp Web. In other words, it brings the web client of WhatsApp to macOS and integrates it with the operating system to allow its users to receive notification center notifications for new messages and use keyboard shortcuts to accomplish various actions. Unlike the WhatsApp Desktop Mac app, which is still under heavy development, WhatsApp Web is actually quite mature and without any obvious bugs.
How to Recover Deleted WhatsApp Messages
If you've ever lost an important attachment someone send you on WhatsApp, you know how frustrating and potentially costly it can be. Fortunately, there are data recovery applications such as Disk Drill that can help you recover any lost data (including WhatsApp chats on
iPhone
&
Android
) with a simple click of a button. While designed with the regular home user in mind, Disk Drill can safely satisfy the needs of professionals thanks to its ability to recover over 200 file formats from all common storage devices. In many cases, Disk Drill can read lost data even from failing, unreadable, or otherwise damaged partitions, allowing it to save the day where many other data recover software solutions would fail.

Data recovery for free
Your Companion for Deleted Files Recovery