What is WebM File Format?
WebM is a video file format developed to be used for delivering online videos using the HTML5 video tag, as a royalty free alternative to the proprietary h.264 and MPEG4 technologies. The software supporting WebM files is distributed under BSD license. The file format is intended for usage in commercial and noncommercial applications.
Characteristics and Uses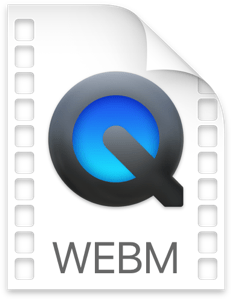 Its technology is based on the Matroska container. It stores video using VP8 technology and audio using Ogg Vorbis compression. Google acquired On2, the developer of the Ogg Vorbis standard, and made it available for free.
In 2013, WebM was updated to support VP9 video and Opus audio. It is expected that all major browsers will support it. Both VP8 and VP9 match to a FourCC of VP8X and VP9X.
Android supports it since version 2.3 – Gingerbread. Safari for Mac OS uses QuickTime for online videos, which only supports WebM via a third-party plug-in. iOS only supports this file format through third party apps.
YouTube uses WebM videos in its HTML5 player. All uploaded files are encoded into WebM. Wikipedia also offers WebM videos for the HTML5 player, and Skype has implemented the VP8 codec.
The WebM project offers several commercial and free tools for creating and publishing data in the WebM format. Amongst them, there is an available plug-in for Adobe Premier Pro, and also some DirectShow filters. An important tool offered is the libvpx SDK, which allows the user to build native VP8/VP9 functionality in an application.
Brief History
WebM is a video file format initially developed by On2, Xiph and Matroska. Currently it is supported by Google through the WebM Project. It was first released on May 8, 2010.
The Free Software Foundation has endorsed WebM and VP8, and considers the software's license as being compatible with the GNU General Public License.
Nokia filed an objection for the use of the VP8 codec in WebM in March 2013. However, the same year in August, a court in Germany ruled against Nokia.
File Signature
ISO 8859-1: .Eߣ
Hexadecimal: 1A 45 DF A3
Programs That Open WebM Files
Windows:
File Viewer Plus
VideoLAN VLC Media Player
Miro Video Converter
Microsoft Windows Media Player with DirectShow Filter
Microsoft Edge
Microsoft Internet Explorer with VP8 plug-in
Google Chrome
Opera
Mac:
VideoLAN VLC Media Player
Miro Video Converter
ShedWorx Smart Converter
Mozilla Firefox
Google Chrome
Opera
Eltima Elmedia Player
Linux:
VideoLAN VLC Media Player
FFmpeg
Mozilla Firefox
Opera
iOS:
olimsoft OPlayer
PentaLoop PlayerXtreme Media Player
Android:
How to Recover Deleted WebM Files
In our present digital world is easy to mistakenly delete some files. Luckily, you can count on Disk Drill to recover your WebM files. This application is available for free!

Data recovery for free
Your Companion for Deleted Files Recovery
The procedure to recover WebM files is simple. Just follow these steps:
Download Disk Drill from one of the links above.
Install Disk Drill by clicking on the installer's icon. Then, follow the given steps. Disk Drill will guide you through the process.
Open Disk Drill by clicking on the app's icon. The program will detect all connected devices. Disk Drill supports a variety of digital drives, such as internal and external hard drives, USB flash drives, memory cards, iPods and many more. Select the drive that contains your deleted files.
Ask Disk Drill to perform a WebM file recovery. The program will use some powerful algorithms to scan the drive, and will present the results in the form of a list.
You can cancel the scan, or pause it and continue later on. You can also save the session details, and continue at another time, without losing any data already found. This is particularly useful when working with large size drives.
You can narrow the result list by filtering it according to size or date.
Select the files that you want and retrieve them to a folder of your choice.
Your WebM recovery is done!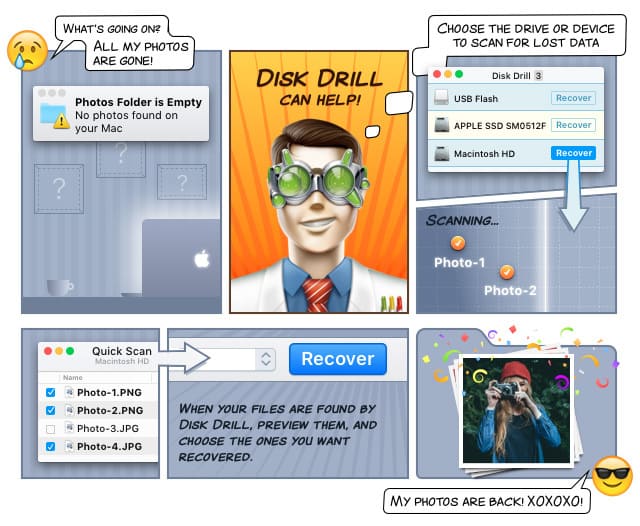 How to Use Image File to Recover WebM Files
Image files are a very useful tool for WebM file recovery, because they are a bit-by-bit copy of the original drive. Hence, they contain your deletions. Their use is a standard practice in Digital Forensics.
Disk Drill gives you the capability to create image copies, and use them to recover WebM files. In this manner, you can perform a WebM recovery with reduced risk, as the original source remains unmodified.
You should also consider using Disk Drill to create image files for backup purposes. The advantage of this approach is that your backup contains all the data, including deleted files not yet overwritten by the operating system. On the downside, the backup file may contain unused storage space.