Sharing and storing videos, photos, or other media across different file formats is common. But it can be quite disappointing to lose your media files. If you've lost your WebM files, too, there's no need to worry. Several data recovery tools are on the market to help you repair your damaged files.
✅ Go through the instructions given in this article for a comprehensive insight into multiple recovery methods to restore your WebM files successfully. 
What is a WebM File
The WebM file extension is a video file format designed to share and deliver videos with the HTML5 video tag via the web. It's an open, royalty-free alternative to the H.264 and H.265 standards. The technology for WebM files is based on the Matroska container. Moreover, while video streams in this format are compressed using the VP8 and VP9 codecs, Vorbis and Opus audio technologies are employed for audio stream compression in WebM files.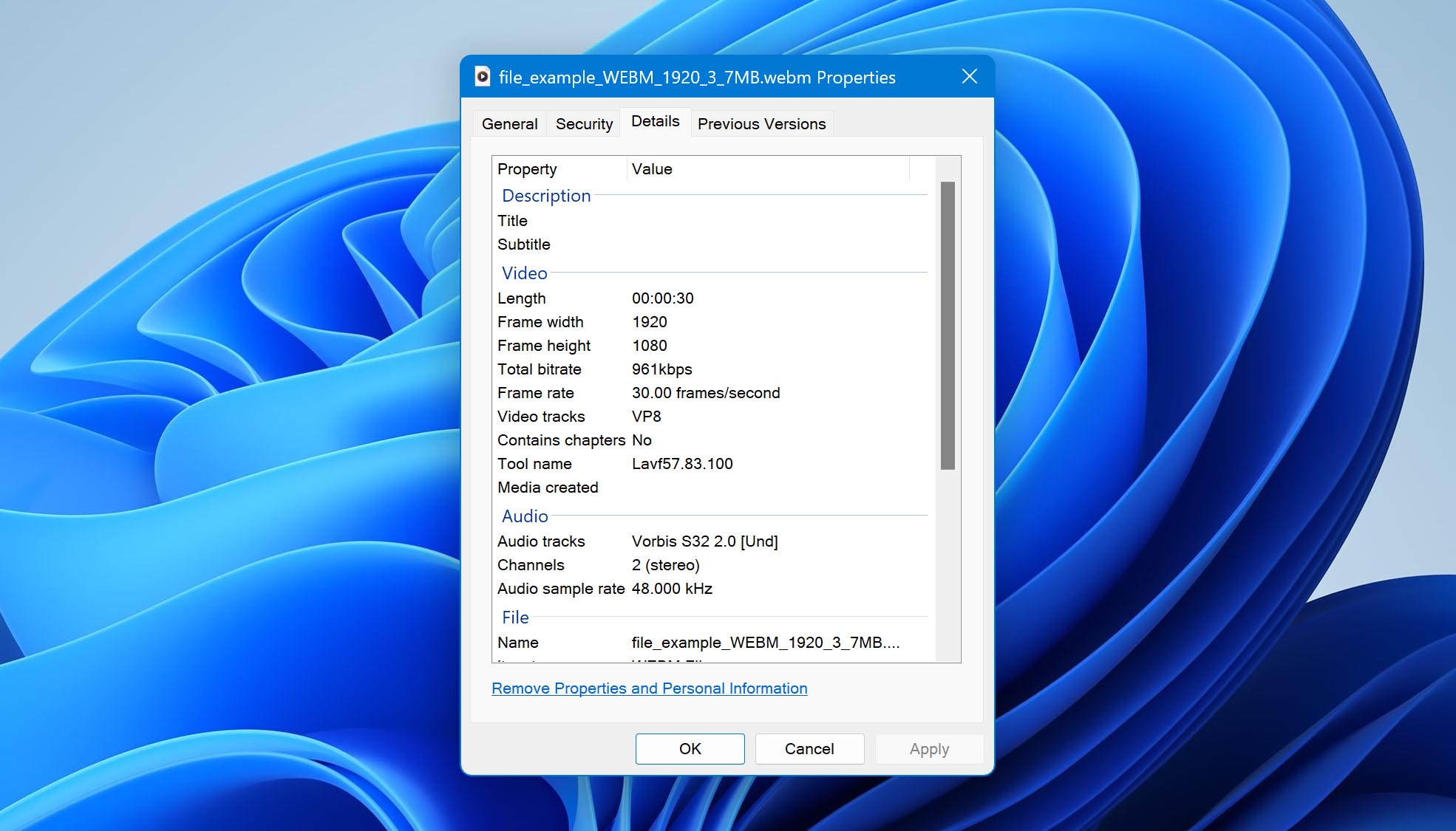 Although the WebM file format was initially created by ON2, Xiph, and Matroska, Google acquired this technology in 2010 and significantly altered it. The WebM Project thus represents Google's interests in The Alliance for Open Media. Further, the software supporting WebM files is distributed under a BSD-style license, and the format is intended for use in commercial and noncommercial applications. 
The WebM file type has been designed primarily for sharing and playing videos via the web, which makes it optimized for streaming with a low computational footprint. It also supports all major browsers – Mozilla Firefox, Opera, and Google Chrome. YouTube is a massive video streaming platform that uses WebM for its HTML5 Player, and even Skype has implemented the VP8 codec. 
Since the launch of its version 2.3 – Gingerbread, Android has supported this format. But Internet Explorer and Safari for Mac and iOS can only support the WebM format with assistance from third-party software. 
Their accessibility and high-quality delivery have made WebM files quite popular over the years. Several users rely on this extension to playback and edit videos on smartphones, tablets, etc. This is why it can be quite a hassle if your WebM files go missing or deleted. In such cases, you can turn to simple file recovery methods and restore all your valuable data. 
How to Create a WebM Video File
If you wish to save other file formats like MP4, MKV, AVI, etc., to WebM, there's an easy way to create these files. You can use third-party software or online conversion tools like Online Video Converter or Zamzar to convert your files to the WebM video format and start sharing or editing them.
Since most web browsers like Google Chrome, Mozilla Firefox, Opera, etc., support the WebM file format, you can play your files within the web browser using on-screen controls. However, if an error message appears and you cannot play your WebM file, you can download and install the free WebM plug-in in your browser. This should allow you to play any WebM file.
Another well-known way to play your WebM files is to use third-party applications like the VideoLAN VLC Media Player, HandBrake, olimsoft OPlayer, Miro Video Converter, etc.
You can follow these instructions to open your WebM files:
Select File > Open With > Select the App. (eg. VideoLAN VLC Media Player).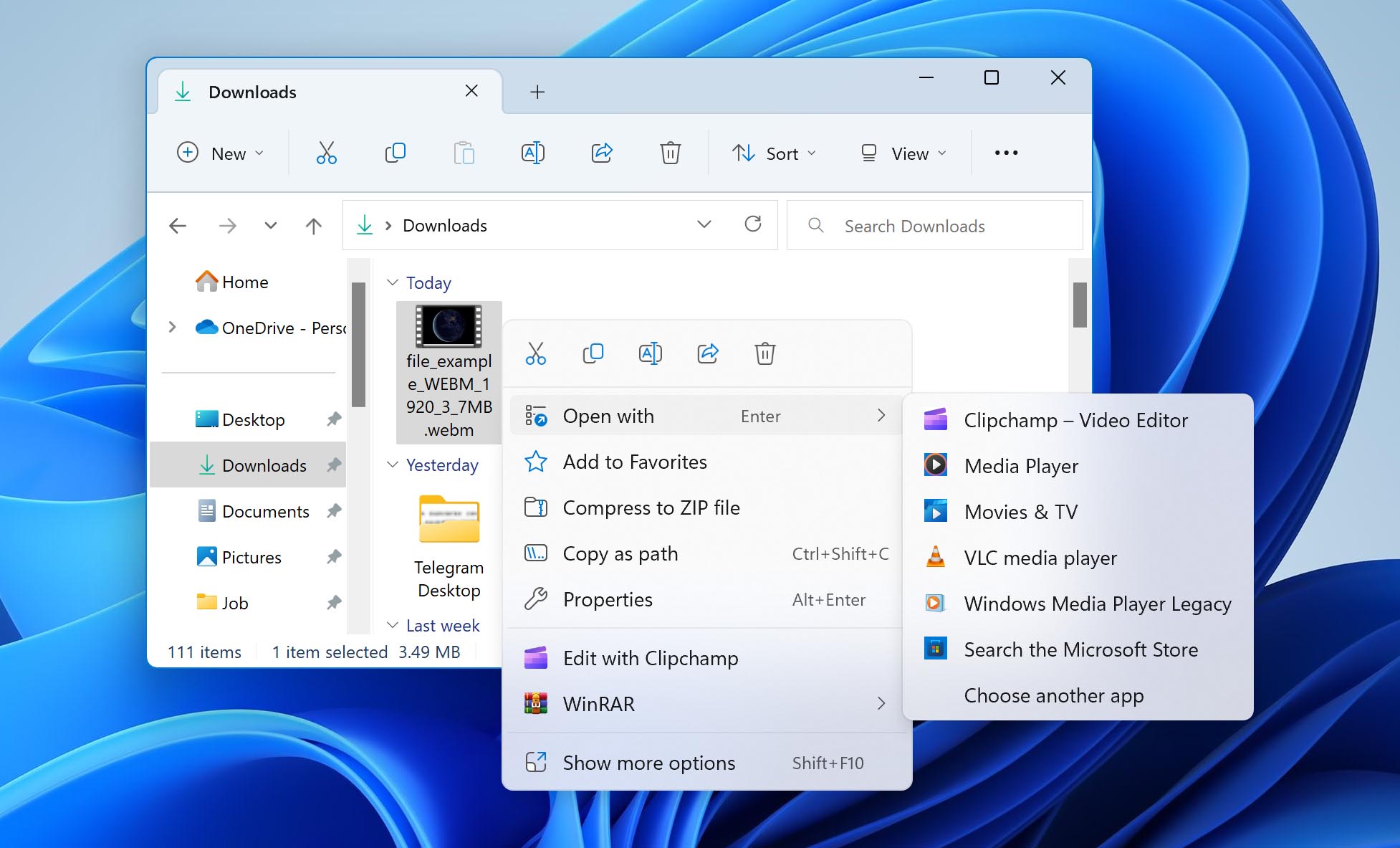 Other Programs that Open WebM Files include:
On Windows:
File Viewer Plus
VideoLAN VLC Media Player
Miro Video Converter
HandBrake
Microsoft Windows Media Player with DirectShow Filter
Microsoft Edge
Microsoft Internet Explorer with VP8 plug-in
Mozilla Firefox
Google Chrome
Opera
🍎 On Mac:
VideoLAN VLC Media Player
Miro Video Converter
HandBrake
ShedWorx Smart Converter
Mozilla Firefox
Google Chrome
Opera
Eltima Elmedia Player
🍏 On iOS:
VideoLAN VLC for Mobile
olimsoft OPlayer
PentaLoop PlayerXtreme Media Player
👾 On Android:
File Viewer for Android
Videolabs VLC for Android
How to Recover Deleted WebM Video Files
🔰 While the data recovery process can appear intimidating at first, various professional solutions are available to assist you with getting back your WebM files.
Most of these tools offer quick file retrieval, and even first-time users can adapt to them easily. They allow file recovery across different data loss scenarios such as accidental or purposeful deletion, system crashes, etc.
But in case you end up losing your files due to unexpected circumstances, you must follow some best practices that become essential in protecting your files. Some tips that can help ensure the successful recovery of your WebM files are:
💾 Always make more than one backup of your files. Since WebM files compress data, they can become susceptible to corruption, so you must save your files on external storage devices or rely on cloud services.
⚡ Do not overload your drive with new information. This can lead to overwrites and even disrupt the recovery process.
⌛ If you've lost your file, begin the data restoration process immediately. If you wait for long, it can significantly reduce your chances of retrieving your file.
💯 Go with the most tried-and-tested method first. The more recovery attempts you make, the more likely you will damage the file.
How to Recover Permanently Deleted WebM Files with Software
There isn't a shortage of data recovery solutions in the market, but using professional tools is perhaps the most reliable method of the lot. Most users prefer professional software like Disk Drill since they allow permanent file restoration and even offer other advanced features. They are efficient, straightforward, and quite user-friendly.
Disk Drill is one of the most popular and trusted file recovery solutions available in the industry. You can download it for free and use it to retrieve different file formats from various devices. It doesn't matter if you've accidentally deleted your files, forgot to save them, or they disappeared; Disk Drill can help you across these scenarios. Moreover, the software comes with additional features like disk health monitoring and data protection that have contributed to making it the best possible data recovery software.
Let's take a look at how to recover WebM files using Disk Drill: 
Download and Install Disk Drill from the official website. Once the installation process is complete, launch the application.

Data recovery for free
Your Companion for Deleted Files Recovery

Select the drive or external storage device from where you want to recover the WebM file. You also have the option to choose a preferred recovery method from the available options – the Quick Scan or Deep Scan.
Now, click Search for lost data. While Disk Drill scans through your selected drive, you have the option to preview files and filter through the search results.


⏯️Pro Tip – Disk Drill allows you to pause, save or resume the scan at any point. You can also mount scanning results as a disk or save them for another time. It makes the recovery process easier!

Once the scan is complete, select the WebM file you wish to recover. Finally, click Recover.

Check the file's Recovery chances to make sure the file is recoverable.

Choose the location for your recovery folder and click OK. Do not select the same disk where files were lost to avoid overwriting other files that were deleted from the disk.
Recover WebM Files from Windows Recycle Bin and Mac Trash
Say you'd accidentally or purposefully deleted your WebM files but now want to get them back. Well, there's a simple solution to make this happen. Once you delete your files, they don't become completely lost. You can find them using the Windows Recycle Bin or the Mac Trash on your system. 
Both of these folders temporarily store your deleted files until you empty the bin. All you need to do is follow a few steps to restore your WebM files. 
Recover WebM files using the Windows Recycle Bin:
Navigate to the Recycle Bin icon on your desktop and click on it.
Once you've opened the folder, find and select the WebM file you wish to restore.
Right-click on the selected file. Now, use the Restore option to send the file back to its original location.
Recovering WebM files from Mac Trash
Navigate to the Trash icon on the dock of your Mac system.
Once you've opened the folder, find and select the WebM file you wish to recover.
Now, you can follow either of two available options – drag and drop the chosen file to another folder or right-click and select the Put Back option. Once you complete this step, your WebM file will be restored to its original location.
Recover WebM Files from a Recent Files Folder
Although using the Recycle Bin and Mac Trash folders to recover your deleted files is quick and easy, the method doesn't have the capacity to recover unsaved files and data lost. But if you wish to restore such files, you can turn to other data recovery solutions. 
🆘Your computer systems have built-in emergency backup features that can come to your aid in unforeseen situations or if you don't have backups. All you have to do is turn on the File History option or access Time Machine to search for backup folders, and you can retrieve your WebM files in the blink of an eye.
Let's go through these backup settings on both Windows and Mac, one by one:
Recovering Files Using Windows File History
Open the Windows search tab and type in File history.
Ensure that the File History option is turned on. Select an internal or external drive to back up all your information and data, then turn it on if the option is off.
Now, select the Restore personal files option.
Look through the available backups and locate the WebM file you want to recover.
Once you've found the desired file, click on the green Recover button. Your file will then be restored to its original location.
Recovering Files Using Mac Time Machine
Open Spotlight CMD + space. Now, type in Time Machine.

Navigate through the folders to locate your WebM file from available backups.
Once you've selected the file, click on the Restore option. 
Try to Fix WebM File with Command Prompt
In case your WebM file becomes inaccessible you can employ this technique to try and fix some attributes of the file. 
The CHKDSK command scans your storage device/drive errors and corrects them. However, this is slightly more technical than the rest, so you must follow the instructions cautiously:
Open Command Prompt and select the Run as an Administrator option.
Now, type chkdsk/r/f X: into the Command Window and press Enter. Here, the X stands for the volume letter.
Finally, reconnect your storage device and restart your system. Now, try to access your lost files. 
This article provides you with a detailed view of the several recovery methods available to help you retrieve your lost or deleted WebM files. These solutions are easy-to-learn, affordable, and trustworthy. You can choose the one that best suits your needs and situation to restore your WebM files successfully.