MP4 files store digital multimedia data. They're nearly always used for audio and video files, though they're also occasionally used for some other purposes.
You can restore damaged and lost MP4 videos if you know the right places to look. On this page, we will show you where those places are, including a free tool that you can download anytime and from anywhere.
What is MP4?
MP4 is one of the most popular file types in the world for digital and audio information. The file type is well-suited to digital streaming. The MP4 name is an abbreviation for MPEG-4 Part 14. They are usually used for audio and video data, but you'll also sometimes see them used to hold still images, subtitles, and metadata.
The first version of the MP4 file was released in October of 2001. The most recent update (as of January 8, 2022) was in January of 2020. The files are often the default file type for recording software.
How to Repair Corrupted MP4 Video File
There are multiple ways to repair corrupted MP4 video files. The effectiveness depends on both the solution selected and on the level of corruption of your files. There is, unfortunately, a point where files become so corrupted that they cannot be repaired, but in most cases, you have a chance with the right tools.
How to Fix Corrupted MP4 Video File on Windows 10 / Mac with Software?
Disk Drill is free software that can restore lost, missing, or corrupted files of many kinds, including MP4. It's one of the most thorough and effective options available. To start with, you can simply download the software here:

Data recovery for free
Your Companion for Deleted Files Recovery
Then, you may or may not need to transfer your corrupted files to the device that you have downloaded Disk Drill to. This is optional because the files may already be on that device.
After that, follow the steps below:
Open Disk Drill application as you open any application (the trusted old double-click or the right-click option). A pop-up will ask you if you want to allow Disk Drill to make changes to your computer. Click yes. This is really just giving Disk Drill permission to work.
At the center of the interface, you'll see a list of device names. You may not recognize the devices as they are identified there, but they are all devices that were already in or attached to your computer. Choose the device with the corrupted files. A gray arrow to the left of a device indicates that there are smaller partitions within it that you can select from. Just click that arrow to see them.
Upon selecting a device, you'll see to the right one bar reading All recovery methods and another reading Search for lost data. These are the options we'll go with now. Click Search for lost data.
At this point, you can either select the specific files you want to recover by clicking the checkboxes to the left of them, or you can Recover All. You can also choose a single file by checking the box to the left, as in the screenshot below. With this option, the button will be to Recover rather than Recover all.
Disk Drill will now retrieve and repair the corrupt file. It will then ask where you'd like the file saved. Choose whatever option is best but remember to note the path so that you don't lose it! With that, you can take your rebuilt media and resume your affairs.
If you have any problems with this process, go to the Disk Drill help center and troubleshooting page.
Fix all corrupted video files with VLC
VLC Media Player is an open-source application that can do a wide range of things, including completely fixing corrupted video files. The first thing you'll need to do, of course, is to download VLC. After that, follow the steps below:
The first step is to find the corrupted through the VLC interface. Alternatively, you can find the file first and then open it with VLC. Because of the VLC software, the corrupted video should now play. This isn't guaranteed, though. If the file is severely corrupted, you may need to take another few steps.
Right-click on the file and choose rename. Change the file format to .avi by simply adding .avi to the end of the time. You need to include the period before the avi.
Now, launch the VLC application. Click on Tools, and then choose Preferences.
Select Input/Codecs. In the dropdown under the Damaged or incomplete AVI file bar, select Always fix.
The always fix option should now allow your video to play. The drawback, of course, is that it's no longer MP4 format. So, if you want to preserve MP4, it may be best to use the Disk Drill option described above.
Recover MP4 files from Windows Recycle Bin or Mac Trash
Recovering an MP4 video, audio, or photo file from Windows Recycle Bins and Mac Trash is very simple. Below, we'll outline how to do it for each process.
Recovering MP4 files from a Windows Recycle Bin
Open your recycle bin with a double-click or right-click (whichever option you prefer).
Then find the file that you've deleted. There are two options at this point.
Double-click on the file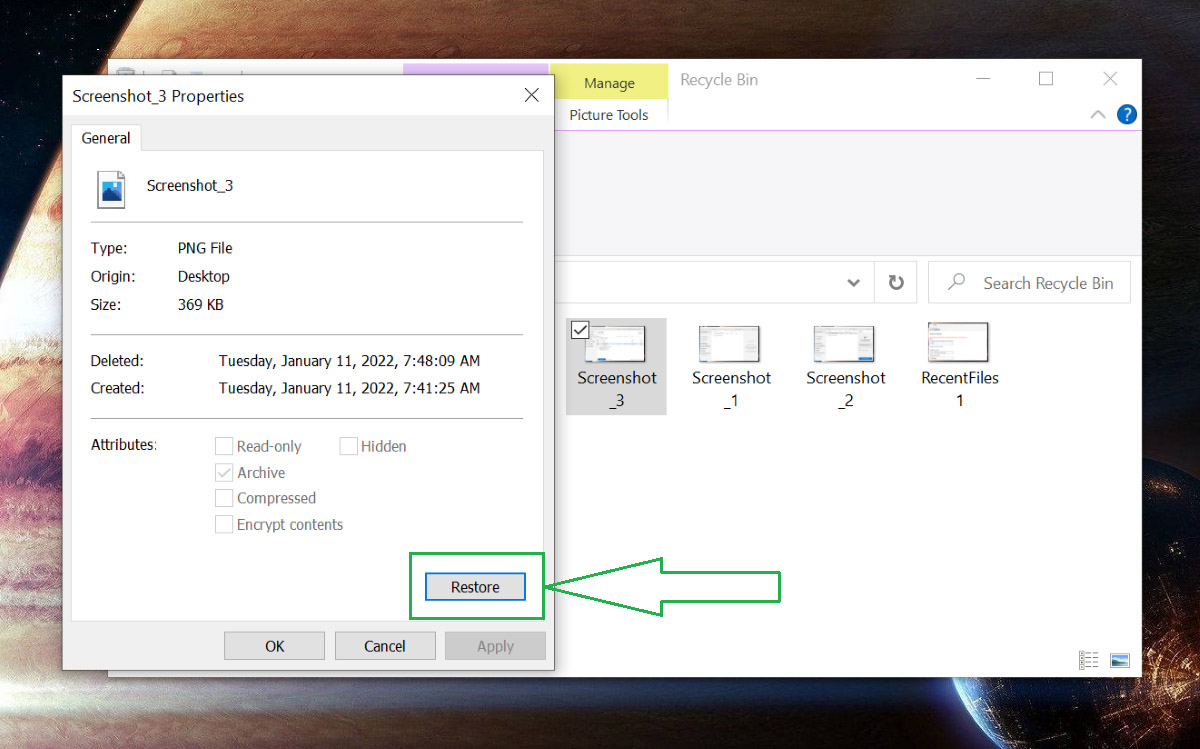 Inside your Recycle Bin, double-click on the file you want to recover. Then, select Restore.
Right Click on the File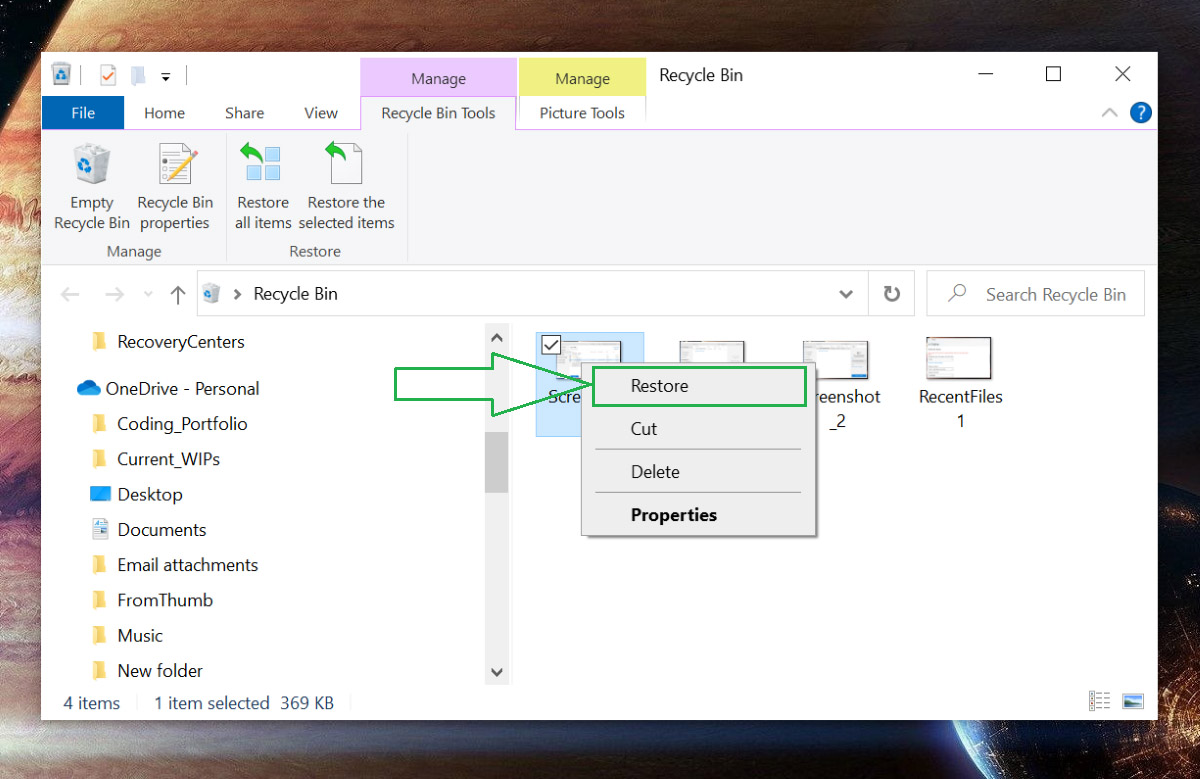 Find the file in your Recycle bin and right-click on it. Select Restore.
Whichever option you choose, the file will disappear from the Recycle Bin and reappear in the location from which it had been deleted.
Recover MP4 files from Mac Trash
Click to open your Mac Trash.
Locate the files you want to recover and right-click control+click. From the resulting dropdown menu, select put back. The files will be replaced in the locations they were deleted from.
Restore from a Recent Files folder
Windows comes with a built-in option that many people don't know about (but should). It's called a Recent Files folder. It allows you to get back to previous states that have been saved over in error. It may even help get back work you thought had gone unsaved.
Press Windows + R to get to the Recent Files folder.
Type recent into the Run dialogue and press OK.
Choose the file you want to restore. Click on it. When the dropdown menu appears, choose restore previous versions.
You'll now get options for previous versions of the file. Select them, and they will restore to the state they were in.
How to open MP4 files on Mac and Windows
MP4 files are so common that your Mac and Windows both have built-in options to play them easily. You shouldn't have to download any new stuff to do it. Just double-click or right-click and select the application you want to use. Windows, for instance, comes with Windows Media Player installed. That will play MP4.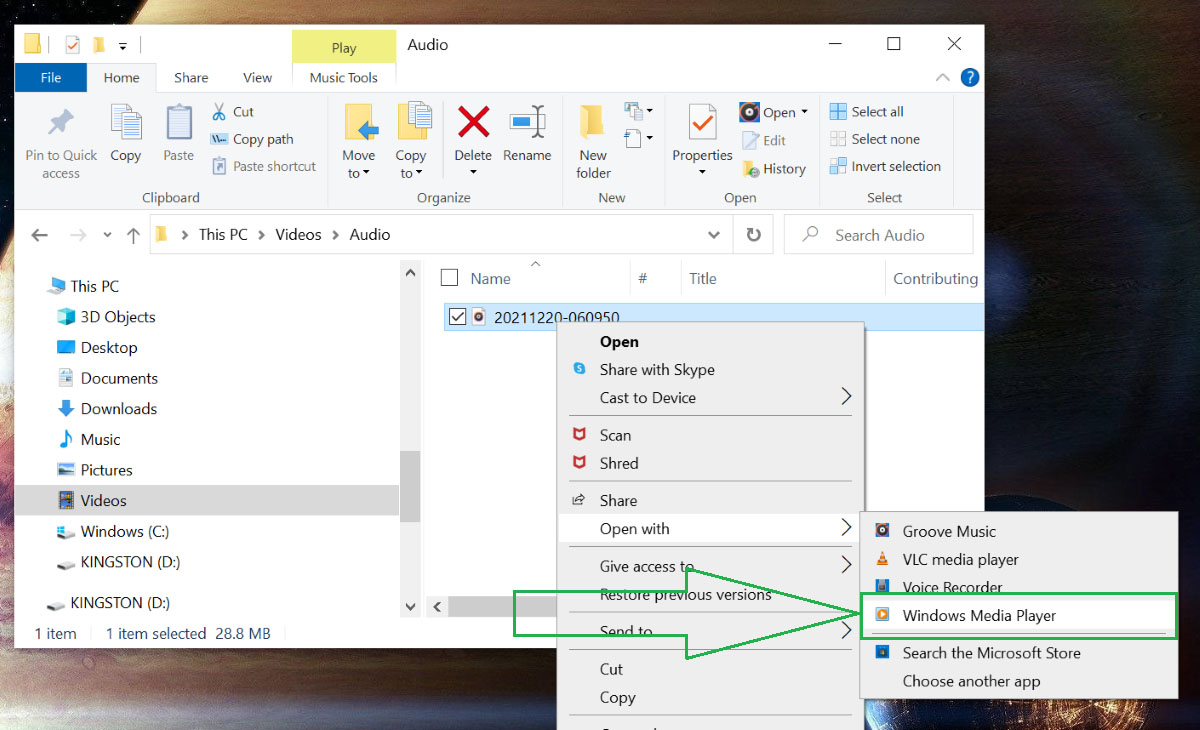 Programs that open MP4 files
Users that want more options or just prefer a different interface can choose from a number of programs. We'll list a few of the best and trusted ones below.
Elmedia: This is a high-quality and reputable video player than can open not only MP4 files but just about any regularly used file type. It has a wide array of options for viewers to choose from. It's only available on Mac operating systems.
KM Player: KM Player is a popular video player that is found in more than 150 countries. It plays high-resolution video and comes with a wide array of features. It works on Android, macOS X, Windows, and IOS operating systems.
Media Player Classic: This open-source MP4 player has been around for a long time and has the advantage of requiring very little memory, meaning it can be used even on obsolete machines that are still running. Drawbacks to Media Player Classic are that it's only available on Windows and that it is no longer supported, meaning you're on your own if you have problems with it.
VLC Media Player: This free, open-source software, which we discussed above, is one of the most common media players out there. It's available for both Windows and Mac.
QuickTime Player: QuickTime comes bundled with macOS, but it can also be downloaded to Windows. First released in 1991, t's capable of playing a wide range of media files, including MP3.