What is MP4 File Format?
The MP4 file format is a digital multimedia container that can be used to store video, audio, subtitles, still images and other data, such as 3D graphs, menus and user interactivity. Usually, when used to store only audio, the file extension is changed to M4A.
Characteristics and Uses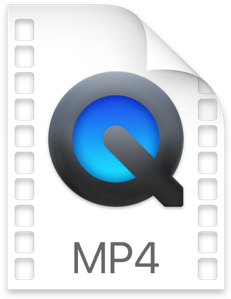 MP4 is an abbreviation for MPEG-4 Part 14, also known as MPEG-4 AVC, where AVC stands for Advanced Video Coding, and MPEG refers to Motion Picture Expert Group. The MPEG is responsible for defining the digital audio and video industry standards.
MP4 is a reliable tool, highly compressed, which requires a low amount of bandwidth. It is based on the ISO/IEC 14496-12:2004 standard, which in turn is based on the QuickTime file format. Its structure is almost identical to the QuickTime file format, but with some added features.
Brief History
Developed by the International Organization for Standardization, the MP4 file format history is basically defined by its two versions.
The MP4 file format version 1 was released in 2001 under the ISO/IEC 14496-1:2001 standard. Version 2 appeared in 2003 under the ISO/IEC 14496-14:2003. According to the ISO document of 2003, these versions are identified as mp41 and mp42 respectively.
File Signature
ISO 8859-1: ….ftyp
MSNV.).F
MSNVmp42
Hexadecimal: 00 00 00 1C 66 74 79 70
4D 53 4E 56 01 29 00 46
4D 53 4E 56 6D 70 34 32
Programs That Open MP4 Files
Windows:
File Viewer Plus
Microsoft Windows Video
Microsoft Windows Media Player
Nullsoft Winamp
Roxio Creator NXT Pro 5
Corel VideoStudio Pro X8.5 Ultimate
CyberLink PowerDVD 16
VideoLAN VLC media player
Wondershare Filmora 6
MPlayer
Mac:
Apple QuickTime Player
Apple iTunes
Roxio Toast 15
Eltima Elmedia Player
VideoLAN VLC media player
Wondershare Filmora 6
MPlayer
Linux:
VideoLAN VLC media player
MPlayer
iOS:
Apple Music
olimsoft OPlayer
PentaLoop PlayerXtreme Media Player
Google Drive
Android:
BooKPia MP4 Video Player for Android
BIT LABS Simple MP4 Video Player
Google Drive
Videolabs VLC for Android
Concerns
As the MP4 is a container of audio and video data, it can also be used to contain only audio data. Thus, it is sometimes confused with the MPA file format, which also contains only audio data. Usually, players that can open MP4 files, can also open MPA files.
How to Recover Deleted MP4 Files
MP4 files are very common. Very frequently they contain our memories, movies, and job related videos. With so much digital information, today it is quite easy to mistakenly delete an important file.
Fortunately Disk Drill is here to help. It is a free file recovery app!

Data recovery for free
Your Companion for Deleted Files Recovery
The MP4 file recovery process is straightforward. Just follow these steps:
Download Disk Drill from one of the above links.
Install Disk Drill by clicking on the icon of the installer, and just follow the given steps.
Open Disk Drill by clicking on the app's icon. The program will automatically detect all connected devices. Disk Drill can work on a multitude of devices, including internal and external hard drives, USB flash drives, memory cards, iPhones and many more. Select the drive that contains the deleted file.
From the main menu, select "Preferences", then "Video", and then "mp4". This will narrow the search, and therefore you will have a faster and more efficient MP4 recovery.
Click on the "RECOVER" button. Disk Drill will now scan the selected drive in search of your files. This scan can be paused by pressing the "PAUSE" button, or cancelled by pressing the "CANCEL" button. Also, the session can be saved by pressing the "SAVE" button, allowing you to continue at a later stage, without any loss of the work already done. This is particularly useful when working with devices of large sizes.
Once the scan is done, Disk Drill will present the results in the form of a list, which can be narrowed by using filters according to date or size.
Select the MP4 files you need, and restore them to a folder of your choice.
Done! As you can see, it is easy to recover MP4 files with Disk Drill.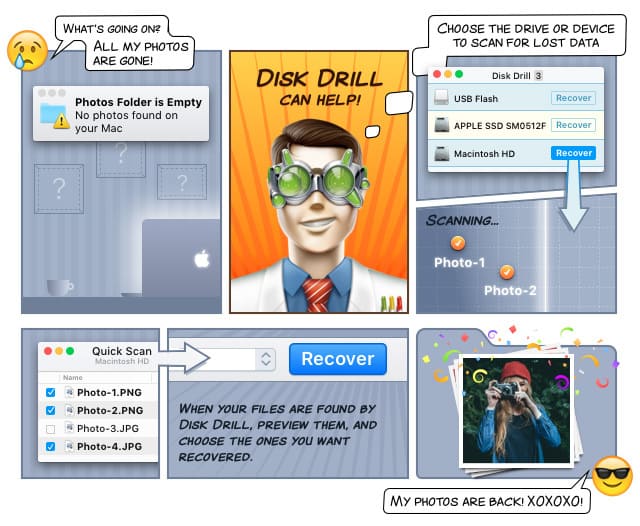 How to Use Image Files to Recover MP4 Files
Image files are a bit-by-bit copy of an original digital source. Thus, they contain all data available on the device, including deleted files still not overwritten by the operative system. On the downside, their size is the same as the one of the original source, and they may contain empty space.
Image files are a great tool for MP4 file recovery, as they can be used with Disk Drill, leaving the original source untouched.
Attaching an image file with Disk Drill is easy, just go to the main menu and you will find the corresponding item.
Once attached, just work as you do with any other physical drive.