Digital devices such as phones and computers look so tidy and sleek that we often fail to see their need for maintenance. Besides their hardware maintenance, our gadgets often need housekeeping to keep their software components well-oiled.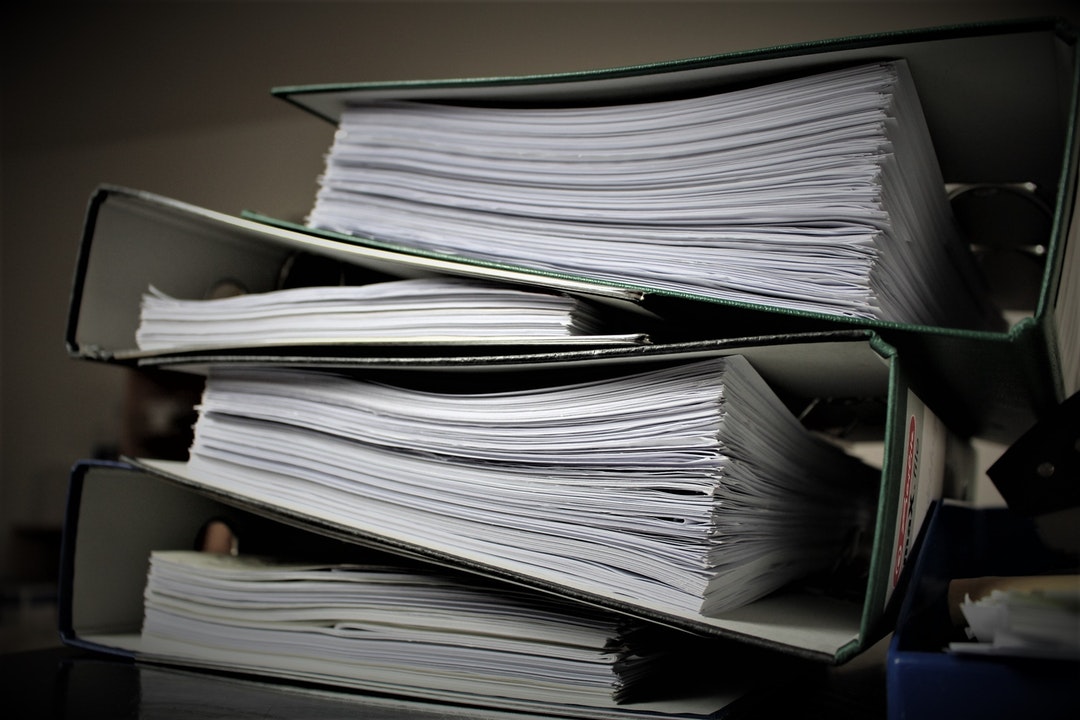 Over time, all devices accumulate junk files, including cookies, browser history, and tons of temporary files, slowing the devices down. While you can clean these up yourself, the process is tedious and highly inefficient. A simple, effective solution is using cleaning software, such as the very popular CCleaner for Mac.
What if you aren't very satisfied with CCleaner, do you have alternatives? On the other hand, should you actually avoid CCleaner? This article will help answer those questions. 
Brief Overview on CCleaner for Mac
CCleaner for Mac is a lightweight utility tool that simplifies Mac maintenance.
When continued use of your macOS leads to the accumulation of residual files, you end up with extremely slowed-down boot times.
Websites you visit leave cookies on your hard drive to track your preferences, among other things, giving rise to various data privacy issues. Cookies store personal information and are often used to compile long-term records of browsing histories and may be used to impersonate legitimate user requests to websites.
Besides improving the performance of your device, CCleaner for Mac helps protect your privacy.
Is My System Safe if I Use CCleaner?
Well, regular usage of CCleaner doesn't guarantee a malware-free mac. You need to implement best security practices and be mindful of your browsing activity.
When you lose files to corruption and failure, CCleaner cannot help at all. To retrieve such data, you can rely on Disk Drill, a premier Mac recovery software solution. Disk Drill helps recover over 200 file types topped with multiple recovery methods from a myriad of storage devices like your Mac's internal hard drive, USB flash drive, and memory card. 

Top 6 Alternatives to CCleaner for Mac Alternatives    
Unfortunately, CCleaner has been targeted by cybercriminals resulting in the compromise of the 32-bit Windows version of CCleaner v5.33 with Trojan: Win32/Floxif.A trojan.  This led to over 2.2 million computers getting infected. With the fall of this beloved software, it is time to look at some alternatives available for CCleaner for Mac.
Disk Drill is an excellent data recovery utility with robust data scanning and recovery functionalities. Some of Disk Drill's USPs include sophisticated scanning algorithms and data protection tools that proactively increase your chances of data recovery during accidental file loss.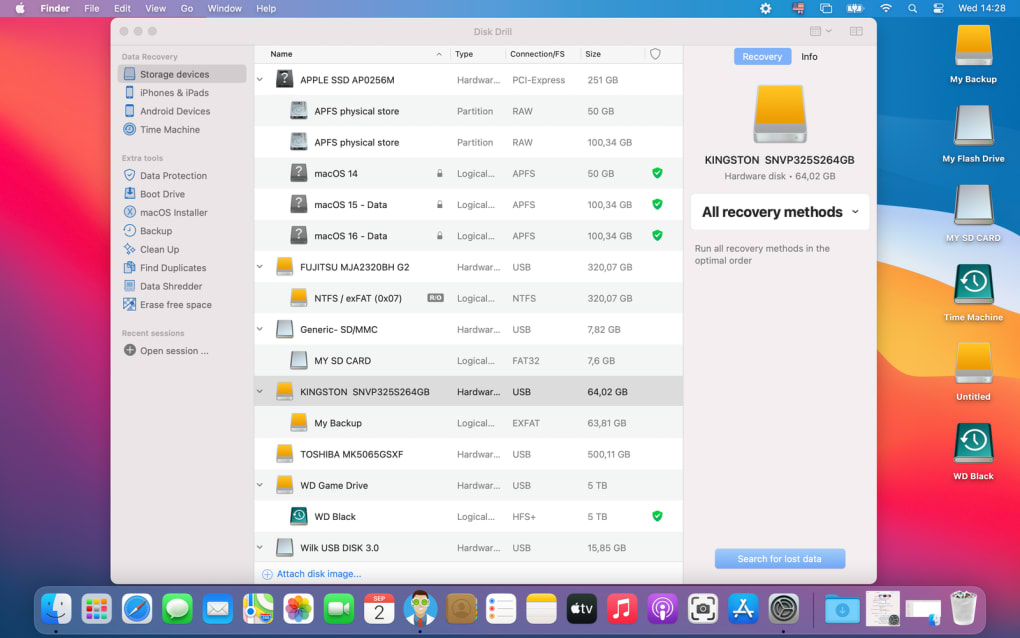 👍 What we like:
Beginner-friendly UI interface.
Smart one-click recovery.
Quick and deep scans.
👎 Cons:
No support on the Linux OS.
The deep scan is time-consuming.
The free version allows data recovery of up to 500 MB. The pro version, priced at $89 offers unlimited recovery and up to 3 activations for one user.
Avast Cleanup is great for optimizing system performance. This tool offers advanced features like auto app updates, bloatware removal, and disk defragmentation.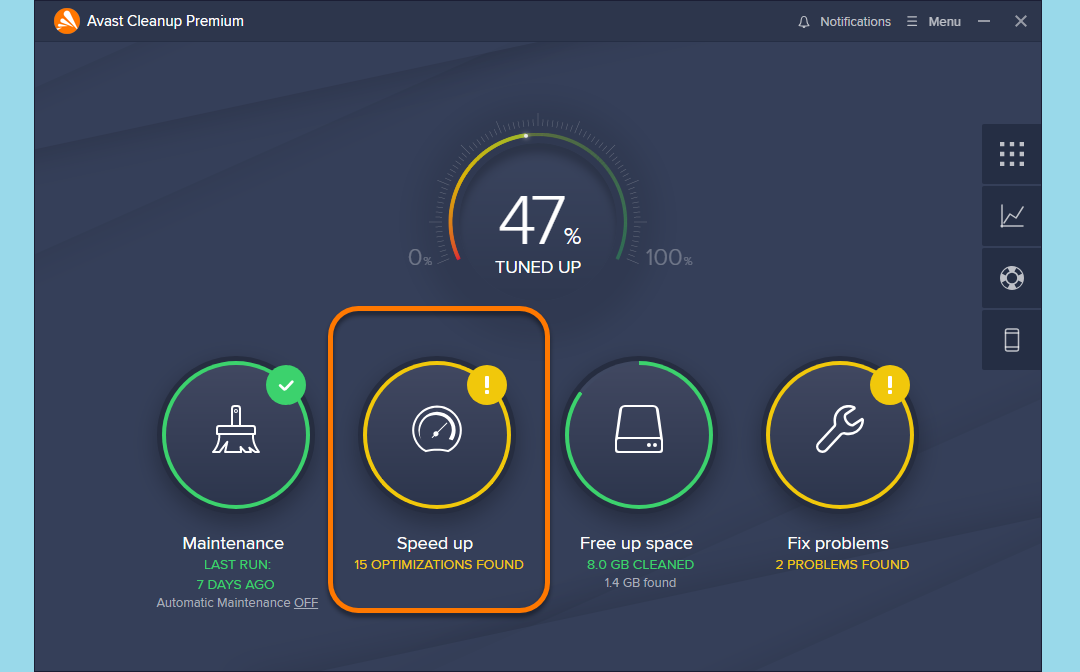 👍 What we like:
Easy to use interface.
Computer power usage control.
Auto program update feature.
👎 Cons:
Pops up many notifications.
Not suitable for older O.S. versions.
The pricing is $49.99 per user per year, $89.99 for two years, and $129.99 for three years.
A.V.G. PC Tuneup helps clean up unnecessary files while boosting your Mac. It cleans browser history, finds and removes bloatware, optimizes P.C. performance, and is a registry cleaner.  

👍 What we like:
Effectively cleans up your Mac.
Simple and user-friendly interface.
Offers valuable tools like a secure file shredder and driver updater.
👎 Cons:
On the pricier side.
Lacks unlimited licenses.
It is priced at $69.99.
MacClean is a clean-up optimization tool for your Mac. It features functionalities like system optimization, clean-up, and security protection.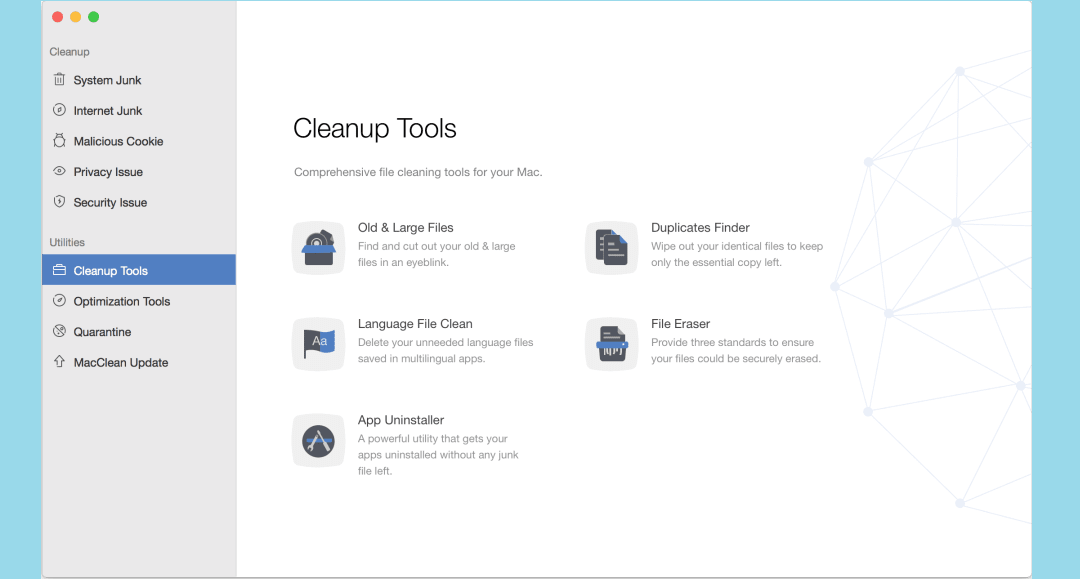 The tool deep-scans for malicious viruses to instill a cleaner and safer Mac environment. Moreover, MacClean clears all your junk clutter like log files, temp files, caches, and app leftovers. Interestingly, MacClean also eliminates deleted iMessage and FaceTime history to promote security. License: Free
👍 What we like:
Offers complete protection
Easy to use and implement
👎 Cons:
No Mac monitoring option
Has known crashing issues
Its price is $19.99 for a one-year subscription license for one Mac and free support for a year. For $29.99, you will get a Personal License offering for one Mac and free support.
OnyX for Mac is a free and handy tool to keep your Mac tidy and organized. During your first run with OnyX, it'll verify the S.M.A.R.T. disk status for preventing failure. Moreover, the tool analyzes the volume structure. Every instruction is well illustrated, and OnyX also includes a handy guide for just about everything.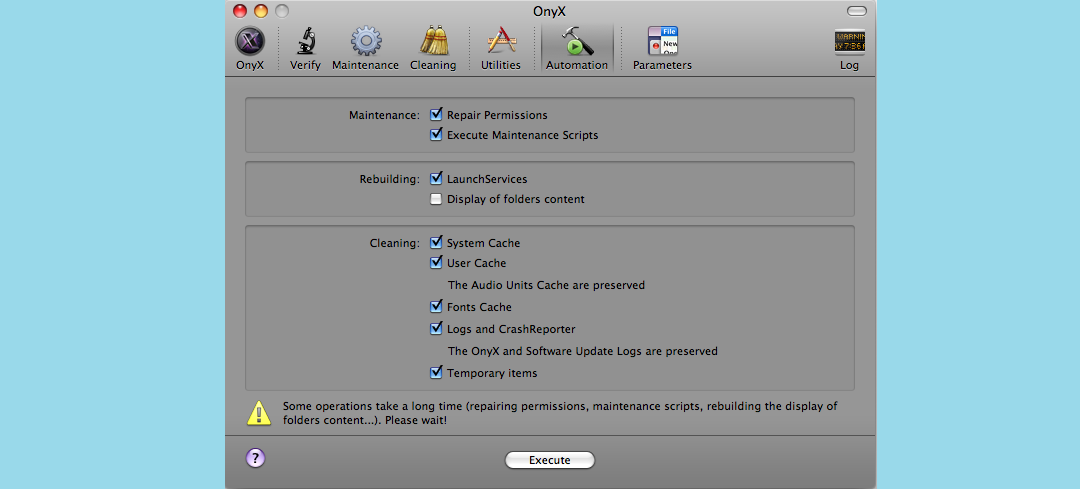 OnyX lets you pick several parameters to check like iTunes, Spotlight, Dock, and Exposé. In a nutshell, this tool is quite effective at comprehensively optimizing your Mac. 
OnyX is a useful and free application to have. It ensures that your Mac is always tidy and clean. 
👍 What we like:
Verifies S.M.A.R.T. and disk structure 
In-depth cleaning
Easy to use
👎 Cons:
Some operations are time-consuming
Not OS X agnostic, meaning different versions are required for various OS X instances
Basic interface
It is available free of cost.
CleanMyMac is essentially your digital 'maid.' It replaces numerous optimization tools with one user-friendly package. The tool locates and eliminates redundant and memory-killing files like old cache, Internet cookies, and outdated user logs.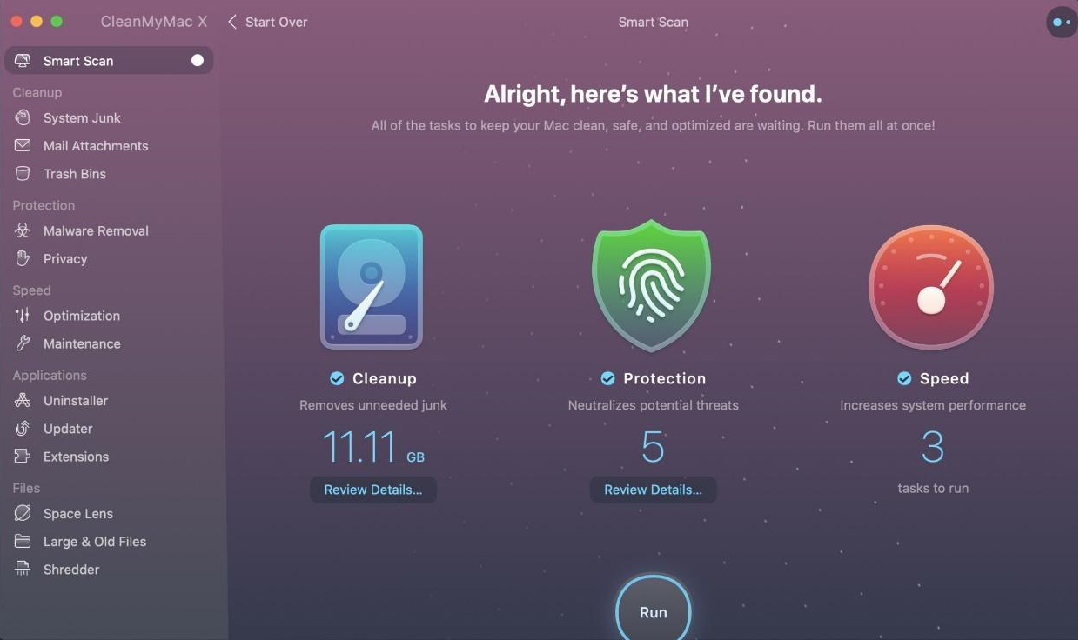 Additionally, CleanMyMac safeguards your Mac against potential threats like viruses & malware. Interestingly, one can conduct speed tests to determine the need for further optimization. Also, the tool houses a safety database and will separate junk files from those OS-critical files.
👍 What we like:
A clear and logical user interface.
Frees up massive amounts of hard drive space.
Built-in virus scanners and speed tests.
Modifiable utilities to suit personal preferences.
👎 Cons:
Doesn't detect duplicate files.
Certain types of malware might not be eliminated.
May not detect certain files which take up only a small amount of memory.
It is priced at $34.95 for one Mac, $54.95 for two Macs, and $79.95 for five Macs.
Conclusion
It would help if you had a cleaning tool to keep your Mac in top health. Although CCleaner for Mac software is good to optimize registry entries, erase cookie data, cache, and browser history, there are other effective alternatives like:
Disk Drill
Avast Cleanup
A.V.G PC Tuneup
MacClean for Mac
OnyX for Mac
CleanMyMac X for Mac
FAQ:
Yes, CCleaner for Mac is good. It helps you remove junk files that slow down your Mac. It can also be used to uninstall apps and find duplicates. The pro version offers auto removal of cookies, junk files, and history.
Yes, Mac has CCleaner, which is quite effective for this platform. It can optimize file use and clean up all temporary files and cookies, freeing up space on your Mac.
There are various alternatives available that are better than CCleaner for Mac. These include Avast and OnyX, among others. But even if you use cleaning software, remember to invest in data recovery software such as Disk Drill. That is because Disk Drill allows you to recover over 200 file types with multiple recovery methods from all storage devices with only a click of a button. It can recover files from Mac's internal hard drive, USB flash drives, and memory cards.