With all that can go wrong, you want a simple and reliable way to back up your files and Mac preferences. Fortunately, Apple gave us one in the Mac Time Machine app. Introduced with OS X 10.5 Leopard, the Time Machine Mac backup app takes snapshots of your hard drive and stores them in the cloud or an external drive. While it does its job, it is not without fault. It is fine with simple tasks, but it can fail hard when dealing with something substantially more complex. If you do not want to take a chance with your data, you need to know how to backup your Mac to an external hard drive without Time Machine.
What is Time Machine on Mac?
Apple Time Machine backup utility makes incremental snapshots of your files so you can restore them later. You can use the application to backup and restore the whole system or just your important files. You can even use it with iWork, iLife, and many other applications to restore files without leaving those applications. You can even use Apple's AirPort to store your backups on a network drive.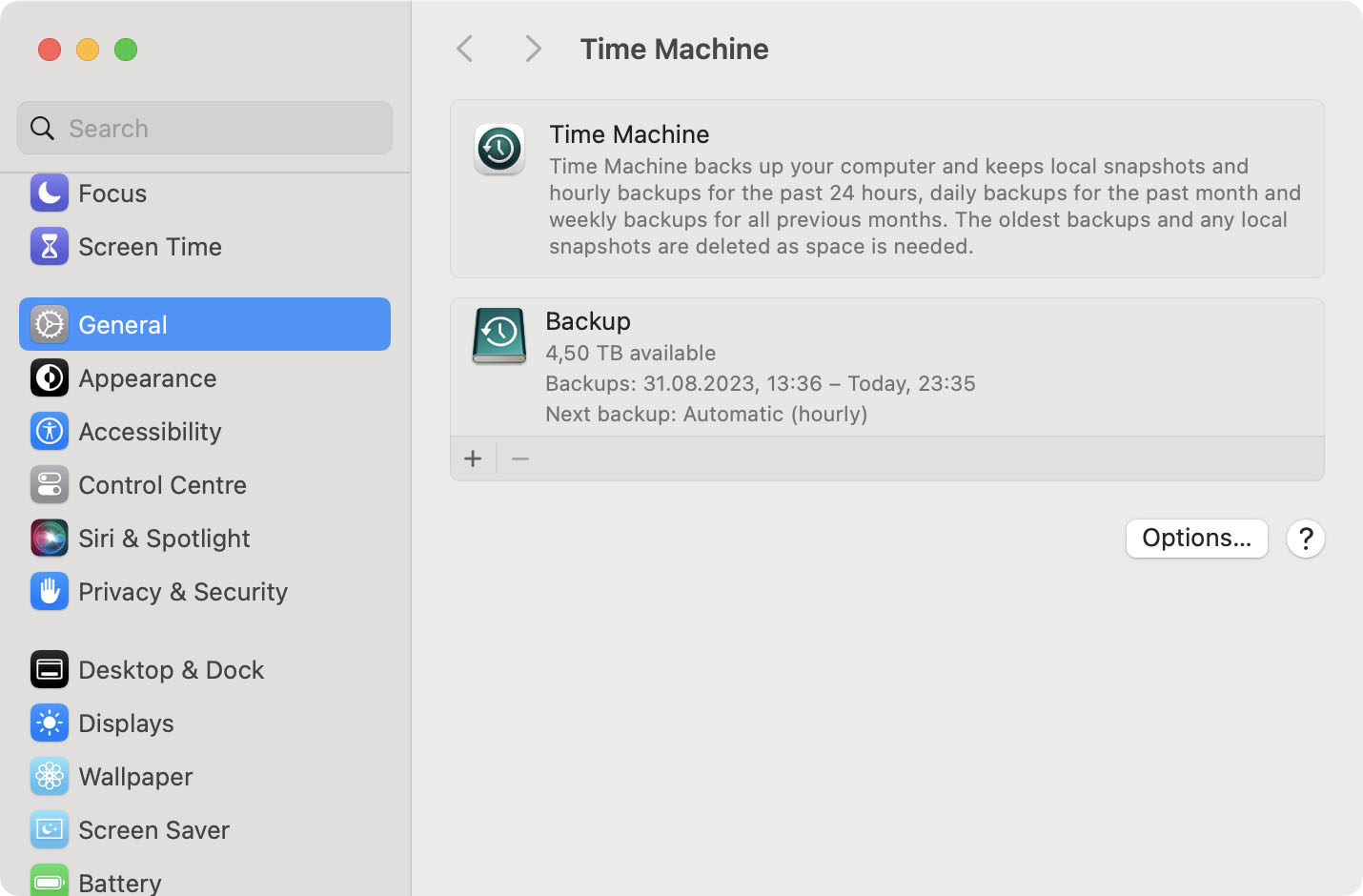 Time Machine saves your data every hour, though it keeps only the last backup made in a day. It then only keeps the daily backups for a month before just keeping weekly snapshots.
How to Use Time Machine on a Mac
Time Machine works best with the Apple Time Capsule, which is the combinations of the AirPort Base Station WiFi Router, and an external hard drive. However, you can use it with any hard disk connected to your computer via USB, FireWire, or Thunderbolt.
If you have OS X Yosemite or later, you can sit back and let Time Machine do the rest. The Yosemite version of Time Machine is on by default to create daily backups automatically through the Local Snapshots feature. Either way, you can tell the software what files and folders to include and exclude from the Time Machine Preferences.
Enabling Mac Time Machine Backups
Select the Time Machine icon from the System Preferences Apple Menu.
Click Select Backup Disk.
Select which disk you'd like to use as a Time Machine backup.
Check the Backup Automatically box.
Restoring Files From Time Machine
Choose Time Machine from the System Preferences Apple Menu.
Check "Show Time Machine in menu bar".
Click the Time Machine icon in the Menu bar.
Find Your file or folder and click Restore.
You can set which files and folders to exclude in the Time Machine Options.
Recover Deleted Files from Time Machine
You can restore your entire hard drive from Time Machine as well. If you still have access to the older hard drive, you just have to hold down the Command and R keys as your power on your computer to enter the macOS Recovery Partition. From there, you just select "Restore from Time Machine Backup" from the macOS Utilities screen, and follow the prompts.
However, holding down the Option key while booting your system is how to use Time Machine on Mac systems with fresh, empty, stock drives.
Problems with Mac Restoring from Time Machine
Time Machine is Apple's preferred and only official Mac OS X backup system. However, it was created as a stopgap when Apple realized Mac users rarely backup their systems. It works, but it was created in 2006 and it shows. While every expert agrees every Mac user should use it, most say that you should never fully trust it either.
While Time Machine does its job most of the time, it has not kept pace with storage technology. There were occasional updates, but the application no longer meets modern operational needs.
For instance:
Time Machine cannot create bootable backups. You can only restore damaged drives from the Time Machine archive.
Time Machine only works well to backup your primary internal hard drive, and will fail for some external and network drives.
Time Machine has no easily readable, user-accessible log file.
Time Machine has no diagnostic or feedback system for checking the integrity of your backups.
How to Backup Mac to External Hard Drive Without Time Machine
Basically, when Time Machine fails, it fails spectacularly. Sure, you can use it to backup your files, but you should not be surprised to learn you might have corrupted backups when you try to recover them. With Time Machine, all you can do is start over from scratch at that point.
Fortunately, all is not lost. With a more robust backup and recovery software such as Disk Drill, you would not have to worry whether or not your backup files are missing or corrupt. You can also use Disk Drill's free DMG Backup feature to ensure you are never in such a situation as well.
Disk Drill's Guaranteed Recovery feature digs through your deleted and corrupted files to give you a way to restore as needed. The tool utilizes several powerful scanning techniques to recover your files and ease your worries. Disk Drill can even work with failing drives. It is a great solution to all of your ongoing data protection needs.
DMG Backup lets you backup your system with or without Time Machine. You no longer have to rely on whether your Time Machine backup worked. You can just use our complete Time Machine alternative to protect your data from loss or failure.
The solution uses a byte-to-byte backup technique that makes backup files you can use with any Mac recovery solution including those that come with the operating system itself. Plus, you can even use them to recover from unstable storage devices ensuring that you can always get your files back whenever you need them.
Conclusion
Time Machine is a simple data recovery tool, and it is great at what it does. However, it can leave much to be desired on its own. You need Disk Drill's data protection algorithms to take your data protection to the next level. Configured to work with Time Machine, Disk Drill will keep your data safe for as long as you need it.
Together, Disk Drill and Time Machine are one powerful data backup and recovery system for your Mac. That is why you need to download Disk Drill today so you can rest assured that your data will always be there. You can then check out our other storage management tools to keep your Mac as clean and high performing as the day you first bought it.
.updated:
June 3, 2021
author: