Disk Drill — Comprehensive Data Recovery Tool
The truth is that data loss is something that accompanies a wide range of endeavors and sometimes there are certain things that we just can't prevent. However, with the development of contemporary internet technologies as well as the advancement in software development, data loss prevention as well as comprehensive data recovery is now possible. There are quite a lot of tools which are advertised on the market and they are all usually pretty effective. Of course, the majority of them are going to be priced pretty steep.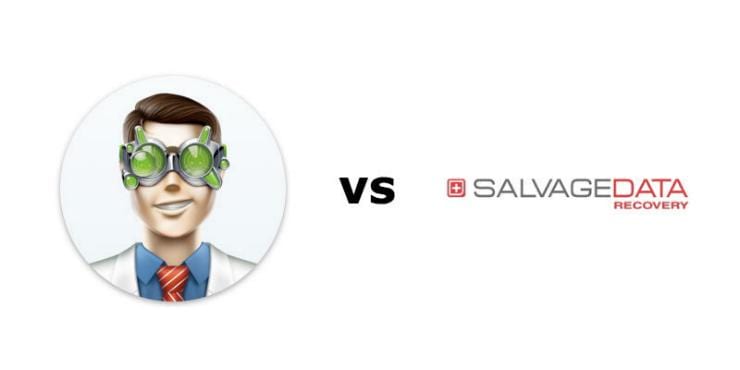 Salvage Data Recovery, for instance, is a company that supposedly offers a free demo version to check it out. However, upon downloading Salvage data recovery software, you'd soon come to the conclusion that all it does is it provides you with a list of files which are potentially recoverable but in order to do so you'd have to purchase the full version. Furthermore, upon going through Salvage Data Recovery Software, you are likely to find out that you'd need a bit of technical background to figure out how to properly use the tool. Of course, that's not a bad thing but it may cause problems for those who aren't well aware with IT.
There is, however, a completely user-friendly alternative to the Salvage data recovery. Disk Drill is a tool, which, even paid, is going to provide you with quite a few advantages. It's capable of recovering files from all sorts of sources such as SSDs, HDDs, USBs, Pen Drives, Micro SD Cards and whatnot. What is more, it's also usable on Mac, as well as on Windows OS. However, the thing that impresses the most is the simplicity of the software.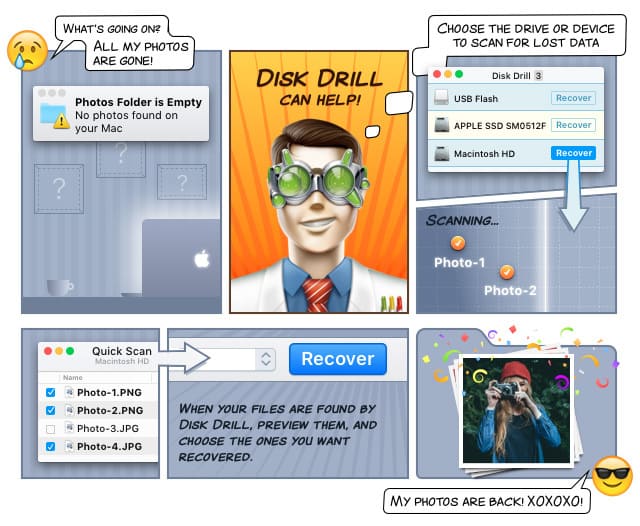 Comparing the Salvage Data recovery price with the one of Disk Drill is going to reveal certain similarities, but the truth is that Disk Drill definitely shows more potential in terms of user experience and recovery capabilities. For instance, you could easily recover photos, videos and everything that you've accidentally lost without any hassle, what so ever. Disk Drill is going to provide you with the chance to navigate through a simple, almost uniform process, regardless of the source you are trying to recover information from. In order to make it simple for you, let's take a look at the steps you'd have to take in order to fully recover lost information with the Disk Drill tool.

Data recovery for free
Your Companion for Deleted Files Recovery
1. You'd have to connect the source
This is only requested if you are going to be scanning and recovering information from an external source such as an external HDD or SSD, USB, Micro SD or whatnot. If you are restoring information from your own integrated drives there is no need for you to do so.
2. Select the amount of information that you
want to recover
Salvage Data Recovery Review shows that both tools are capable of recovering either the entire amount of information or the predetermined amount specified by you in advance. You can only select a particular drive out of the entire thing – it's way more comprehensive and easier this way if you don't need to get through the entire source.
3. Select your Scanning Option
Unlike the majority of tools out there, Disk Drill is going to provide you with two, completely comprehensive and easy to use scanning options.
Quick Scan — this is appropriate upon restoring information which has been lost recently or the information you want to recover is rather scarce. This is particularly quicker and it's going to prove a lot more time-efficient if you don't need to perform a large scale recovery.
Deep Scan — if you are in need of that large scale and deep recovery, this is the option to go. The method is going to scan deeply and is going to go back in time in order to recover the files which are subjected to recovery.
Wait out the entire scanning process as it's important for you to do so. Based on the information you need to recover, the Salvage Data recovery software is likely to be a bit slower than the one of Disk Drill and you might save up some time. The difference, however, isn't that significant.
4. Select the necessary files from the list
Upon completing the scan, the Disk Drill software is going to immediately present you with a list that you can navigate through. You'd see all the lost files and you can hand pick those you wish to recover. This is particularly comprehensive and useful as it's not going to take away your freedom of specifying whether you want to recover the entire list of files or just a few ones.
5. Hit the "Recover" button and you are done
Basically, that's the entire process that you'd have to go through with the Disk Drill software. However, we feel obligated to warn you that if you are on the look for a serial key, crack, keygen, license key, registration code or a torrent download of the software, you should only consider receiving those through legit and paid sources. Pirated software is definitely going to introduce a lot of risk. You can infect your computer with viruses, malware and other malicious software which is definitely unwanted. Pirated software is, furthermore, illegal to obtain and it's capable of compromising your entire computer's integrity.
What is more, if you own pirated software, you wouldn't have access to any kind of customer support, use warranties and all sorts of guarantees that accompany the purchase of the real product. We definitely recommend purchasing the full version through the legal streams in order to ensure that everything is legit and by the book.
In any case, Disk Drill is capable of performing an entire system recovery, regardless of whether you are running a Mac or Windows OS. The main thing to know is that the software is particularly comprehensive, user friendly and easy to use without presuming any kind of technical knowledge on behalf of the user what so ever. Anyone could use it to recover his precious lost files.