Have you lost your PPT file due to a system crash or deletion and aren't sure how to retrieve it? Don't worry, this is the place for you. Data loss scenarios are quite common, and several methods are available to help recover your PPT file back. Follow our instructions for quick and easy methods to restore your deleted files.
What is the PowerPoint File Type (PPT, PPTX)
PPT stands for the Microsoft PowerPoint Presentation binary format, and it is the main file extension that saves PowerPoint presentations. The software is widely used to design presentations for educational and business purposes. All slides, videos, texts, images, etc., are stored within the PPT file.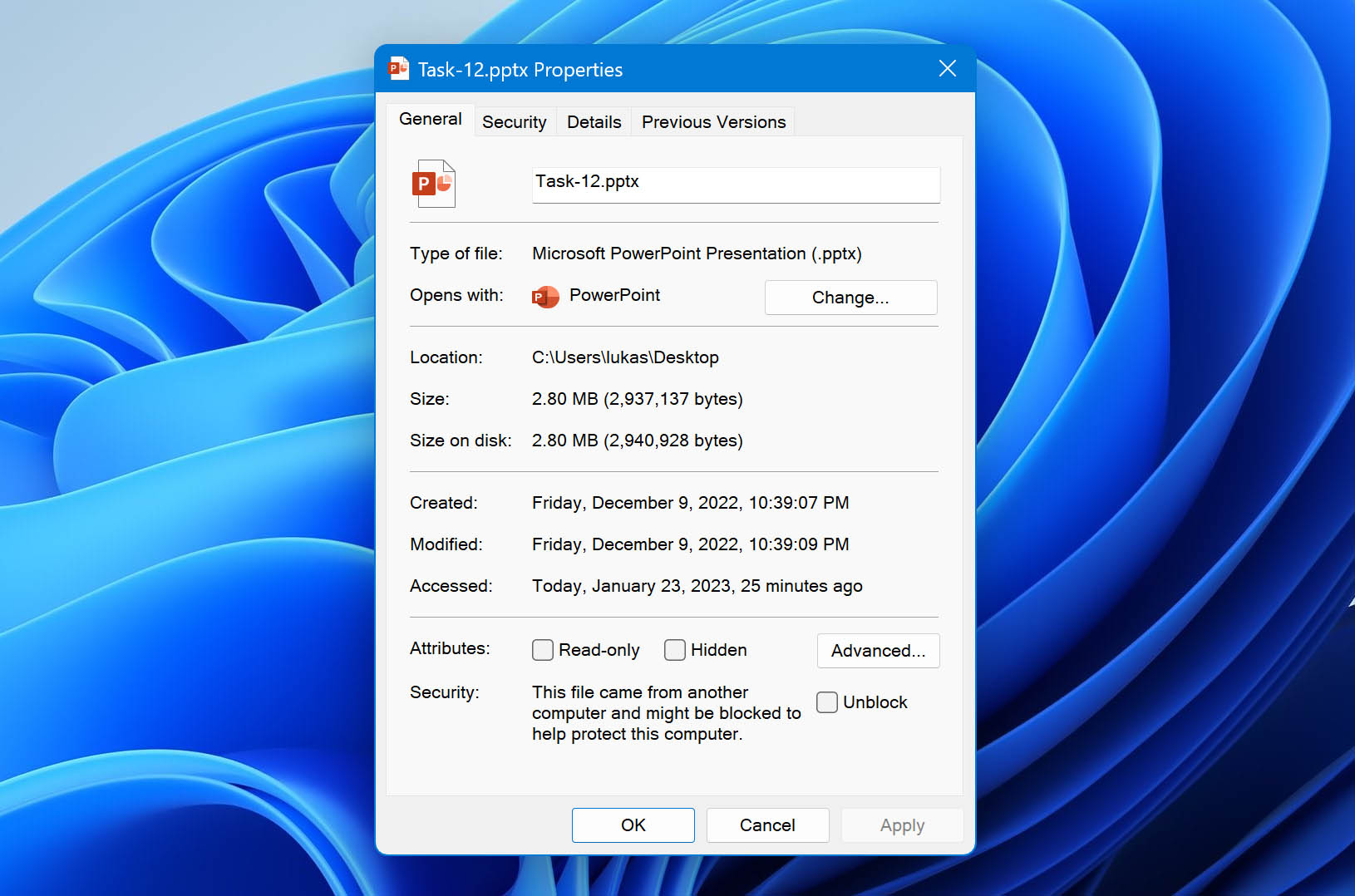 Introduced in 1987 with the release of PowerPoint, the PPT extension used to be the primary file type to save your presentations for versions 2003 and older.
However,
newer versions
have now taken over, and since 2007, PPTX has become the default file format for Microsoft PowerPoint. It combines both XML and ZIP formats to compress files. Users with older versions can only view slide shows from the PPTX file format and not edit them.
⚠️ PowerPoint presentations are quite useful and efficient. They help support discussions, talks, etc., through a visual medium. If these files are lost or deleted, it can lead to the loss of crucial information. Multiple data recovery methods are available to help with such situations. Let's go through some of them that can help recover your PPTX files.
How to Recover Deleted PowerPoint (PPT, PPTX) Files
There are many possible fixes to assist you in restoring your lost PPTX files. Go through the table below for an overview of available recovery methods:
While these solutions can be convenient, it is also important to keep certain practices in mind while working on your PPTX file. A few tips and tricks that can be helpful in data-loss situations are:
💾 Keep more than one backup of your PPTX file. In case of an unexpected file loss, having backups would ensure a smooth recovery process.
❌ If your device crashes or you want to retrieve your file, avoid writing new data to that drive. It can lead to complications while restoring the desired file.
⏩ Start the data recovery process as soon as you can. The longer you wait to attempt getting the file back, the restoration chances would become more uncertain.
💯 Try the most sure-shot method of file recovery first. It would increase the possibility of successful recovery and might prevent permanent file damage.
Being mindful of these pointers can help avoid severe data loss and make the recovery process quite efficient.
How to Recover PowerPoint (PPT, PPTX) Files with Software
Although various data recovery methods are available to help you restore your PPTX files, third-party software is perhaps the most effective. Instead of relying on temporary folders, these solutions can permanently retrieve your files. While it may seem challenging at first, most file recovery software like Disk Drill is relatively user-friendly.
Disk Drill is free and can restore files from several storage devices. It is compatible with both Windows and Mac Operating Systems. Such recovery tools employ powerful algorithms to locate your file and retrieve it without any complications. Disk Drill particularly remains a safe, trustworthy option as it comes packed with professional features easily accessible to beginners.
Steps to recover your PPT, PPTX files with Disk Drill:
Download and Install Disk Drill on your Windows or Apple device.
Select the drive or the storage device from which you want to recover your PPT, PPTX file. Now, click on Search for Lost Data.
While it is faster than most recovery software, Disk Drill will take some time to scan your device for lost data. You can choose your recovery method — Quick Scan or Deep Scan.

⏯️ You can also pause and resume scans halfway to glance through the files found.

You have the option to preview lost data and select the file you'd like to restore while Disk Drill scans your device. The search filter is also available to help you find your file.
Now, select the PPT, PPTX file you want to restore, and click Recover. Next, you need to select the file recovery location, and your file will be retrieved.
Disk Drill is a straightforward tool that doesn't complicate the data restoration process. It also comes with additional features and can help protect your files. Moreover, you can follow these recovery steps to retrieve multiple file-formats using the Disk Drill data recovery software.
Recover PPT, PPTX Files from Windows Recycle Bin and Mac Trash
If you wish to retrieve your deleted PPT, PPTX files, there's a simple solution to help you get them back. You can use the Windows Recycle Bin or Mac Trash to restore your files to their original location.
Both these folders in your system temporarily store your deleted files. This makes it easy to recover your data without much effort.
Recovering PPT, PPTX files from the Windows Recycle Bin
Click on the Recycle Bin icon on your computer's desktop.
Once you've opened the folder, find and select the PPT or PPTX file you wish to recover.
Right-click on the file you've chosen. Now, use the Restore option to send the file back to its original location.
Recovering PPT, PPTX files from Mac Trash
Go to the Trash icon on the dock of your Mac.
Once you've opened the folder, find and select the PPT or PPTX file you wish to recover.
Either drag and drop the chosen file to another folder or right-click and select the Put Back option to restore it to its original location.
Restore from a Recent Files Folder
While the Windows Recycle Bin and the Mac Trash folders offer effortless data recovery, they can only recover deleted files — whether accidental or voluntary. However, you don't necessarily need to download software to retrieve your data. There are other solutions within your system that can help you restore your lost PPT, PPTX files.
Windows and macOS both have in-built backup options. You can turn on File History or access Time Machine on your systems to back up your files. In an emergency or an unexpected data-loss situation, these backups can help recover your lost files. These features can be helpful in virus attacks, file corruption, device crashes, etc.
Let's go through both the options one by one:
Recovering Files Using Windows File History
Open the windows menu and type in File History. This will open up the control panel.
Make sure you have turned on the File History option. If not, select an internal or external drive to which you want to backup your information, and turn it on.
Now, click on the Restore personal files option.
Go through available backups and locate the PPT or PPTX file you want to recover.
Once you've found your file, click on the green recover button at the bottom. Your file will be restored to its original location.
Recovering Files Using Mac Time Machine
Open Spotlight [Command + Spacebar]. Now, type Time Machine.
Navigate through the folders to locate your PPT or PPTX file from available backups.
Once you've selected the file, click on Restore.
Having backups of your data is a valuable practice that always comes in handy in the long run. The techniques mentioned above can assist you with the convenient recovery of your PPT, PPTX files only if you've saved them. It may seem like a limitation in comparison with the data recovery efficiency of software. However, there is a bonus feature on PowerPoint that can help recover your lost files.
Recover PPT, PPTX Files using Windows File Recovery
Windows File Recovery is Microsoft's command-line recovery utility and is available for free download from the Microsoft Store. Since it doesn't have a graphical user interface, users must enter the corresponding command prompt to recover lost files. This utility supports various file systems and types and is a helpful tool for data recovery. 
Here's how you can recover PPT, PPTX files with Windows File Recovery:
Download Windows File Recovery from the Microsoft Store and Install it on your PC.
Launch Windows File Recovery and click the Run as administrator option.
Once the Command Prompt window opens, enter the command in the following format:
winfr source-drive: destination-drive: [/mode] [/switches]
You need to specify a mode in the format mentioned above, according to what's suitable for your file system. You can use two basic modes to recover files – Regular and Extensive.
You can also mention any specific file extensions according to the files you wish to retrieve. For instance, enter a similar command to retrieve PPT, PPTX files:
winfr C: E: /extensive /n *.ppt /n *.pptx
Note that the source and destination drives must be different. After you've entered, Microsoft automatically creates a recovery folder on the destination drive.
Now, enter Y to start the recovery operation. This may take some time, depending on the size of your source drive and your recovered files will be saved on the destination drive.
Recover PPT, PPTX Files from your Temporary Files Folder
Another method that you can use to retrieve your unsaved PPT, PPTX files is through the temporary files folder. Windows has this temporary folder dedicated to saving files from various applications. Here's the path to the temporary files folder:
C:\Users\USERNAME\AppData\Local\Temp
There are other ways to access this folder as well. Follow these steps to recover your lost or unsaved PPT, PPTX files from the temporary files folder:
Press Win + R and type in %temp% in the Run prompt.
Once you run the command, the folder window will open in File Explorer. To narrow down your search options, you can filter through the results by using the following extensions – *.pptx, *.ppt, ppt*.tmp. 
If the presentation is located within the temporary files folder, it should show up in the results and it'll be possible to recover it.
Recover PPT, PPTX File from a Local Backup
An easier way to retrieve your PPT, PPTX files is to look for them in a local backup. However, turning to this method will only be feasible if you've created backups of your files either on hard drives, or on the cloud. In this article, we shall look at the steps to recover PPT, PPTX files from a local backup:
Connect your backup drive to your computer.
Open it using File Explorer.
Look through the data to find your PPT presentation.
Copy it to your computer and access the backed up version. 
Recovering PPT, PPTX Files with PowerPoint Features
Did your presentation disappear? PowerPoint provides features that can help recover your unsaved or deleted files. All versions from 2010 and onwards have the Auto Recovery feature and the Recover Unsaved Presentations option. The former saves the file you're working on at regular time intervals. Both features help the user ensure they have a place from which they can retrieve their lost files.
Auto-Recovery
If you haven't saved the PPT or PPTX file you're working on; PowerPoint creates a temporary folder to save these files. You can navigate to the Auto-Recover File Location and look for your file there. However, to enable this feature, you must ensure that the AutoRecover information option is turned on.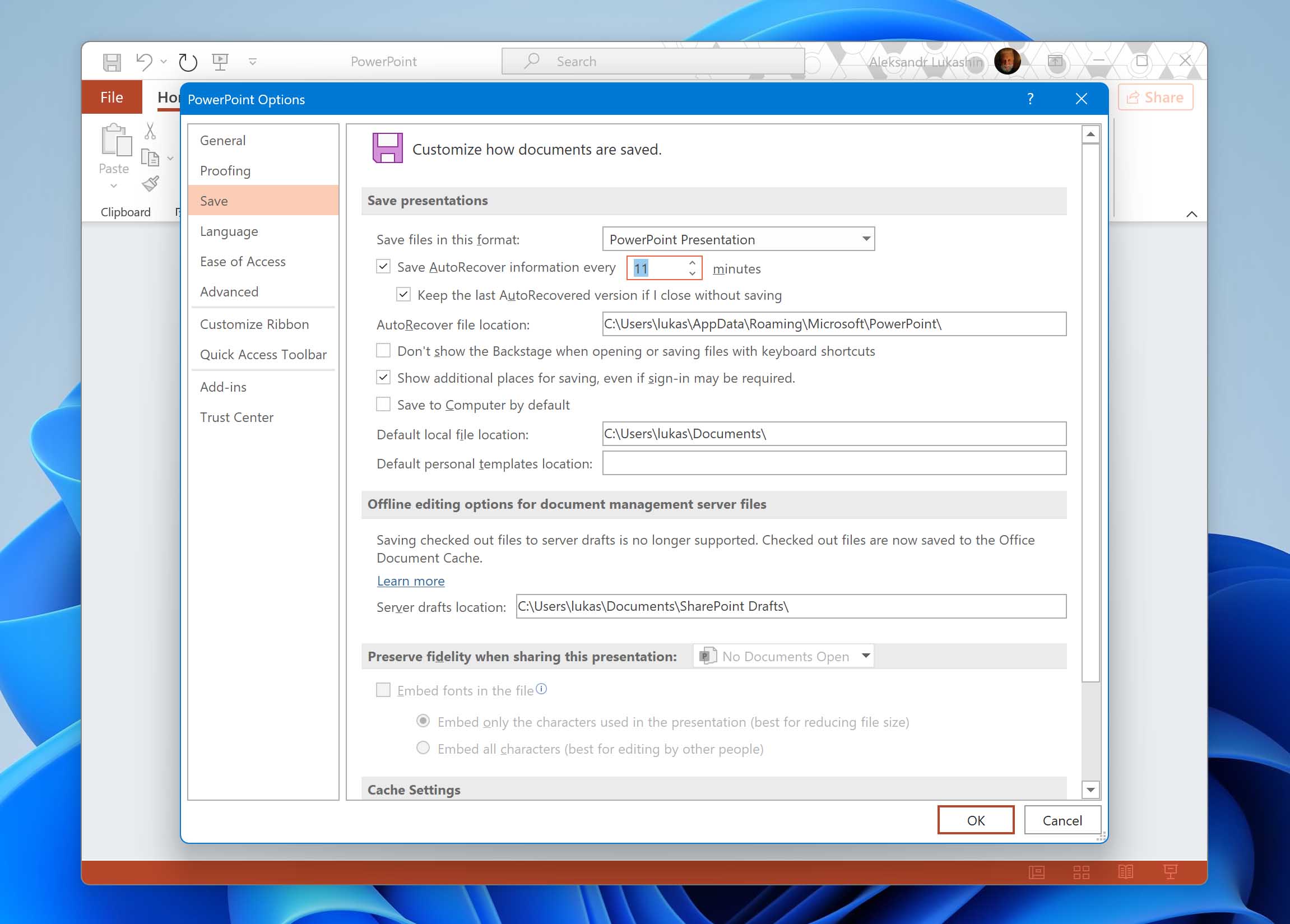 To check AutoRecover on Windows: Open File > Options > Save > Save Presentations > Save Auto-Recover info
To check AutoRecover on Mac: Open PowerPoint > PowerPoint Preferences > Save > Save Options > Save AutoRecover info
Recover Unsaved Presentations
If PowerPoint or your system crashes while you're working or before you have the chance to check a saved version, you can use this feature. Once you click on the Recover Unsaved Presentations option, it will open your missing file.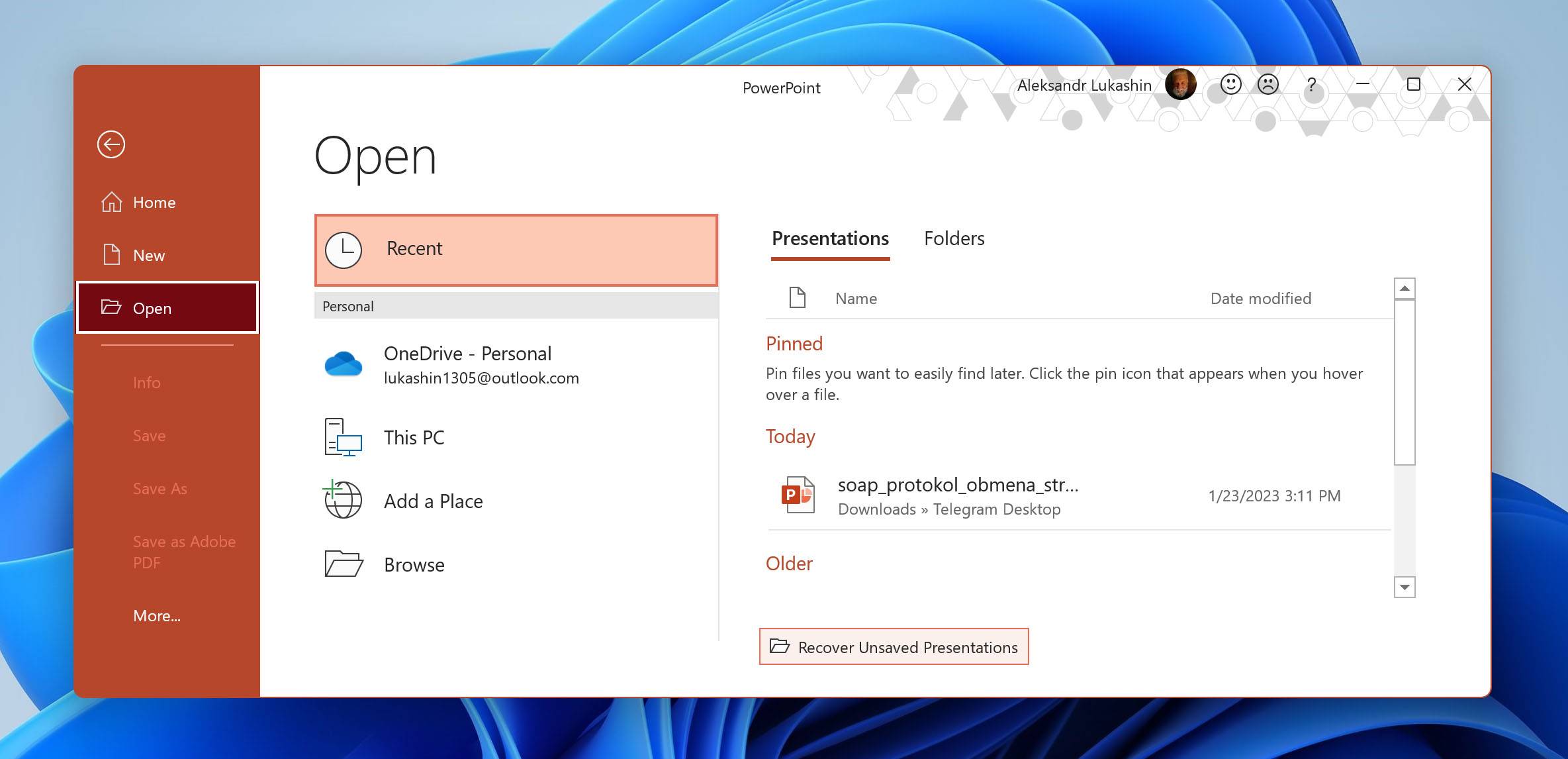 On Windows: Open File > Info > Manage Versions > Recover Unsaved Presentations.
You can find more information on these features at the Microsoft Community.
How to Open PPT, PPTX on Mac and Windows
Microsoft PowerPoint is the most suitable application to open your PPT, PPTX files. It supports all the texts, transition effects, images, clipart, videos, etc., which are vital assets to format the presentation. It is available on both Windows and Mac operating systems as well as on Android and iOS. You can purchase a subscription to Microsoft 365 from Microsoft's official website.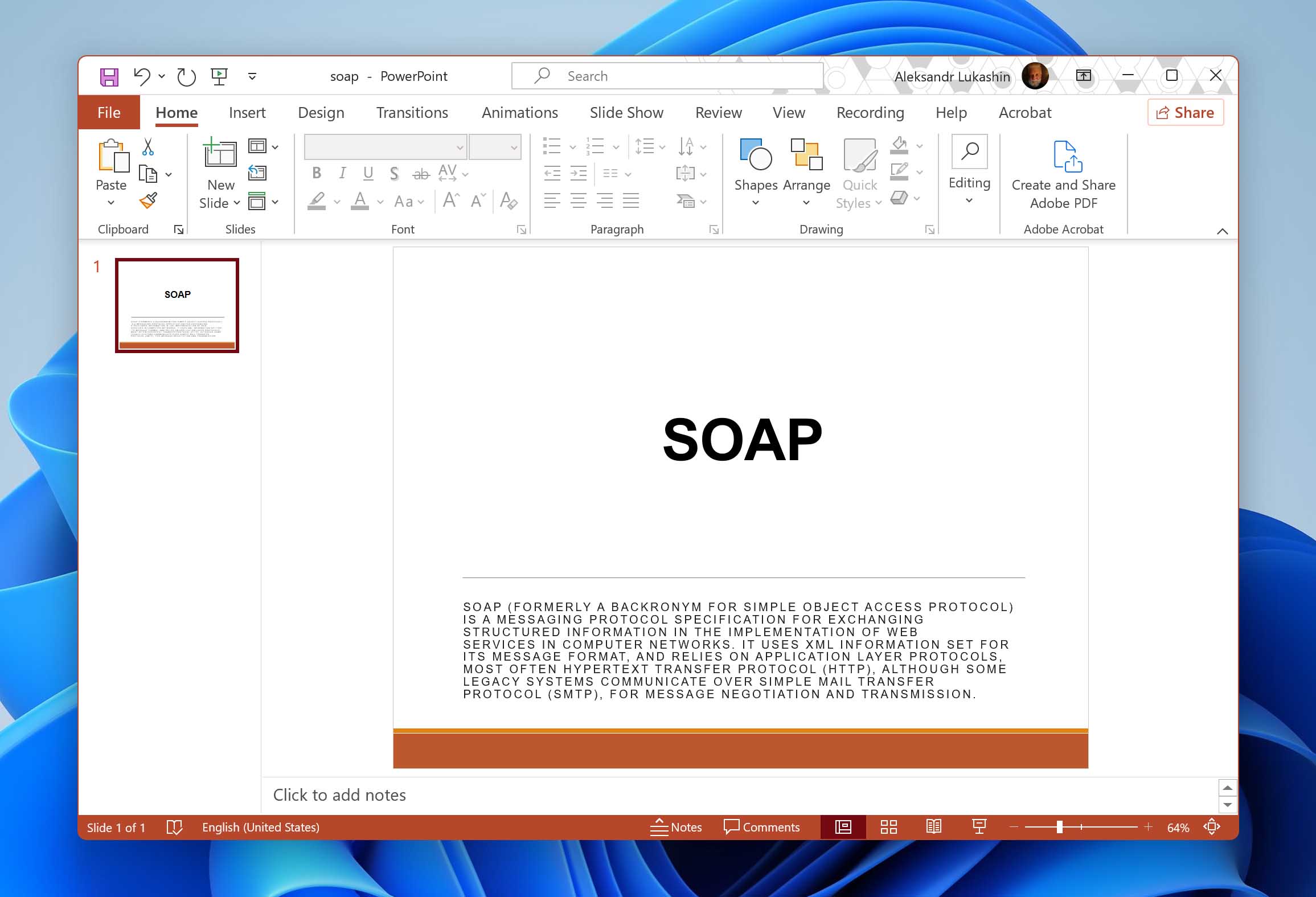 You can also view PowerPoint files in several other presentation programs. Some examples are Apple Keynote, Corel Presentations, or PPTX viewer. If you have a Microsoft Account or a Microsoft 365 account, it will allow you to view and edit your presentations in the web browser.
Programs that Open PPT, PPTX Files
While Microsoft PowerPoint works best, multiple applications can support PPT, PPTX files. You may not be able to edit them using these applications, but you can view them easily. Some programs that support PPT, PPTX files are:
On Windows:
Microsoft PowerPoint 354
Corel Presentations 2021
File Viewer Plus
On Mac:
Microsoft PowerPoint 354
Apple Preview
Apple Keynote
Android:
File Viewer by Android
Microsoft Office
Microsoft PowerPoint
Google Drive
Google Slides
iOS:
Microsoft Office
Microsoft PowerPoint
Google Drive
Google Slides
Tips to Avoid PPT, PPTX File Loss
While it is quite possible to recover your lost PPT, PPTX files conveniently, it is advisable to try and avoid data loss situations. Here are a few tips you can follow to keep your files safe:
💿 Save your work manually – While technological advancements have made it easier to recover files, it is good to keep saving your file manually while working. If the system crashes or an unforeseen problem arises, you can seamlessly get back your precious presentations.
💾 Keep multiple backups – Ensure that you have backups of your files. You can either backup your PPT, PPTX files to a different storage device or use the backup features on your systems. Both Windows and Mac OS offer some advanced features that allow you to back up your files safely.
☁️ Enable AutoRecover and AutoSave – Verify that AutoRecover has been turned on in PowerPoint. This feature can help you recover your deleted or unsaved files without hassle. A lot of users fret that they forgot to save their presentations. This is where the AutoSave option is a real gamechanger: It automatically saves the changes you continue to make onto the OneDrive cloud storage.
🩺 Install a good Antivirus – It is crucial to have reliable antivirus software installed on your computer. It will protect your files from malware and prevent file corruption.
🔋 System and Power compatibility – It is suggested that you ensure your system's compatibility with the software. With constant technical developments, outdated software versions would not work on newer systems. To avoid data loss due to sudden power outages, invest in an Uninterrupted Power Source (UPS).
🗄️ Separate software from other data – You should keep your software and other data, including your media files and documents on different drives. If this isn't followed, your system can crash, or you risk disk failure. It can thus result in significant data loss.
This information can help you avoid losing your data. However, if a data-loss situation arises, the methods mentioned above can help you recover files or other data.
FAQ