What is 3G2 & 3GP File Formats?
3G2 File Format: Characteristics and Uses
A 3G2 file format is a multimedia file type created by the Third Generation Partnership Project 2 (3GPP2). It uses the file extension .3g2. It was designed for CDMA-based phones. 3G2 files use MPEG-4 Part 2 and MPEG-4 Part 10 in video streams, and store audio as AMR-WB, AMR-NB, AMR-WB+, He-AAC, and/or AAC-LC. They can be used in any 3G compatible cellphone, and can also be opened in a computer.

3GP File Format: Characteristics and Uses
3GP is a multimedia file developed and maintained by the Third Generation Partnership Project (3GPP). The file extension is .3gp. This file type stores video according to MPEG-4 part 2/H.263/MPEG-4 part 10 (H.264) data, and audio as AMR AMR-NB/AMR-WB/AMR-WB+/AAC-LC/HE-AAC V1. Designed for 3G phones, it can also run on 2G and 4G phones. Both 3G2 and 3GP file formats are used by 3G UMTS services.
What is UMTS?
UMTS stands for Universal Mobile Telecommunications Service. It is a third generation mobile cellular system for networks, which offers text, voice and multimedia packet-based transmission.
UMTS is based on the GSM standard, and it was developed by the Third Generation Partnership Project (3GPP), who is also responsible for its maintenance.
What is 3GPP?
The 3GPP is a collaboration between groups of telecommunication associations from North America, Europe and Asia. Its goal is to make a third-generation mobile phone system, which is based on the Global System for Mobile Communications (GSM), and that can be applied globally. It includes Radio, Core Network and Service Architecture.
What is 3GPP2?
The Third Generation Partnership Project 2 (3GPP2) is a group of telecommunication associations responsible for the standardization of the 3G set of standards for the CDMA2000 technology.
File Signature
ISO 8859-1: ftyp 3g
Hexadecimal: 66 74 79 70 33 67
Programs That Open 3G2 Files
Microsoft Media Player Classic
Apple QuickTime Player
GOM Player
Totem
VideoLAN VLC Media Player
Programs That Open 3GPP Files
Adobe Flash Professional
Windows Media Player
QuickTime Player
VLC Media Player
Nokia Suite
How to Recover Deleted 3G2 Files
It is easy to recover deleted 3G2 files with Disk Drill. This app is available for Mac and Windows based devices, and can be downloaded for free.

Data recovery for free
Your Companion for Deleted Files Recovery
In order to recover your 3G2 files, just follow the steps below:
Download Disk Drill from any of the links provided above.
Install Disk Drill by clicking on the installer and following the given steps.
Select the digital device that contains the file you are looking for. Disk Drill can recover 3G2 files from many different digital devices, such as internal and external hard drives, USB flash drives, iPods, iPhones, memory cards and more.
Go to the main menu, and from the "Preferences" item select "Video". It will open a menu with different file types. Select "3g2".
Click on the "Recover" button. Disk Drill will scan the drive, looking specifically for 3G2 files.
If you want to pause the session, save it and return later, you can do so by clicking on the buttons "PAUSE" and "SAVE". Otherwise, you can also cancel the scan by clicking on "CANCEL".
Select the file that you were looking for from the Results window, and recover it to a folder of your choice. A great feature of Disk Drill is that if you have many recovered 3G2 files this selection can be narrowed down by the use of filters, either by date or by size.
How to Recover Deleted 3GP Files
3GP file recovery with Disk Drill is basically the same procedure. The only difference is in Step 4, where you will have to select '3gp" instead of "3g2". Or, if you need both, to recover 3GP files and to recover 3G2 files, just select both options: "3gp" and "3g2".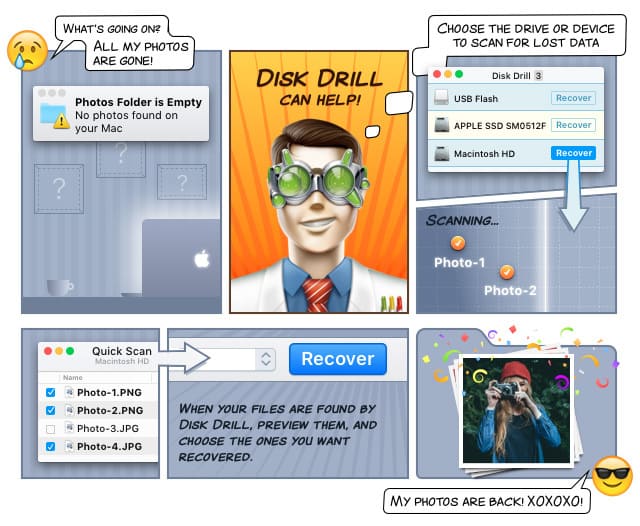 How to Use Image Files in 3GP File Recovery or in 3G2 File Recovery
A great thing about Disk Drill is that it is a very comprehensive tool. It has other capabilities such as the creation of image files, which are bit-by-bit copies of the original source.
In this regard, an important fact to remember is that when you delete a file, you only delete a reference to it, but the actual content remains untouched, until overwritten by the operating system. Therefore, image copies not only contain the files in the file system, but also deleted files still available in the original drive.
Therefore, if your problem is a 3GP file recovery or a 3G2 file recovery, it is safer to search using Disk Drill on an image copy. In this manner, if you make a mistake, you can redo the whole process without losing anything on the original source, just repeating your 3G2 recovery or your 3GP recovery on a new copy. This is also a standard practice in computer forensics.