Your USB drive stores essential information and crucial data for immediate access. When it corrupts to the extent its sectors are no longer readable, it becomes a dead flash drive.
Although a dead USB stick on Mac might not seem recoverable, you can still retrieve files from it. This outcome is possible even if your device refuses to recognize when it is connected to your system.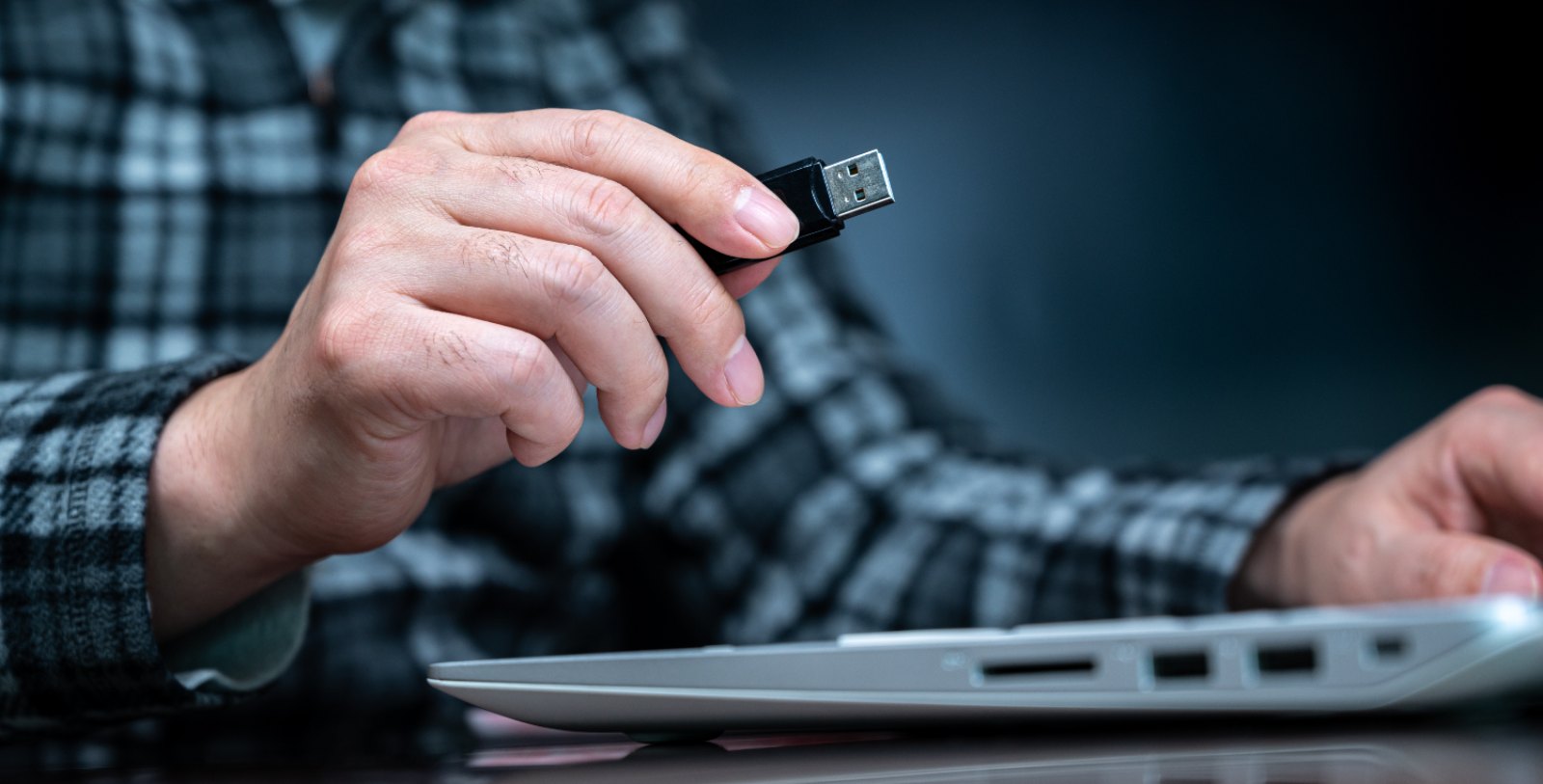 If you face this situation right now, these steps can help you to recover data from a dead USB flash drive quickly and affordably.
What Are the Signs of a Dead USB on a Mac?
When you encounter a dead USB on a Mac, you'll typically find one of three symptoms that indicate the flash drive's status.
The USB isn't showing up in Finder when you have it connected to your iMac, Mac Mini, or MacBook.
It doesn't appear when you access the root user menus in the operating system.
You can see the drive in Finder, but it doesn't offer visible access to your folders and files.
💡 You might encounter error messages in macOS that say the USB flash drive is not recognizable or see it in gray within the disk utility.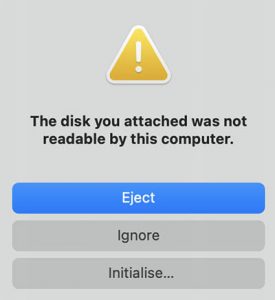 When you encounter these issues, the dead USB experienced a potential corruption event that caused the data access problem.
The most common reason for drive corruption is its improper ejection. This issue happens when you pull the drive from the USB before initiating that protocol.
It can also occur because of malware, virus infection, or damage to the file system caused by power surges.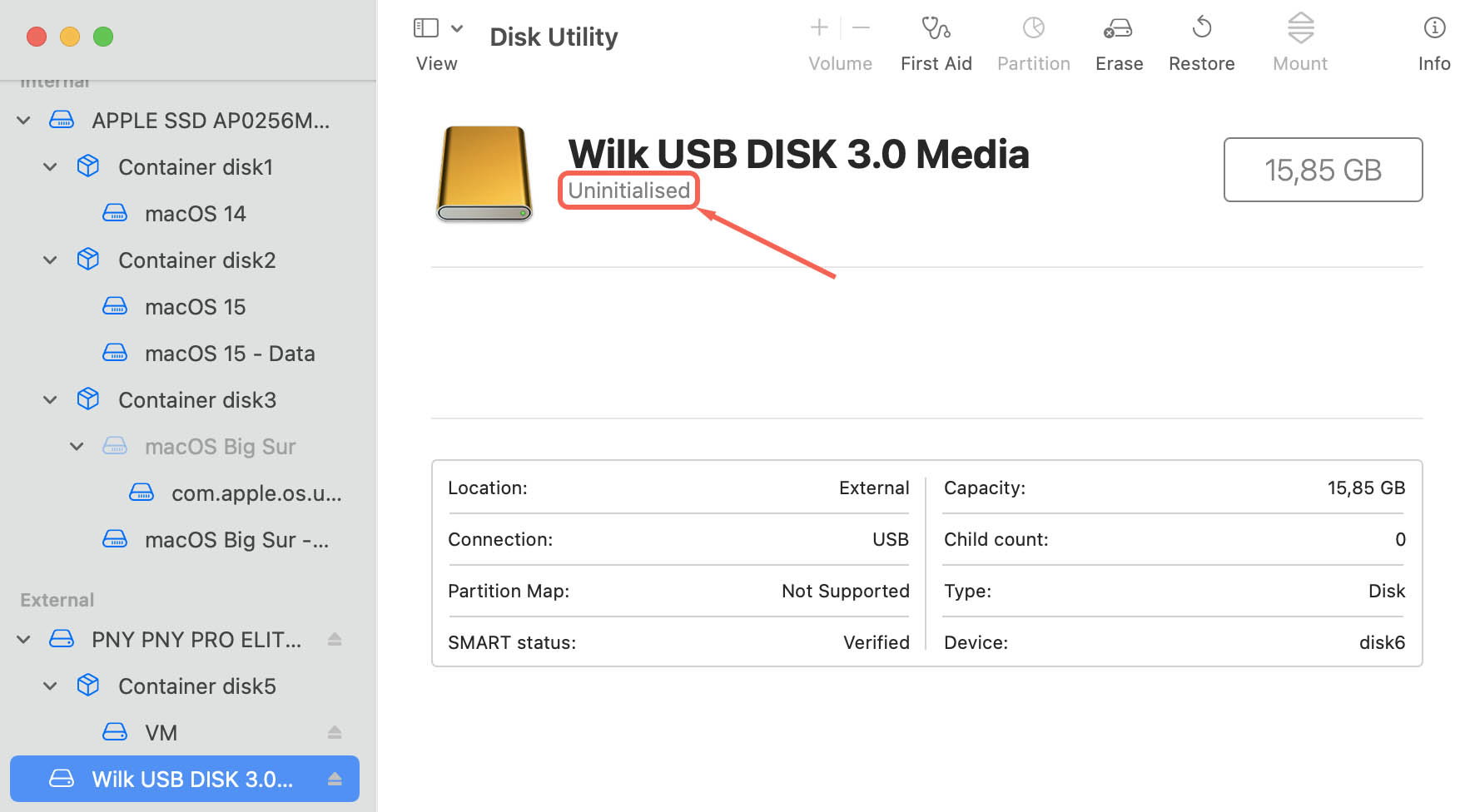 ⚠️ If none of those events happened, the USB flash drive could be worn out due to its age. The NAND cells lose their functionality, which disrupts your information access.
How to Recover Data from a Dead USB Drive
The easiest way to access a dead USB flash drive is to use a USB data recovery software for Mac. Disk Drill can help you with this process once you launch this tool.
Here are the steps you can follow to restore files from a dead USB drive on Mac:
If you can see the USB drive in Finder, it will display within your Disk Drill user interface. You might need to scroll down until you use the flash drive's name if you have multiple internal drives or connections used.
You'll see a button to the right of your USB flash drive that says Search for lost data. Click on it to begin the recovery process.
Disk Drill scans your USB drive after initiating this command. As it finds files and directories, it will show you what is available to recover.
If you want access to a specific folder or file, you can pause the scanning procedure during the recovery process. Disk Drill also provides a resume feature to continue after grabbing the files to scan the entire drive.
You'll need to select the destination folder and drive for the recovered information. Since your USB is dead for all practical purposes, you must choose an alternative saving point. 
Click on the Recover command to get your files.
After this process is over, it helps to go through Finder to the chosen destination for the recovered information. You can click on the files to see if the restoration is complete.
How to Retrieve Data: Data Recovery Services
Another option for recovering data from a dead USB flash drive is to use a data recovery service.
CleverFiles data recovery lab can capture data from almost any storage device. It's the best option to use when your Mac doesn't recognize the drive correctly in the USB port.
💡 Unlike other service providers with data recovery services, you aren't charged anything if no information comes from the effort. The lab has a 98% recovery rate.
CleverFiles provides three service options if you need to use laboratory services to recover files from a dead USB flash drive:
Standard Service This choice is the best value for when you need data recovery services for a dead USB drive. You'll receive a quote for assistance within 1-3 business days, with recovery provided within 3-7 business days.
Expedited Service Choose this service if you need a faster recovery option for your USB flash drive. Services begin at $269, and you'll need to fill out the credit card authorization form for CleverFiles to get started.
Emergency Service When you are in a hurry because the data on the dead USB flash drive has critical information, this option provides the fastest possible services. An extra fee for the quick turn applies since it requires the company's experts to be standing by 24/7.
You'll need to fill out a brief questionnaire that summarizes the issues you're having with the USB flash drive.
💡 CleverFiles can also securely recycle your original media after a successful recovery. This service is optional, but the reassembly time for your USB drive does add to the overall time it takes to complete the task.
You can add more than one device to your request for a quote if your USB flash drive has too much damage to be readable locally.
How to Fix a Dead USB Flash Drive without Losing Data on Mac
If you want to know how to retrieve data from a dead USB flash drive without losing it on a Mac, you need to know how to correct a corrupted drive.
Your Mac might ask you to format the flash drive if it recognizes its presence without sensing any files or folder structures.
Update the USB Driver
You can sometimes recover a dead SSD on Mac USB ports by updating the driver.
Start by visiting the USB flash drive manufacturer's website.
Look for the Support or Downloads page on the site.
Choose the Mac-compatible link option, including the necessary software or driver.
Download the new driver.
Initiate the command to eject the USB drive.
Wait ten seconds before reconnecting the flash drive to your Mac's port.
Complete a reboot cycle on your Mac that involves a complete shutdown.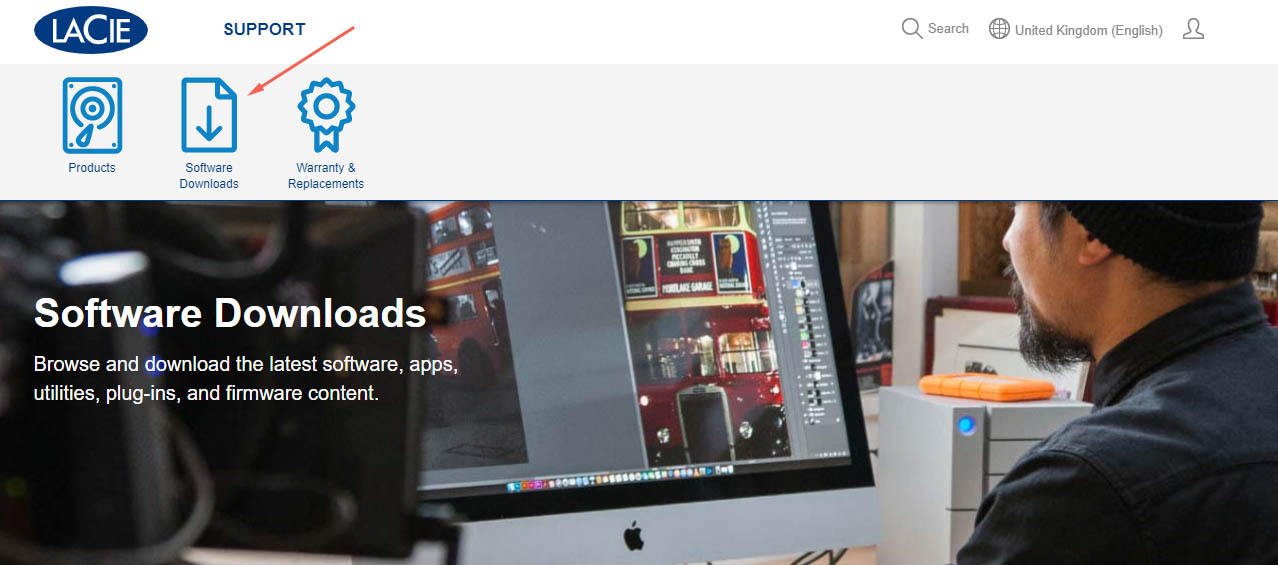 💡 Please note that a simple system restart might not restore access to your dead USB flash drive on a Mac.
Use Mac's Disk Utility
If you want to know how to fix a dead USB C-Port on a MacBook Pro, Mac Mini, or iMac, you can visit the macOS Disk Utility. You can access it from Launchpad or through a system search by pressing the Command and Spacebar keys simultaneously.
Select the View menu option, followed by Show All Devices.
Choose the corrupt USB drive.
Click on the First Aid. You'll be asked if you want to run the utility on the selected USB drive.
Click on the Run command when it appears.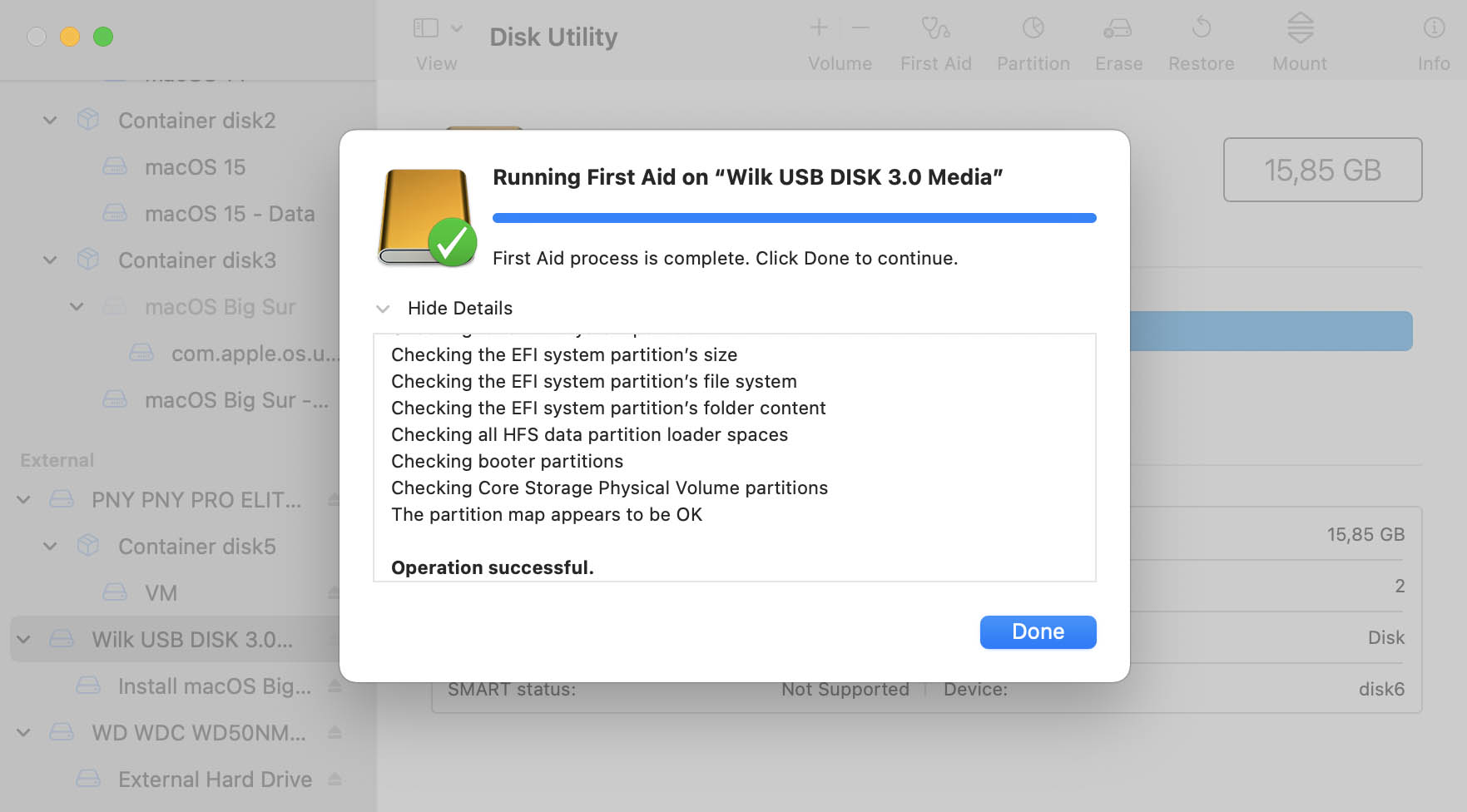 💡If you don't have success with this method, you might get enough readability on your flash drive so that you can run a Mac software-based recovery tool like Disk Drill.
Conclusion
Knowing how to rescue a dead USB flash drive on Mac lets you get those files back with only a few clicks.
Option #1 You can also use a data recovery laboratory to access lost data physically. This service takes longer, but it can provide a successful outcome at a 98% rate when choosing CleverFiles.
Option #2 You can also use the Disk Utility on Mac, update your drivers, or use other localized tasks to attempt a recovery.
Google search "dead usb in laptop"

— I'm Billy (@NerdWrapper) January 22, 2021
The easiest solution is to use data recovery software to accomplish this task. Disk Drill is an excellent option that provides reliable results. If you have information on a dead USB flash drive, it is worth reviewing the benefits of this software.
FAQ Section
The easiest way to recover data after a Mac Pro sleep event or another damaging cause is to use a software recovery tool like Disk Drill.
To recover files from a dead USB flash drive on Mac:
Connect your USB flash drive to your macOS system.
Wait to see if it gets recognized.
If it does, use Disk Drill to recover the files.
If not, you can attempt to update your driver directly from the manufacturer.
If those services are unsuccessful, laboratory recovery services might be necessary.
If your USB flash drive is dead because of total corruption or physical damage, the CleverFiles Recovery Center provides laboratory services to rescue your files. With a 98% success rate, you have an excellent chance to get that critical data back.
You can use the Disk Utility on macOS or contact the USB flash drive's manufacturer for additional driver support to fix a dead pen drive. Software utility tools and laboratory services are also alternatives to consider.
Choose View from the menu.
Click on Show All Devices.
Select the dead USB drive.
Use the First Aid tab. macOS asks if you want to proceed.
Click on the Run command when it appears.