A corrupted hard drive on a Mac can cause your heart to start racing fast. You might wonder:
"Can I fix this problem?"

"Will I get the chance to access my files again?"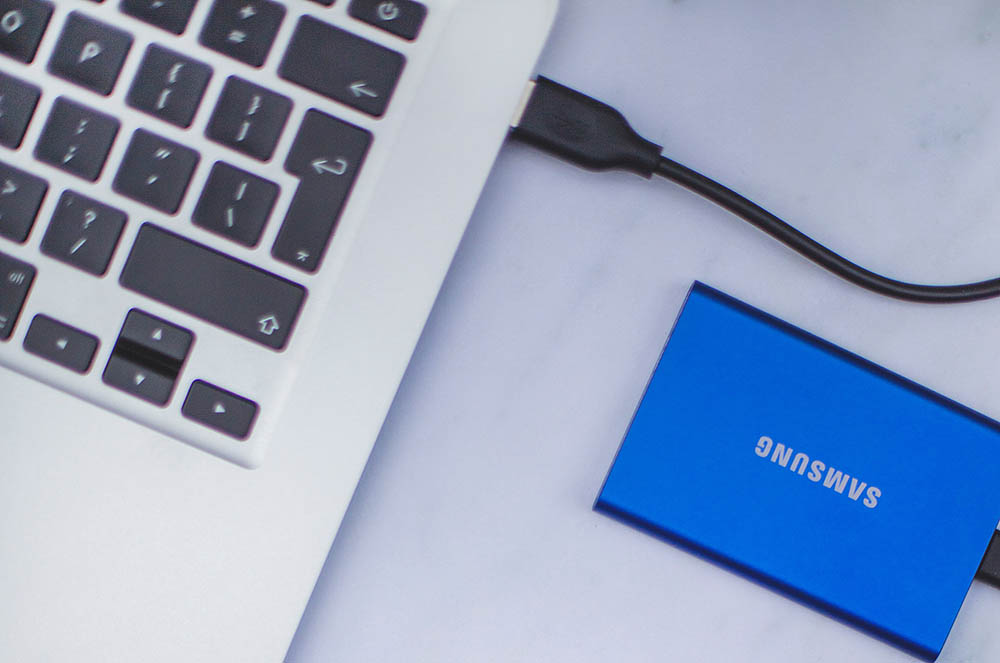 If you can recognize the symptoms of a corrupt Mac hard drive early, it is usually possible to repair the problem. When fixing it isn't possible, you have a better chance to grab your folders and files.
What Are the Symptoms of a Corrupt Mac Hard Drive?
Your Mac starts acting strange when you have a corrupt hard drive. The symptoms might seem random at first, but you'll see problems continue to increase.
You have applications that unexpectedly quit.
Your computer stops responding to input.
When you attempt to open files, some won't respond.
The system won't transfer files to new folders.
In severe situations, your Mac might refuse to start.
⚠️ When you experience one of these symptoms, it is better to be safe than sorry. Several file retrieval and disk utility services can help you repair the corrupted hard drive or retrieve your information.
How to Fix a Corrupted Hard Drive on a Mac
If you know for sure that you have a corrupted hard drive on a Mac, you can take these steps to restore access or recover your information.
1. Repair the Corrupted Hard Drive Using Disk Utility
You can use Disk Utility to repair a corrupted hard drive in some instances. This is not a guaranteed fix, but it's worth trying before moving on to other potential solutions. To do this, follow these steps:
Launch Terminal
Type the following: diskutil repairVolume /Volumes/X, replacing X with the drive name
Press Enter
Disk Utility will now attempt to repair your disk – wait for the process to finish
Check the results – the tool will inform you if the operation was successful or not
If it succeeded, try accessing the disk again
2. Initiate the FSCK Command
Knowing how to check if an external drive is corrupted on Mac or if your internal HDD has this issue follows a similar process.
Users with older Macs that don't have a T2 chip can reboot the Mac into single-user mode by holding the Command + S combination to repair a corrupt partition that limits access.
Open Terminal. You'll type this command:
diskutil list
Press Enter. The computer will give you a corrupt partition number.
Restart the Mac to enter single-user mode.
Type this command:


/sbin/fsck_hfs -fy /dev/[partition number]




💡 You must replace "partition number" with the information received from the diskutil list.

Press Enter. The Terminal will scan for errors and repair the ones it finds.
If your Mac says that the file system was modified, the FSCK command found and repaired the issue.
Run the command a second time. When the Mac says that the volume appears to be OK, type reboot. You'll restart the computer to reach the login screen.
If your machine has a T2 or M1 chip, follow these steps based on the chip manufacturer.
T2 Recovery Mode
If you have an Intel chip (T2), start your Mac in Recovery Mode by pressing Command-R during a restart and then proceed to the common steps.
M1 Recovery Mode
Apple Silicon (M1) users should proceed next steps:
Select Shut Down from the Apple menu.
Press and hold the power button until the Loading startup options message is displayed.
Click Options and then Continue. Enter administrator credentials if prompted. Proceed to the common steps.
Common
Common steps for Macs with T2 steps:
Open Disk Utility.
Select the normal boot volume and mount it using the Mount command if necessary.
Close Disk Utility and switch to Terminal.
Run your desired commands in Terminal for example
diskutil repairVolume /Volumes/[Drive Name].
3. Try Free Software to Recover Mac Hard Drive Data
There are many free and paid software solutions that can help you to recover data from corrupted hard drives.
While they won't help you address the actual cause of data corruption, these tools are capable of telling apart recoverable files from corrupted data and transferring them to an external drive. That's why we recommend them to users whose top priority is to regain access to important data.
💡  Leading data recovery software solutions can recover data even from hard drives that have become corrupted.
Free data recovery software works reasonably well when dealing with less serious cases of data loss, but its limitations start to show when tacking more complicated data loss scenarios. If you need to recover important files, you should increase your recovery chances by using freemium software such as Disk Drill for Mac, which lets you preview all recoverable files for free. 
Download and install the free version of Disk Drill's software.
Launch the recovery software on Mac.
Select your drive and click on the "Search for lost data" button.
Preview the results through the scanning effort to make sure they are recoverable.
You can then select all files you want to recover and click the Recover button to get them back.
4. Recover from a Time Machine backup drive.
If you use Time Machine on Mac, you can revert to a previous version to eliminate the corrupted files. This method works if you have a saved disk image that doesn't contain the problem.
Here's what you need to do:
Connect your Time Machine backup disk if it's not already connected to your Mac.
Open the folder that contained the deleted files. For example, if the files were in your Documents folder, open Finder and select Documents from the sidebar on the left.
Click the Time Machine icon located in the Menu Bar and choose Enter Time Machine.
Locate the files you want to recover using the timeline on the right edge of the screen.
Click Restore to restore the selected file. 
5. Hire a hard drive recovery service for Mac.
If you fail to fix your corrupted hard drive at home, you can always hire a hard drive recovery service and let experienced professionals with state-of-the-art equipment recover your data for you. Professional data recovery services are often more costly than products like Disk Drill, but they can help you get to the missing data when other methods don't work.
6. Try Connecting the Drive to Another Computer
It's possible that the fault is not in the disk drive, but in your Mac itself. To verify this, you can try connecting the disk to another computer. Simply do this:
Unplug the drive from your Mac
Plug it into another computer – you can use a PC or a Mac
Check if the drive is accessible
If that works, it indicates that there's an issue with your Mac. You might have to send your computer for a repair to address that.
7. Connect the Drive Directly (Instead of Using a USB Hub)
If you're using a USB hub, that's another potential source of failure. You may be dealing with a faulty USB hub, while the drive itself is fine, and so is your Mac. Simply unplug the drive from the USB hub you're using, and try connecting it to a USB port on your Mac directly.
If that doesn't work, try switching to a different USB port. If one of those two fixes work, you're likely dealing with a damaged USB hub or USB port on your Mac. Try replacing your USB hub with a different one and see if that fixes the issue.
8. Check Your Finder Settings
There's a setting in Finder which can make external drives invisible. You may have this setting enabled without realizing it, which could lead you to believe that your drive is corrupted. To check if that's the issue, try these steps:
Launch Finder
Go to Finder -> Preferences
From the list of checkboxes under "Show these items on the desktop:", make sure External disks is checked
Close Finder and reopen it
Check to see if your disk shows up now
If that fixes your issue, it means the drive was not damaged in the first place.
9. Reboot in Safe Mode
Safe Mode can allow you to boot your computer with minimal extra software and utilities, and is a great way to troubleshoot various issues. It can also help you access a corrupted hard drive in some cases. Simply do the following:
If you have an Intel chip:
Turn off your Mac
Wait for 10 seconds
Turn on the Mac and keep the Shift key pressed through the boot-up sequence
If you have an Apple chip:
Turn off your Mac
Wait for 10 seconds
Turn on the Mac and keep the power button pressed
Choose the right startup disk
Hold down Shift, and click on Continue in safe mode
How to Prevent Hard Drive Corruption on macOS?
The best way to prevent a "macOS recover files from a corrupted drive" problem is to monitor your system's health frequently.
💡 If you catch changes in your drive's health status early, it is much easier for software tools to repair the problem on your behalf. Every time you use the hard drive after issues develop, you can encounter more data loss due to logical errors and bad blocks.
You can take these additional steps to ensure your Mac doesn't encounter hard drive corruption problems in the future.
🔌 Shut Down Your Mac Safely
When it is time to turn your Mac off for the day, go to the Apple menu at the top left to initiate the command. If you need the computer to sleep, you'll find that option available in the same location.
You don't want to press and hold the power button to accomplish this result unless you have no other choice.
⚡ Prevent Spills and Exposure
Your Mac can handle a lot, but it doesn't like liquids. If you must drink something by your computer, keep it in a closed container with a spill-proof lid.
It would be best if you also avoid extreme heat or cold when storing your Mac.
Some problems occur because food or dust gets into the drive mechanism. If you maintain a clean working area, most issues get proactively solved.
📉 Monitor Your Storage Drive
When something doesn't seem right, you can run First Aid on your Mac. This command checks the disk for errors and repairs them if any get found. Disk Drill gives you the capability to monitor S.M.A.R.T. drive status on older Macs. To activate this feature, turn on S.M.A.R.T. monitoring in preferences and select the drive you want to monitor. An icon will be displayed in your Mac's menu bar.
💽 Back-Up the Storage Drive
Whether you use Time Machine or a third-party tool to create an image of your drive, it is critical to keep at least one copy of your files and folders. If something happens, you can use this compressed storage medium to restore your Mac.
In Conclusion: Fixing a Corrupted Hard Drive on a Mac
Although a corrupted hard drive on a Mac can get your adrenaline flowing, it is possible to retrieve files and restore the disk.
When you bookmark this guide, you'll have a resource that lets you access the steps you need to correct your problem.
Software tools like Disk Drill for Mac are useful when First Aid and Time Machine won't work or are unavailable. You can also use third-party free tools to get the results you want.
A corrupted drive won't fix itself. If you take these steps today, you can get your Mac running better faster than you might realize.
FAQ