Target Disk Mode has several uses in correlation to Disk Drill (and in general). One of the most recent uses is file recovery on the latest macOS release, High Sierra. Due to the new restrictions introduced by Apple, some third-party apps are unable to access the main boot disk for operations like file recovery.
While there are multiple solutions to this situation, one of the easiest is Target Disk Mode. All you need is another working Mac and you can "remotely" access the disk on the Mac you wish to recover.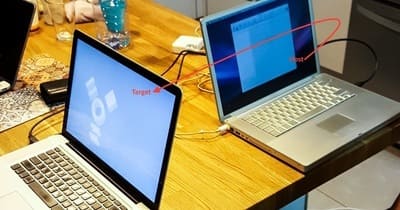 Another great use of Target Disk Mode is if you still possess an older, unbootable Mac that is not mounting well and the internal drive from which you want to recover files no longer boots, Target Disk Mode can be used to access the drive. The use of Target Disk Mode requires that you have another computer that is working and a Thunderbolt or FireWire cable to link the two of them.
Remember that using Target Disk Mode is only one of several means of recovering from Mac OS X High Sierra with Disk Drill. You only need to connect your Thunderbolt or FireWire cable to establish a connection between the two Macs. Please continue reading this guide to learn how to configure Target Disk Mode.
Starting Up Mac in Target Disk Mode
After connecting your Mac running OS X High Sierra (10.13+) (or a computer you wish to recover with Disk Drill that is unbootable) to another Mac that is working, the target Mac can be started in Target Disk Mode. This can be done by powering off the target (unbootable or High Sierra) computer and then powering on again, this time by long pressing the "T" button or key. One thing you will discover when the system is in Target Disk Mode is that your screen will show the Thunderbolt or FireWire icon.
Behind the scenes technology is at work, rest assured that a connection has been established between the unbootable drive and the computer that is working. You don't have to power off the working computer during this process. At this point you need to make sure you have Disk Drill installed on the host computer which will initialize the data recovery scan. If you do not have Disk Drill downloaded on the computer you can proceed to do that now, don't worry, your Disk Drill Activation Code will work on up to three computers!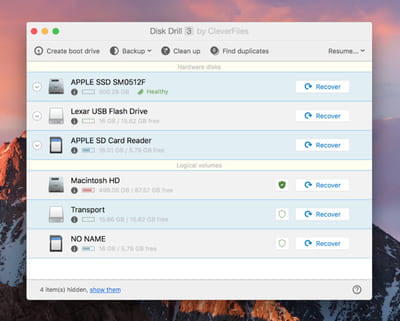 Disk Drill will now recognize the target disk from the other computer as if it were connected locally. This means that you can start a scan by simply opening Disk Drill and clicking "Recover" next to the disk in the list of available disks. This is the same process as any other recovery and does not require any additional steps.
Remember that by default Disk Drill will try all available scan methods. Alternatively, you can manually define it by clicking the "drop down" gear next to "Recover".
Once the scan has commenced, do not carry out another task on the computer system until the scan ends. Doing so on the scanning computer system will slow the scan process.
What If Your Hard Drive Fails To Display On The Desktop?
In case the unbootable hard drive is not detected or recognized by Disk Drill, this may mean that the drive is suffering from physical damage. If the drive is known to be good and working we suggest verifying the data cables used are functional.
It often helps to try an alternate port on the computer (plug the cable into a new port). Trying a different data cable may be useful too. Even though a cable may appear to be in perfect condition this does not necessarily indicate functionality.
In the event that the cable and port are not the issue and the disk is still unreadable there may be another issue. You may consider physically removing the disk from the computer and placing it in another, known working Mac for recovery.
If your disk is suffering physical damage or suspected of having a physical hardware failure recovery may not be possible. The disk must be in a viable physical and hardware state for Disk Drill to recover data in target disk mode.
How Do You Verify Your Data After Scan?
Your data must be verified at the end of the scan to ensure that the files can be accessed on your working computer. In order for you to verify your data, preview the files you want to recover and verify their contents look correct and that the files are readable.
To preview the file, highlight the file and select the preview icon (the preview icon looks like a little "eye" in Disk Drill). The preview screen will be launched in another window and the highlighted file will be displayed. You can also preview before launching a scan. Lastly, you can view the actual recovered data on Mac being used for recovery before returning to the original Mac.
.updated:
June 3, 2021
author: