Last year Apple's Mac OS X was officially renamed into macOS. And this year we are having the next major macOS, which is High Sierra. Disk Drill is traditionally ready for all the updates in the Apple's eco-system. But there's more to it this time.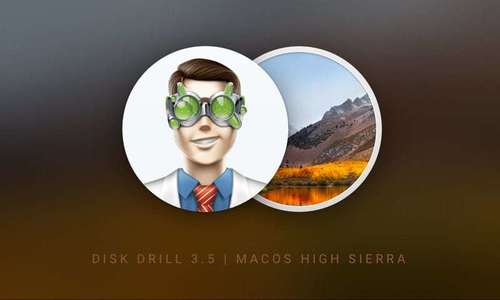 If you follow the early reviews of High Sierra on the Internet, you would notice that the most hyped new features are APFS, the new file system to replace HFS+, Metal 2, the new graphics API, with VR support. There's also a bunch of performance and native apps' updates.
We yet have to see whether the new file system is truly better or significantly faster than its predecessors, but what we do know for sure, macOS High Sierra also tightens its backbone security features. Few reviewers actually mention explicit approval requirements for kexts as well as new restrictions in SIP, System Integrity Protection or "rootless" mode. And, in fact, the latest is kind of a big deal for many (!) third-party apps out there, including Disk Drill.
What changed for us
Starting with macOS 10.13 High Sierra non-Apple apps can no longer access your startup disk directly. Even though Disk Drill always accesses drives and partitions for deleted data recovery in read-only mode only, even that access is removed at the OS level. Not only Disk Drill is impacted.
All system modification apps, UI tuners, many professional backup and disk cloning solutions, heavily integrated system-level management suites are facing the new dilemma. As of today (September 24, 2017) macOS 10.13 High Sierra is only available as a Release Candidate (GM Candidate, as Apple calls it), not even the Golden Master version, as used to be in the past years. Thus, many experts acknowledge: this upgrade might be cumbersome for many users.
We started working on High Sierra support for Disk Drill many months ago, and as a result, we are proud to announce Disk Drill 3.5 today. This is the first release of Disk Drill for Mac to officially support the new macOS 10.13.
You might have seen some references to the issues that were already polished, improved and fixed to make this support a reality in our past changelogs. Now, this work is done… to a certain extent. We believe, in the new circumstances, Disk Drill 3.5 is the best data recovery do-it-yourself app out there. And you can download it for free, as always.
What changed for you
If you are in need of data recovery from any storage device other than your startup system drive, nothing changed for you. Disk Drill is ready to serve you out of the box! The same is true if you are running any macOS/Mac OS X version prior to 10.13.

If you need to scan your startup drive (main system disk or partition) for deleted files on the latest macOS, Disk Drill now offers several simple convenient workarounds that will help you get your lost data back in the safest way. These workarounds require 5 to 15 extra minutes of your time, and basically ensure Disk Drill can access your startup drive safely preventing any further file activity on it that could overwrite precious data you are looking for. So, starting with Disk Drill 3.5 running on macOS 10.13 High Sierra, these are the options available to you before the lost data can be recovered from the startup drive:
You can re-configure your file system protection (less than 5 minutes of your time)
Or you can use our boot drive for data recovery (less than 15 minutes to start the actual recovery process)
Or you can use your Mac in Target Disk Mode, the official Apple's data migration option (also less than 15 minutes required)
Also we wanted to assure you that we are already working on a more integrated solution that might get the recovery process for startup drives back into the normal more simplified course of actions. Until then, we are here to help you out any time, more than we always were.
Disk Drill has always been and will always be your reliable cross-platform data protection and recovery solution you can count on!
The new Disk Drill 3.5 also improved the following:
APFS support
Thumbnails for recoverable files
File operations in "Folders with Icons" view
Hints to guide you through the recovery process
Frontend and backend of iOS 11 data recovery
Handling of read-only drives
Stay tuned.
Yours,
Clever Files
.updated:
June 3, 2021
author: