What is TOD File Format?
The TOD file format is used in tapeless video camcorders. Its main supporters are JVC, Panasonic and Canon. Although there is no official definition for the meaning of TOD, some refer to it as Transport Stream on Disk. TOD is used for high definition files.
Characteristics and Uses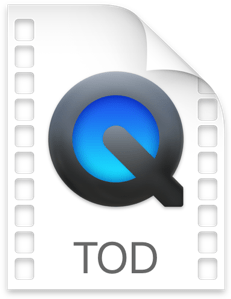 TOD is a file-based format, used to store data into random-access media. Each file has a sequential name with the last three characters being a hexadecimal number. This convention limits the maximum number of files to 4096.
TOD files use MPEG-2 Video compression and can record in 4:3 and 16:9 formats. MPEG-2 is a standard described in the ISO/IEC 13818, which describes lossy audio and video compression technology for storage and transmission of media using currently available resources.
Lossy compression uses algorithms that work with inexact approximations and some data loss. It is useful to reduce storage size. However, repeated compression and decompression of these files can result in generation loss, which is a progressive quality loss.
TOD files cannot be played on most consumer video devices. They must first be packaged into distribution formats such as HD DVD or Blu-ray Disk, by using some special software.
There is a variety of conversion TOD software for Windows, Mac and Linux available on the market. In addition, most modern camcorders working on TOD files, contain some TOD file converter software.
Brief History
TOD first appeared in 2003, when JVC introduced the Everio GZ-MG30, to store video into a hard drive. Panasonic introduced it in the SDR-5100 to store into SD cards. The idea behind the creation of the TOD file format was to solve copyright issues.
Lately JVC has been the only supporter of TOD format. In 2008, JVC released some hybrids TOD/AVCHD models. From 2009 onwards, JVC has used the AVCHD format only.
Neither JVC nor Panasonic have given explanations on the meaning of TOD, and the format has no official name.
Programs That Open TOD Files
Windows:
Adobe Flash Professional CC
CyberLink PowerDirector 15 Ultra
CyberLink PowerDVD 16
Nero 2016
Squared 5 MPEG Streamclip
Serif MoviePlus
MAGIX Vegas Pro 14
VideoLAN VLC media player
Mac:
Apple iMovie 10
Adobe Flash Professional CC
Squared 5 MPEG Streamclip
VideoLAN VLC media player
Linux:
VideoLAN VLC media player
Concerns
TOD file format cannot be used for progressive-scan video recording. This fact limits its use, as most video hosting websites stream progressive-scan video.
How to Recover Deleted TOD Files
With so much of our important memories in digital format, it is quite easy to mistakenly delete a file. Fortunately there is a tool, named Disk Drill, which is available for free!

Data recovery for free
Your Companion for Deleted Files Recovery
The TOD file recovery procedure is straightforward. These are the necessary steps:
Download Disk Drill from one of the above websites.
Install Disk Drill by clicking on the installer, and following the given steps.
Open Disk Drill by clicking on the application's icon. The program will open and will show all available connected devices. Disk Drill can work on many devices, such as internal and external hard drives, USB flash drives, memory cards, iPhones and many more.
From the main menu select "Preferences", then "Video" and last ".tod". In this manner, the search is narrowed to files of .tod format only, and therefore the scan is faster.
Press the "RECOVER" button. Disk Drill will scan the selected drive.
If you need to pause the search, press the "PAUSE" button. If you want to save the session and continue later on, press "SAVE". Your session will be saved, and you can restart it at any time, without any loss of the work already done. Or, if you want to cancel the session, press "CANCEL".
Once the scan is done, Disk Drill shows the results in a list form. The list can be narrowed by filtering according to size or date. Select the files you are interested in, and restore them to a folder of your choice.
Your TOD recovery is done!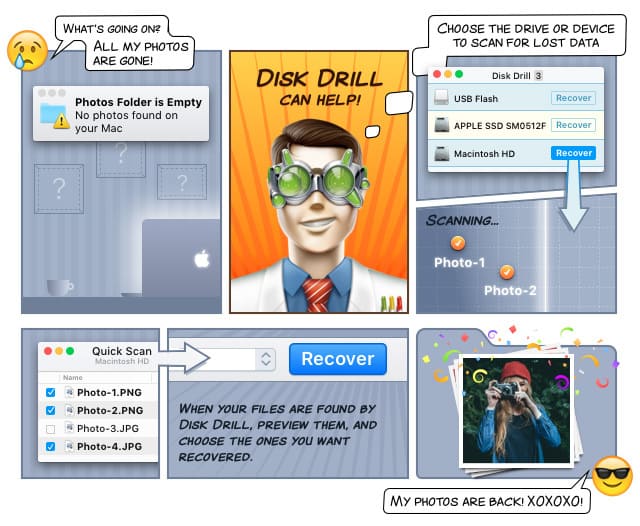 How to Use Image Files to Recover TOD Files
Disk images are bit-by-bit copies of a digital drive. They have the advantage of containing all data, including deleted files not yet overwritten by the operating system.
Thus, image files are useful to recover TOD files, as the original source can remain unmodified, and in case of problems, the scan can be done again on another image copy. Their use is a standard procedure in Computer Forensic science.
Image files are also useful for backup purposes. The main advantage is that all data is backed up. The downside is that an image file has the same size as the original drive, and it may include unused space.