If you're stuck in traffic, washing dishes, waiting in a bank queue, or sitting outside someone else's office, podcasts can be a great way how to kill some time and perhaps even learn something useful while you're at it. But because of their episodic nature and often unpredictable release dates, podcasts can be difficult to navigate and get through. Fortunately, there are many great podcast apps for Android and iOS, and we have a list of ten podcast apps you should definitely check out.
Pocket Casts is likely the most popular podcast app for mobile devices, and it also deserves its title of the best podcast app for Android and iOS. With Pocket Casts, you can easily discover over 300,000 unique podcasts from amateur and professional creators alike, subscribe to your favorite podcasts, let Pocket Casts automatically download new episodes for you, and keep your subscriptions and settings synchronized across your devices, just to name a few of the most interesting features of this excellent podcast app.
But even if you follow only a small handful of select podcasts, Pocket Casts can still enhance your listening experience with its advanced playback features. You can change the play speed from anywhere between 0.5 to 3x, cut silences from podcast episodes so you can absorb more content in less time, or boost the volume to comfortably listen even in loud environments.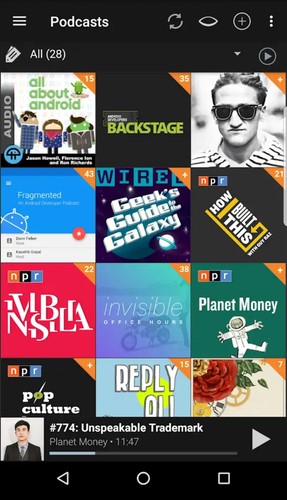 Podcast Addict (Android)
If there's one thing that you may not like about Pocket Casts, it's the fact that the app isn't free. And if you don't mind ads, Podcast Addict can be a great free alternative to Pocket Casts. The app allows you to search through a very large database of over 450,000 podcasts and apply various search filters to find the podcasts that best correspond to your interests.
For a free app, Podcast Addict has a number of surprisingly useful features, which is why it's readily considered to be the best Android podcast app. For example, it supports Android Wear notifications, has built-in audio effects, is compatible with Chromecast and SONOS, and you can even use it to listen to over 25,000 radio stations. If you fall in love with the app, you should consider donating at least a small amount of money to its developers, who deserve your love for their excellent work.
Overcast (iOS)
iOS users also have a fantastic free alternative to Pocket Casts, one that's free and supported by tasteful ads that don't ruin the user experience. Overcast is a simple podcast app that runs on all iOS devices, including the Apple Watch. Its clear user interface makes it especially suitable for people who like apps that don't require any learning to understand how they work.
But under the polished hood are several extremely useful features that make listening to podcasts even more enjoyable. They include the ability to create smart playlists with podcast priorities, the ability to boost or normalize volume, and enhanced podcast discovery for the moments when your existing podcast library just isn't large enough. Because of these and other features of Overcast, we wouldn't hesitate to call it the best iOS podcast app.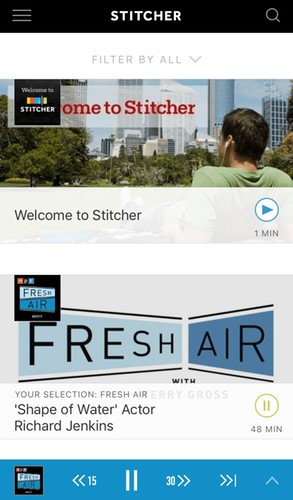 Unlike the above-mentioned podcast apps, Stitcher is an on-demand Internet radio service first and an excellent podcast app second. But just because podcasts aren't Stitcher's top priority doesn't mean that the app doesn't deserve its place on this list of the best podcast apps for Android and iOS devices—far from it.
With Stitcher, you can listen to over 100,000 podcasts on all your devices, including Android and iOS smartphones and tablets or Amazon Echo smart voice-controlled personal assistants. What's more, Stitcher is integrated into over 50 car models from leading car manufacturers, including GM, Ford, BMW, and Volvo. Stitcher gives personalized recommendations based on your listening preferences, and it can automatically download new podcast episodes for you so that you always have something to listen to even when you find yourself without Internet access.
Player FM is a progressive podcast player that respects your privacy and understands how to help you enjoy your favorite podcasts even more. You can download it from Play Store for free and use it with ads, or you can become a premium subscriber and get access to several extra features.
The cheapest subscription plan Player FM offers is called Gold, and it costs only $0.99 per month. With the Gold plan, you can sync your playback history across devices, choose from a number of different themes, turn on intelligent data compression to get more out of your monthly mobile data allowance, and access advanced settings, which let you customize the app to your liking.
If you want even more features, you can subscribe to the Pro plan for $3.99 per month or become a patron for $9.99 per month. Pro subscribers get access to full media backup, personalized search, faster feed updating, and priority support. Patrons get all the benefits of the Gold and Pro subscription plus human recommendations, public recognition, and insider access to beta features.
Downcast (iOS)
If you own a vehicle with CarPlay support and would like to listen to podcasts while driving or waiting in traffic, Downcast has you covered. Downcast is often considered to be the best podcast downloader for iOS because of its ability to continue podcast downloads in the background. Being able to download podcasts in the background is especially useful if you have unlimited mobile data and are not used to downloading podcasts before you leave your house. With Downcast, you can just leave the download to continue in the background and use your phone or tablet as you would normally.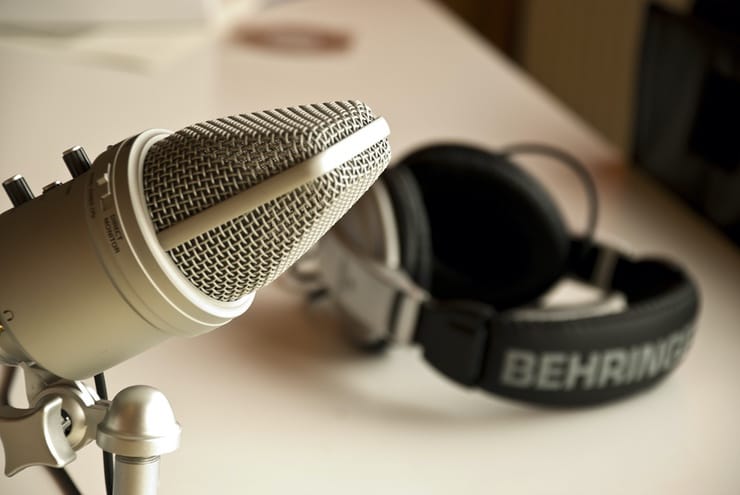 Downcast supports Chromecast, so you can listen to your favorite podcasts on a number of devices, including high-definition television or home audio systems. While nobody can accuse Downcast of not having enough features and customization options, the app could use more polish as it's starting to feel rather dated compared to the likes of Overcast and others.
BeyondPod is a great example of a well-designed Android app that follows Google's design guidelines and delivers a pleasant user experience with all the essential features the best podcast apps for Android are expected to have. BeyondPod's podcast library has millions of hours of content, and you can even add podcasts from external sources with just a few simple taps on the screen.
BeyondPod is designed with drivers in mind. It makes it very easy to save podcasts for offline playback, and its large buttons don't require the precision of a skilled marksman to be pressed properly. It also works with Android Wear devices, so you can keep your phone in the pocket and still be able to skip all the boring parts. If you decide to purchase the optional Pro Unlock Key from the Play Store, you receive extra features and functionality, including the ability to download several podcast episodes at once, Chromecast support, and episode synchronization between devices.
Castro 2 (iOS)
The original Castro podcast app for iOS was a huge hit, and Castro 2 is even better. The goal of this app is to help you keep up with lots of podcasts without overwhelming you with new content. Given how long the average podcast episode is and how much time most people have for podcasts every day, it's simply impossible to listen to everything interesting that gets released.
Castro 2 has an innovative feature called Triage. With Triage, you can keep expanding your listening habits without ending up drowning in the sea of notifications for new podcast episodes. The developers of the app want to convince podcast lovers that subscribing to a new podcast shouldn't feel like a huge commitment. Triage recommends podcast episodes based on previous interests, so you know which episodes you don't want to miss and which you can skip.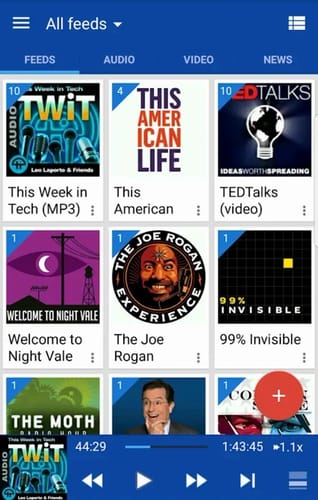 DoggCatcher is the best podcast app Android users often don't know about. It's highly configurable, supports fully automated download and file cleanup, has variable speed playback, and its user community is active and thriving.
DoggCatcher has a handy home screen widget for easy access to playback controls, and it remembers the current play position of all your podcasts so you can always pick up from where you left off.
No, DoggCatcher isn't free, but once you but the app, it's yours forever without any apps or intrusive in-app purchases. If you're not afraid to give a less-known app a try, we recommend DoggCatcher as a fantastic alternative to some of the more popular podcast apps for Android.
The chances are that you don't know about it, but Spotify has a growing library of podcasts. If you already have a Spotify subscription, it's a no-brainer to also use this excellent music streaming service for listening to your favorite podcasts. And if you don't have a Spotify subscription, you should definitely consider getting one because Spotify is the best music app for Android and iOS devices.