If your Mac employs the Apple T2 Security Chip, you may need to modify your system's Secure Boot settings in order to boot from a recovery disk created by Disk Drill. This holds true for bootable disks meant for data recovery and those used for macOS installation.
To configure Secure Boot so you can use the bootable devices created by Disk Drill, follow this procedure.
Start the Startup Security Utility which is only available if your computer contains an Apple T2 Security Chip. The utility is accessed from macOS Recovery mode with these steps:
Turn on your Mac and hold Command (⌘) + R immediately after you see the Apple logo. This starts your computer in macOS Recovery mode.
Select Utilities > Startup Security Utility from the macOS Utilities Window.
Authenticate by clicking Enter macOS Password and enter a valid administrator account and password.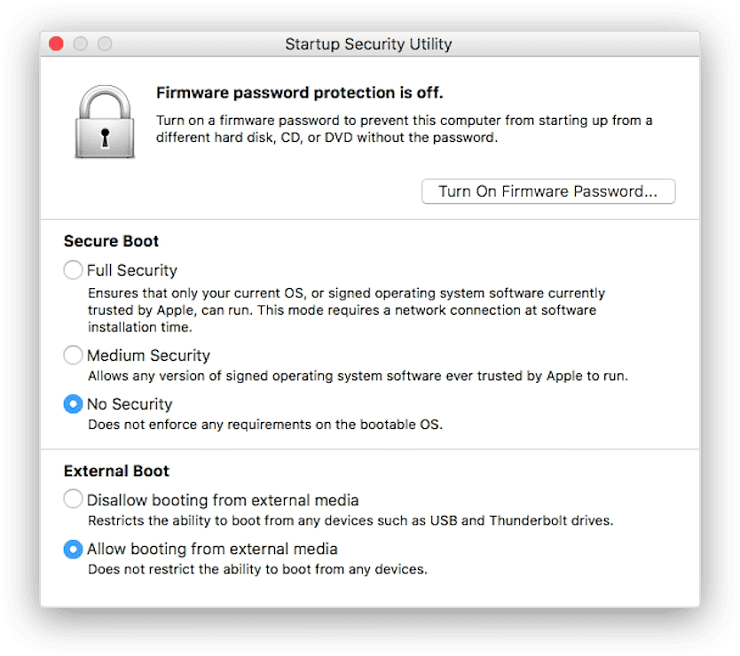 Within the Startup Security Utility, select No Security in the Secure Boot panel.
Staying in the Startup Security Utility, select Allow booting from external media.
You can select an external startup disk at this time if you wish by quitting the utility and selecting the Apple menu and then Startup Disk.
Making this change to your Mac enables you to use Disk Drill's bootable devices for startup or data recovery. You should strongly consider reverting to a fully secure boot by selecting Full Security in the utility when you have completed the task for which you created the bootable device.
.updated:
June 3, 2021
author: