Disk Drill is the world's leading file recovery solution however we have always had stiff competition. We have never seen our competition as a threat but more of a healthy opportunity to grow. Quite frankly we love competition at Disk Drill because it gives us a reason to strive for excellence, continue to grow our feature sets and continue to offer revolutionary, fast, friendly file recovery solutions to our customers.
We have recently discovered that some of our competition has been "borrowing" features which we designed for Disk Drill. While many would expect us to be offended on the contrary, we are flattered! We have come to learn that our advanced feature set and stunning user interface is so intuitive that it can't be topped.
Seeing is Believing
Last year we overhauled our Disk Drill UI with a brand new sleek, modern and intuitive interface. Not only did this make it easier for our users to find and recover their files with ease it also made Disk Drill look downright gorgeous. We added multiple great new features including our Recovery Vault which makes it easier to recover files after a disk failure and our Guaranteed Recovery option which creates full backups of deleted files to ensure recovery.
These features were designed in a unique manner by the Disk Drill team which is why we were so surprised to find very similar features (identical with a name change) in EaseUS Data Recovery. We were quite flattered to realize that they copied our idea entirely and even tried to copy our interface (IMHO, they didn't do a good job, ours is much more attractive). They say that imitation is the most sincere form of flattery and we agree.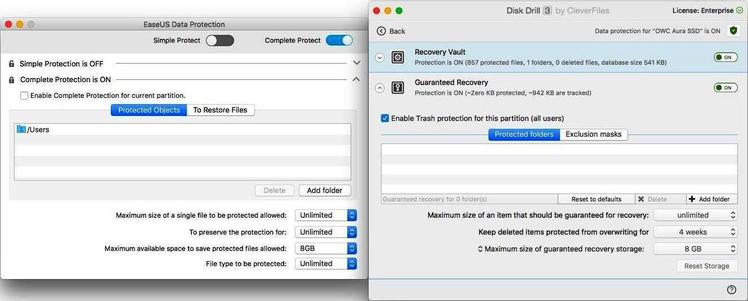 | | |
| --- | --- |
| Nice Try | Originality Wins |
How does Disk Drill Compare?
We encourage our users to investigate alternatives to Disk Drill such as the EaseUS Data Recovery Wizard. Many of our users come over to Disk Drill after taking advantage of our competitive upgrade discount which makes switching to Disk Drill easier and cheaper than ever. We may not be able to give you back the money you spent on inferior data recovery solutions such as EaseUS Data Recovery but we can make it cheaper and easier to step into the next generation of advanced file recovery.
We are quite confident in the recovery results offered by Disk Drill; so confident that we allow users to perform a scan with the Disk Drill Basic Edition at no cost to find and preview which files are recoverable with Disk Drill. We encourage our users to look up an EaseUS Data Recovery review to see how the competition compares to Disk Drill.
We really don't think it's a healthy competition to clone features from others which is why we design everything from the ground up with our own team of developers. Each and every part of Disk Drill is unique and custom tailored to make data recovery as easy and reliable as possible for our users. Disk Drill's power data recovery engine is second to no other.
The Power Behind Disk Drill
It may be possible for the EaseUS Data Recovery Wizard to poach features from Disk Drill such as our Recovery Vault but they cannot copy our data recovery engine which is the true gem of Disk Drill. Our powerful recovery technology is capable of recovering near limitless types of files on many different types of drives and devices.
Rather it be a classic spinning hard disk, a modern SSD, USB drive or even a memory record – Disk Drill can help. We have successfully recovered files from many different devices even if they were not deleted recently or considered lost forever.
We are confident with our data recovery process, so confident that we allow you to try it out and run a scan at no cost. You can begin scanning your drive to detect files which our technology is capable of locating on your device, no purchase necessary. Confidence is the key with Disk Drill allowing our customers to try our technology before committing to a paid edition; this is something that the competition often avoids.
It is always interesting to see how other companies wish to emulate the things we do. We have come to the conclusion that competition is fun and inspires us in new ways. We do think it is important for each and every company to be unique, creative and produce their own original ideas to make data recovery better as a whole.
We hope that companies and software such as EaseUS Data Recovery will learn to create unique concepts and provide new features for their users instead of scoping out the competition to copy their ideas. On a final note we would like to say that we do appreciate the friendly competition and we love to give our users the opportunity to explore other software before deciding that Disk Drill is the most powerful, feature filled data recovery solution in the market.
.updated:
June 3, 2021
author: