Yahoo Recovery: Everything You Need to Know to Perform Yahoo Password, Email, and Account Recovery
Despite the 2013 acquisition of Tumblr, a popular microblogging and social networking website, Yahoo is rarely placed in the same category as Google. It may be its age or its inability to innovate at such an astonishingly high level as seen from Google. But the unfavorable perception aside, Yahoo is actually the second most popular e-mail provider in the United States, attracting more than 200 million unique visitors every month.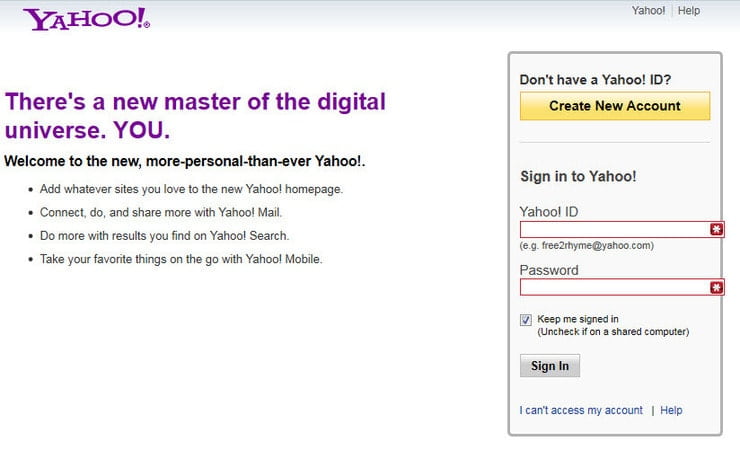 A large number of these visitors are people who have created a Yahoo account in past but later made a switch to Google or Microsoft only to find out that grass is, indeed, not greener on the other side. If you are reading this article, chances are that you are one of them. To make the situation even worse, you have probably already forgotten your yahoo password. Don't worry, in this article, you will learn everything there is to know about Yahoo account recovery. We will even teach you how to recover deleted email from Yahoo.
Yahoo Account Recovery
If you can't even remember the last time you logged into your Yahoo account, you have probably forgotten your Yahoo ID as well. Yahoo provides you with two ways how to recover your Yahoo account:
Enter your mobile number.
Enter an alternative email address associated with your account.
In both cases, you need to visit the sign-in helper and follow the instructions presented to you. If you have neither an alternative email address nor mobile number, we advise you to contact someone you remember sending an email to. Ask the person to find your full Yahoo email address and use the address to recover your Yahoo account.
Yahoo Password Recovery
Those who know their Yahoo ID but need to perform Yahoo password recovery must proceed in a similar way:
Visit the sign-in helper.
Enter your Yahoo ID or recovery phone number or email address.
Yahoo will then send you Yahoo password recovery instructions.
By following the instructions, you should have no trouble with the recovery of your Yahoo password.
Yahoo doesn't offer one-time Yahoo recovery password, as is the case with Twitter. The only way how you can do Yahoo password recovery is via Yahoo email password recovery or Yahoo phone number password recovery.
How to Recover Deleted Email from Yahoo
Have you accidentally deleted emails from Yahoo? There's a way how to get them back. This is how to recover deleted emails from Yahoo:
Go to your Yahoo Mail inbox.
Open the Trash folder.
Select the messages you would like to recover.
Move them to a new folder.
Recovering Yahoo Data from Your Computer
When you add your Yahoo account to your favorite email application, such as Microsoft Outlook or Thunderbird, the application usually saves your emails locally. That's a great news for those who have lost their account credentials and want to recover whatever they can before it's too late.

Data recovery for free
Your Companion for Deleted Files Recovery
To do so, it's generally best to use a data recovery software like Disk Drill, a premier data recovery software for Mac OS X and Microsoft Windows. Disk Drill can recognize and recover many different file types, allowing you to select exactly which files you would like to get back and which can be discarded.