What is Mavericks OS X & How to solve Mavericks data loss issue
Mavericks OS is one of the 10th releases of OS X and runs on Macintosh computers, servers, and Apple's desktop. The first release of Mavericks OS was on 10th June 2013, Mac users from all over the world were allowed to upgrade to version 10.9 through Apple Mac App store.
Mavericks OS
update came with new improvements such as prolonged battery life, multiple display support, iCloud integration and other improvements. The name Mavericks represents a location in California, and it was the first OS X series to be named after a place, earlier versions had been named after big cats.
Mavericks OS X can be run on Mac PC with a minimum of 8GB of internal storage memory and 2GB of RAM. Apple compatible models of Mavericks OS includes; MacBook 2008 or later, Mac Mini 2009 or later, MacBook Air 2008, Xserve 2009 and MacBook Pro 2007 or later. The release of Mavericks OS X came at a time when users anticipated so much on its iconic features. Some of the cool features of Mavericks OS included; mission control, multiple display support, calendar enhancements, iCloud Keychain sync, new iBook apps, Finder enhancements on full-screen support, tabs and document tags.
Recover deleted files on Mavericks OS
As powerful as it is, Mavericks OS has some few drawbacks that can hinder one from recovering lost, undeleted and corrupted files from a hard drive. Even though Mavericks OS has a backup and sync system that can help one to retrieve deleted files, there are still other invertible circumstances when data loss can occur. If you are experiencing a data loss scenario, don't panic because there is a simple solution that can help you recover back deleted files on a Mac PC running Mavericks OS. Disk Drill for Mac is a free download, Mavericks OS file recovery software that can be installed on Mac computers and used to retrieve back lost data. The data recovery program can recover more than 70% of your lost files and repair 10% of all corrupted files on your Mavericks OS. If you have discovered that you have accidentally deleted your most precious documents and colorful pictures that you had stored on your PC, don't worry cause Disk Drill for Mac can recover Mavericks OS camera files with a high level of success and efficiency.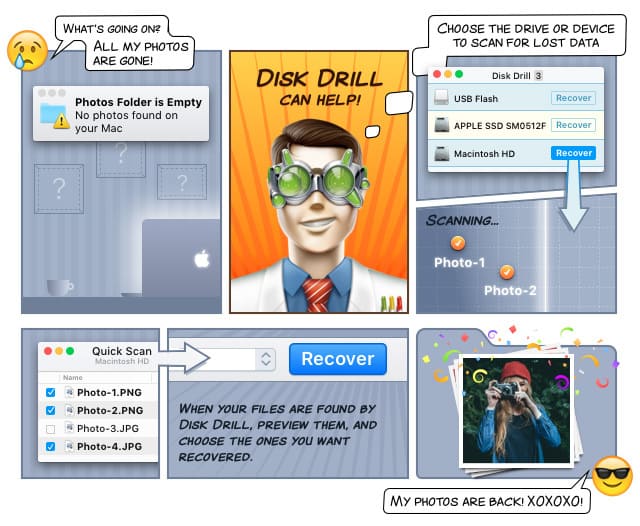 Data recovery for free
Your Companion for Deleted Files Recovery
Disk Drill for Mac is a free Mavericks OS data recovery software that can be used to scan for lost files on a Mac hard drive partition or external drive. If you want to unlock all recovery features, please upgrade to Disk Drill Pro version that allows users to enjoy premium data recovery features and other benefits.
Tutorial:
Download Disk Drill for Mac and install it on an external drive if you want to recover lost files from your Mavericks OS PC drive. (Installing the software on a separate hard drive will prevent overwriting of new files on your PC drive)
Launch the Program and scan for lost files. When scanning is done Disk drill will display recoverable files. Save all recoverable files to a folder on your drive.
To prevent future loss of your data and precious files, enable Disk Drill Guaranteed Recovery feature. This option monitors all your Mac deletion activities and makes invisible copies of files that you delete from your Mac trash. In case you need them back, Disk Drill will restore them back to your PC drive with just a "one-click" of a button.