Going Down the Memory Line with ARJ (ARJ Compressed File Archive) File Format
There was a time when the ARJ file format was one of two mainstream file archives used in the warez scene and by anyone who was anything during the BBS era. As the full name, Archived by Robert Jung, suggests, ARJ was developed by Robert K. Jung, during the early 1990s. Its competition at the time was PKZIP, the file archiving program that first introduced the now famous ZIP file format.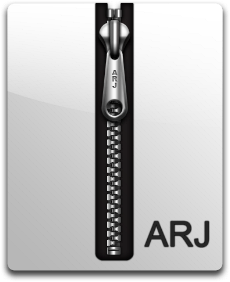 Even though ARJ was always a step behind, mainly because a patent covered some of its parts, it had its undisputed place in the file sharing community. As anyone who's old enough to remember what it was like to access the internet during the 1990s will attest to, download speeds were abysmally slow, and connection drops happened on a regular basis. Sharing large (which, at the time, meant several MB in size) files was a chore.
Unsurprisingly, soon after ARJ hit the scene, people learned to embrace its robust support for the creation and handling of multi-volume archives. Downloading just a few hundred kilobytes instead of several megabytes made a world of difference. Of course, we now enjoy much faster internet speeds, so a .arj file is a rare sight.
How to Open ARJ?
Most modern file archivers can easily open all files with the ARJ file extension. Across all platforms, the most popular file archiver is 7-Zip. This open-source program was developed by Igor Pavlov for his archive format, 7z, but it can read and create many other archive formats.
The second place is currently occupied by WinRAR, a powerful archive manager with support for all modern operating systems and archive formats. Unlike 7-Zip, WinRAR isn't open-source, but you can keep using the trial version for as long as you want without any restrictions.
Finally, there's the third most popular file archiver, PeaZip. Its advantages are that it's free and open-source, but, unfortunately, it only works on Windows, Linux, and BSD—no support for Mac OS X.
Apart from these programs, you can, of course, open ARJ files using the original ARJ file archiver or its 32-bit successor, ARJ32. Beware that these two programs only run on Windows and are limited to ARJ only, regarding their file archive support.
Recover Deleted ARJ Files
Because ARJ was so popular in the warez scene and the wider file-sharing community, there's a lot of demand for a software solution that would allow users to easily recover their old ARJ file archives from a variety of storage devices, including floppy drives, CD-ROMs, USB flash drives, hard drives, and modern solid state drives. Ideally, it should do it in a way that's accessible to someone who hasn't been keeping up with technology.
Disk Drill by CleverFiles shines as the best data recovery solution currently available. The user experience revolves around a simple three-step process designed to turn you into a data recovery expert within a few seconds from starting the app. Disk Drill supports over 200 file types and all modern storage devices. It even comes with a bunch of extra tools for data backup and disk management, among other things.

Data recovery for free
Your Companion for Deleted Files Recovery