Why data recovery Torrents can be harmful to you and your computer
The internet is overflown with all types of torrent download trackers, resources, cracks and file hosting services that pretend to offer cracked versions of data recovery software. Most people have a common misconception where they believe that using torrents saves a lot of effort and money. The real truth is that these files are harmful and are very dangerous to have on a PC. There are a lot of risks factors involved with torrent files, below are some of the problems you might find yourself running into after downloading a torrent file.
Software Malware and Viruses
Pirated torrents always contain malware and viruses that are invisibly installed to your computer. The virus intrusions include: annoying advertisements on your browser, file deletion and credit-card information theft. You might have heard incidences of credit card theft and money lost through online transactions to hackers. Well, they perform these simple tasks by hiding monitoring & spying programs on torrent files. Once you download and install a pirated program, the malware will run in background, sending all your information to hackers through your internet connection. It's very hard to recognize these programs since hackers use sophisticated programming languages to create these harmful malwares.
Complexity of downloading torrent file
Websites and all sources that offer cracked, pirated and torrent software always redirects users to insecure sites. Most users often don't realize how their computers are hacked by these dangerous sites and they end up complaining of being spied by a particular software company of which they downloaded a cracked version of the software.
The HTTPS internet protocol is the most secure form of internet security and helps to protect users' information that includes credit cards, email address, e-wallet accounts and bank accounts. There are no torrent tracker sites that use the HTTPS protocol and this makes it very hard to protect your information from hackers when accessing torrents. There are some users who are searching for these torrents in the internet "Ontrack data recovery torrent, Minitool power torrent, R-studio torrent download, Wise data recovery torrents, Virtuallab data recovery torrents, Disk Warrior torrent, Asoftech torrent, Kroll ontrack torrent, Paretologic torrents," etc. without knowing that torrent files are very dangerous can cause great harm to a computer and its operating system.
No updates and Customer support
Some people often search for "Easeus data recovery torrent, Wondershare data recovery mac torrent, Stellar Phoenix photo recovery torrent, Power data recovery torrent, Stellar phoenix data recovery torrent, Disk drill torrent, Recuva torrent, Data Rescue torrent, iCare torrent " etc. They think that having this types of programs will enable them to retrieve lost data on their hard drives, but the real truth is that pirated data recovery apps don't perform all data recovery tasks since they have been interfered with and manipulated with keygen programs that affect how they work.
One of the drawbacks or disadvantages of using a pirated data recovery software is that the user cannot contact customer support for any technical help and must rely on other sources in case a problem arises with the software. Another big disadvantage is that cracked programs cannot install automatic updates from the official software vendor. When an unlicensed software is out of date, the only alternative way is to either uninstall it or reinstall pirated software again, which might expose your computer to a very huge risk.
Legal Implications
Downloading torrents of pirated software and unlicensed software breaks international copyright laws, and this exposes you to many types of liabilities. In most countries, it's legal to use torrent downloads as long as they do not infringe any copyright laws of the original software vendor. Some developed countries have inbuilt measures and techniques of identifying copyright infringers. Most people who are found selling or distributing copyrighted software without authorizations face very tough fines and long-serving sentences.
If you think that having a pirated software that could have only cost you around $50 is not a big issue, just know that you are at a big risk if arrested. Think about how much money you would spend hiring an attorney, settling the dispute and the time wasted in case a particular company decides to sue you for copyright infringement. Stay safe by only using licensed software, the risks are not worth it and might cost you a lot than you could imagine.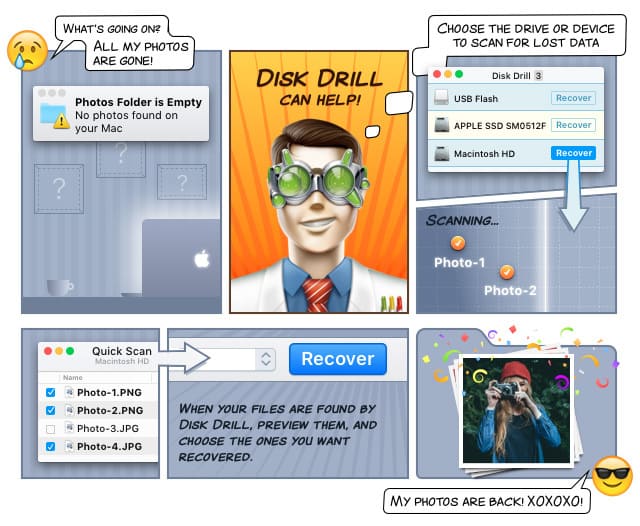 If you are looking for a reliable data recovery program, download Disk Drill free data recovery software for Mac or Windows and recover your lost files the easy way. Disk Drill data recovery app uses sophisticated algorithms to retrieve lost or deleted files from a hard drive, USB disk, external drive, memory card and other types of digital storage devices. The program is free to download, and you don't need any torrents or cracks, it's 100% free to download.

Data recovery for free
Your Companion for Deleted Files Recovery