Video editing can be a very sophisticated task. Mac users are famous for their skills in this area. Two applications stand out for their excellence and quality, namely Movavi Video Editor and Filmora. Both have been used in famous films and TV programs. Here below is a description of these two apps and five others that are also a frequent choice amongst Mac users.
---
Movavi is a video editor application for the Mac that has a free version as well as a more full-featured Pro alternative. It runs on the Mac OS X 10.7 or later and is an easy-to-learn editing tool that can be mastered in well under an hour. Let's take a look at the features included in this powerful editing software.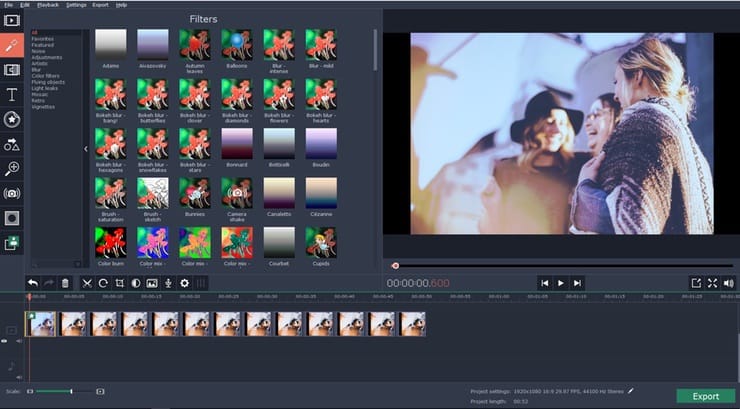 Free Features
The free version of Movavi is in itself an extremely useful tool for video editing. You can export your finished video to any of the popular video formats as well as uploading directly online.
Filters such as Pop-art and Old Movie let you easily add character to your home videos for a distinctive finished product.
One of the best features of Movavi is their new Montage Wizard. Incorporating elements of artificial intelligence, the program can take your footage and edit it to create a complete movie including the music of your choice.
Audio is an important facet of any quality video and Movavi offers the user a full suite of audio tools. You can manipulate the audio frequency, remove background noise, and easily add sound effects to your video.
A beat detection feature lets you easily sync your video with its musical soundtrack.
The program enables you to add voice-overs or input from musical instruments for more creative flexibility.
Stickers and music tracks are provided and can easily be used with your video projects.
Capture video directly from your webcam and start editing it immediately.
Pro Features
In addition to all of the features in the free version, the professional tool adds sample videos and more music tracks. It also introduces keyframe animation to add movement to titles and overlay clips. Whether you opt for the pro or free version, Movavi gives you the ability to create quality videos in a simple and painless manner.
---
Filmora by Wondershare is a powerful video editing application for your Mac machine running OS X 10.10 or later. Its intuitive design makes it easy for anyone to create great videos using its array of advanced features. The developers have included creative tools that enable the user to make outstanding videos by dragging and dropping moving graphics into your videos or adding effects by taking advantage of their regularly updated effects store. You can download a free trial version of Filmora to see if it's right for you.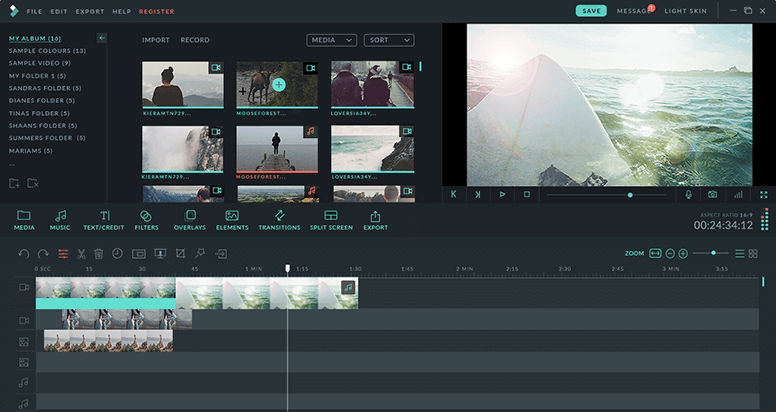 Free Features
With Filmora, you can edit and export videos at a resolution up to 4K and the tool makes it simple to import photos and clips from social media platforms.
You can reverse your clips and play them backwards, and frame-by-frame previewing is available for more precise editing.
Speed control that allows you to speed up or slow down your video up to 100 times, makes the tool an excellent choice for time-lapse videos.
Other features that give you more creative flexibility include camera shake effects, color tuning, and the ability to easily remove background noise.
You can add up to 5 text tracks and 10 music tracks to your video's timeline.
Pro Features
In addition to Filmora's basic features, the application includes advanced tools that allow you to create professional-grade videos. Editing is made easier by the scene detection feature, which identifies scene changes automatically. Audio separation, equalization, and mixing capabilities let you fine-tune the sound of your video. You can split your screen to play two or more videos at once and layering of multiple video clips can be done with the picture-in-picture feature. With advanced text editing that allows you to animate the text and titles of your videos, Filmora provides a powerful video editing tool for your Mac.
---
Final Cut Pro is a series of non-linear video editing software programs, initially developed by Macromedia Inc. and later continued by Apple Inc.  This well-known professional video editor for Mac stands out for its user-centered design, which has resulted in Final Cut Pro being at the top amongst the Mac video editing software programs currently available on the market.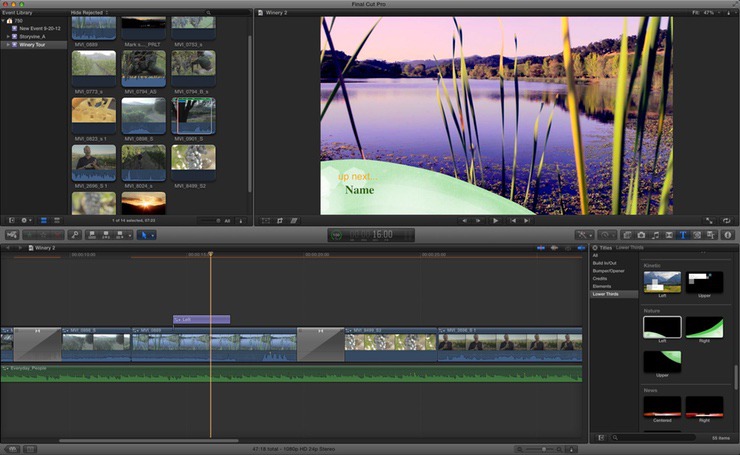 The secret behind Final Cut Pro's success is its interface, which has been designed based on non-computerized editing workflows, and thus, working the same way professionals do. Its interface has four main windows for organizing, editing, and viewing. They are the browser, the timeline, the canvas, and the viewer.
The browser is a virtual space for referencing and arranging clips. It is complemented by the timeline, where clips are grouped in sequences, which can also be nested inside other sequences. The canvas is used to output the contents of the timeline, and editing them with features such as overwrite, replace, insert, fit to fill, and superimpose.
Finally, the viewer shows the content for each different channel of the selected clip's audio and has tools to adjust for scale, opacity, cropping, rotation, distortion, and many more.
Final Cut Pro's many users reflect the success of its design approach. In 2007 they amounted to 47% of the professionals in the USA market. Prizes, such as the Primetime Emmy Engineering Award in 2002, echoed this market judgment.
This video editing software for Mac has a proven record of excellence in the many movies in which it has been used. Amongst the best-known titles in a long list are: The Rules of Attraction (2002), Happy Feet (2006), The X-Files: I Want to Believe (2009), Gamer (2009), By the People: The Election of Barack Obama (2009), The Patrol (2013), and the recent Saved by Grace (2016).
Other technical information includes being written in the Cocoa language, outputting films in DV, P2 MXF, HDV, XDSCAM, 2K, 4K, and 5K, and running on Intel-based Mac computers supported by OS X Yosemite or later versions.
Based on its success, Apple has presented this app to the market in two versions: Pro and Express. This second version presents the same interface, but without some advanced functionality. Aimed at the non-professional editor, it is available at a more affordable price.
---
iMovie was developed by Apple Inc. for its iOS and Mac devices. Released in 1999, it has been enhanced in later versions.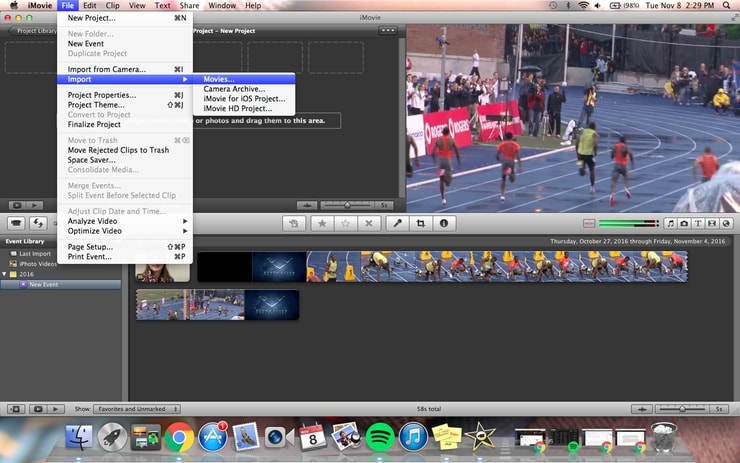 This app is a simple video editor for Mac that can be used to import videos using FireWire, from a USB drive or a hard drive. It has basic editing capabilities that can be used in video clips, to add effects and music. It also has video enhancing and color correction tools.
Overall, iMovie is ideal for the person looking for an easy-to-use tool, who is mainly interested in doing some basic editing to movie clips.
---
Kdenlive, which stands for KDE Non-Linear Video Editor, is an open-source video editor for Mac. It is based on the MLT Framework, which is characterized by simplicity.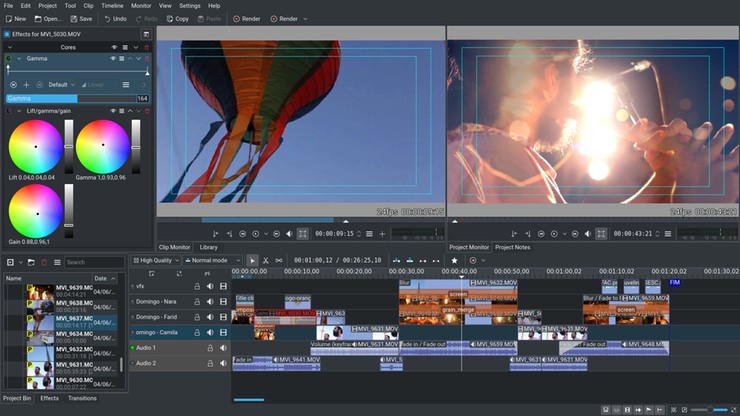 The application supports many formats, including AVI, QuickTime, FlashVideo, WMV and MPEG, among others. It also supports 16:9 and 4:4 ratios for NTSC, PAL and HD standards. A video capture Mac can be saved on a DVD.
On the other side, Kdenlive falls short in user-friendliness, particularly with its difficult interface. However, it comes with a manual that can help in answering questions.
In summary, Kdenlive is a good app for those friends of open source software, who want to edit small videos.
---
Avidemux is an open-source and free video editing software for Mac, whose main characteristic is user-friendliness. Its ease of use and installation, with the added availability of a good tutorial, makes Avidemux an ideal tool for beginners in video editing.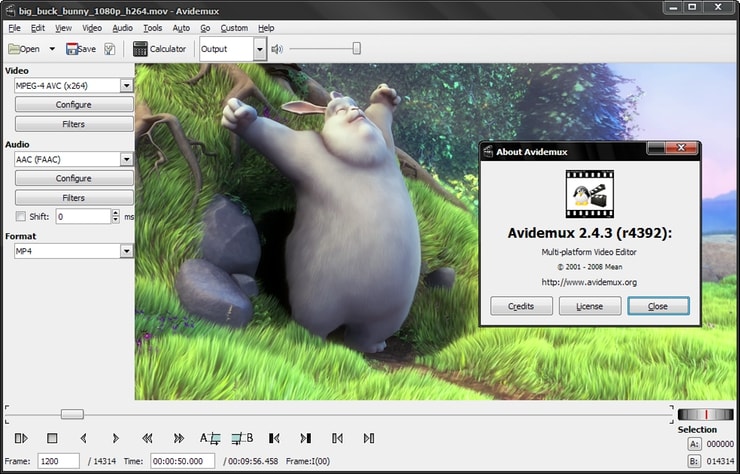 The app can work with many video formats such as DVD, MPEG, AVI, and many more. It can also handle several common audio formats, such as WAV, MP3, AAC, and others.
In addition, it includes several functions for editing, cutting, and filtering, which make this app a very practical tool.
In brief, Avidemux is a great tool for the beginner or unsophisticated video editor, who prefers something friendly and easy to learn.
Features
Its vast array of features include 3D modeling, UV unwrapping, texturing, raster graphics editing, fluid, and smoke simulation, particle simulation, soft body simulation, sculpting, animation, match moving, camera tracking, rendering, video editing and composing, and an integrated game engine.
This free video editing software Mac works by organizing data into data blocks of different types. Blocks are grouped in objects, which are edited in different modes.
The video editing is done with its Video Sequence Editor (VSE), which has plenty of functions. Examples are Gaussian blur, color grading, and several transformations.
In summary, Blender has filled a niche where high technical functionality is required. This great video editing software for Mac is the best option for complex editing tasks, such as engineering simulation and sophisticated 3D animations.
Blender is an open-source and free video editing software for Mac with an outstanding differentiator over other similar apps: great functionality. Much more than just rendering – Blender is also a capable free video editor for Mac.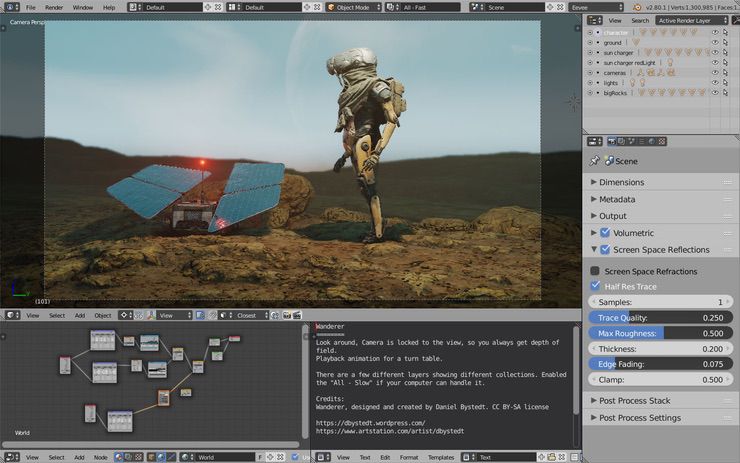 Written in C, C++, and Python, and available for Mac OS X 10.6 and above, this software has been used for creating animated films, visual effects, art, 3D printed models,  video games, engineering simulations, and many more.
Although Blender has been described as difficult to use, it has been very successful on the market. This app has been used for television commercials in several countries, amongst them Australia, Iceland, Brazil, Russia, and Sweden. It is currently used by the History Channel and NASA and has been a tool for the film Spider-Man 2.
---
Read more:
➡️ Recover Lost Videos from a Corrupted or Formatted SD Card
➡️ Ways to Recover Deleted Videos
➡️ Restore Permanently Deleted Videos on Mac
---
FAQ
Best for beginners: iMovie;
Best for Macbook M1 or M2 chip: Final Cut Pro;
Easiest-to-use video editor: Movavi for Mac;
Best for YouTubers: Folmora for Mac;
Best Open-Source video editor: Shotcut.
Both pieces of software are powerful and capable of producing high-quality videos. However, Final Cut Pro offers more advanced features that set it apart from iMovie. Professionals often choose Final Cut Pro for its increased detail and editing options such as multi-clip synchronization, unlimited tracks for audio and video, supplemental elements like animated titling and special effects, granular control over color correction and grading, plus access to multiple behaviors for rich multimedia stories. For users looking for the highest level of film production accuracy, Final Cut Pro is the way to go.
If you're considering using Final Cut Pro for your Macbook, you will be happy to hear that Final Cut Pro is free for 90 days. This free trial allows users to test out the features of the video editing program to determine if they would like to purchase it or not.