The most excellent photo tools to assist Mac lovers
Photos are part of people's lives in modern times. They can be taken from cellphones, computers and cameras. Organizing and fixing them according to personal tastes can be tricky. Luckily, there are many applications that can assist Mac lovers with these tasks. Here below is a picture of five excellent tools, each of them with different features, which allow readers to choose according to their needs.
1. Photos
Photos is a photo management and editing app developed by Apple Inc. Its great characteristics are simplicity and ease of use. Even its name is a beautiful and direct indicator of its usage.
This Mac photo editing software has been available since 2015 for OS X Yosemite 10.10.3, and since 2016 for tvOS v.10.
This app has several easy-to-use editing tools, such as filters and Smart Sliders. In addition, it has the Markup tool, which can add text, shapes, and create sketches and signatures. Other extra tools include Light, used to reveal hidden details; and Revert, used to compare with the original version.
However, where Photos surpasses all other Mac photo editing software is in its integration with iCloud Photo Library. This excellent facility allows users to fill in their libraries, and not their devices. This is done by keeping photos and videos in sync with other Apple devices, such as iPhone, iPad, Apple TV and Apple Watch. This integration works in such a way that for example, a photo taken by an iPhone, is immediately available on other devices.
As an organizer, Photos uses moments, which can be used to create collections and years. Moments are combinations of time and location metadata attached to the photo. Moreover, features such as face recognition, allow users to create groups by person, and many more.
The editing and organizing abilities are wonderfully complemented by themes, which enable users to create calendars, photo books and other creations.
The app also includes tools for professional quality printings. On the downside, many Apple fans have criticized the absence of some features, which were available in the previous iPhoto and Aperture.
Overall, this powerful and intuitive tool, has been designed with the modern-user needs in mind: great integration, easy editing, and professional photo management tools. Definitely, Photos must be included among the best photo editing software for Mac.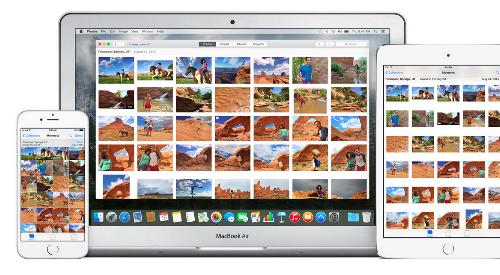 2. Adobe Photoshop Elements
Adobe Photoshop Elements is a raster graphics editor for entry-level users. For this, it has most of the features available in the professional version, but in a simplified manner.
The app can create collages, slide shows, calendars, scrapbook pages and cards. It can also organize, manually or automatically, based on subjects like birthdays, cats, etc. Added to this, it lets the user share pictures via the main social Internet sites, such as Facebook, YouTube, Vimeo, Twitter and more.
This Mac photo editing software lets users make changes varying from quick-one-click fixes to artistic creations.
In brief, Adobe Photoshop Elements is a great tool for those photo enthusiasts that don't want to get into very technical stuff.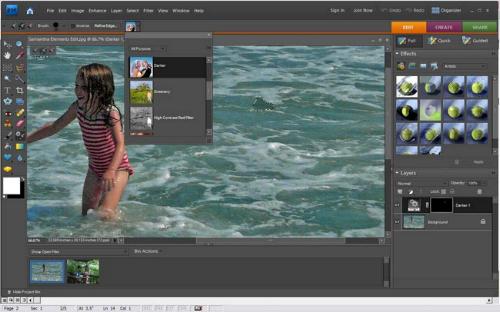 3. Pixelmator
Pixelmator is a photo editing for Mac app developed by two Lithuanian brothers, and based on a combination of open source and Mac OS X technologies.
This software has many features, including more than 40 tools for selection, painting, retouching, navigation, color correction and color management, GPU-powered image processing, pixel-accurate selection, and more. Just for color correction it has 16 tools and more than 50 filters.
This set of powerful tools allows users to edit photos, sketch, draw, paint, and add shapes and more than 160 effects. Thus, the tool allows not only photo processing, but also graphics creation, such as logos, etc.
The app works on a layer-based image editing technique, where different layers can be arranged and grouped for processing.
The combination of technologies used include Open GL, Core Image for Mac's graphics card, Open CL for parallel computing, and a 64-bit architecture. The result is a noticeable fast image processing.
Overall, Pixelmator is a great Mac photo editing software that can produce stunning results in the hands of the gifted artist.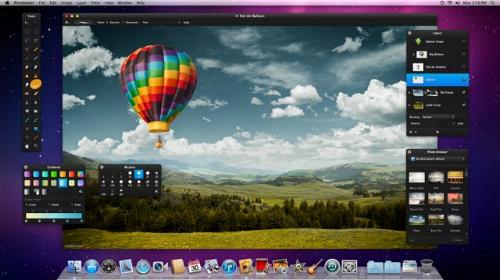 4. GIMP
GIMP is an open source free photo editing software for Mac. Its name means GNU Image Manipulation Program, and it is a raster graphics editor developed by volunteers worldwide.
GIMP can be used for image retouching and editing, drawing, conversion between different image formats and more.
Its main strength is in its scripting language Script-Fu, which can be used to automate repetitive tasks. Scripting can also be done through Perl, Python and Tcl, by using an external interpreter.
In addition, it also excels at the large amount of file formats that the program can handle, such as BMP, JPEG, PNG, GIF and TIFF among others. The app can also import PDF files and raw formats of many digital cameras.
GIMP works through a set of layers, each containing several channels. These layers are used to add effects and filters, edit images using brushes, and other choices. Within these set of features, Path tools stand out, as they can create vectors, which can be used in complex selections.
This photo editing for Mac app also has the advantage of being capable of handling colors in a variety of ways, such as RGB, CMYK, Water-color formats, and hexadecimal formats. CMYK is very useful when working with printers.
GIMP also has a set of Smart tools, that although not so easy to use, may become very handy for the expert user. Among them, is the clone tool, which copies pixels; the healing brush, used to correct tone and color; and the dodge and burn tool, which can lighten (dodge) and darken (burn) pixels.
However, according to many users, this Mac photo editing software falls short in ease of use.
Overall, GIMP is the best free photo editing software for Mac, and presents a good alternative to those users looking for a sophisticated tool that is free, and are capable of overcoming its complications.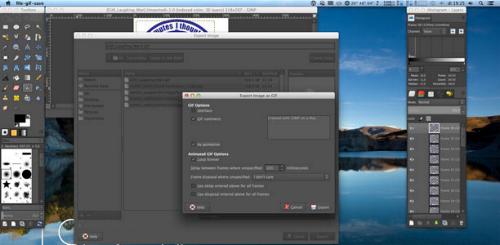 5. DxO Optics Pro
DxO Optics Pro is a Mac photo editing software that stands out due to its scientific approach to photo correction. This application was developed by the French company DxO Labs, and it focuses on correcting optical aberrations.
This Mac photo editing software works by reading the EXIF file to obtain information about the camera, lens and settings used. Then, based on a database that contains more than 20,000 camera lens combinations, it can correct distortion in a curved line, color fringes, light falloff, vignetting and unsharpness. It also includes the Prime noise reduction tool, which can be used to smooth out high ISO shots. Most corrections can be done in manual or automatic mode.
Overall, DxO Optics Pro is an application that excels in its unique features, which are useful for the amateur and professional photographer, particularly when using ultra-wide zooms.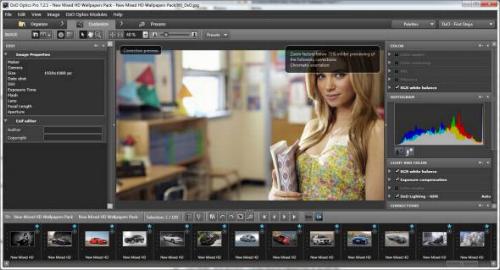 Interested in recovering your deleted or lost photos? Download Disk Drill
Top 5 Best Photo Editing Applications for Mac 2018
updated:
September 3, 2018
author: