Using PDF files is something the vast majority of computer users do, whether they use a Mac or a Windows computer. Mac computers are excellent at helping users manage and update PDF files – but every now and then, you may lose track of one or accidentally delete or lost one. If you do that, you're probably wondering how to recover PDF files on a Mac.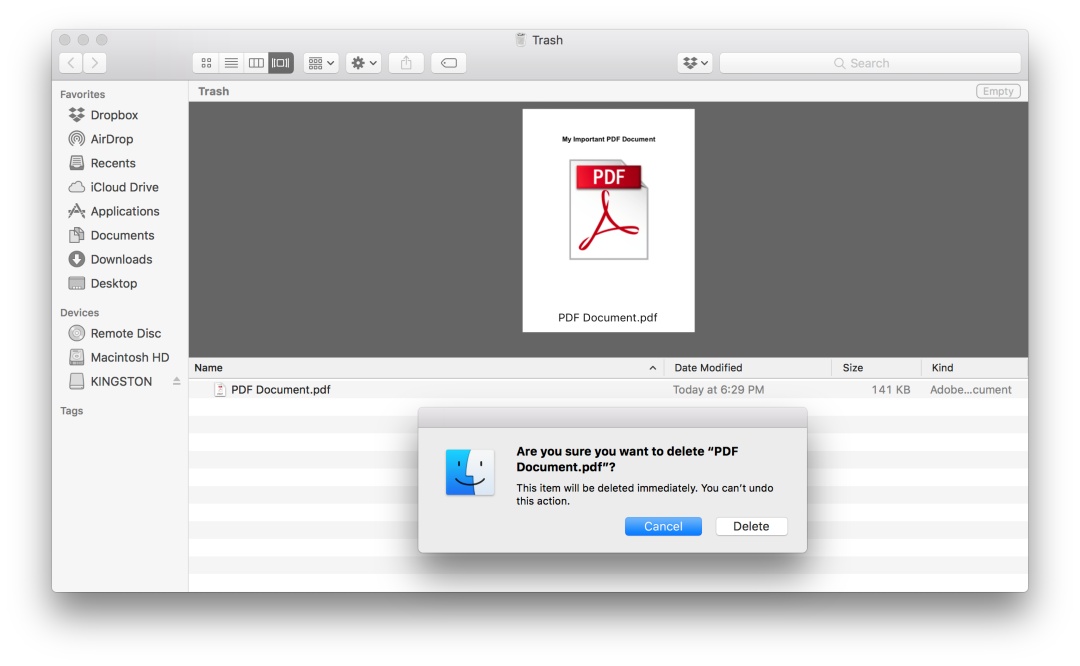 Thankfully, however, it is absolutely possible to recover deleted, lost or unsaved PDF files from your Mac – and there are a few ways to do it. Some of the tools you can use are built straight into the macOS operating system, while other methods may require extra software, like Disk Drill. Thankfully, all of the methods below are relatively easy.
---
How to Recover Deleted PDF Files from your Mac
---
Method 1: How to Recover Deleted PDF Files using Time Machine
One way to recover deleted PDF files is by using tools built directly into the macOS operating system. Time Machine creates a full backup of your entire setup – meaning that if you have lost an important file, you may be able to recover it using Time Machine. It's important to note that you have to have created a Time Machine in the first place to restore your computer to a backup — so if you haven't been making Time Machine backups, you'll need to try the next method instead. 
Here's how to restore a deleted PDF file with a Time Machine backup:
Step 1. Navigate to the folder where the file you lost was located.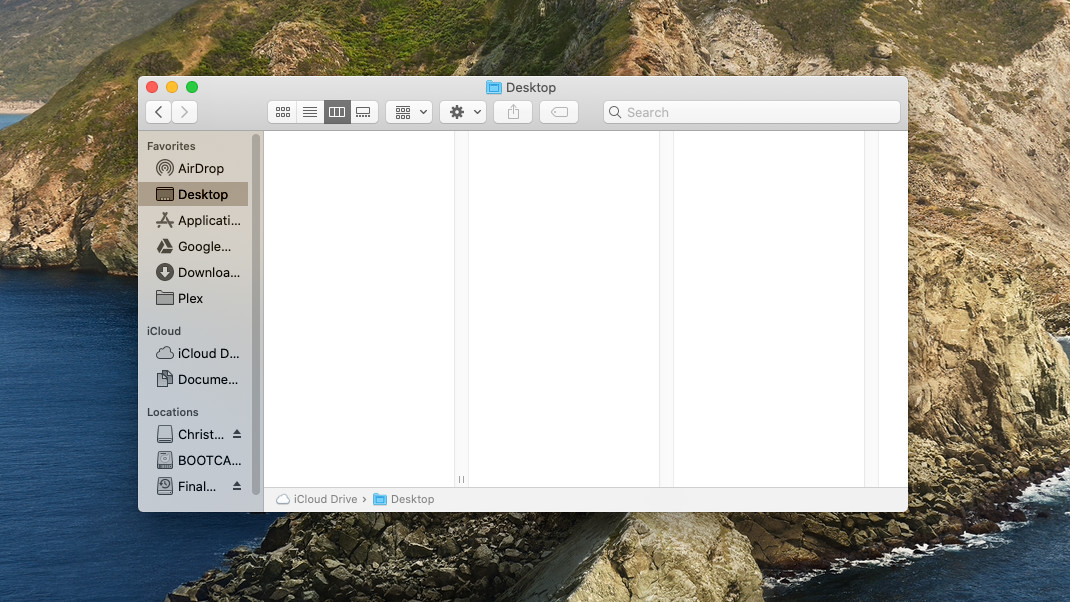 Step 2. Open Time Machine and the software should show you a preview of all the saves that it has made.
Step 3. Toggle to previous backups with the arrows next to the window, or using the timeline on the far right of the display.
Step 4. Select the file, and click the "Restore" button under the window.
Step 5. The file will then be moved back to the location that it was previously located.
---
Method 2: Recover Deleted PDF Files using Mac Data Recovery Software
If you haven't been using Time Machine, you may need to use other software to find and restore PDF files – like Disk Drill. Disk Drill is thankfully very easy to use and should be able to help you find and restore PDF files with ease.
Steps to recover deleted or lost PDF files on Mac:
Step 1. Download and install Disk Drill for Mac. 
Step 2. Open Disk Drill and find the drive that your PDF file was located on. For most users, this will be the drive that's installed in your computer, likely to be called "Apple SSD," or something along those lines. We lost a file from an external drive, so we'll use that instead, but the process is the same no matter what drive you use.
Step 3. Select the "Recover" button next to the drive that you lost the file from. You may be prompted to give Disk Drill drive access.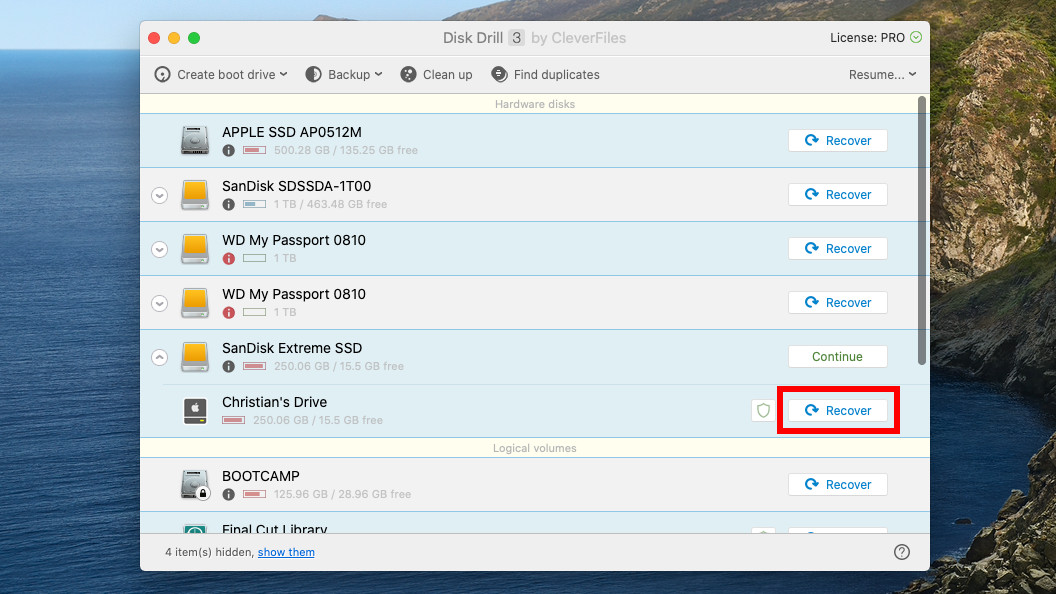 Step 4. Wait for Disk Drill to scan your drive to find deleted files. This process may take a few minutes or hours, depending on how many files it finds. If you're scanning an external drive, make sure to keep it plugged in and connected, and either way make sure to keep your computer on during the process.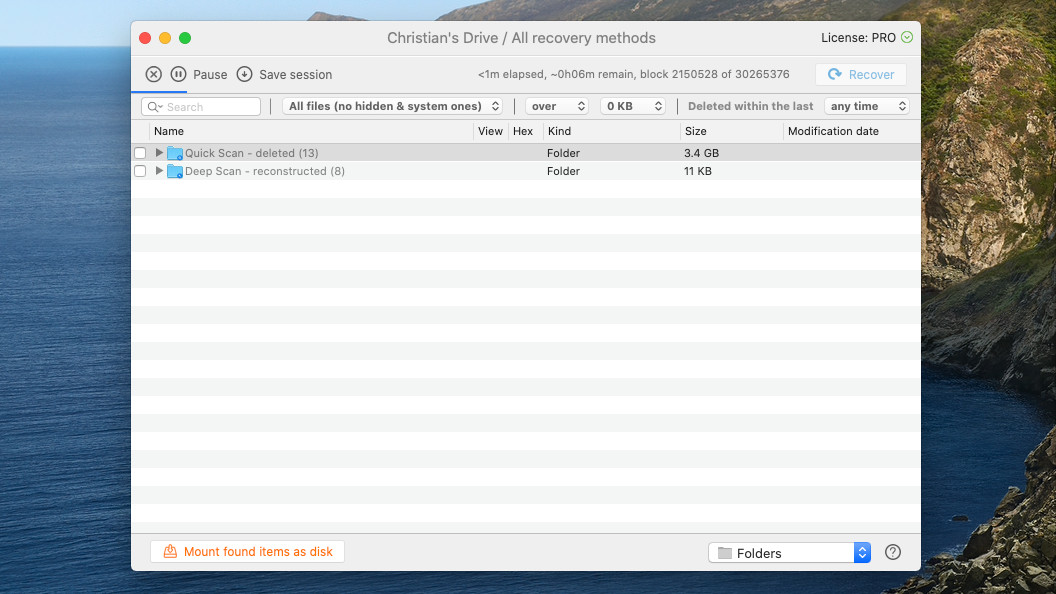 Step 5. Disk Drill may have found lots of files — but thankfully you can narrow down the selection a little. To do this, select the file type, file size, and dates that you lost the PDF file. If you don't know any of this information, you can leave these selections blank — but keep in mind that there may be more files for you to dig through. Alternatively, you can simply search for the file you're looking for.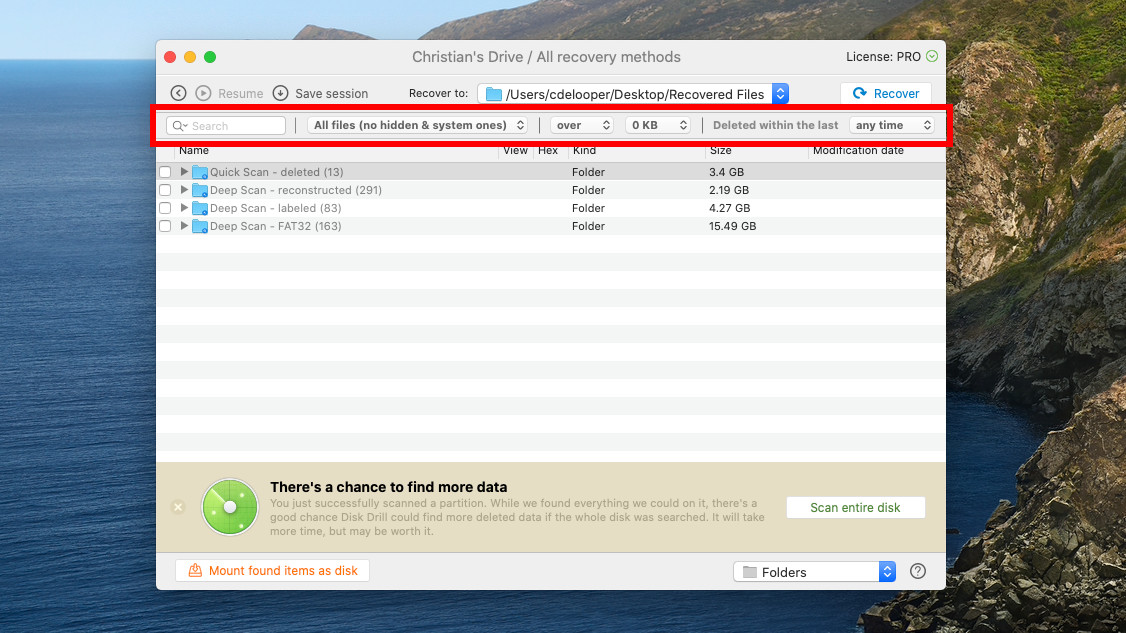 Step 6. If you found the file, tick next to it to select it. Alternatively, you can tick entire folders of files, if you so choose.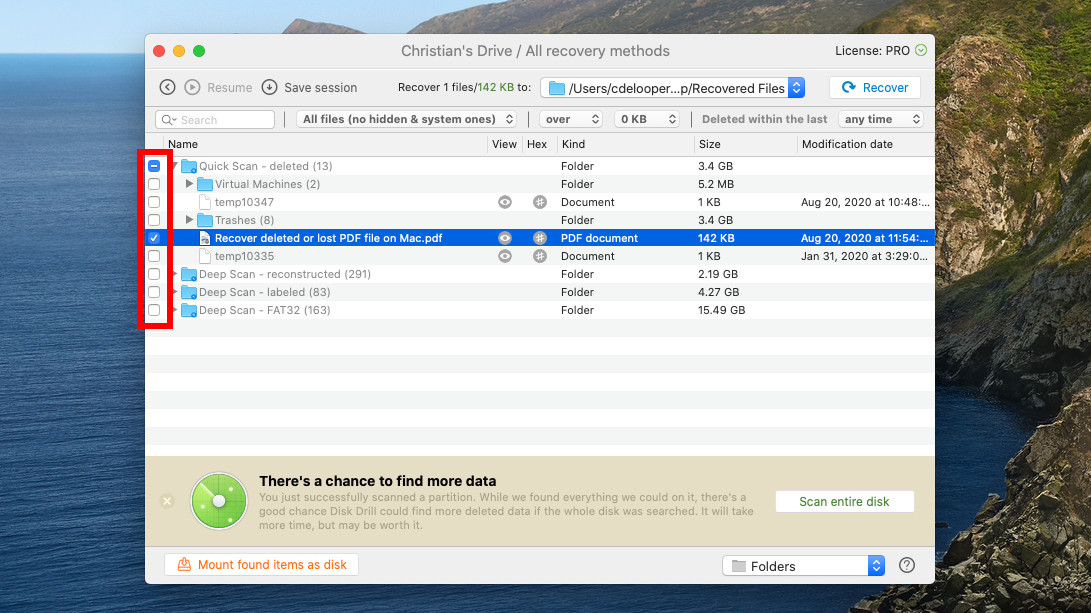 Step 7.  You can double-check that you've found the correct file by pressing the eyeball "preview" button next to the file. This should work for many file types, but it may not work with all. It should work for PDF files.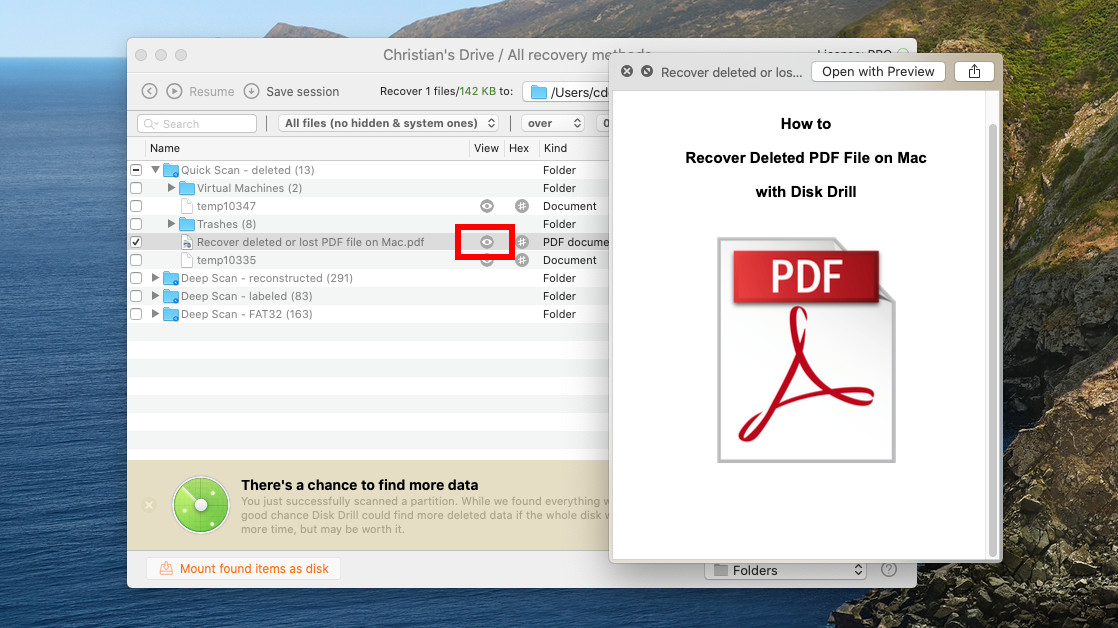 Step 8. Choose the folder that you want to save the files to with the "Recover to" selection at the top of the display.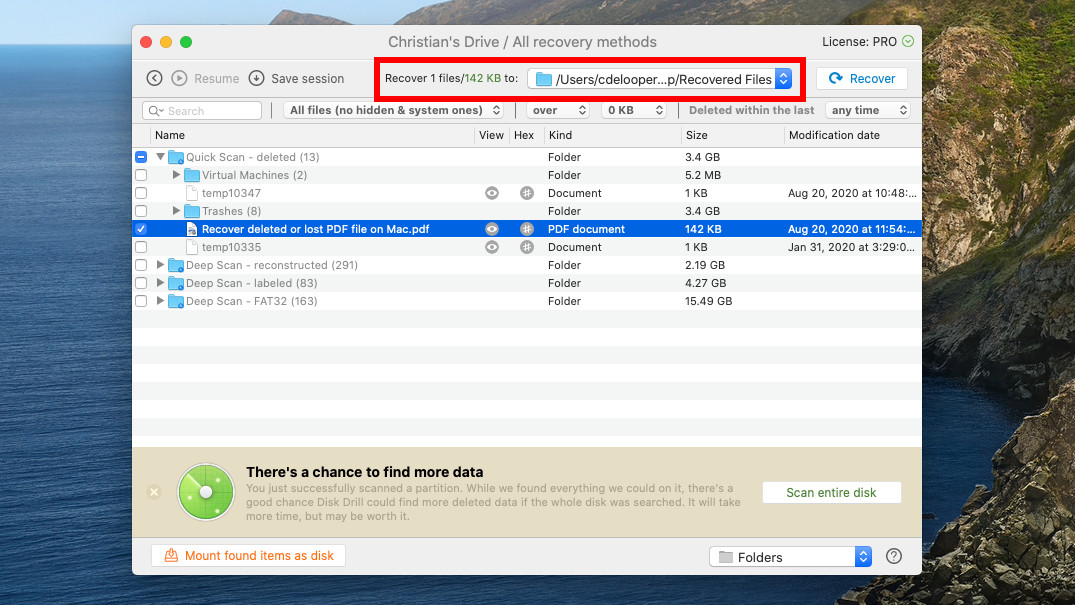 Step 9. Press the "Recover" button on the top right of the window. The software will then start recovering your file or files to the folder that you have selected.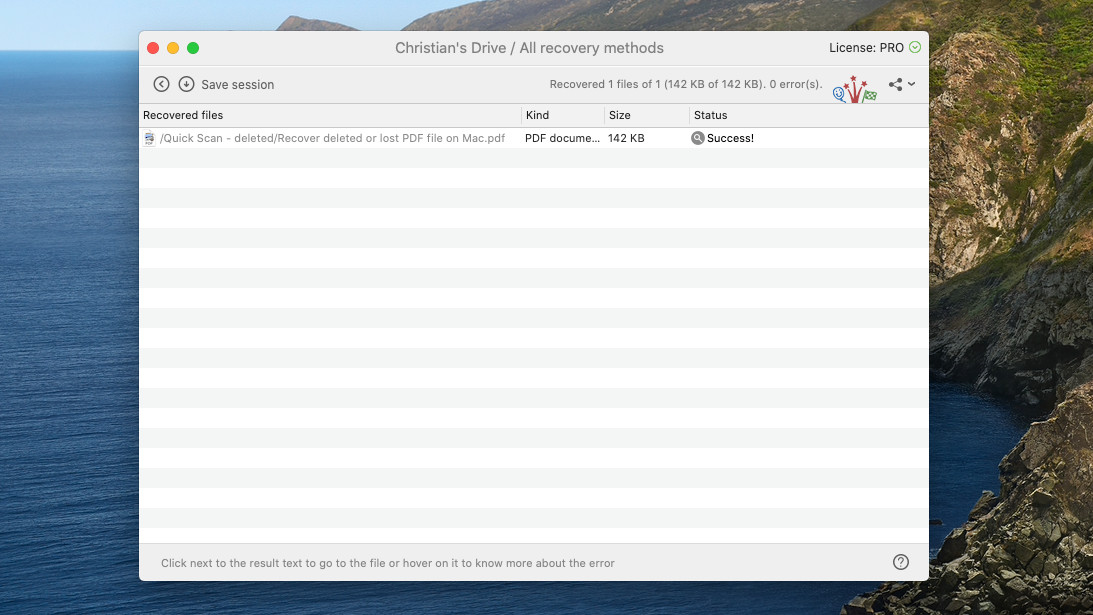 You should now have recovered your lost PDF file. Navigate to the folder that you specified in step 7 to find the PDF file back where it belongs.
---
How to Fix a Corrupted PDF File after Recovery
At times, after you recover a PDF file you may find that the file is "corrupted," which essentially means that your computer probably can't open it properly. Thankfully, there are ways to fix corrupted PDF files, and doing so is relatively easy. There are tools that you can download straight to your Mac, or online tools that you can upload your PDF to.
If you're happy to download a tool to fix a corrupt PDF, then it's worth checking out PDF2Go. PPDF2Go repair tool can be downloaded straight to your Mac, after which you can use the tool to repair corrupted PDF files. Keep in mind that some files may be too corrupted to repair properly. 
Alternatively, you can simply use an online tool like Sejda PDF Online. This tool allows you to upload your PDF files to Sejda's website, and then download the fixed PDF back to your computer. 
---
How to Recover Unsaved PDF Files on Mac
If you forgot to save your PDF on your Mac, you should be covered too. On a Mac, the main way that you'll interact with PDF files is through the Mac Preview app, which allows you to open PDF files, edit editable files, sign files, and so on. If you forgot to save your PDF, follow the instructions below to recover the file.
Step 1. By default, Mac computers have an autosave feature turned on for Apple apps. To make sure this feature is turned on, press the Apple button on the top left-hand corner, then tap System Preferences. Tap the General button, then tick "Ask to keep changes when closing documents." 
Step 2. Open the "Preview" app. 
Step 3. Tap File on the top menu bar, then hover over the "Open recent" button.
Step 4. On the list of PDFs that open, check to see if the one that wasn't saved is available.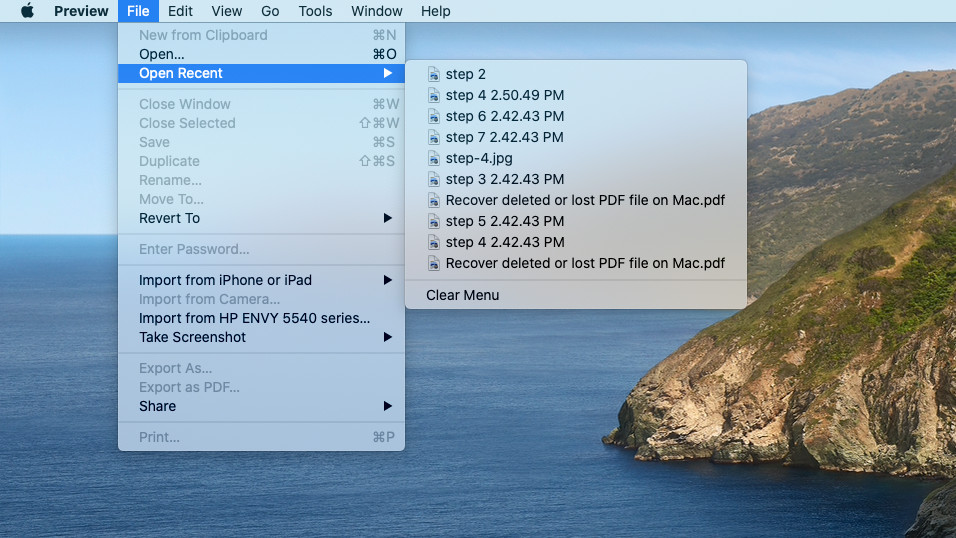 If you can find your lost PDF on the list, then you're in luck! If not, however, you may have to dig a little deeper in your Mac's temporary files.

Follow the instruction below to recover an unsaved PDF file:
Step 1. Open the Terminal application.
Step 2. Type "open $TMPDIR" into the Terminal window, without the quotation marks, and press return.
Step 3. Look for your PDF file among the folders that open. You may have a number of folders and files to dig through.