What is WMV File Format?
WMV is a video file format developed by Microsoft. It is part of the Windows Media framework, and based on the container Microsoft Advanced Systems Format (ASF). The content of the file is compressed.
Characteristics and Uses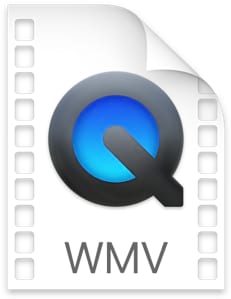 These files are usually packed into an AST container format. However, they can also be packed with the Matroska and AVI containers, and use the extensions .mkv and .avi respectively.
A WMV file contains video with one of the Microsoft Windows Media Video proprietary codecs.
The supported video codecs are: Windows Media Video 9, Windows Media Video 9 Advanced (VC-1), Windows Media Video 8, Windows Media Video 7, ISO MPEG-4 versions 1 and 1.1, Microsoft MPEG-4 versions 2 and 3, and Microsoft Motion JPEG.
The supported audio codecs are: Microsoft Media Audio 9, Microsoft Media Audio 9 Professional, Microsoft Media Audio 9 Lossless, ISO MPEG Player 3 (MP3), Microsoft G.726, Microsoft IMA ADPCM, Microsoft G.711 a-Law, Microsoft G.711 u-Law, and Microsoft ADPCM.
The content is compressed with one of the three Microsoft compressing technologies, namely WMV, WMV Screen and WMV Image. The WMV compression technology was introduced in 1999 as WMV7, and based on Microsoft MPEG-4 Part 2. Later, WMV9 introduced support for interlaced video, non-square pixels and frame interpolation.
WMV Screen is a specialized video format for screencast content. The first version was the WMV7 Screen. Version 9 added support for VBR encoding. This compression is used to capture live screen videos, and to convert content from third-party formats into WMV Screen.
WMV Image is a video slideshow format. It uses several technologies, such as timing, panning and transition effects. This format uses the player (decoder) to generate video frames in real-time. Hardware from Portable Media Centers, and Windows Mobile-powered devices with Windows Media Player 10 Mobile support this format.
Brief History
In 2003, Microsoft submitted the WMV9 file format standard for approval by the Society of Motion Pictures and Television Engineers (SMPTE). The standard was approved in 2006, and became one of the three accepted formats for Blu-ray video disks.
File Signature
ISO 8859-1: 0&²u.fÏ
.¦Ù.ª.bÎl
Hexadecimal: 30 26 B2 75 8E 66 CF 11
A6 D9 00 AA 00 62 CE 6C
Programs That Open WMV Files
Windows:
File Viewer Plus
Microsoft Windows Video
Microsoft Windows Media Player
Nullsoft Winamp
CyberLink PowerDVD 16
CyberLink PowerDirector 15 Ultra
Audials One 2016
Roxio Creator NXT Pro 5
Xilisoft Video Converter Ultimate
Web browser with the Windows Media Player plugin
Mac:
Eltima Elmedia Player
ShedWorx Smart Converter
Apple QuickTime Player with Flip4Mac WMV Components
Apple QuickTime Pro with Flip4Mac WMV Components
Web browser with Flip4Mac WMV plugin
Web:
iOS:
Macca Studios WMV Player
olimsoft OPlayer
PentaLoop PlayerXtreme Media Player
Android:
Advantages and Concerns
WMV files are usually of small size, when considering their content. This property makes them useful for websites, as they are faster to download.
However, one problem with WMV files is their dependency on Windows programs. It is difficult to find apps on other platforms that can manage these files.
The Digital Rights Management system, which is sometimes part of the WMV file, and the Windows Media Player loss of capacity to restore WMV file licenses have both been received with negative comments.
The abbreviation WMV may refer to the WMV file format or the Windows Media Video codec. For this reason a file with extension .wmv may contain compression based on the WMV codec or in any other codec supported by Microsoft.
How to Recover Deleted WMV Files
WMV file recovery is easy when using Disk Drill, an app available for free!

Data recovery for free
Your Companion for Deleted Files Recovery
The process to recover WMV files is straightforward. These are the necessary steps:
Download and install the application.
Open Disk Drill. The program will detect all connected devices. Select the device where you want to perform the WMV file recovery.
Make Disk Drill scan the selected device. The app will present the results in a list form.
You can pause or cancel the scan. You can also save the scanning session, and continue later on, without any loss of the work already done.
You can also narrow the results list by filtering it according to size or date.
Select the files that you want and retrieve them to a folder of your choice.
Your WMV recovery is done!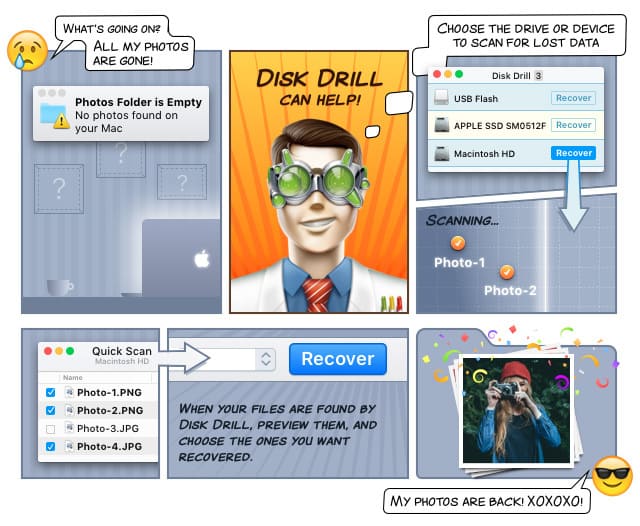 How to Use Image Files in WMV File Recovery
Disk Drill is a very comprehensive application, and it helps you to create an image copy of your device.
An image file is a bit-by-bit copy of the original source. Therefore, it contains all your deleted files, and you can ask Disk Drill to recover your files from it, reducing the risk of damaging the original device.