What is SWF File Format?
SWF is a video file format created by Adobe Systems for its Flash app. It can contain text, vector and raster graphs, and content written in ActionScript.
Characteristics and Uses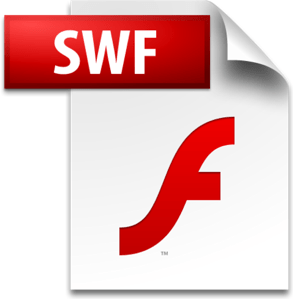 SWF (pronounced "swif") was originally an acronym for Shockwave Flash. Later, it was modified by Adobe to mean Small Web Format.
An SWF file contains a header that is followed by a series of tagged data blocks. The two different types of tags are definition tags and control tags.
Definition tags define the content with objects known as characters. Characters are stored in a dictionary. Examples of characters are shapes, sound and text. Control tags create and manipulate rendered instances of characters, and control the flow of the file. Data inside the block can only point to offsets within the block. This enables tag insertion, removal and modification.
Since SWF files are usually transmitted over networks, they must be as compact as possible. This is achieved through several techniques, including reuse, compression, default values, change encoding and shape data structure.
SWF files are used for multimedia, vector graphics and ActionScript. They can be part of programs using ActionScript.
Brief History
The firm FutureWave Software defined the SWF file format, with the idea of creating a standard for small files that given an application, could run on any system and slow network connections.
Later, in 1995 their founders saw the advantages of vector-based animation, and modified their original product SmartSketch, releasing it in May 1996 as FutureSplash Animator. In December 1996, Macromedia acquired FutureWave Software and changed the name of FutureSplash Animator to Macromedia Flash.
In 2005 Adobe acquired Macromedia, and in 2008 released the SWF code as part of its OpenScreen Project. However, the initial code release was incomplete, and only on July 1, 2008, Adobe published the complete code. This release permitted Google and Yahoo search engines to crawl and index SWF files.
A study in 2010 revealed that in most developed countries, 99% of web browsers have a SWF player installed.
File Signature
ISO 88859-1:  CWS
Hexadecimal: 43 57 53
Programs That Open SWF Files
Windows:
Adobe Flash Player
Adobe Flash Professional CC
Adobe Dreamweaver CC 2015
Eltima SWF & FLV Player
Eltima Flash Decompiler Trillix
Xilisoft Video Converter Ultimate
GRETECH GOM Player
Media Player Classic
GlobFX Swiff Player
DCOMSOFT SWF Protector
Web browser with the Flash plugin
Mac:
Adobe Flash Player
Adobe Flash Professional CC
Adobe Dreamweaver CC 2015
Eltima Elmedia Player
Eltima Flash Decompiler Trillix
Eltima Flash Optimizer
Echo One iSwiff
DCOMSOFT SWF Protector
Web browser with the Flash plugin
Linux:
Adobe Flash Player
DCOMSOFT SWF Protector
Web browser with the Flash plugin
Android:
How to Recover Deleted SWF Files
Many times an unintended deletion creates the problem: how to recover deleted SWF files? The important thing to know is that they may still be in your digital device. The reason is that when you delete a file, the operating system only removes a reference to it. The content remains intact, until overwritten by another file.
Disk Drill is a data recovery application that uses algorithms that search for this remaining content. It is available for free!

Data recovery for free
Your Companion for Deleted Files Recovery
The procedure to recover SWF files is simple. The necessary steps are:
Download Disk Drill from one of the above links.
Install Disk Drill by clicking on the installer. The program will then guide you through the necessary steps.
Open Disk Drill by clicking on the app's icon. Disk Drill will automatically detect all connected devices and list them for you. This program works on a variety of digital devices, such as internal and external hard drives, USB flash drives, memory cards, iPods and many more. Select the drive that contains your deleted files.
Disk Drill gives you the option of narrowing the search by selecting the SWF file format from the main menu. In this manner, the scan will be faster.
Tell Disk Drill to recover your SWF files. The program will scan the selected device, doing all the hard work. Please wait until the results appear in front of you in a list.
You can cancel or pause the scan. You can also save the scanning session and continue later on, without any loss of the work already done.
Once Disk Drill shows the results of the scan, you can narrow the list by filtering according to date or size. It is always easier to find files if the list is shorter!
Select the files you want and restore them to any folder of your choice.
Your SWF recovery is done!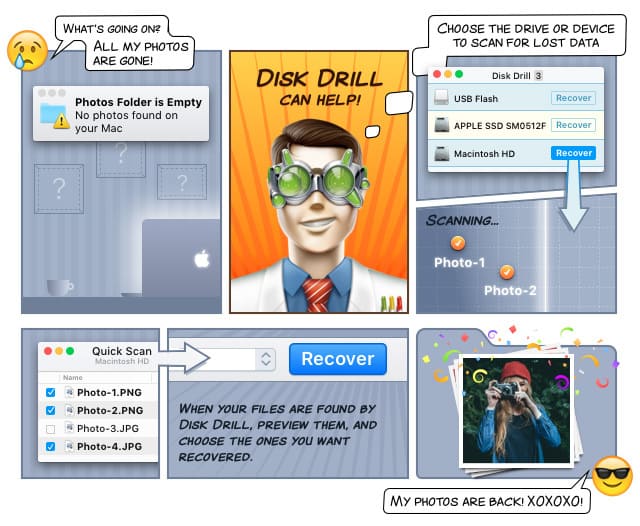 How to Use Image Files to Recover SWF Files
Image files are a bit-by-bit copy of the original source. Thus, they include all deleted files still on the drive.
The main advantage of doing your SWF recovery on an image copy, is the reduced risk of damaging the original device. For this reason, it is a standard practice in Digital Forensics.
Disk Drill is a very comprehensive app, and it allows you to create an image copy, which you can attach to the app, and use it to perform your SWF file recovery in a safer manner. Just consult our website for instructions on how to do it.