Losing important files or accidentally deleting them can be extremely frustrating. It may seem daunting, and you may think it's impossible to recover lost files. But, there are ways using which you can retrieve these accidentally deleted or unsaved files and get back hours of hard work.
What Is SWF?
Before we understand the recovery process that will help you retrieve a missing or deleted SWF file that has completely disappeared, it is useful for users to understand what is an SWF file, and the type of information it possesses.
In a nutshell, an SWF (Small Web Format) file is an Adobe Flash file format that contains videos and vector-based animations. SWF files can also include content that supports interaction. Thus, they were also a standard way to create browser-based games.
Users can create SWF files using a variety of ways using Adobe products. These include Adobe Flash (now discontinued), Flash Builder, Adobe Animate, and Adobe After Effects. Additionally, those familiar with command line programs can also create SWF files using MXMLC.
Historically, a company called FutureWave Software defined the SWF format, and it had a singular goal: to display animations. The term SWF was later coined by Macromedia after it purchased FutureWave Software in December 1996. Later on, Adobe acquired Macromedia in 2005.
💡 The term SWF was originally used to be an acronym for Shockwave Flash. But as the use of SWF on the web increased, it came to be known as Small Web Format as well.
After understanding what an SWF file means, we can choose from the multiple solutions listed below so that you can resume your day-to-day work on the computer. The solutions will help you recover the SWF files, even if you forgot to save them properly. Let's get to the actual file recovery solutions listed in the sections below.
How to Recover Deleted SWF Files
There are various ways to recover deleted SWF files. Even if you're not a veteran PC user, you can easily use any method listed below.
To substantially increase your chances of retrieving all your lost SWF files, keep in mind the data recovery tips listed below:
🛑 DON'T create or write new data to the storage device that stored the SWF files you need to recover.
🛠️ START the data recovery process as soon as possible to negate the chances of new files being created or copied to the storage device.
🥇 USE the data recovery with the highest success rate, first. With every additional data recovery attempt, the chances of recovering data decrease.
⚠️ If you use an SSD as the primary storage device, ensure that it's not TRIM-enabled. It's difficult and, in some cases, impossible to recover data from such SSDs. Also, if there's physical damage to the hard drive or SSD, it's best to contact a professional data recovery service to get back the data.
How to Recover SWF Files With Software
One of the easiest and most user-friendly ways of recovering lost data is using third-party data recovery software. Even if you haven't performed data recovery before, these programs will make your life much easier.
One such data recovery software is Disk Drill. With the help of Disk Drill's speed and high recovery rate, you can swiftly retrieve all your SWF files. Plus, it also comes with additional features such as free data protection and S.M.A.R.T disk monitoring.
Here's how to recover SWF files using Disk Drill:
Step 1: Download Disk Drill for Windows or Mac.

Data recovery for free
Your Companion for Deleted Files Recovery
Step 2: Run the setup wizard. Follow the on-screen steps to proceed with the installation of the Disk Drill.
Step 3: Double-click on the Disk Drill icon on the desktop. Accept the license agreement to proceed further.
Step 3: Select the hard drive or device on which the deleted SWF file was stored, and then click on the Search for lost data option. If you're short on time, using the Quick Scan option from the drop-down menu is advisable. But, you won't find as many files using this option. In all other cases, it's better to use All scan options.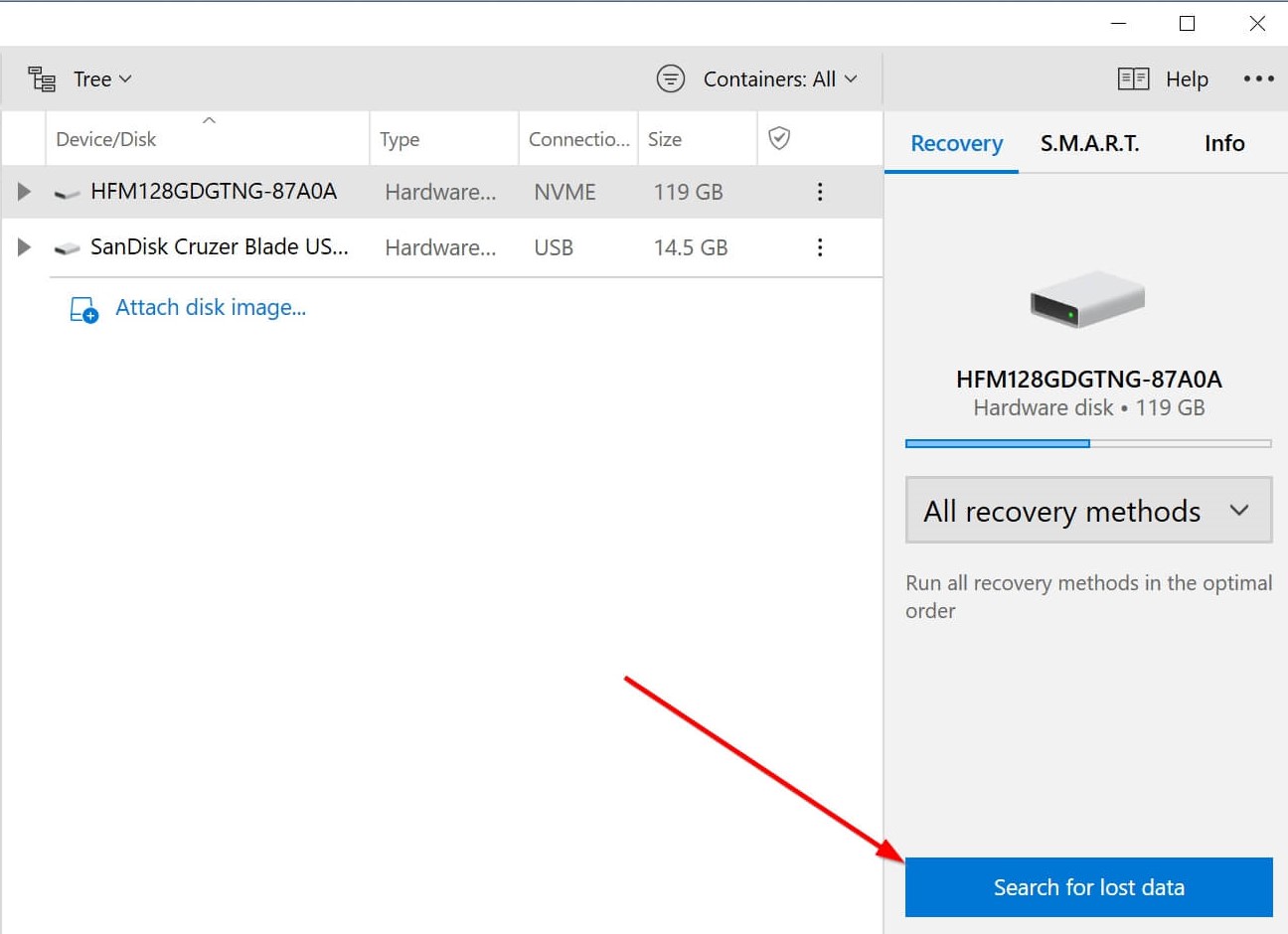 Step 4: After the scan is complete, click on the Review found items option to see discovered files. Disk Drill allows you to preview files during the scan as well.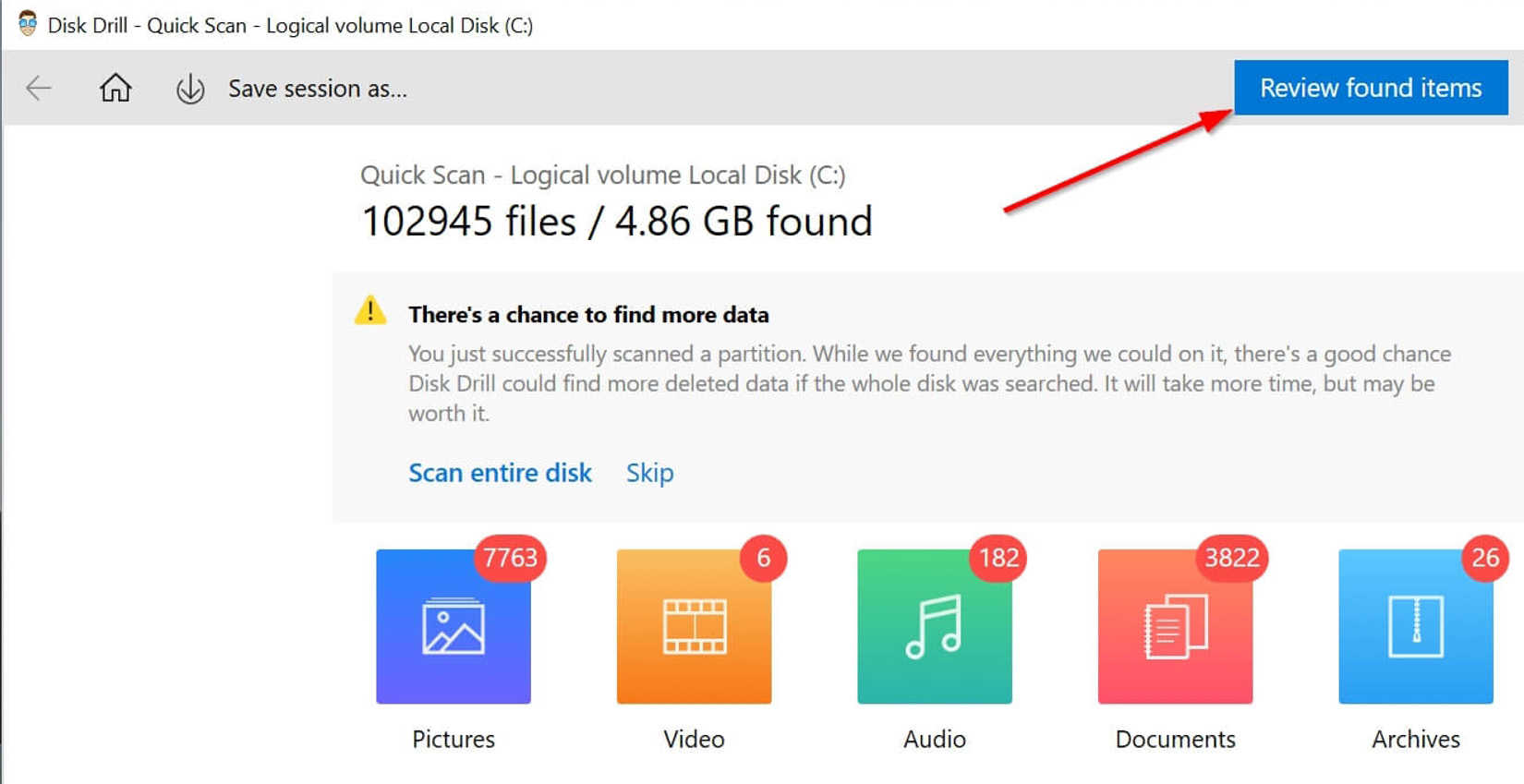 Step 5: Select the SWF files you want to recover. You can use the filter feature to narrow down the results.
Step 6: Click the Recover button and choose a recovery folder. Remember to use a folder that is on a different storage device than the original one.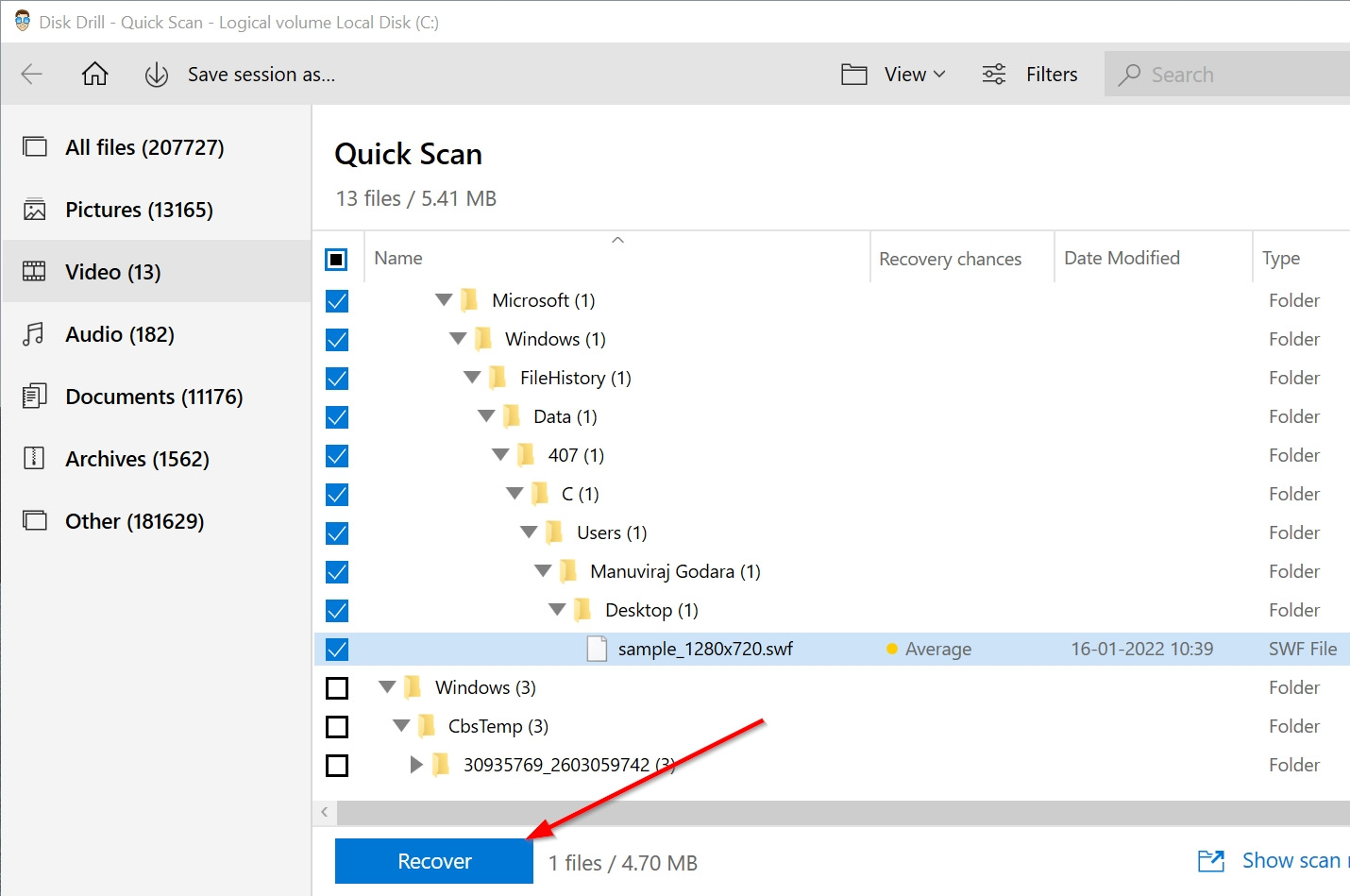 The steps listed above will help you recover your lost SWF files in no time.
Recover SWF from Windows Recycle Bin or Mac Trash
Both Windows and Apple's macOS store deleted files in a dedicated directory. These directories are called the Recycle Bin and Trash, in Windows and Mac, respectively.
Here's how you can recover deleted SWF files from these folders:
Windows Recycle Bin
Step 1: Double-click the Recycle Bin icon on the desktop.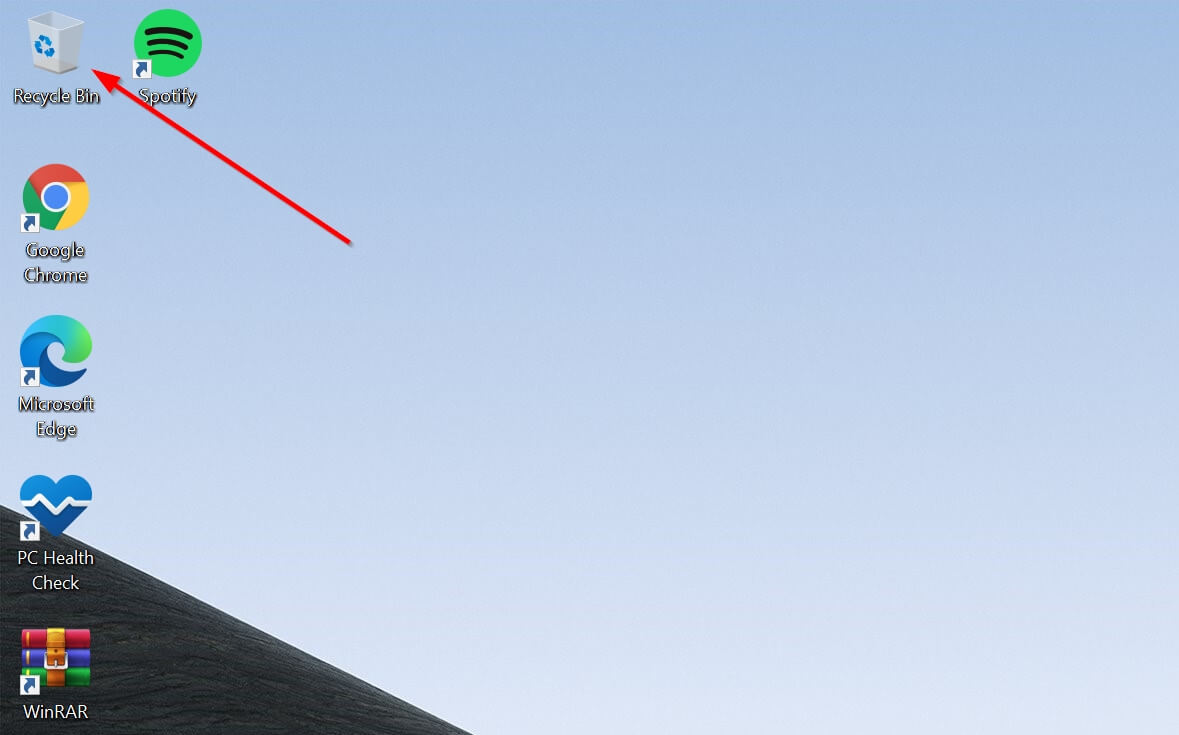 Step 2: Select the SWF files you want to recover.
Step 3: Right-click the file, then click Restore to move the file back to its original folder. Alternatively, you can drag and drop the file to a folder of your choice.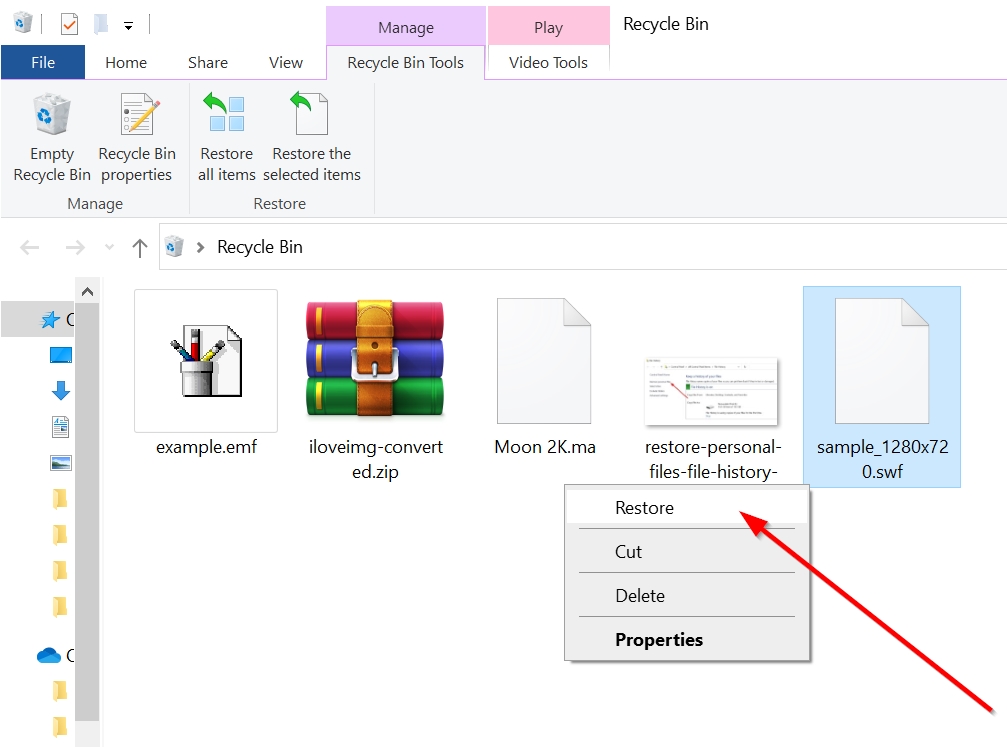 Mac Trash
Step 1: Click the Trash icon on the Dock.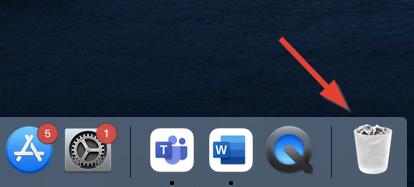 Step 2: Select the SWF files you want to recover.
Step 3: Drag and drop the files to a folder of your choice, or right-click the SWF file and choose the Put Back option.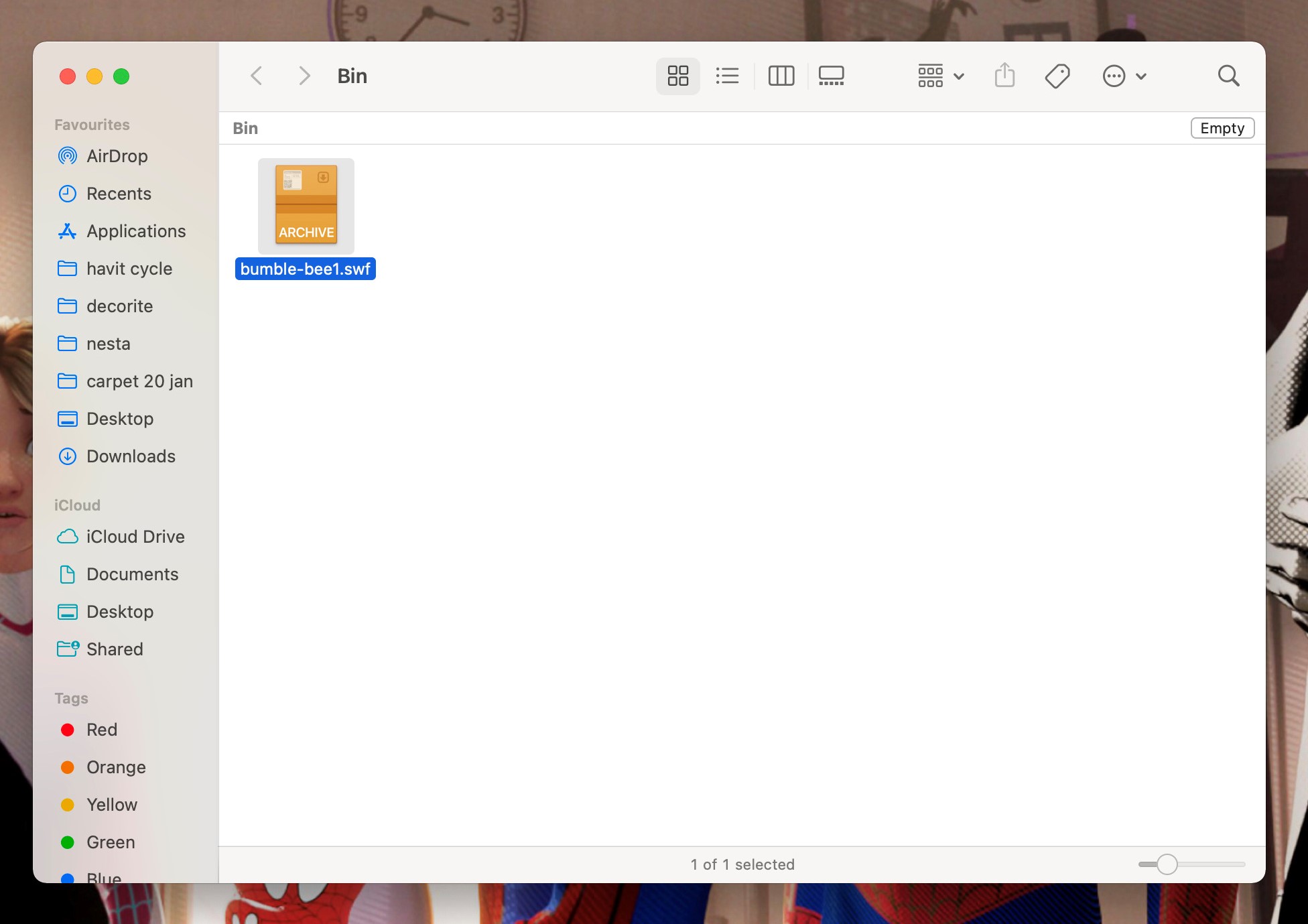 If you don't see your SWF files in the Recycle Bin or Trash, you likely deleted the files permanently.
Restore SWF Files Using Windows File History and Mac Time Machine
Another nifty feature that both Windows and Mac have, is an automatic backup. If enabled, both features store a copy of your files that can be manually restored when required. The backup features are called Windows File History and Mac Time Machine.
However, both these features require you to have enabled them earlier, so they could store a backup of your files. Also, the original folder of the deleted SWF files should have been selected as a folder to back up.
Windows File History
Step 1: Enter "file history" in the Start menu search bar.
Step 2: Click the Restore your files with File History option from the search results.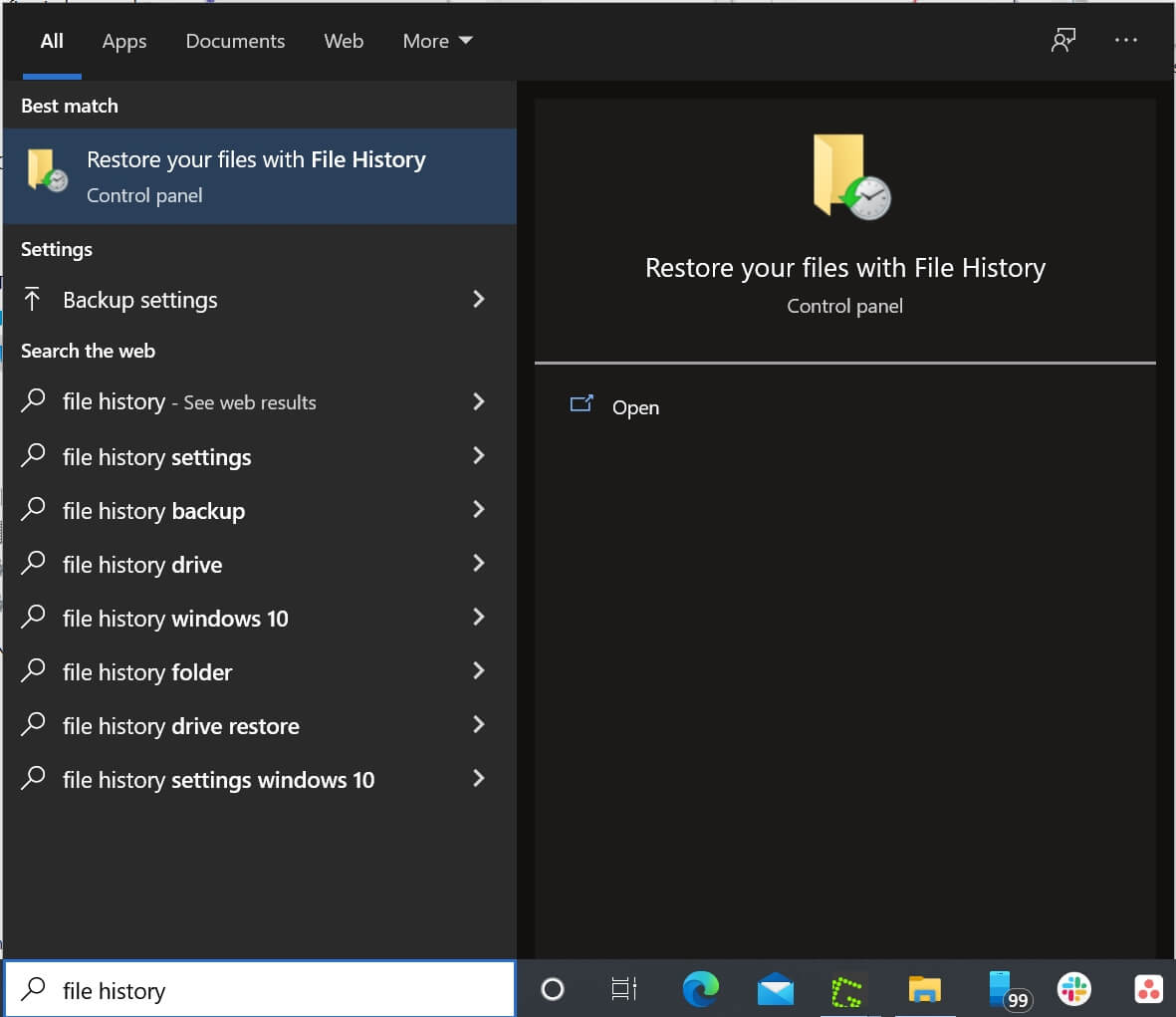 Step 3: Click the Restore personal files option on the left side of the window. Do this only if you see the File History Control Panel page open.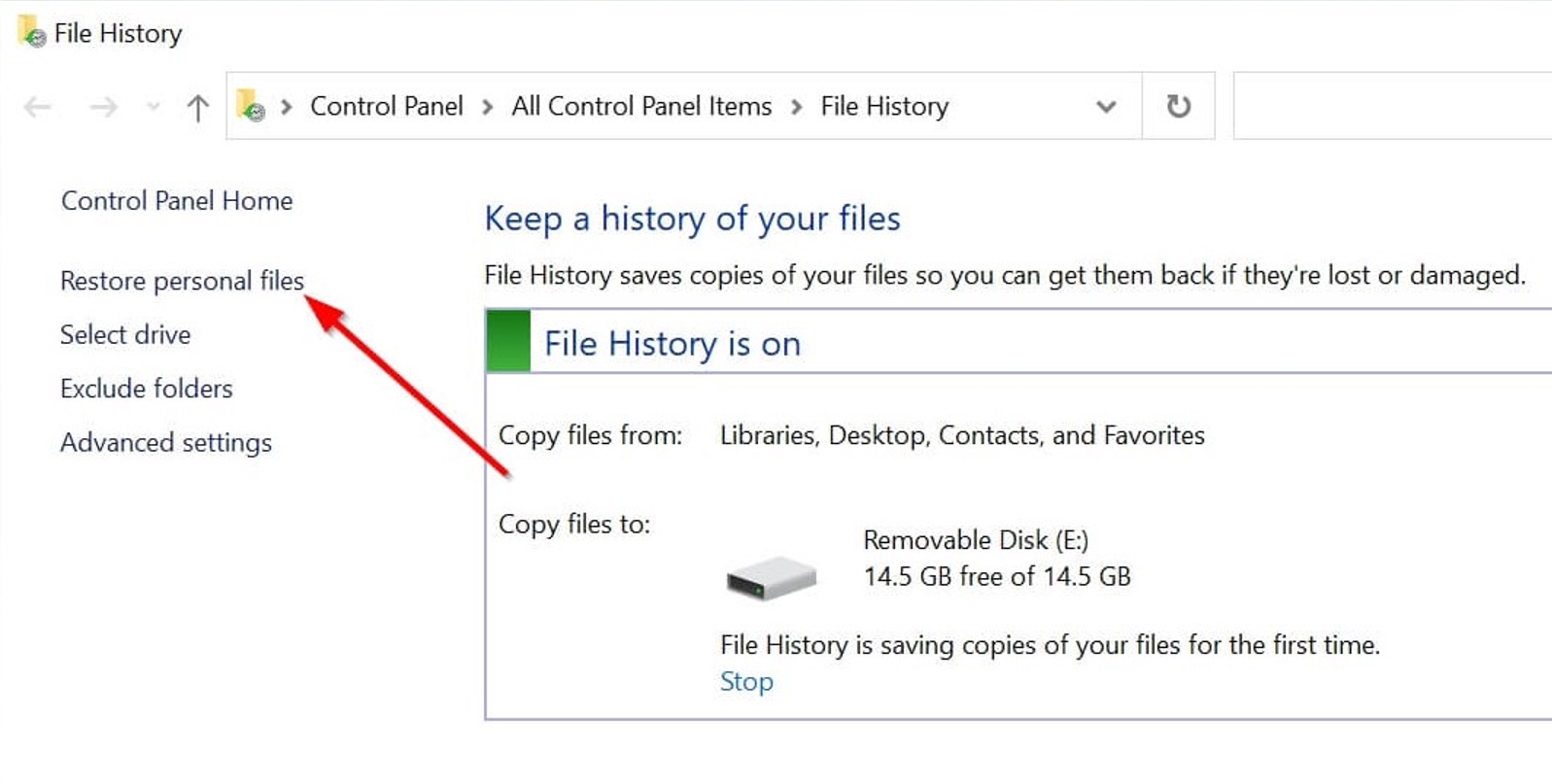 Step 4: Look for the folder that had your deleted SWF files.
Step 5: Browse through your available backups until you find the one that contains your deleted SWF files.
Step 6: Select the SWF files you want to recover.
Step 7: Click on the green recover button at the bottom of the window to restore the files.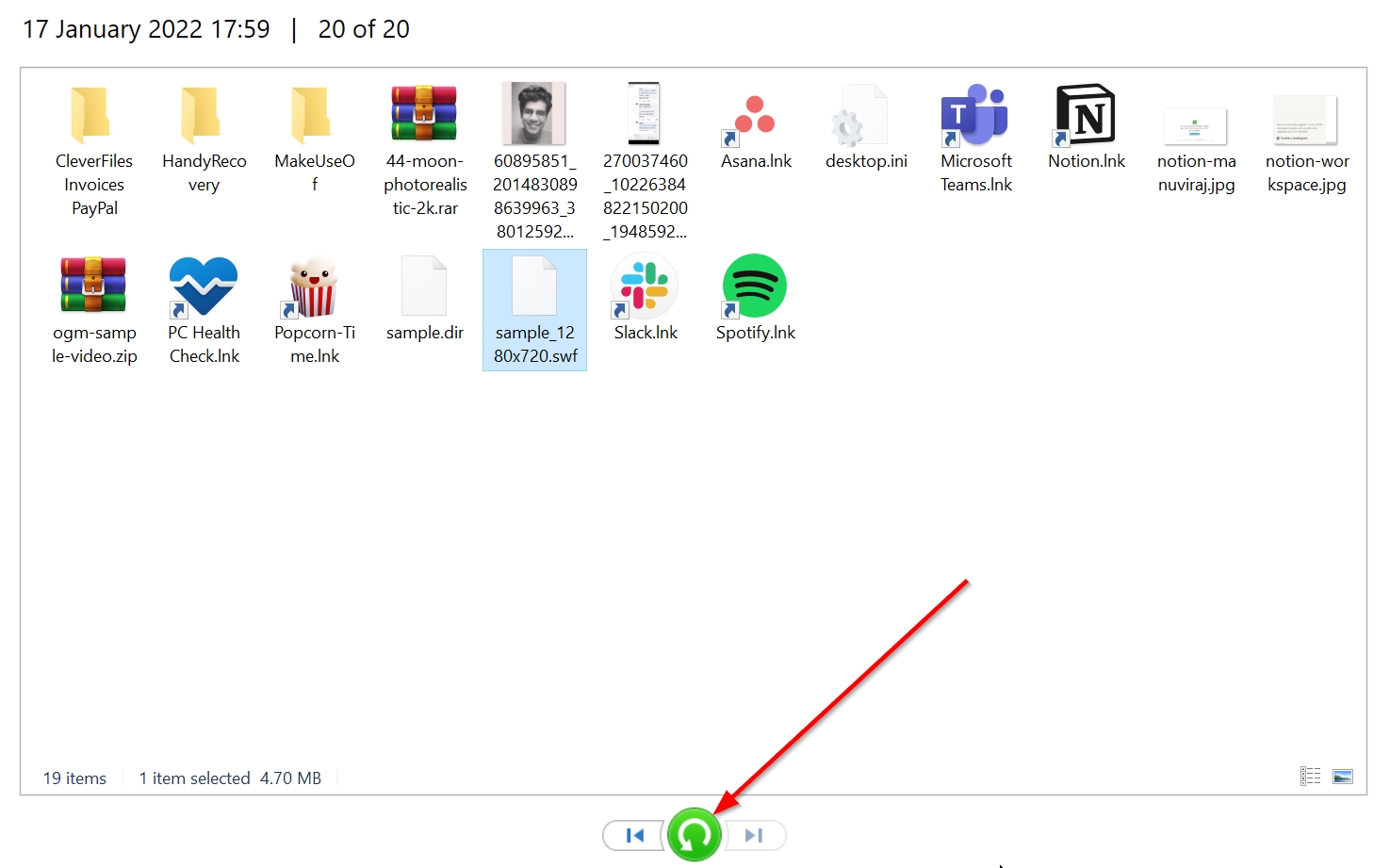 Mac Time Machine
Step 1: Press the command (⌘) button and tap the space bar to open Spotlight. Type in "time machine" and press Return.
Step 2: Navigate to the folder where your SWF files are located.
Step 3: Browse through the backups until you find the one containing the deleted SWF files.
Step 4: Select the SWF files you want to recover, then click Restore.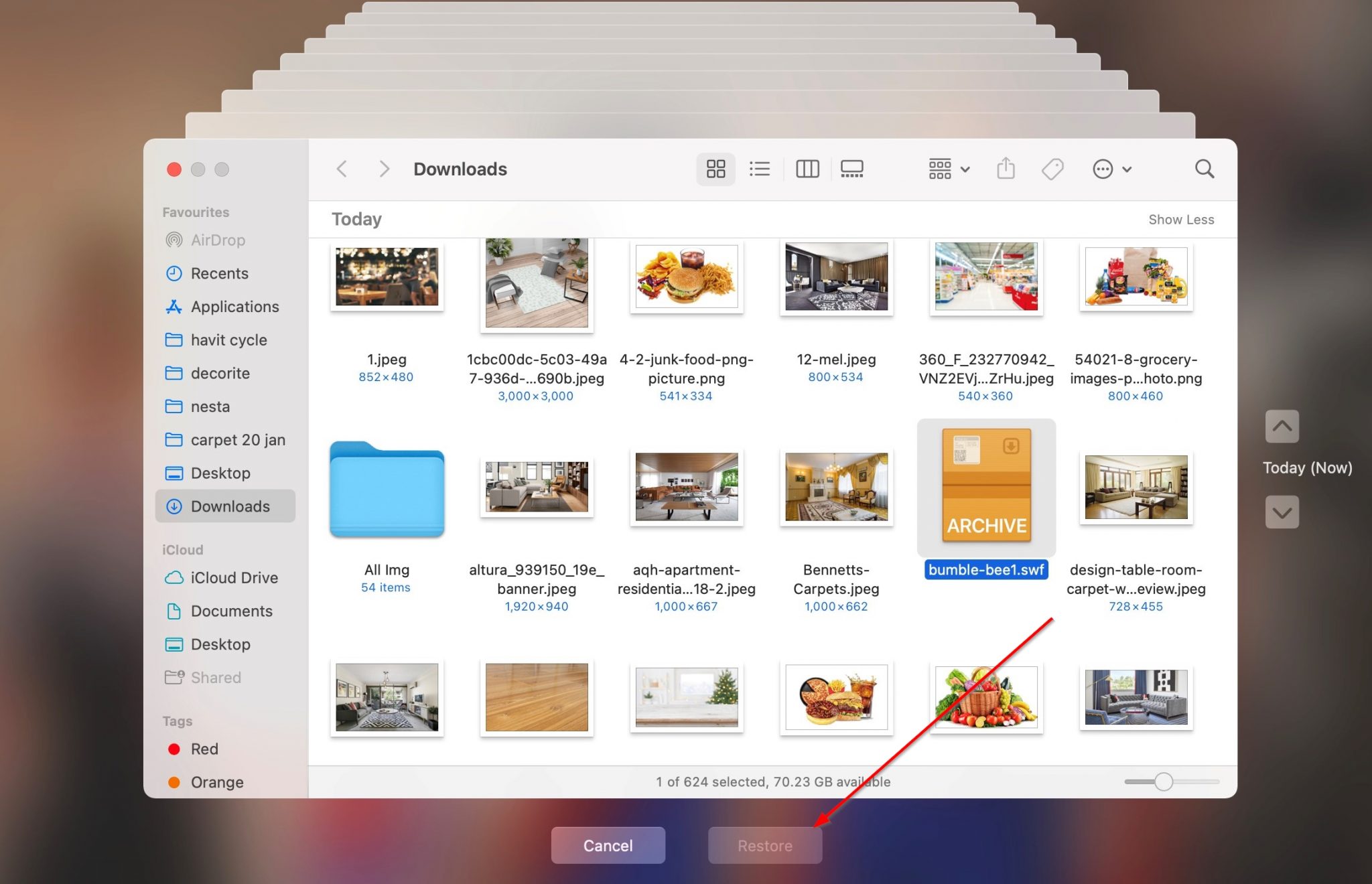 If the backup features were enabled, both File History and Time Machine will restore your deleted SWF files to their original locations.
How to Open SWF Files on Mac and Windows
When looking for an SWF file opener, there is no dearth of options available to you. Since it's essentially a video format, you can play files with the .swf extension on media players that support a wide range of formats. A good example would be the VLC Media Player.
In most cases, you will have to use the open with an option in both Windows and macOS, since they won't automatically assign a program to launch the file. You can manually do this by right-clicking the file, then selecting the Open With option.
Programs That Open SWF Files
VLC Media Player (Windows, macOS): An open-source video player available on all platforms. The supported file types include SWF files.
Adobe After Effects (Windows, macOS): A video editing and animation program offered by Adobe. It allows you to import, view, edit, and export SWF files.
SWF File Player (Windows): A small, free program that does exactly what its name implies – play SWF files.
Elmedia Player(macOS): The most popular third-party video player for Mac. It can easily play any SWF file you throw at it.
Tips to Avoid SWF File Loss
While you can recover any lost SWF file using the processes above, it's always better that your file doesn't disappear in the first place. Use the tips listed below to achieve the same:
Back up your SWF files: As soon as you get a new device, it's important to switch on the backup feature. If you're not satisfied with the performance of the in-built backup programs, you can always consider third-party ones.
Diversify your backup channels: Keep a backup of all your critical data in three different places – two external storage devices, and one cloud platform.
Use a good antivirus program: It's always a good idea to invest in a good antivirus program. Computer viruses are one of the leading causes of data loss, and it's better to practice safe browsing to further enhance your security against them.
Save your work regularly: When working on a project that uses SWF files, always save your work regularly. This can prevent data loss in case your computer crashes or there's a power outage.