A file with an .orf extension, referred to as an ORF filetype, is a RAW image file used by Olympus cameras. On this page, we'll explore some more details about the ORF filetype. 
We'll also show you various ways to restore accidentally deleted ORF data using features found within your computer or using a free online software download. 
What is ORF filetype?
ORF stands for Olympus Raw File. All digital cameras use RAW files to capture the unprocessed visual information captured when you take a picture. ORF is just the proprietary type used specifically by Olympus brand cameras. Raw files are great because they are highly editable and lossless, meaning they don't lose information upon replication. 
ORF files also store a great deal of technical, descriptive, and administrative metadata, which many photographers find useful. 
ORF file format holds 12 or more bits of information per pixel. For context, the highly popular JPG image filetype holds 8 bits per pixel. 
How to open ORF files on Mac and Windows
The native photo-viewing applications on Mac and Windows operating systems cannot open ORF files. You will need to download a special ORF extension to do so. There are many options for this, including some that are free. 
Adobe Photoshop: Adobe Photoshop is the premier raster graphics editor and digital-art tool on the market. It's available for both Windows and macOS and can open ORF files and give you the ability to do all kinds of things with those files. It also costs money, though, and for those people who are simply trying to open ORF files, it may be more than is needed. 
File Viewer Plus: In contrast to Photoshop, File Viewer Plus is completely free. It isn't as extensive as Adobe Photoshop, but it does offer a lot more flexibility than you might expect from free software. You can also convert ORF filetype to other types such as PNG, TIFF, JPEG, or GIF. 
Adobe Photoshop Lightroom: This is a free photo editor that can be used on Windows, macOS, and mobile iOS and Android. It offers a wide range of tools for viewing and editing ORF images, including different photo filters. 
Olympus Viewer: Olympus Viewer software enables you to import ORF files from your digital camera. You can also use it to view and edit those files following import. It has a simple, easy-to-use interface. 
FastRaw Viewer: LibRaw codec developers created FastRaw Viewer to quickly open RAW files of many types, including ORF. Its primary focus is on sheer speed rather than depth or flexibility, but it's sufficient for most simple viewing needs. 
PhotoPea: PhotoPea is another RAW image viewer that focuses on speed rather than depth or flexibility. Because it runs entirely from a server rather than your local machine, it doesn't draw all the resources that applications such as Photoshop or Lightroom do. PhotoPea is free to use. 
RawTherapee: This free, open-source RAW image processing software contains advanced color-handling capabilities, various editing tools, batch-conversion processing, and other features. It works on Windows, macOS, and Linux. 
How to Recover Deleted ORF Files
Even after being deleted, ORF files don't disappear completely. It's actually pretty difficult to completely eradicate a file. When a file is deleted, it's really just moved into a different storage state that reads as being empty to your computer, allowing it to be overwritten with new data. Until that data is so heavily overwritten that it's irretrievable, it can be recovered with the right tools.  
Files that have been unsaved might be beyond the point of recovery. Even in these instances, though, versions might have been automatically backed up without you realizing it. It's still worth trying to find them. The data recovery software we'll discuss below frequently turns up files that you didn't even realize were on your system. 
How to Recover ORF Filetype with Software
Disk Drill is our preferred data recovery software. It's free, easy to use, and very thorough. It works with a wide range of files, including ORF and other raw image filetypes. To start, we'll need to get the software, which is free to download (Windows users also get 500 MB of free data recovery). 

Data recovery for free
Your Companion for Deleted Files Recovery
The first step is to initiate the Disk Drill process as you do any application on your computer. A pop-up will ask if you'd like to allow the software to make changes. Select yes. This simply initiates the software.
Inside the Disk Drill interface will be a list of devices that you can recover missing files from. You can either select a full device or click the gray dropdown arrow beside the device to choose from smaller partitions within it. 
Either option will allow you to retrieve the files you need, but narrowing your choice to a smaller partition has the advantage of speed. Disk Drill will look through every file, both active and deleted, that is on the device. 
After you select the device you want, buttons will appear with options reading All recovery methods and Search for lost data. These work together, with the All recovery methods telling the Search for lost data action how to do its job. Disk Drill has a few options, but to start we can stick with the default All recovery methods. Click Search for lost data. 
Disk Drill will now look through the selected device. You can allow the process to run to completion, or you can stop scanning, look through the files, and resume the process later. You can also select Review found items while the software continues working in the background. 
Five. At this stage, you can Recover all the files that have been found, or you can select individual files and choose Recover. 
Choosing individual files will make a preview pane appear on the right of your interface. That pane will show an approximation of what the recovered file will look like–or, if the file likely can't be recovered, it will show a blank thumbnail. You can also look at the column reading Recovery chances to see how likely it is that the file can be recovered. 
Selecting the checkboxes next to your found files will change the Recover all bar to Recover. The options do the same thing. The only difference between them is how many files will be restored.
You can direct Disk Drill to restore the files to any location you wish, but look where it's pointing to so that you're not left digging through your system trying to find them. Refer to Disk Drill help or troubleshooting pages if you have any more questions. 
Recover ORF Files from Windows Recycle Bin or Mac Trash
Files that have recently been deleted are easy to retrieve. Both Mac and Windows operating systems have temporary storage bins designed for that purpose. 
Recover ORF Files from Mac Trash Bin
Open your Mac trash bin. Control+click or right-click on the files you want to recover. A drop-down menu will appear. Select Put Back. Mac will restore the files to the locations they were deleted from.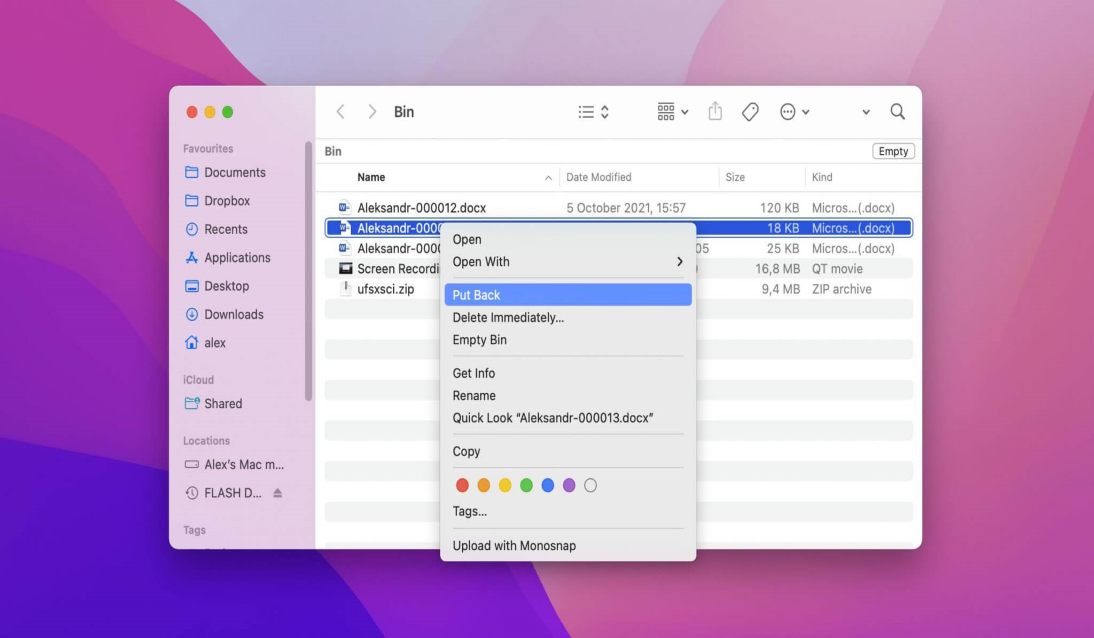 Recover ORF files from Windows Recycle Bin
Open your Windows Recycle Bin. You can double-click or right-click on the file. Both options fundamentally do the same thing. Once inside, choose Restore. 
Right-click Option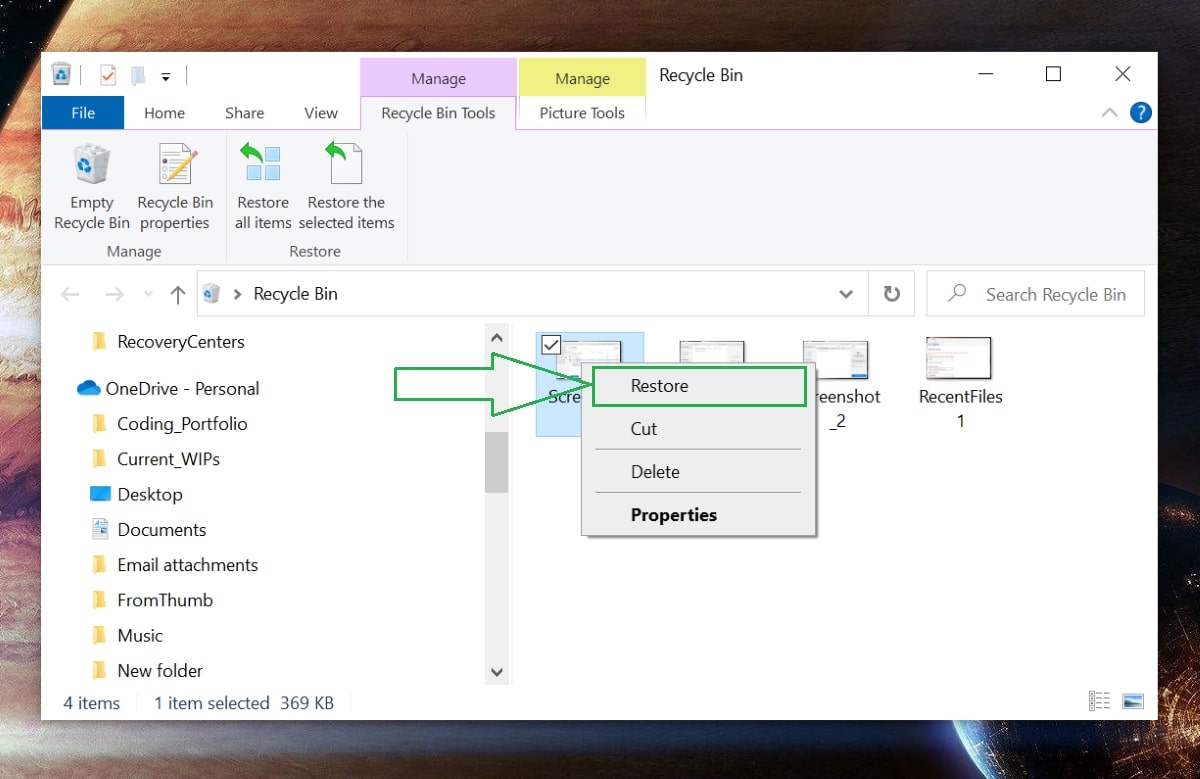 Double-click Option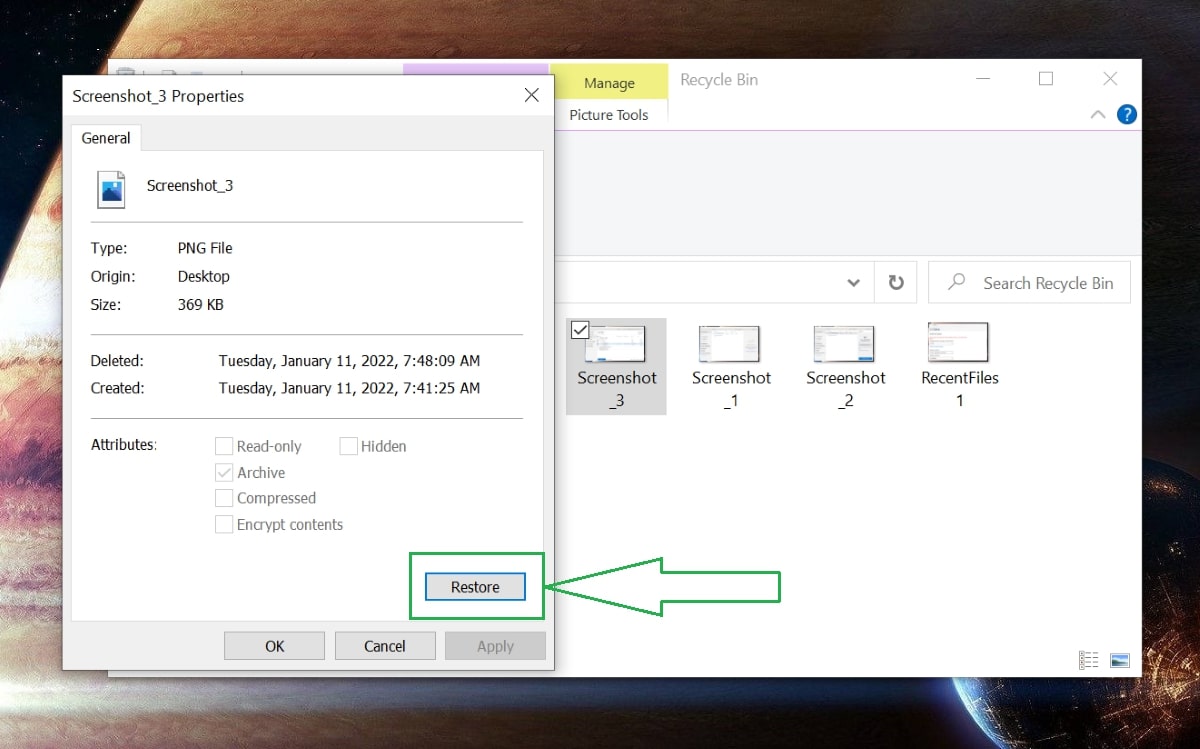 Restore ORF Files from a Recent Files folder
The Windows operating system has a Recent Files folder that allows you to quickly access recently used files but also makes it easy to restore previous versions of files, though this may depend on how you set your system to back up. 
There are two ways to access your Recent files folder. The first is to launch File Explorer. At the center of that pane will be a list of your recently used files. It's clearly marked as Recent files. The second option is to press Windows + R to pull up your run dialogue bar. Type the word recent into that run dialogue bar and select OK.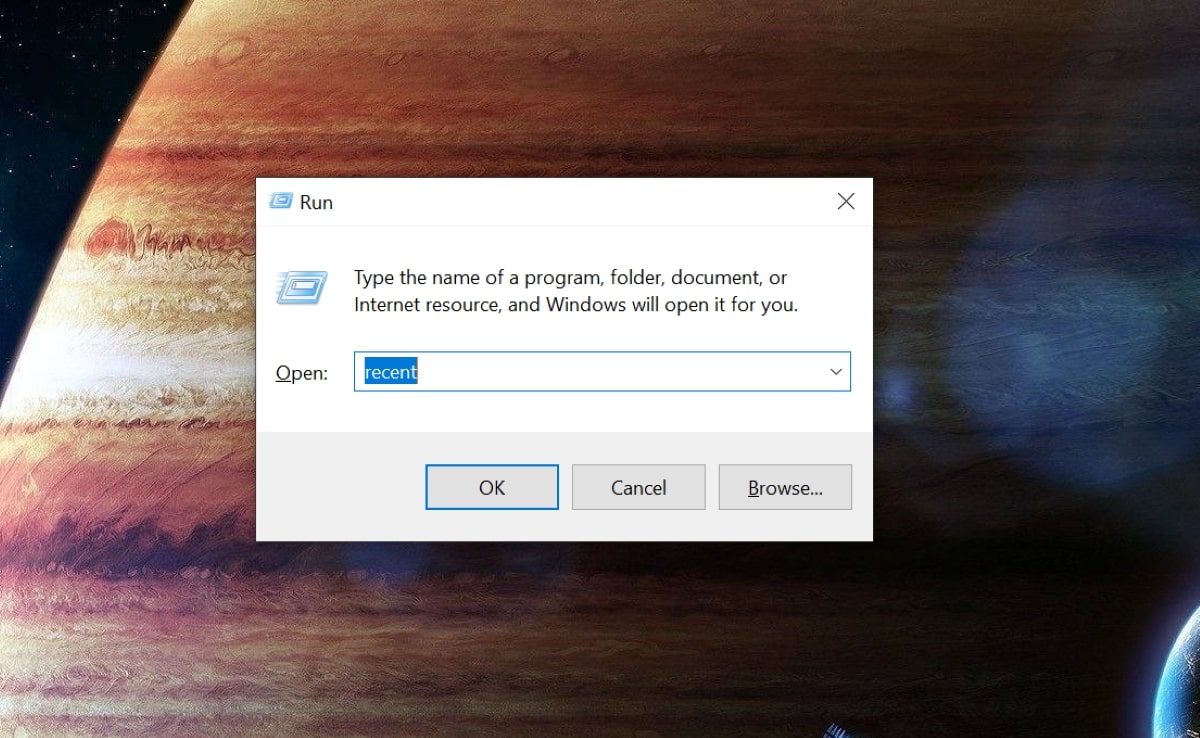 Whichever option you choose, find the file you want and double or right-click on it.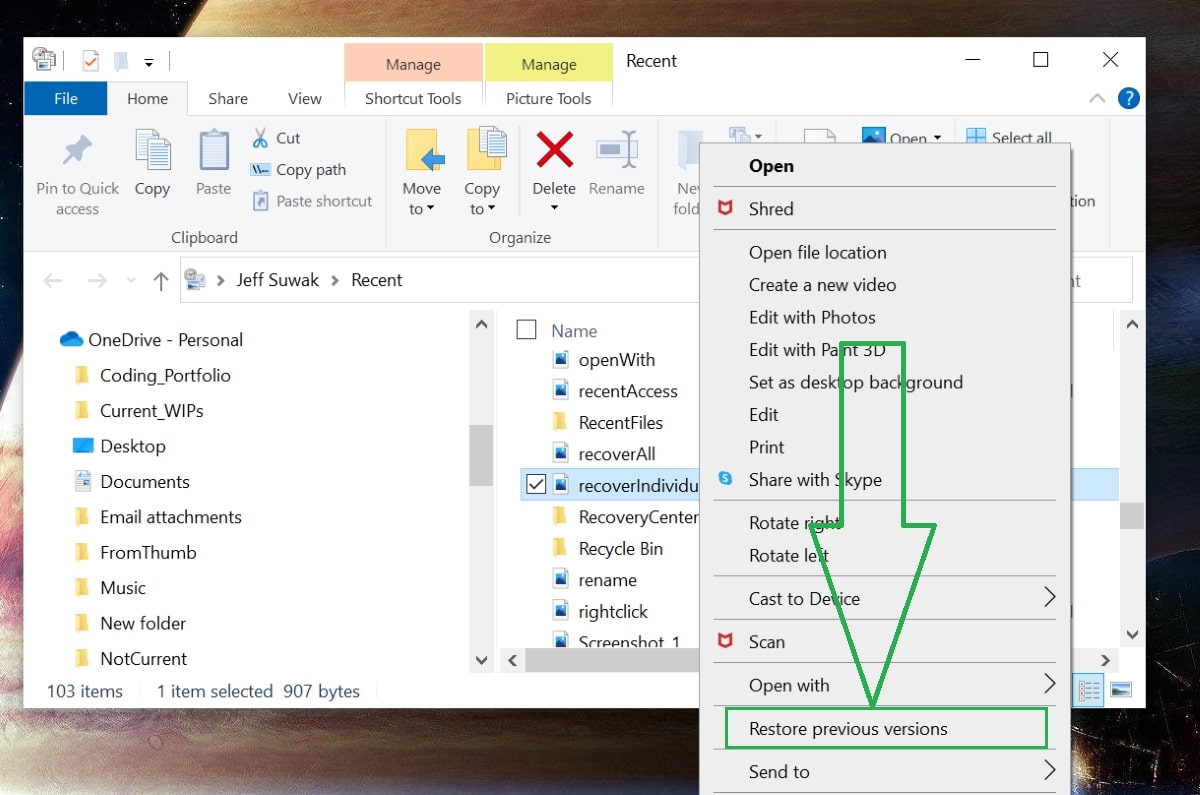 This will give you an option to Restore previous versions. If your system is set to backup files, there will be previous iterations of the file. You can select them and go back to the point at which they were saved, which allows you to retrieve things you may have accidentally lost. 
Once you restore your previous version, you'll have it back in your working files as if it had never left. Adjust your system's restore points to back up your files at the intervals that are best for you.