What is M2TS File Format?
Blu-ray Disk Audio-Video (BDAV) MPEG-2 Transport Stream, commonly known as M2TS (MPEG-2 Transport Stream) is an audio and video container developed by the Blu-ray Disk Association.
Characteristics and Uses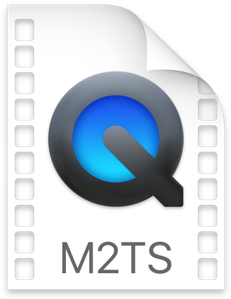 This association is a group of companies that develops and licenses Blu-ray Disk technology. This group was initiated in 2002 by the Massachusetts Institute of Technology (MIT), and became an association in 2004. It includes some market leading companies, such as Sony, Panasonic, Pioneer, Philips, LG Electronics, Hitachi, Sharp, and Samsung Electronics.
The transport streams considered in the M2TS are designed for delivery of data in real time over unreliable transport media. Thus, M2TS files are optimized for multiplexing audio and video, and other streams.
This file format is based on the MPEG-2 transport stream container. It can contain video compressed with MPEG-2, H.264/MPEG-4 AVC and SMPTE VC-1 formats, and audio compressed with Dolby Digital, DTS formats and audio in uncompressed Linear PCM format. Optionally, it can include Dolby Digital Plus DTS-HD High Resolution and Dolby TrueHD.
Its main use is on Blu-ray Disks, where it can be contained in BDMV (Blu-ray Disk Movie) format, or BDAV (Blu-ray Disk Audio/Visual) format. M2TS is also used in the AVCHD format for digital video camera recorders.
Most M2TS file names use the convention xxxxx.m2ts, where xxxxx is a 5-digit integer corresponding to the audio-video clip. Files are usually placed in the BDMVSTREAM folder, or the BDAVSTREAM folder.
M2TS files are protected with the Advanced Access Content System (AACS) technology, which encrypts the data. The specification for this technology is developed by the AACS Licensing Administrator. The consortium includes important companies, such as Disney and Sony amongst others. They work under an interim agreement, since the final specification has not yet been finalized.
Programs That Open M2TS Files
Windows:
File Viewer Plus
Microsoft Windows Media Player
Adobe Flash Professional CC
Roxio Creator NXT Pro 5
CyberLink PowerDVD 16
CyberLink PowerDirector 15 Ultra
CyberLink PowerProducer 6
Sony Picture Motion Browser
MAGIX Vegas Pro 14
Audials One 2016
VideoLAN VLC media player
Mirillis Splash
Mac:
Adobe Flash Professional CC
Roxio Toast 15
VideoLAN VLC media player
Linux:
VideoLAN VLC media player
How to Recover Deleted M2TS Files
It is not difficult to press the wrong key and mistakenly delete a file. Fortunately, there is a file recovery application that can solve the problem and easily recover M2TS files. Its name is Disk Drill, and it is available for free!

Data recovery for free
Your Companion for Deleted Files Recovery
With Disk Drill, M2TS file recovery can be done in a few steps:
Click on the icon of the installer and install Disk Drill by following the given steps.
Once installed, open the application. Disk Drill automatically detects all connected devices. This app can perform a M2TS recovery from internal and external hard drives, USB flash drives, memory cards, iPhones, iPods and many more digital devices. Select the drive that contains your deleted files.
Go to the main menu, and from the "Preferences" option select "Video", and then "m2ts". In this manner, Disk Drill will narrow the search to this specific file type.
Click on the "RECOVER" button. Disk Drill will perform a scan, searching for M2TS files.
The scan can be cancelled by clicking on the button "CANCEL", or paused by clicking on the button "PAUSE". You can also save the session and continue later on, at a time of your convenience, without losing any work already done.
Once the scan is completed, Disk Drill presents the results in a list form. This list can be narrowed by filtering according to date or size. Select the files you want, and restore them to a folder of your choice.
Your M2TS file recovery is done!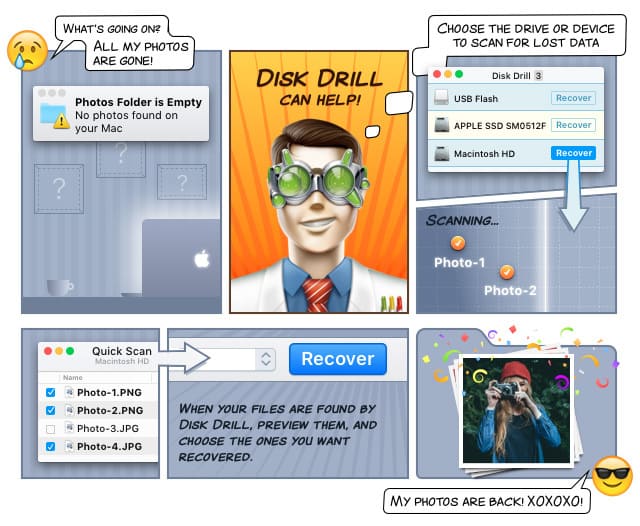 How to Use Image Files to Recover M2TS Files
An image file is a bit-by-bit copy of an original source. By being a copy at a binary level, it contains all the data in the original device, including deleted files. Thus, it is the ideal tool to perform your M2TS file recovery without risk of permanently damaging the digital drive.
Disk Drill contains the necessary functionality to create an image copy. It is available as an option in the "Extras" menu next to each drive. An added advantage is portability, as Disk Drill uses well known image file formats, such as iso and img, which can be opened with many other programs.
The use of image files is a standard practice among Computer Forensics practitioners, as it keeps the original source untouched.
An image files can also be used as a backup tool. Even though it will have the same total size as the original device, it will also contain any deleted files, which can later be recovered.