What is BLEND File Format
The .BLEND file format is associated with the Blender application, and a .BLEND file is essentially a memory dump from a running instance of this application.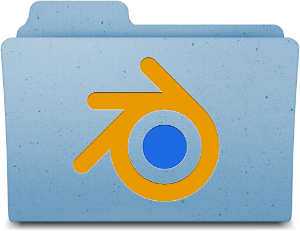 .BLEND files are designed to be forward and backward compatible between versions and different platforms. Although there is no publicly available specification of this file format, you can find out about its structure information in Blender's code. This code is freely available as Blender is an open source application. The program is supported through public donations to the Blender Foundation, and it has also received the support of companies like Google.
In addition, there is a wide community support, and wide variety of literature from users around the world. Blender also offers Python scripting for custom applications and add-ons.
Blender is a 3D computer graphics application. It is mainly used in animated films, 3D printing designs, visual effects, interactive 3D applications, engineering models and more. The program is available for Windows Vista and above, Mac OS X 10.6 and above, and Linux.
Blender was started by a Dutch company named NeoGeo. Since its beginnings, it has evolved into a product used in many countries and by many companies in advertisements, short films, TV series and feature films. NASA has used this program for its publicly available 3D models.
Blender has many features, including 3D modeling, texturing, raster graphics editing, smoke and fluid simulation, sculpting, animating, camera and object tracking, video editing, sound synchronization and more. This wide range of capacities has made it a product of choice not only in the film industry, but also in the engineering field.
A .BLEND file can contain multiple scenes in a single file. This file is structured with an internal file system that stores scenes, objects, materials, textures, sounds, images, and more. External objects can be stored through a reference to them.
Internal data is organized in blocks. Objects are composed of blocks, which can be shared. Thus, for example, the same mesh can be used by different objects. Moreover, objects, meshes and other resources can be linked to / from other files. The result is that a .BLEND file can be used as a resource library for multiple projects.
How to Open BLEND Files
.BLEND files can be handled with the Blender program, which is available for free from the Blender Organization website mentioned above.
How to Recover Deleted BLEND Files
Blender has become more popular due to its powerful features. Losing a .BLEND file that represents several hours of hard work is painful. Fortunately, Disk Drill is here to help you recover BLEND files.
Disk Drill is a data recovery app developed by Cleverfiles. It supports a wide variety of devices, such as internal and external hard drives, USB based drives, memory cards, iPods and many more. It also supports BLEND recovery from image files.
Image files are a bit-by-bit copy of an original source. As they are an exact copy, they also contain deleted files with content still available on the drive. Disk Drill lets you work on them by attaching the image copy to the app. Once attached, you just proceed to work in the same manner as with any other digital drive.
Disk Drill is available for free!

Data recovery for free
Your Companion for Deleted Files Recovery
Steps for Recovering BLEND Files Successfully
Once you have downloaded the installer, follow these instructions below to recover BLEND files:
Install Disk Drill on your machine by clicking on the installer's icon. The program will guide you through the whole process with easy to do instructions.
Open Disk Drill by clicking on the app's icon. The application will automatically detect all available connected drives. If you need to work from a digital file, just attach it to the program.
Narrow the search by selecting .BLEND files from the "Preferences" menu. In this way, your BLEND recovery will be faster and more efficient.
Start the BLEND file recovery. While Disk Drill is processing your request, you can cancel or pause it at any time. You can also ask Disk Drill to save the session for you, and then continue later on without any loss of the work already done. This option becomes in handy when working with drives of large sizes, as they can take several hours of BLEND recovery processing.
Once Disk Drill has completed the scan of your drive, it presents the results in the manner of a list. You can narrow this list down by using the filters by date or size that are available from the app.
Select the .BLEND file(s) that you want, and retrieve it (them) to a folder of your choice.
Your BLEND recovery is completed.