Many of us have experienced the nightmare scenario of losing important files from our computers. Whether forgetting to make regular backups or damaging an external drive, data loss can be a frustrating and potentially expensive business.
Luckily, these days there are plenty of options out there for recovering lost files. In this article, we'll be checking out one of those apps for ourselves: iBoysoft Data Recovery. We'll take the software for a test drive, helping you to decide if it's worth your time and attention:
iBoysoft Data Recovery at a glance:
Criteria
Condition
🚄 Recovery speed:
256GB in 20 minutes for both regular and Deep Scans
💻 Supported platforms:
Separate Windows and Mac versions.
💰 Pricing:
Windows: $69.95 to $199
Mac: $89.95 to $169.95
🖥 Support:
Support tickets answered within 24 hours.
✅ Pros:
Easy to use, worked well in testing;
Deep Scan, File Previews and Saved Scans;
Free to use if you only need to recover 1GB of data.
❌ Cons:
Expensive for the full version;
Average scanning speeds.
Main Software Features
iBoysoft Data Recovery is described by the developer as "a fast and safe data recovery tool with a 99% success rate". The software can rescue all types of data, from documents and photos to large video files.
iBoysoft will restore data from FAT32, NTFS, exFAT and APS file systems. The software can recover data from encrypted drives, as well as memory cards and USB sticks.
The app is available for both Windows and macOS desktop computers, including the latest Apple Silicon machines — though sadly not for iOS or Android devices as yet. 
Here are some of the standout features:
Recover Data From Unreadable Disks
iBoysoft Data Recovery can "Deep Scan" disks that appear broken or unusable, allowing you to run a diagnosis on a corrupt or improperly formatted disk to find out if it's possible to recover files from it.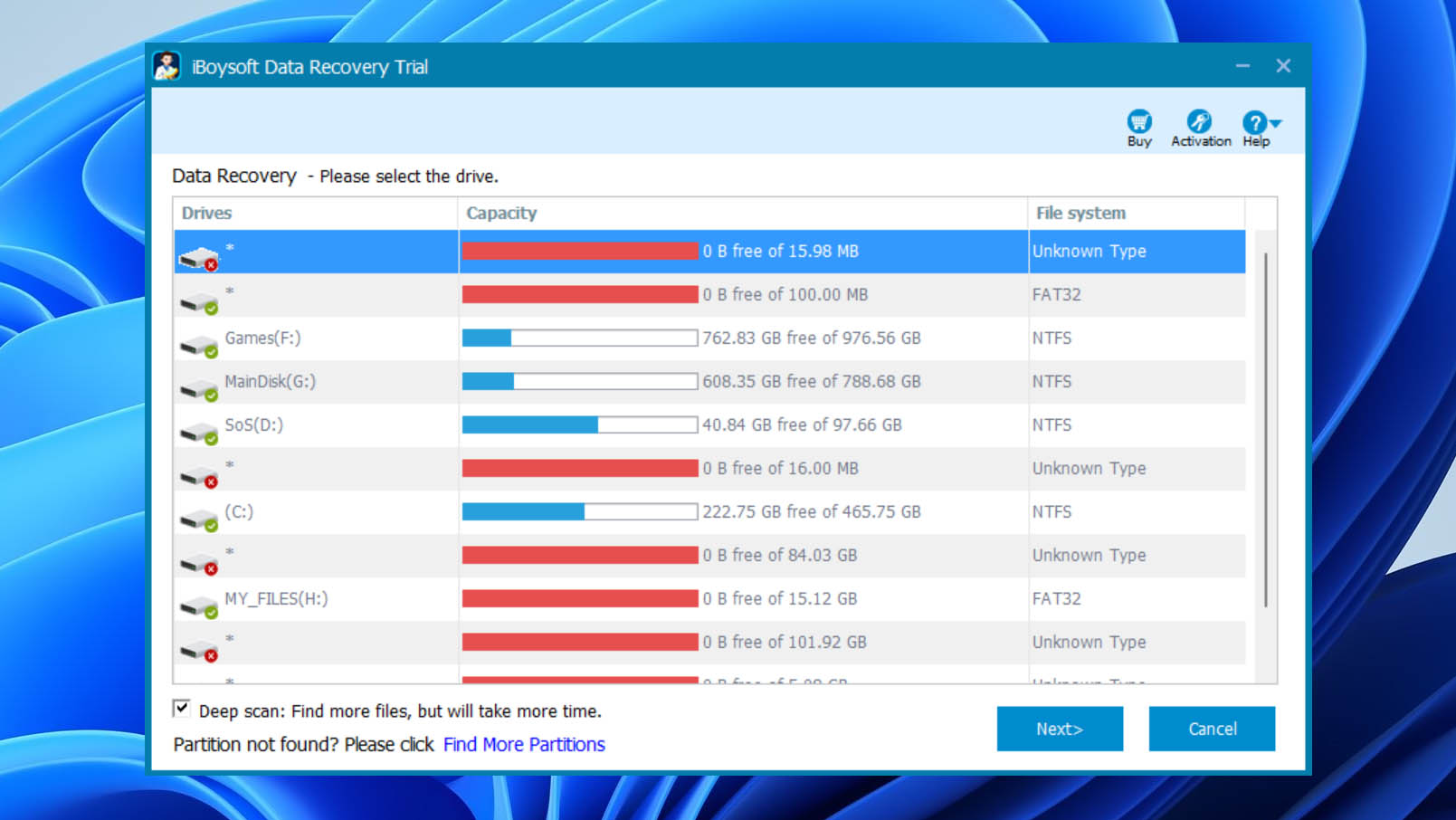 Pre-Recovery and Preview Settings
If you know the types of file extension you'd like to recover before beginning a scan, iBoysoft lets you omit all other data from the results. In addition, a handy preview tool lets you take a look at a recovered file to check it's the correct version before restoring it to your computer.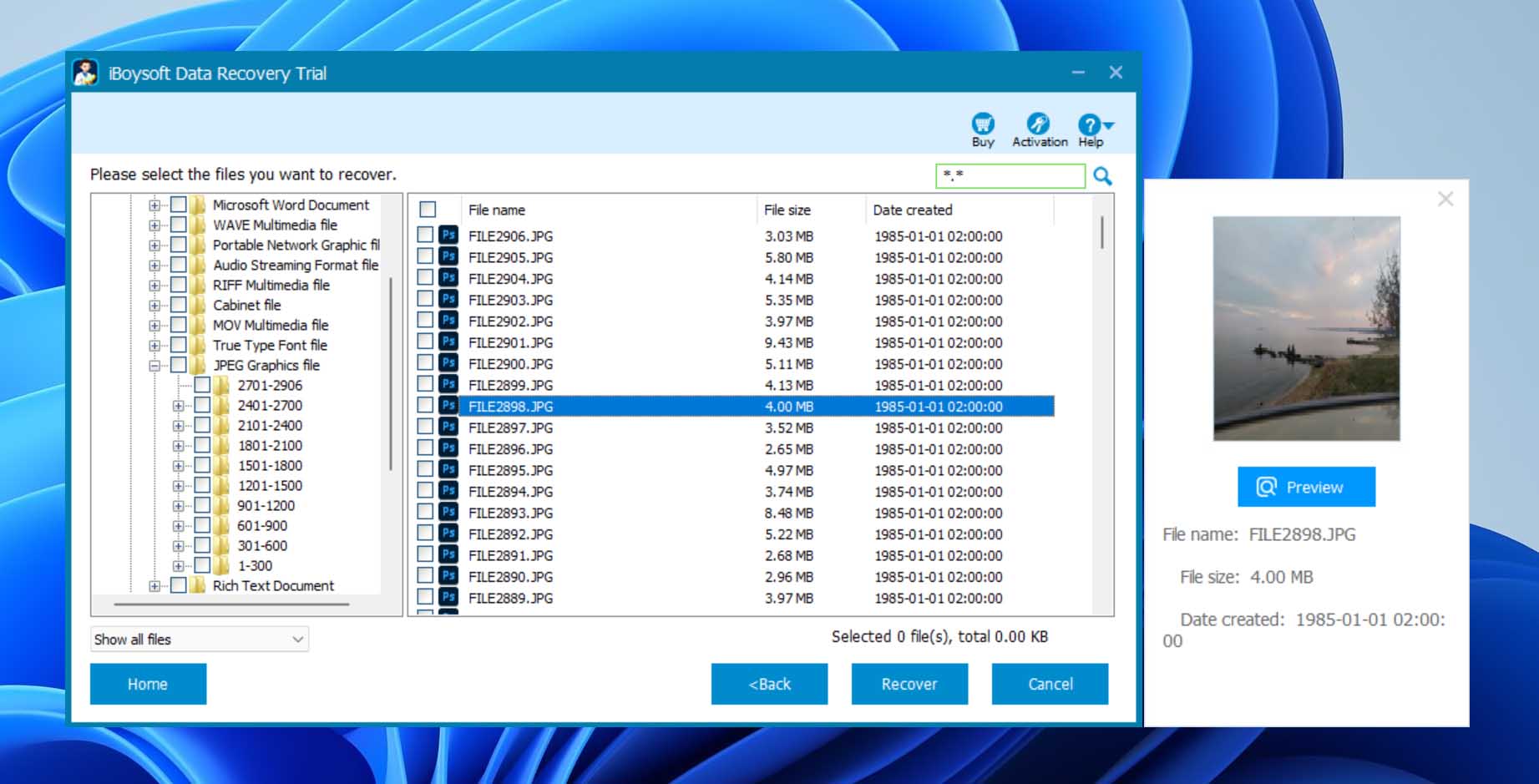 Save Session
If you've scanned a drive but don't have time to restore the files, it's possible to save that session and reload it later on. Once you have a session saved, you can go back to the scan at any time — providing the drive's contents haven't changed.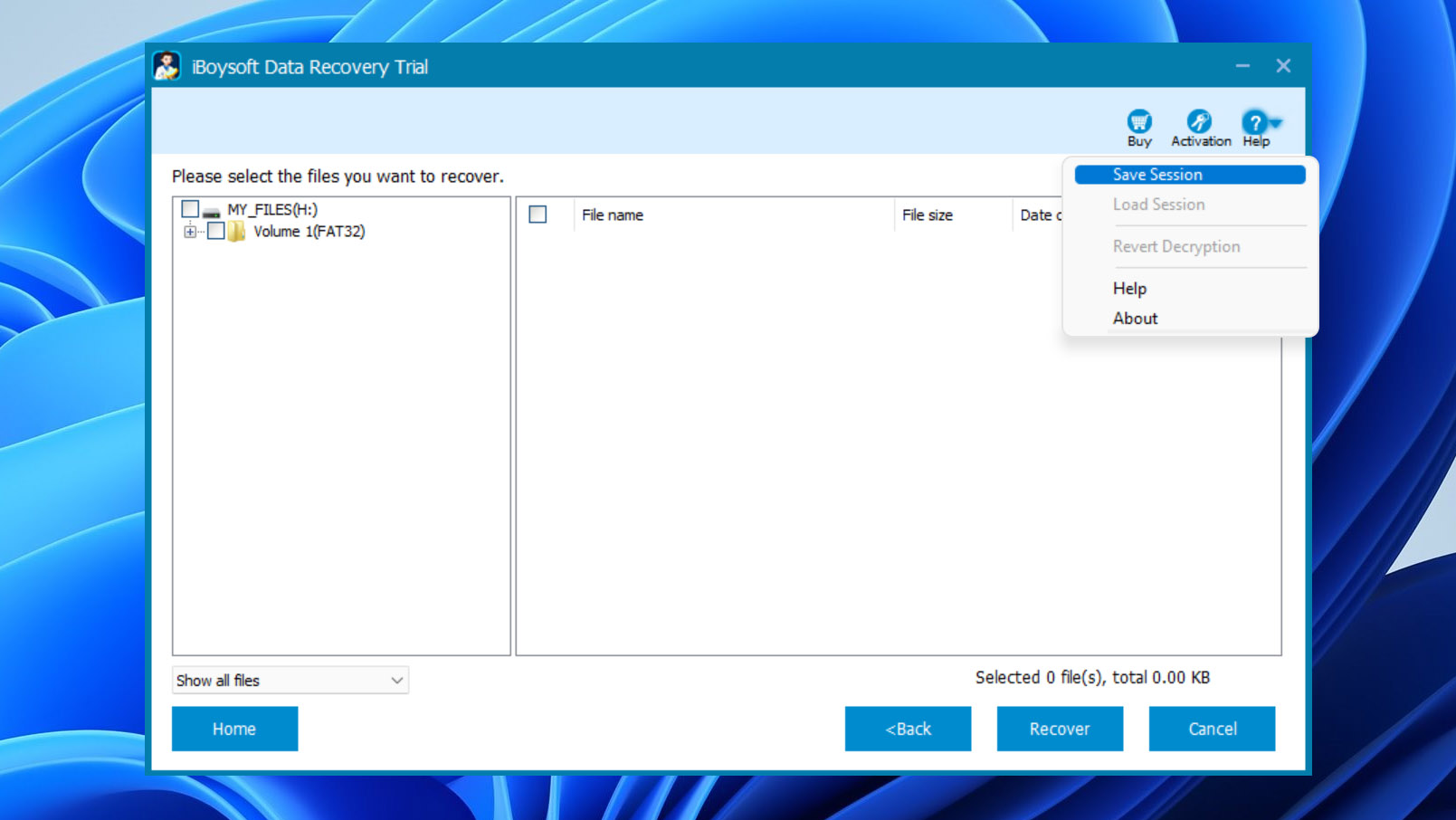 With its decent feature set, ability to "Deep Scan" difficult to recover drives, plus server scanning credentials, iBoysoft Data Recovery is angling itself towards professional applications rather than casual users. 
A word on the Basic and Pro editions
For the most part, iBoysoft Data Recovery has the same feature set on both macOS and Windows platforms. However, there are a couple of differences depending on your chosen operating system:
On macOS, iBoysoft has a single app, whereas on Windows machines, two versions are available: Basic and Professional. The two are very similar, with the Pro version adding extra support for Windows Server and the ability to recover files from Bitlocker Drives.
Recovery Performance and How to Recover Data
If you're thinking of using iBoysoft Mac data recovery or the identical Windows program, it's probably best to try out the free version first.
You'll still be able to scan your whole drive for lost files, but if they total more than 1GB, you'll need to pay for the full version to recover them.
Here's how to get started:
Head over to the official site and download the software. 
Install the software, giving it the required permissions.
Once the app starts up, you'll need to choose the drive where your lost files are located.
You can also choose to use the Deep Scan feature, which will take longer to complete but will make a more thorough pass of your drive.
Click the scan button, and wait for the results.
And that's all there is to it!
Initial Scan Results
After deleting a couple of test files and running the iBoysoft app, we could view all of the recovered data on our 256GB SSD after 20 minutes for both the regular and Deep Scans.
On a larger 1TB hard drive, the Deep Scan took considerably longer, but every one of our test scans recovered all of the deleted items. In terms of pure results, it would seem that iBoysoft achieved top marks.
We did discover a few disappointments in our test run, however:
It's impossible to preview found files in the iBoysoft data manager until the entire scan is complete. So if your lost file appears in a few seconds, you'll still need to wait for the scan to complete.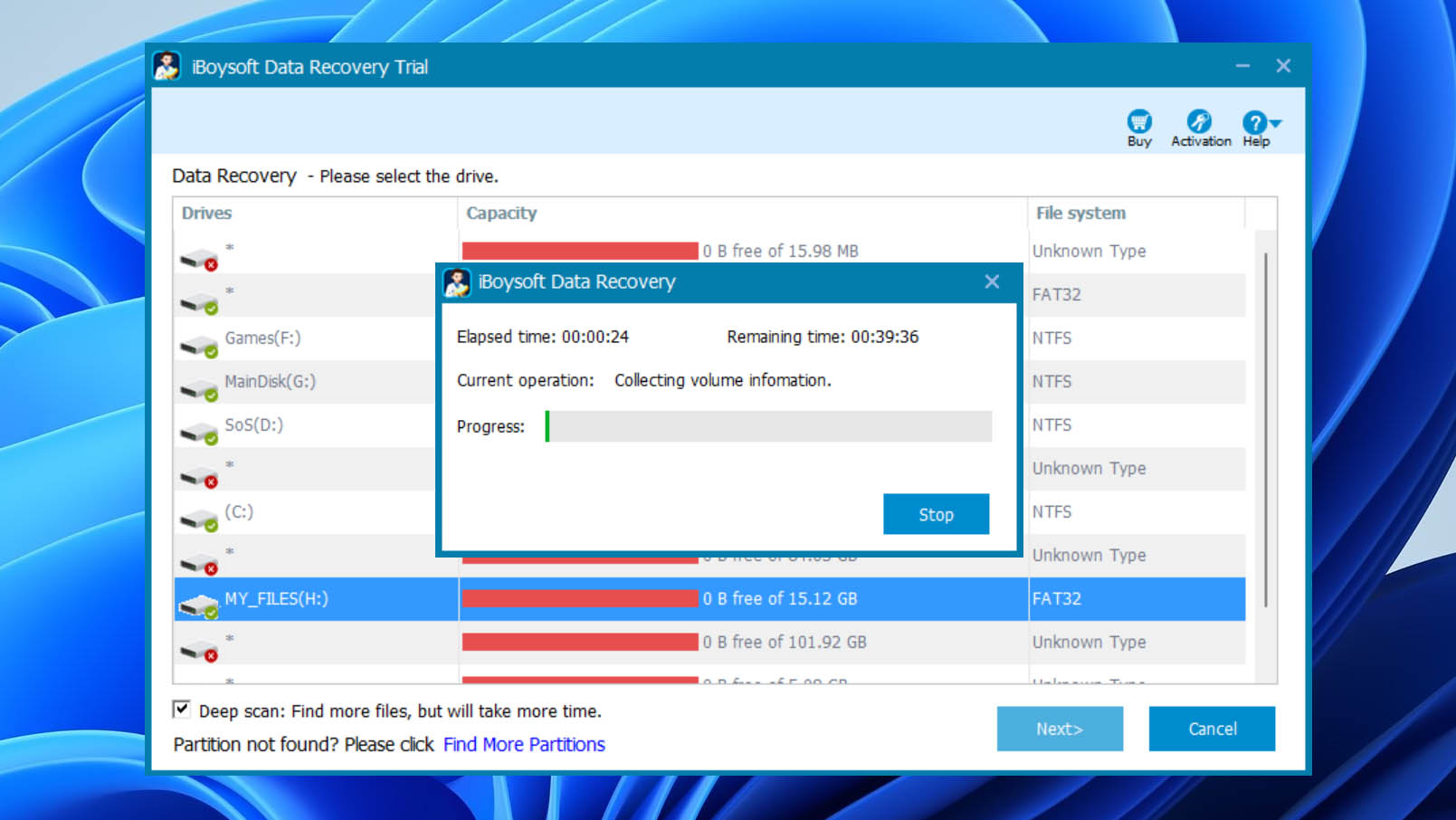 In addition, certain file types such as .mp3 and .mp4 files can't be previewed in the iBoysoft data manager at all.
The Deep Scan did find several files that the regular scan missed, but our measurements showed that deep scanning could potentially be a time and resource hog on less powerful PCs.
Interface and User Experience
We had zero issues getting started with this app. The iBoysoft data manager interface is clean and well thought out, and the user experience is businesslike and functional — if a little uninspiring.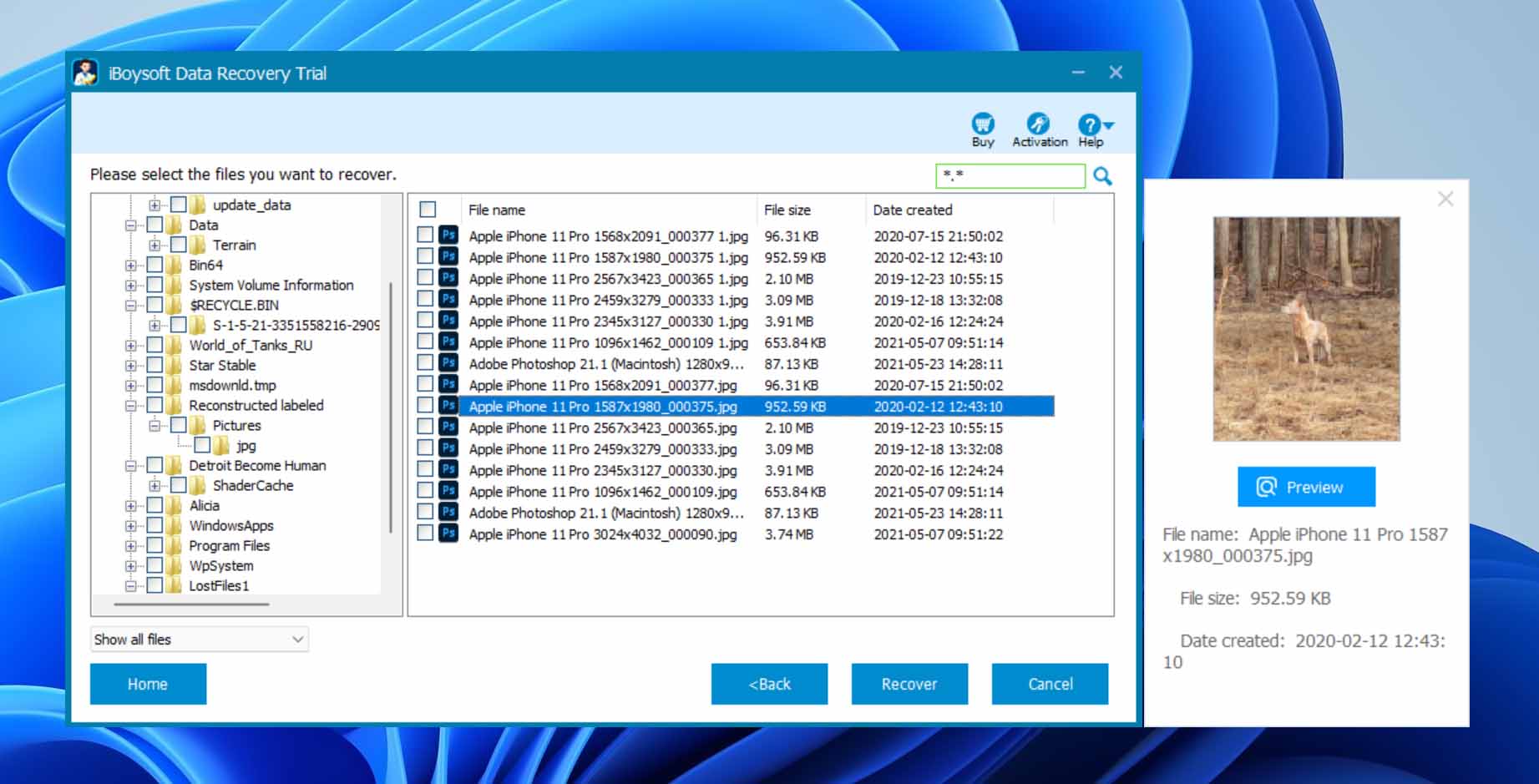 Security and Privacy
So long as you're downloading the app from the official website, you needn't have any concerns over security or privacy. We found zero malware, and couldn't find evidence that a third party was viewing our scanned files.
Pricing and Plans
iBoysoft Mac data recovery and the identical Windows version are a mixed bag when it comes to pricing: On the one hand, the software is entirely free if you only want to recover a set of files that total 1GB or less in size. On the other hand, if you accidentally deleted a batch of videos or other large files, the cost of the software is pretty expensive.
macOS pricing:
$89.95 for a one-off license that only lasts a single month.
$99.95 for a one-year license that auto-renews, but you can cancel at any time.
$169.95 for a one-off, lifetime license.
Windows Basic Edition pricing:
$69.95 for a one-off license that only lasts a single month.
$99.95 for a one-year license that auto-renews, but you can cancel at any time.
Windows Professional Edition pricing:
$169 for a one-off license that only lasts a single month.
$199 for a one-year license that auto-renews, but you can cancel at any time.
Considering that most users would only require a data recovery solution in a dire emergency, we can't imagine many paying $169.95 for a lifetime macOS license. Combine that with one-month and one-year options that are pretty expensive on both platforms, and rival solutions suddenly seem tempting.
Developer Support
We didn't have any dealings with iBoysoft support, but the official website suggests that emails will be replied to in 12-24 hours. The support page does, however, note:
"Data recovery is a complicated case and data recovery tech support is a time-consuming job. For iBoysoft Data Recovery lifetime license, we will charge for data recovery service if you need our help after your 1-year free tech support expires."
iBoysoft uses the Paddle platform to manage the sales and downloads of its software, so you can be confident that technical issues regarding downloads or refunds will be handled professionally. 
Customer Reviews
"A great application to recover and protect data. Their customer service is attentive, and they answer any question in seconds. On the negative side, documentation is scarce, and the price is pretty high" – Leonardo (G2.com)

"Useless after a reformat. Found a lot of my missing files, but all recovered files came out damaged and were unreadable. I couldn't get a refund at all even when I contacted support." – Yantheuser (Macupdate.com)

"iBoysoft Data Recovery recovered big video data from a broken APFS SSD, which was not playable after trying out a different app. Thumbs up!" – MacMac (Macupdate.com)

"I lost some data, and iBoysoft really helped me to retrieve it from somewhere deep inside my hard drive. The app is a little expensive, though, and I found it confusing to use at first" – User in Accounting (G2.com)
The Competition
There are plenty of rival offerings to iBoysoft Data Recovery. If you're looking for a decent alternative, we'd recommend trying out Disk Drill.
Disk Drill is free to download and use, only requiring an upgrade to the Pro version if you need to recover large files. Not only is Disk Drill a fair bit cheaper than iBoysoft Data Recovery, it's available on Android and iOS too.
Disk Drill has a solid feature set, offering valuable additions to the basic scanning and recovery functions, including a Disk Health Monitor, Duplicate Finder, Backup and Clean Up tools, and much more.
Final verdict
Despite some less than stellar reviews, we found iBoysoft Data Recovery pretty easy and effective to use. The app is simple to set up and run, and we quickly found all of our missing files. On the negative side, we'd agree with the online reviews describing the software as slow to scan and unnecessarily expensive for a tool lacking in standout features. 
FAQ