Transforming Society: What Is Collective impact?
Collective impact is a framework for progress in specific social problems. It is the organized commitment of a group of people and institutions to a common agenda. Its name derives from the 2011 publication Collective Impact by John Kania and Mark Kramer.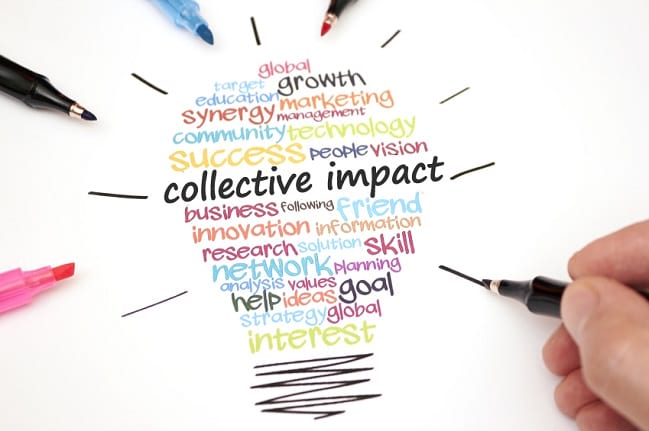 Collective Impact Definition
The idea behind this is to create lasting solutions for critical social issues. It can be applied to areas as diverse as health, healthcare, education, poverty reduction, homelessness, youth development, community support, and many more. Collective impact collaboration can be at neighborhood, regional, national and international levels. The Internet, with its wide reach, has become an essential tool in collective impact. Examples of collective impact collaboration include the Strive Partnership in Cincinnati, USA, and the Calgary Homeless Foundation in Calgary, Canada.
The Collective Impact Model
In order to be considered collective impact a project needs to comply with the following five criteria:
Common agenda: there must be a shared vision, which results from the understanding of the problem, and an agreed agenda for its solution.
Shared measurement system: a set of key indicators to measure performance.
Mutually reinforcing activities: a set of coordinated activities defined in a joint plan of action.
Continuous communication: necessary to keep all stakeholders informed.
Backbone organization: independent staff supporting the initiative. Its role is to provide vision and strategy, support activities, create a shared measurement system, build public will for the project, advance policy, and obtain the necessary funds.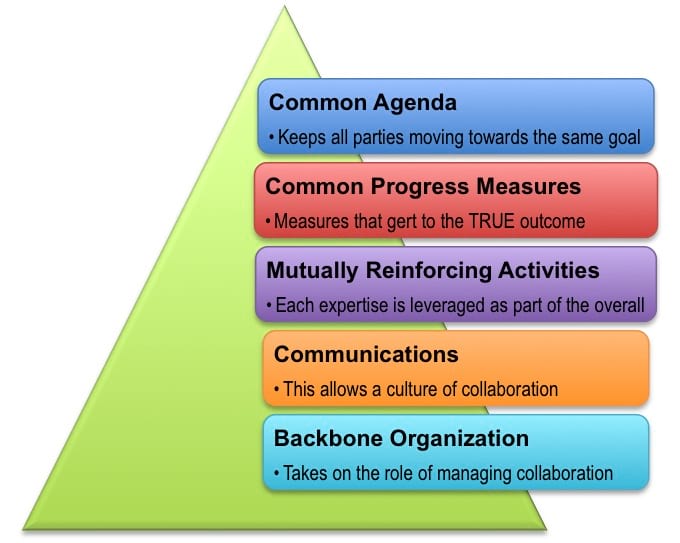 Collective Impact And The Internet
The Internet has proved to be the right instrument to promote collective impact collaboration. It has a wide international influence that spreads across developed and underdeveloped nations. In this regard, it is an ideal tool for communication, spreading of information, and collaboration. The internet can help in gathering like-minded people and institutions from diverse places and with common interests, enabling them to join forces. Problems such as human trafficking, child abuse, drug crime, infectious diseases, and even the need for someone to listen can be tackled with participation through the Internet. These issues are common to both rich and poor countries. They transcend boundaries. Developed countries can collaborate with their knowledge and technologies, supporting those in need in remote places. Expert doctors can assist in operations and treatment where there are not the necessary qualified practitioners. Computer experts can assist in the fight against crime. Education institutions can share their material and lessons with remote organizations. In addition and very importantly, the Internet through connecting people from different backgrounds, can help in harmonizing diverse cultures, transforming differences into added value, increasing understanding and shared ideals. The Internet can also contribute in the mobilization of money, by enabling the collection of small and large sums from different people in different places. The possibilities are endless. An example of Internet use in collective impact collaboration is the Collective Impact Forum. This organization, which is based in the USA, is an online community aimed at helping those involved in collective impact efforts. It is a place to find tools and training. The Collective Impact Forum is sponsored by several organizations, such as the Bill and Melinda Gates Foundation. There are several projects at present. Examples are: the Shape Up Somerville, and the Franklin County Communities That Care. Both operate in the areas of health and nutrition. The first is aimed at actions to prevent obesity for the people who live in, work in, or visit Somerville. The second is based in rural Franklin County, and aims at bringing together schools, the youth, and the community, to reduce risky behavior, such as drug abuse, and to help people to reach their full potential. Many companies are also contributing to this collective impact model. The contributions are diverse. For example, 508 Software is now developing Collective impact social portfolio project. It will be a web based application, where anyone interested can invest money in different social projects and, in this manner, participate in achieving social change.
Collective Impact Resources
The interested reader can consult the following webpages: