Top 10 Best Workout Apps for Android
Don't have a workout buddy? It doesn't matter! With our selection of the best workout apps for Android, you don't need one. From nutrition to workout routines to high-octane music that is guaranteed to get your blood pumping, the apps on this list cover all the bases that are key to achieving your fitness goals.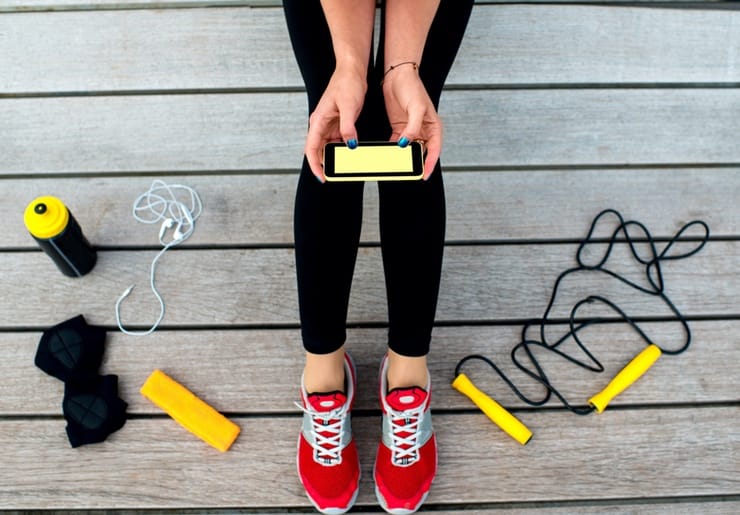 Yoga Studio was nominated by Google as one of the best apps of 2016 in the self-improvement category, and it's easy to see why. Yoga Studio has 70 unique yoga classes, all of which feature high-resolution instructional videos and are between 10 to 60 minutes in duration. To practice yoga with Yoga Studio, you simply select a yoga class suitable for your level, schedule it on any day and time you want, and get your yoga mat ready. Yoga Studio is available for free for two weeks, but you'll need to pay for one of three subscription options to continue using it. Yoga Studio's monthly subscription costs $1.99, but you can also pay every three months for $4.99 or annually for just $19.99. Considering the price of regular yoga classes and the quality of the instructional videos that you can access with Yoga Studio, we think the price is fair. Of course, you can cancel your subscription any time you want without any penalties. Because Yoga Studio supports Chromecast, you can easily watch the instructional videos that come with the app on your TV and enjoy authentic yoga practices in your living room.
Do you hate when other people stare at you while you exercise? You're not alone. Many people avoid going to the gym simply because they are not comfortable grunting and sweating in front of complete strangers, strangers who are often a lot fitter and not nearly as polite as they should be. With 30 Day Fitness Challenge, you can get in shape in the comfort of your home and without any special equipment. All you need is the app, a healthy dose of dedication, and a few minutes of free time every day. 30 Day Fitness Challenge stimulates muscle growth and weight loss using a method known as linear progression. Essentially, the app automatically increases your exercise intensity to avoid plateaus, which often happen with less sophisticated workout apps. 30 Day Fitness Challenge has workout routines for beginners and pros alike, and it also features workout routines that target individual muscle groups, such as abs, legs, or the butt.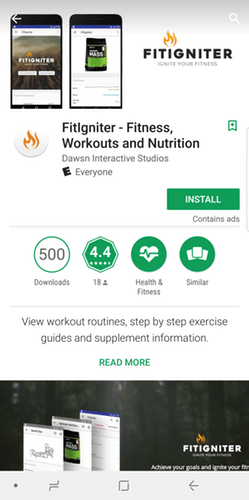 FitIgniter is a relatively new fitness app that has yet to become as popular as the other apps on this list. But despite its young age, it already offers just about everything you could ever need to get in shape. Besides workout routines and exercise, it also features a comprehensive database of supplements, so you can easily find which are the best pre-workout supplements, protein powders, or creatine capsules. According to FitIgniter's developers, the app is for people who want to correctly perform exercises while minimizing the risk of injury, those who like to watch best workout videos on how to perform an exercise with correct form, those who want to avoid spending money on useless supplements, and those who want to learn from true industry experts and not self-proclaimed Internet gurus.
Nike+ Training Club features over 160 free workouts developed in collaboration with Nike's Master Trainers. The workouts cover everything from endurance to mobility to strength, and they are suitable for beginners and advanced trainees alike. You can choose how long you want to exercise and which professional athlete you would like to motivate you as you get through your
sets and reps. Nike+ Training Club recognizes the importance of all sports activities — not just working out. The app allows you to log in your basketball practice, spinning class, yoga session, and a lot more. All your activity is synchronized across your devices and securely stored in the cloud. Because Nike cares more about selling you shoes and clothes, the app is free and doesn't contain any in-app purchases.
Fitbit's family of wearable fitness trackers has been helping people get in shape since the company was founded in 2007, and the Fitbit Coach app is just another way how you can integrate Fitbit into your everyday life. The app provides customizable workout routines that can range from 7 to 60 minutes and can be done without any special equipment. The workouts evolve based on the feedback the app receives from you and the data it gets from your Fitbit wearable fitness tracker. Integrated into Fitbit Coach is Fitbit Radio, which is an Internet radio with the best workout songs. If you decide to upgrade to Premium with an in-app purchase, you get access to an entire year of exclusive, customized programs that you can use to lose weight, bulk up, or just stay in shape.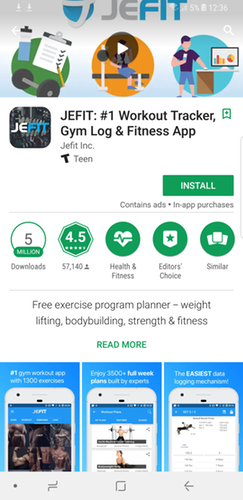 It's easy to start exercising, but it's much harder to stick with it and not let life get in the way. JEFIT is the workout app you need if you struggle to stay committed to your fitness goals. It uses progress tracking and peer support to keep you motivated, and it has a huge database of the best workouts, including the best chest workouts, the best shoulder workouts, the best biceps workouts, the best triceps workouts, and the best leg workouts. All workout programs are grouped according to their difficulty and required equipment. Besides being available on mobile devices, JEFIT is also available as a web-based app, allowing you to access your JEFIT profile from anywhere and anytime. Beginners can browse through a massive exercise instruction database, which contains over 1,300 video demonstrations performed by trained experts. Each exercise features a detailed description and helpful tips, and the app comes with a built-in exercise timer to help you track your workout tempo.
Founded in 2009, Strava is a social network where cyclists and runners upload their routes and compare their times across community created segments. While the competitive aspect is arguably what makes Strava what it is, you can also use it only for its social features and as a very capable activity monitor. Strava supports Android Wear devices, allowing you to record and upload activities with heart rate and precise GPS information. Premium subscribers receive personalized coaching, get live performance feedback during their activity, can access detailed analysis after every activity, and more.
Let's face it: gyms rarely play the best workout songs. In fact, the typical selection of overplayed pop hits, repetitive EDM, and inoffensive hip-hop can get boring pretty quickly. The most convenient solution to this problem that we know is Gym Radio, a subscription-based music app for your workouts. Gym Radio features several expertly curated playlists that cover many different music genres to help you get through all types of workouts. Pro subscribers can listen to Gym Radio in high quality, can enjoy unlimited song skips and workout playlists, and are never bothered with ads. So grab your best workout headphones, fire up Gym Radio, and get ready to workout while listening to the best workout songs.
MyFitnessPal was founded in 2005 by Albert Lee and Mike Lee, who wanted to create a platform that would allow its users to track diet and exercise to determine optimal caloric intake and nutrients while employing gamification mechanisms to provide additional motivation. Considering that MyFitnessPal had around 80 million users when it was acquired by Under Armour, an American company that manufactures footwear, sports, and casual apparel, for $475 million in 2015, we think that it's safe to say that Albert Lee and Mike Lee succeeded. The reason why MyFitnessPal is the caloric intake tracking app of choice for so many people is its large database of over five million different foods, which has been gradually created by its users over the years. It doesn't matter where you live or what kind of diet you follow; you can be sure that finding your favorite foods in MyFitnessPal won't be an issue. The app also connects to over 50 other fitness apps and devices, allowing you to track your activity with ease regardless of its type.
StrongLifts is a popular fitness program based on Mark Rippetoe's Starting Strength training program, which offers a simple approach to coaching barbell weight training. As it is laid out in Mark Rippetoe's book, Starting Strength: Basic Barbell Training, the original training program is broken down into two workout days, with each day starting with 3 sets of squats for 5 reps, followed by two other major barbell exercises (press and deadlift on day A and bench press and deadlift on day B) until the trainee progresses, and the program switches things up. StrongLifts increases the number of sets from 3 to 5 and slightly switches the selection of exercises while still respecting the philosophy behind Mark Rippetoe's Starting Strength training program. The StrongLifts 5×5 is the official mobile app of the StrongLifts fitness program, and its purpose is to help you track your progress and determine how much weight you should exercise with.