Portable Document Files (PDF) are widely used in business and academia. An application with the ability to efficiently work with these files can be an important part of your software toolbox.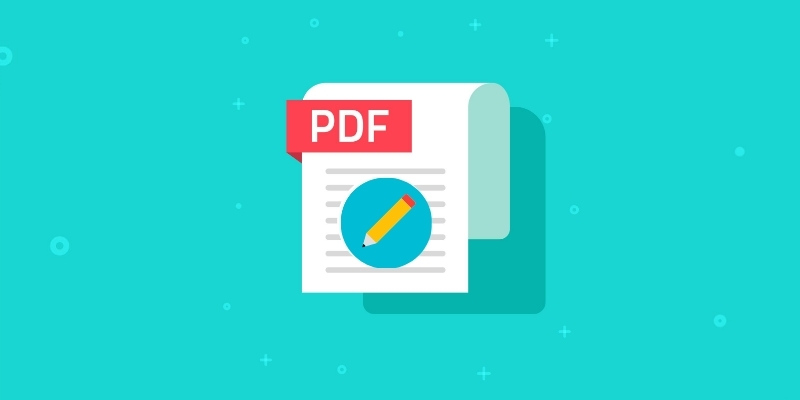 Mac users who need to edit PDF files have many options available to them. There are free applications as well as paid solutions from which to choose. Some of them offer greater functionality than others and may be more suited to your needs.
We have put together this list of PDF editors to give you an idea about what is out there and help you find the one that works best for you.
5 Best FREE PDF Editors for Mac
First, let's take a look at free solutions. They may not have all of the functionality of a paid solution but could be enough for your requirements. Since they are free, there is no risk to try them.
1. Acrobat Reader DC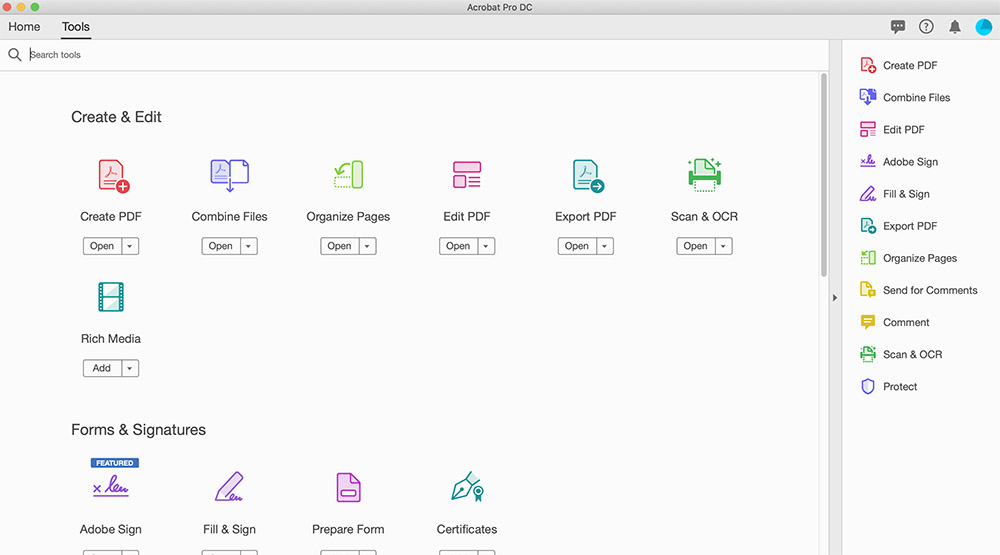 Adobe is the creator of the PDF format and has consistently been a leader in applications that allow users to interact with PDF documents. The Adobe Acrobat Reader DC is a stripped-down version of its full Acrobat tool which we will talk about in the paid software section of this article. 
Features:
Allows users to view, print, and comment on PDF documents.
Enables interaction with all types of PDF content including forms and multimedia presentations.
Connection to the Adobe Document Cloud facilitating work across multiple computers and mobile devices. 
The ability to download a free trial of Acrobat Pro DC which enables users to create and edit PDF documents. 
Download Adobe Acrobat Reader DC (Free): get.adobe.com/reader/
---
2. Skim
Skim is a free application that extends the capabilities of Mac's Preview program. It was originally designed as a tool for viewing and notating scientific papers and serves that purpose very well. The program can be used to view any PDF file. Unfortunately, it does not have a very user-friendly interface which will impact its viability for some users.
Features:
View PDF files and read them in full-screen mode.
Add and edit notes on the files you are viewing.
Highlight important text within a PDF document.
Magnification and smart cropping tools.
Automatically download remote PDFs.  
Download Skim (Free): https://sourceforge.net/projects/skim-app
---
3. LibreOffice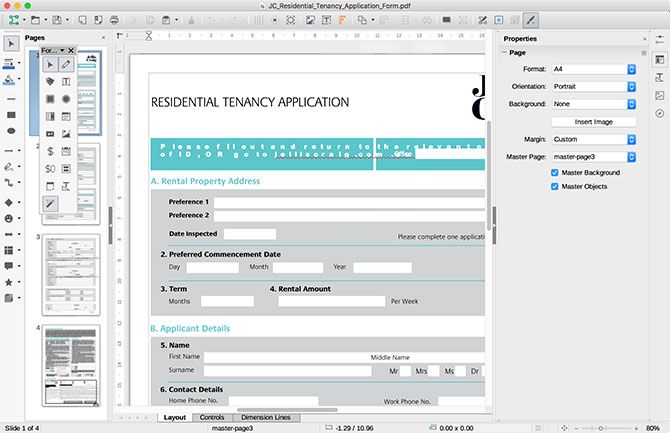 Here is a free suite of office productivity tools that includes the ability to edit and export files in the PDF format. It is open-source software that provides users with a comprehensive set of applications including word-processing, spreadsheets, drawing, and presentation tools. 
Features:
PDF documents are opened by default in the Draw tool where they can be edited.
Files of any type can be exported to PDF format.
PDF files can be exported to other file formats for compatibility.
Download LibreOffice (Free): www.libreoffice.org/download
---
4. Inkscape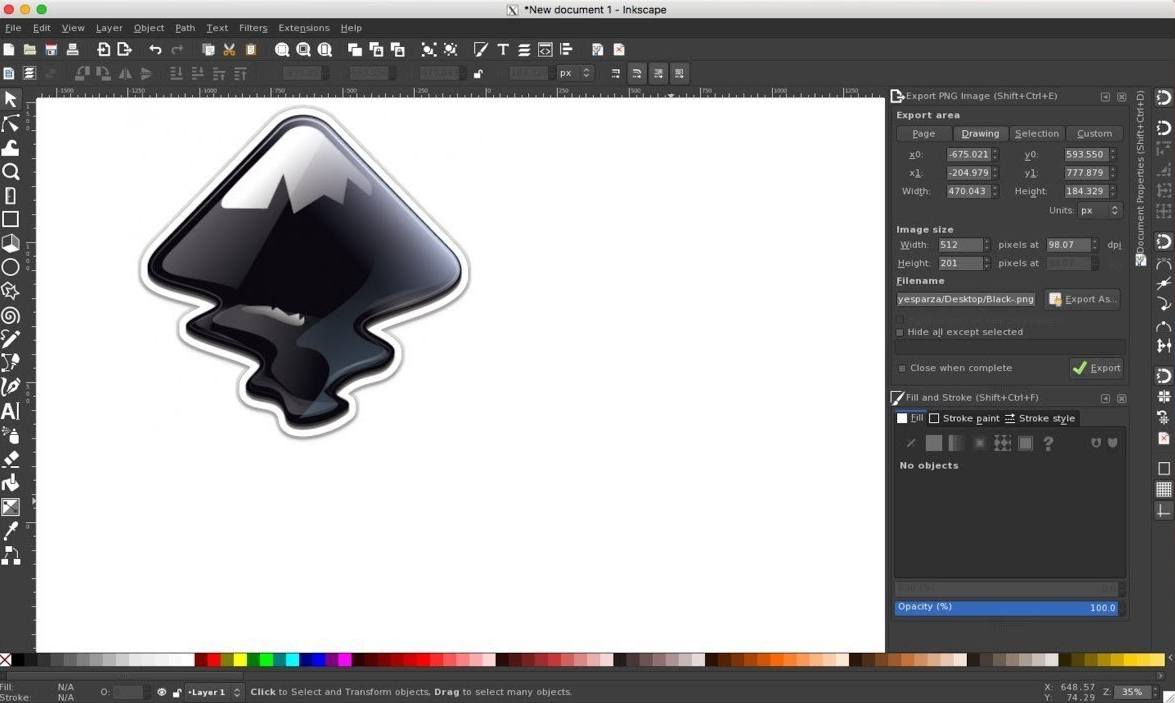 Inkscape is a free drawing tool that also can be used as a PDF editor. When you open a PDF file in Inkscape you need to ensure you select the "Import text as text" option. When you are finished editing it, just save it as a PDF file or another supported format.
Features:
Object creation with drawing, shape, and text tools.
Manipulate objects in PDF documents.
Multiple fill and stroke options.
Extensive support for text editing.
Download Inkscape (Free): inkscape.org/release/inkscape-1.0/mac-os-x/
---
5. macOS Preview application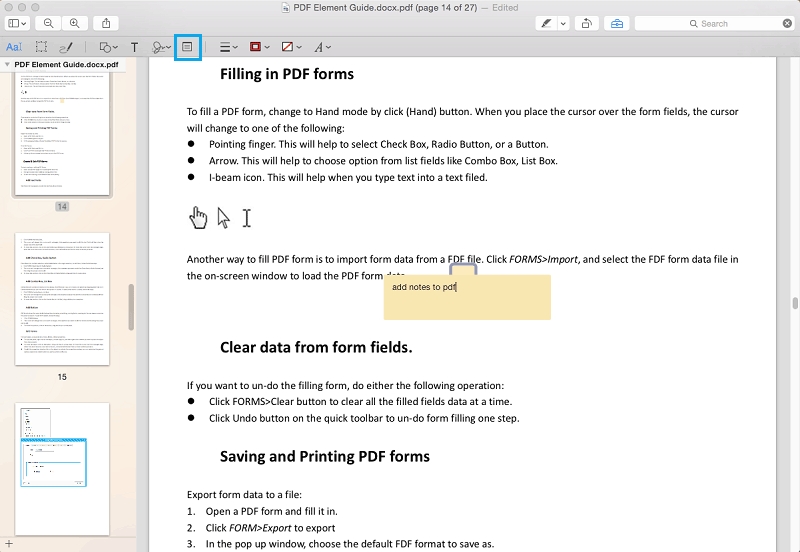 Native support for viewing and editing PDF files is provided by the Mac Preview application. The editing capabilities are limited to filling out forms, annotating or signing a PDF file created with another program. Preview is the default macOS viewing platform for many types in addition to PDFs including BMP and JPEG files.
Features:
View and save PDF documents.
Annotate PDF documents including highlighting and underlying.
Add notes to PDFs.
Combine PDFs and add, delete or move pages within a document
Password-protect and compress PDFs.
This page contains affiliate links. What are they, and why do we use them?
5 Best Paid PDF Editors for Mac
If the functionality of the free PDF editors is not sufficient for your requirements, you might be better served with a paid solution. Here are some great applications from which to choose.
1. FineReader Pro for Mac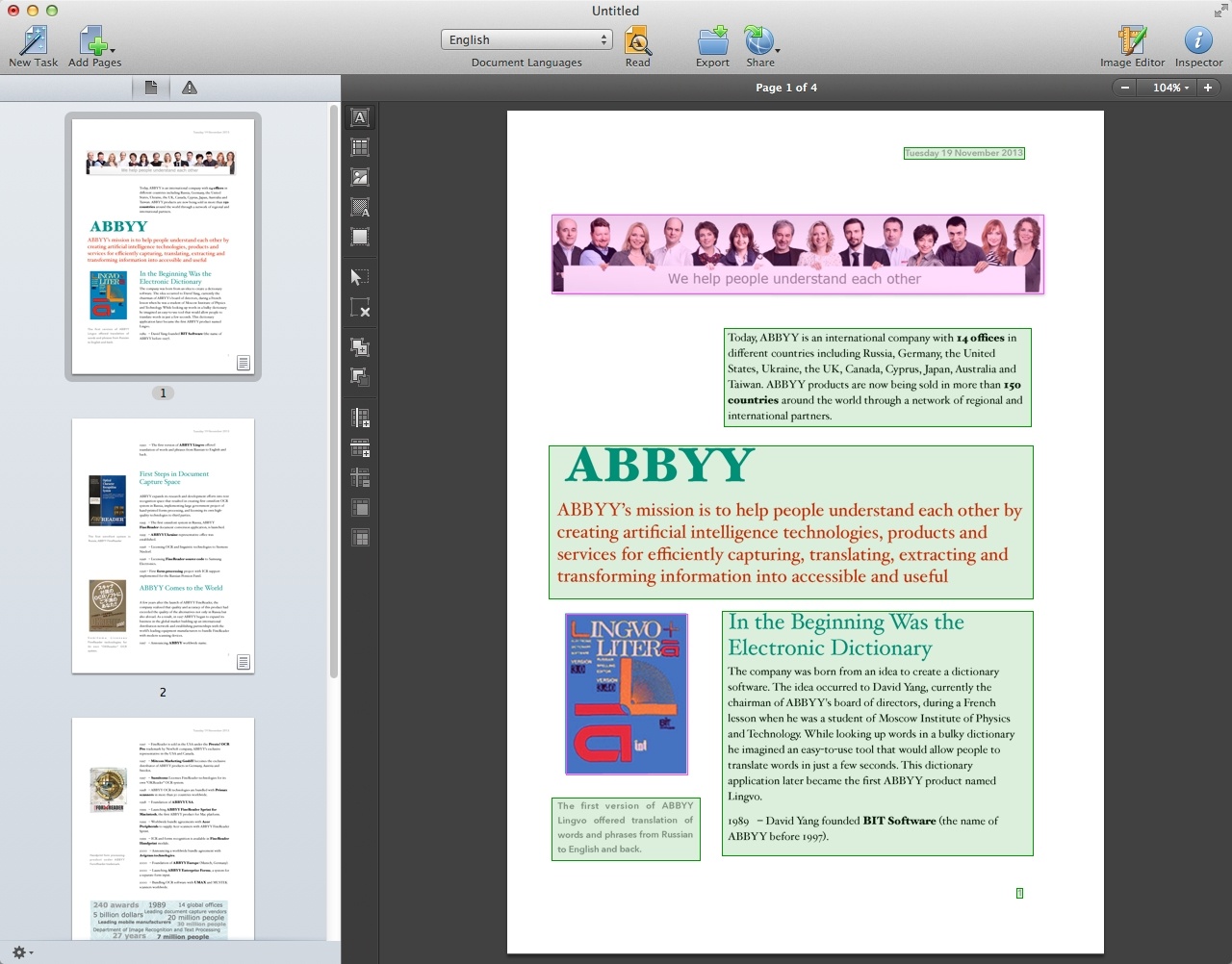 FineReader Pro is another paid PDF editing solution that has a free trial available for customer evaluation. The product is sold with a perpetual license and is available through the Apple Store. It has many features that make it an attractive tool for users working with PDF files.
Features:
Cutting-edge optical character recognition (OCR).
Supports over 180 languages.
Intuitive, Mac-like interface for enhanced productivity.
Edit PDFs and save documents in any format.
Create searchable PDFs for archiving.
Get FineReader Pro for Mac (Free Trial): pdf.abbyy.com
🎁 Get FineReader Pro for Mac with 10% OFF using the coupon code "FineReaderPDF2023"
---
2. pdfFiller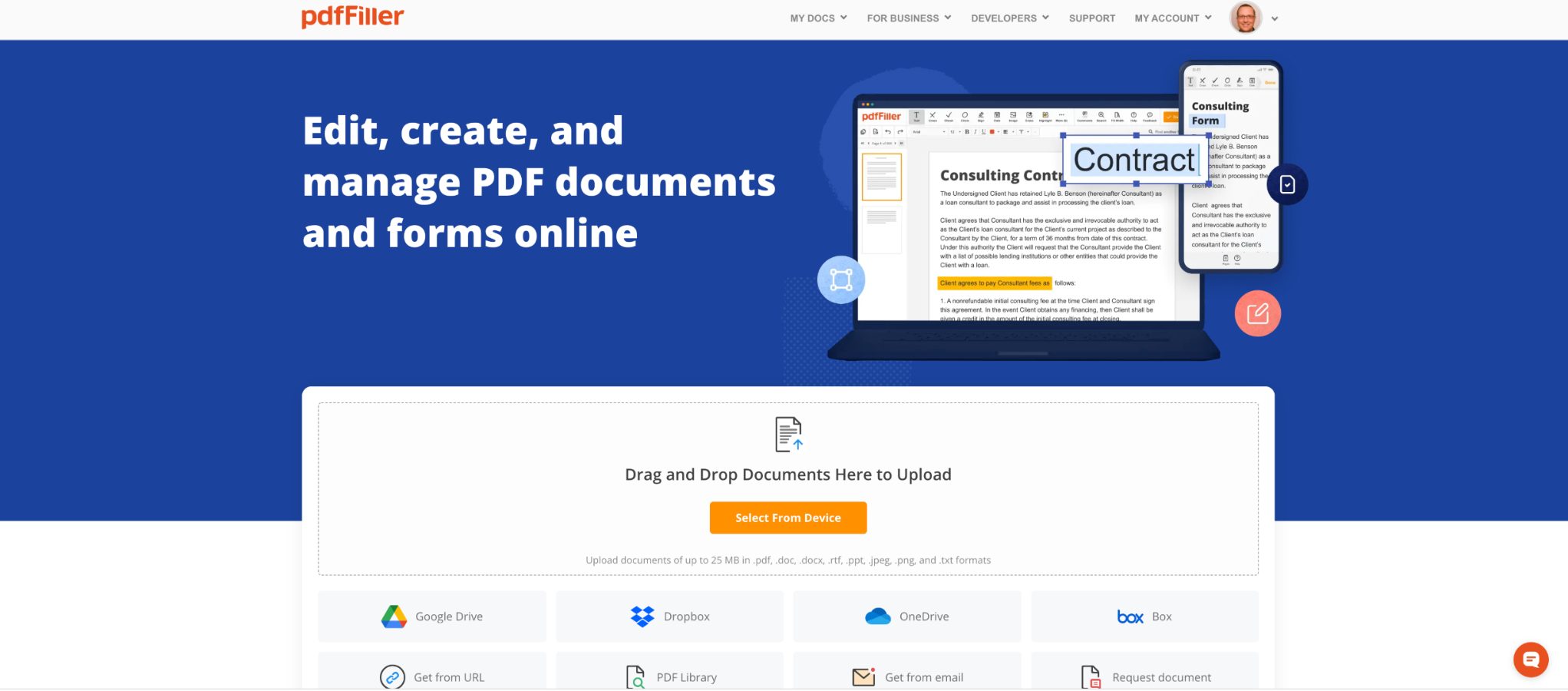 pdfFiller is an end-to-end document management solution used to edit, create, and manage PDF documents and forms online. As a cloud-based application, pdfFiller does not require any installation and enables you to work with your PDF files while collaborating remotely from any network-connected device.
Just drag and drop files from your computer to your Dashboard to access pdfFiller's wide variety of functions. This document management solution is more than a PDF editor as it provides users with a single place to collaborate, store, search, and audit documents. pdfFiller helps teams and businesses of all sizes save time, improve collaboration and productivity, and reduce document errors by going completely paperless.
Features:
Create, edit, manage, split and merge PDF files.
Convert and compress PDFs from and to popular formats (Word, Excel, PPT, JPEG, etc.).
eSign PDF documents and forms.
Notarize PDFs for eSignature.
Access to an online library of over 25 million fillable forms.
Securely share and collaborate on PDFs with colleagues in a few clicks.
Banking-grade security and encryption to protect your documents (SOC 2 Type II certification).
Industry-leading compliance with GDPR, HIPAA, FERPA, CCPA certifications and regulations.
180-day money-back guarantee
Sign up for a free 30-day trial to see pdfFiller in action
---
3. PDF Expert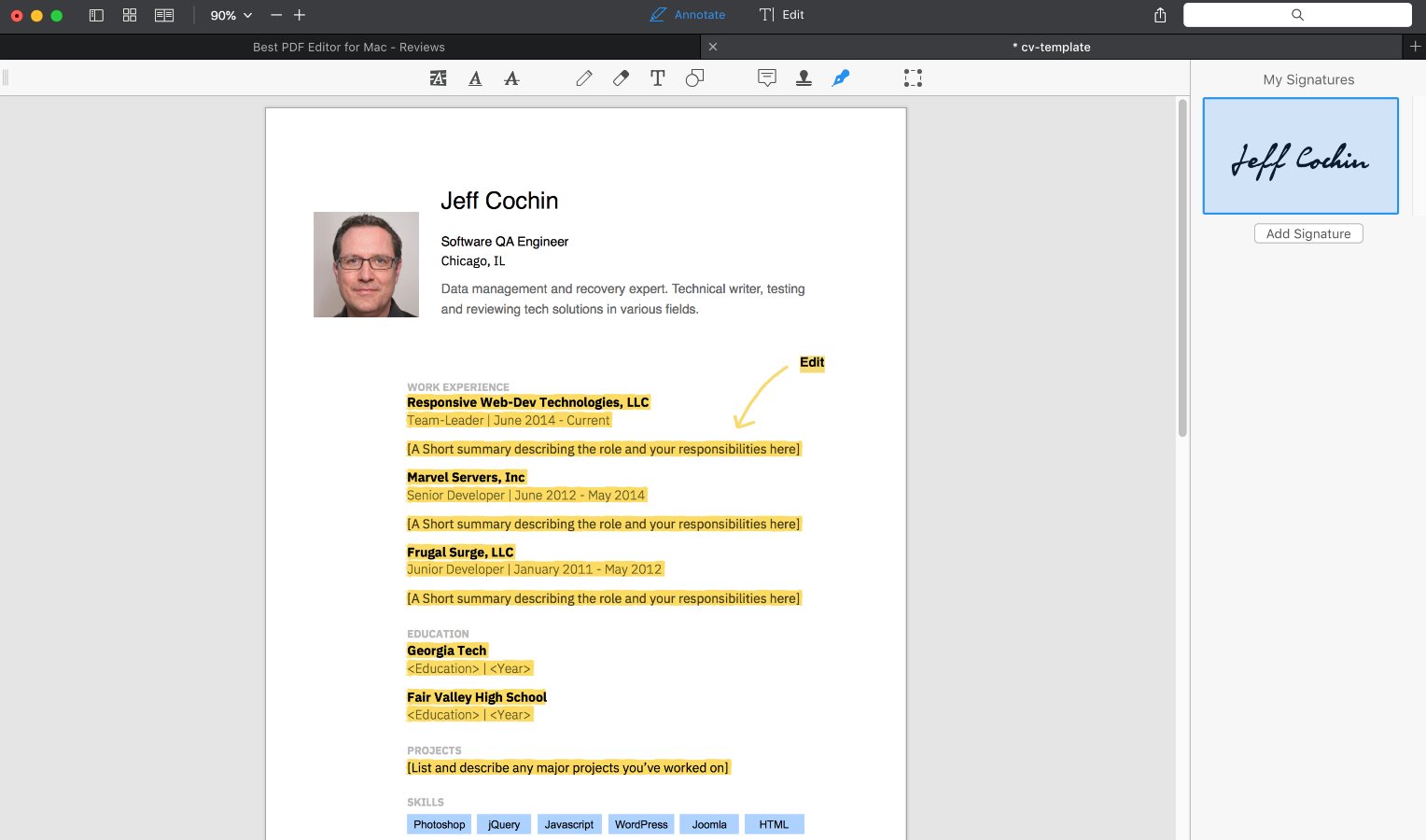 PDF Expert is a comprehensive solution for reading, editing, and annotating PDF files. The tool enables users to fill out PDF forms and sign contracts using a personal electronic signature with a few clicks.
This application is designed for sharing and collaboration with team members by enabling notes and comments to be added to documents while password-protecting them from unauthorized users. It has all the functionality needed if you work with PDF documents.
Features:
Easily transfer PDF documents between your Mac, iPhone, and iPad.
A user-friendly interface to easily access the app's tools.
Merge multiple documents into a single PDF file.
Select a subset of pages and export them to create a new PDF document.
Optimized performance lets you quickly read and work on PDF documents.
Adjust or replace images and add links to your docs.
Convert PDF files to other document formats like Microsoft Word and Apple Pages.
Get PDF Expert for Mac (Free Trial): pdfexpert.com/downloads
---
4. Adobe Acrobat for Mac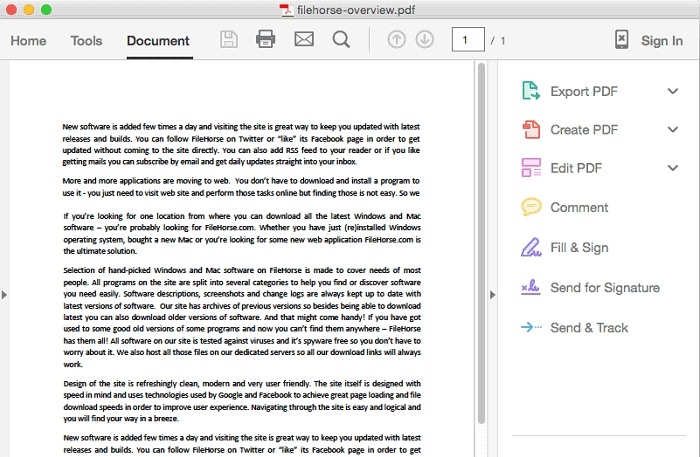 Adobe Acrobat has long been the industry standard in PDF editors for the Mac. It has an impressive array of features that give you full control over PDF documents. Using the Adobe Document Cloud enhances the functionality of Acrobat and makes it easier to share and collaborate with colleagues. The software is sold on a subscription basis and also offers a one-time purchase option. Full Review
Features:
Create PDF documents from virtually any type of file.
Convert webpages and JPG files to PDFs.
Split and merge PDFs.
Edit PDFs and fill out forms.
Compare two PDF files.
Share and sign PDFs securely.
Password-protect sensitive documents.
Get Adobe Acrobat for Mac: acrobat.adobe.com/us/en/acrobat/pricing.html
---
5. Sejda PDF Desktop Pro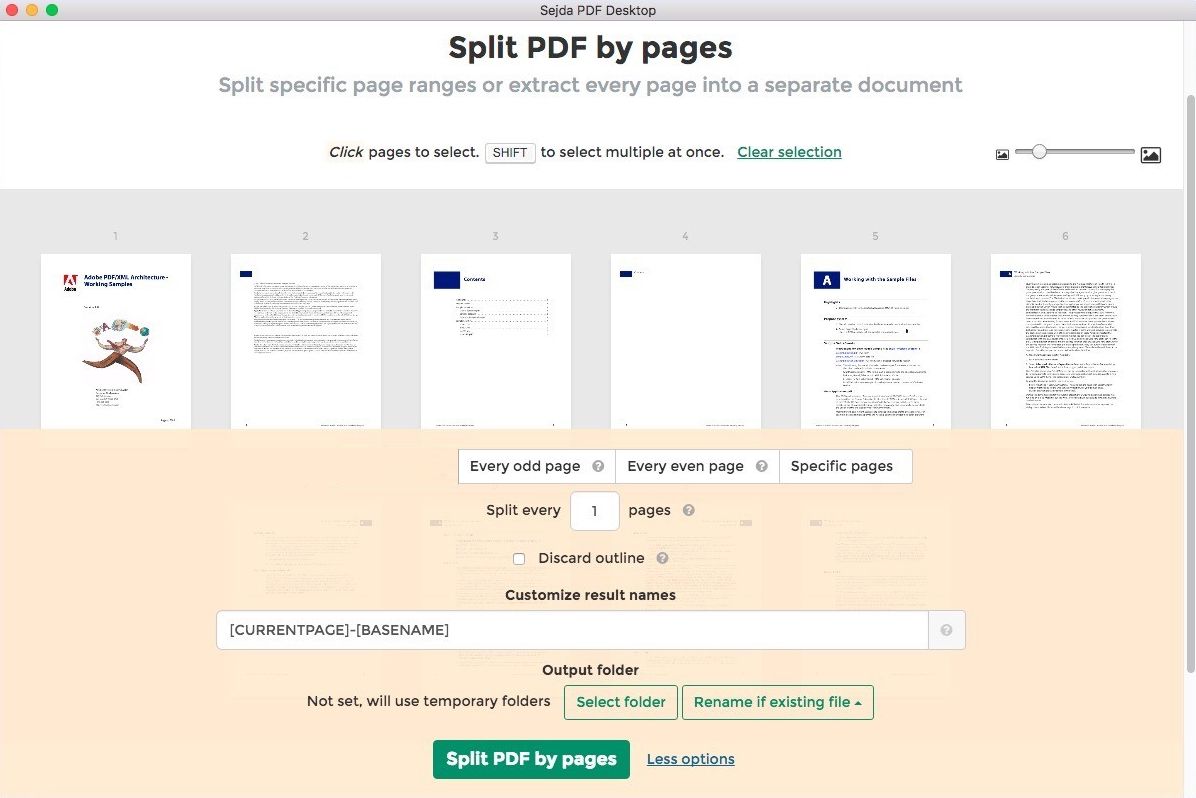 Sejda PDF Desktop PDF editing software that has free and Pro versions available. The Pro version removes any limitations on the number of tasks or file sizes that are enforced when using the free tool. It's an alternative to Acrobat and has both subscription and perpetual license options.
Features:
Edit PDF files.
Merge and split PDFs.
Apply password restrictions on your documents.
Convert between PDF and other file formats.
Watermark PDF documents.
Convert PDF text and images to grayscale.
Get Sejda PDF Desktop for Mac: www.sejda.com/desktop#pricing
Get an education discount at https://www.sejda.com/teachers
---
6. PDFpen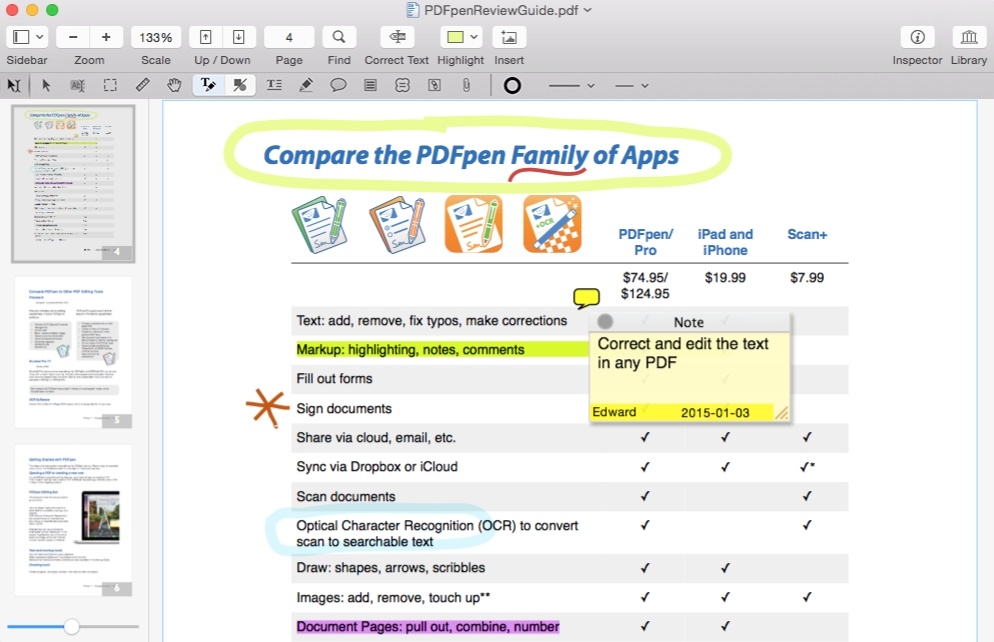 PDFpen is a powerful PDF editor for the Mac with many useful features. The free trial version of the tool is fully functional but places a watermark on output files. It has some interesting capabilities wrapped up in a basic interface. If you work with a lot of PDF files, this program might be just what you need.
Features:
Edit PDF documents and add note and cloud annotations
Scan and edit documents with OCR capabilities.
Redact personal information from PDF documents.
Sign and fill forms.
Auto-generate fillable form fields.
Get PDFpen for Mac (Free Trial): smilesoftware.com/pdfpen/download
🎁 Get PDFpen Pro with 30% OFF using the coupon code "EDUDISC2"
---
7. Foxit PhantomPDF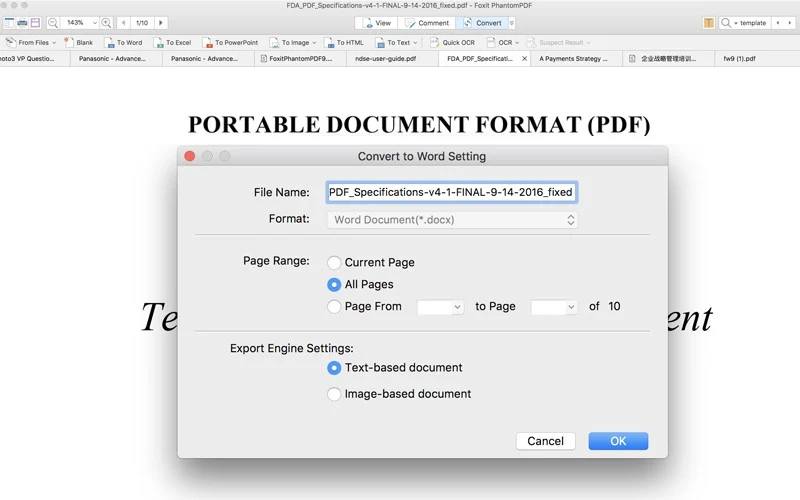 Phantom PDF is a comprehensive tool designed to streamline the process of creating and managing PDF documents. There are personal and professional versions of the tool which both offer free trials and are sold with a lifetime license or on a subscription basis. 
Features:
Create and edit PDFs and fillable forms.
Convert paper documents to editable and searchable paperless PDF files.
Share content with cloud storage.
Track and notify readers when new versions of a document are available. 
Get PhantomPDF for Mac (Free Trial): www.foxitsoftware.com/downloads/
---
Worth Trying –  Online PDF Editors
You might be able to get by with an online PDF editor and they are certainly worth trying. If you just have a file that needs some quick work, an online editor may do the trick. Here are two options for you to check out.
1. Smallpdf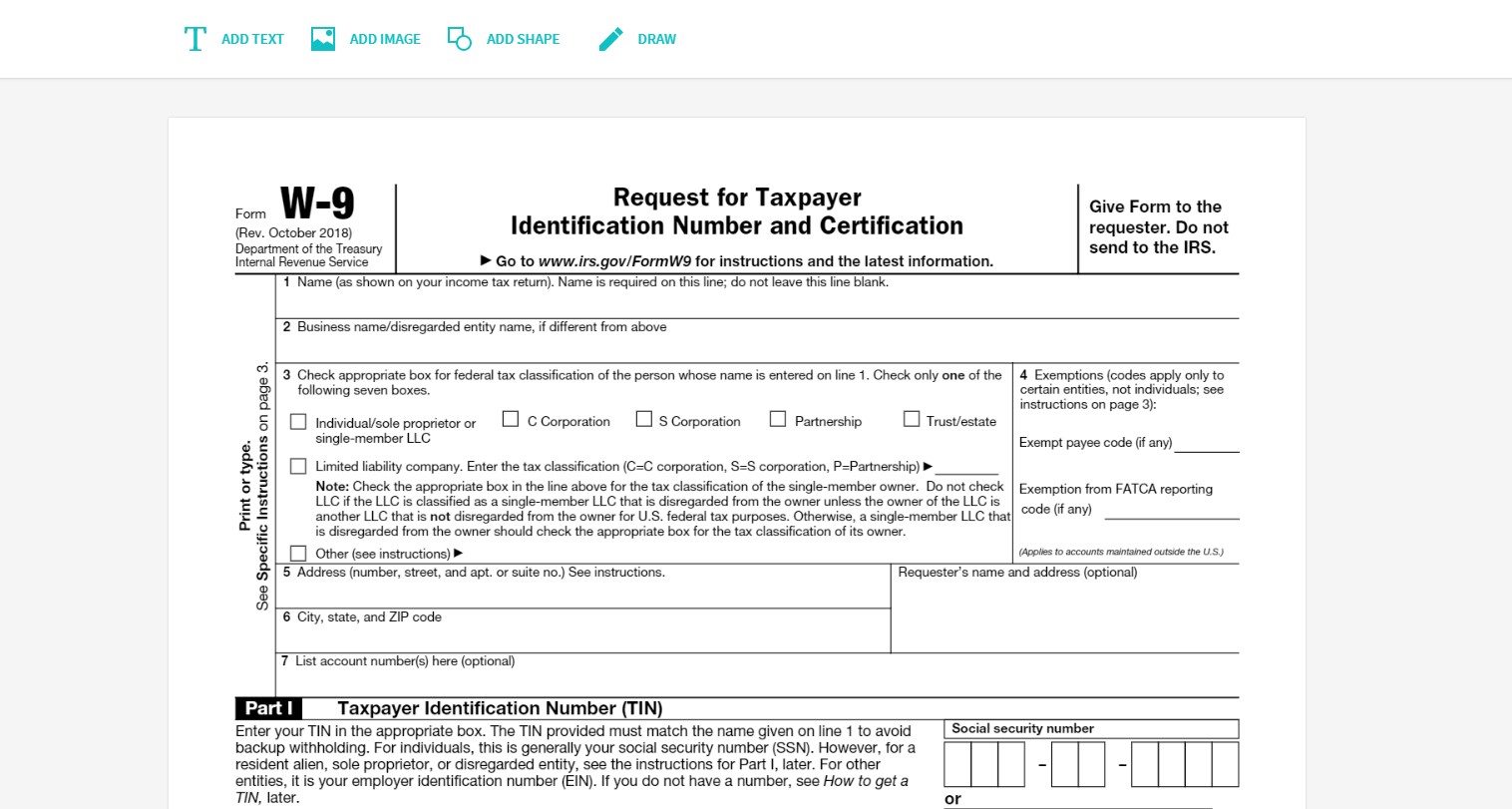 Smallpdf is a web-based PDF editor that allows you to select a file from your system or drag-and-drop it into the tool's interface. It offers a free trial and the Pro version requires a monthly subscription. The application has extensions for some web browsers like Chrome. You can try Smallpdf at this website https://smallpdf.com/edit-pdf.
Features:
A simplified interface that makes it easy to edit PDF files.
Functional on all operating systems and mobile browsers.
Secure editing with SSL encryption.
Quickly add text and fill out PDF forms.
---
2. PDFescape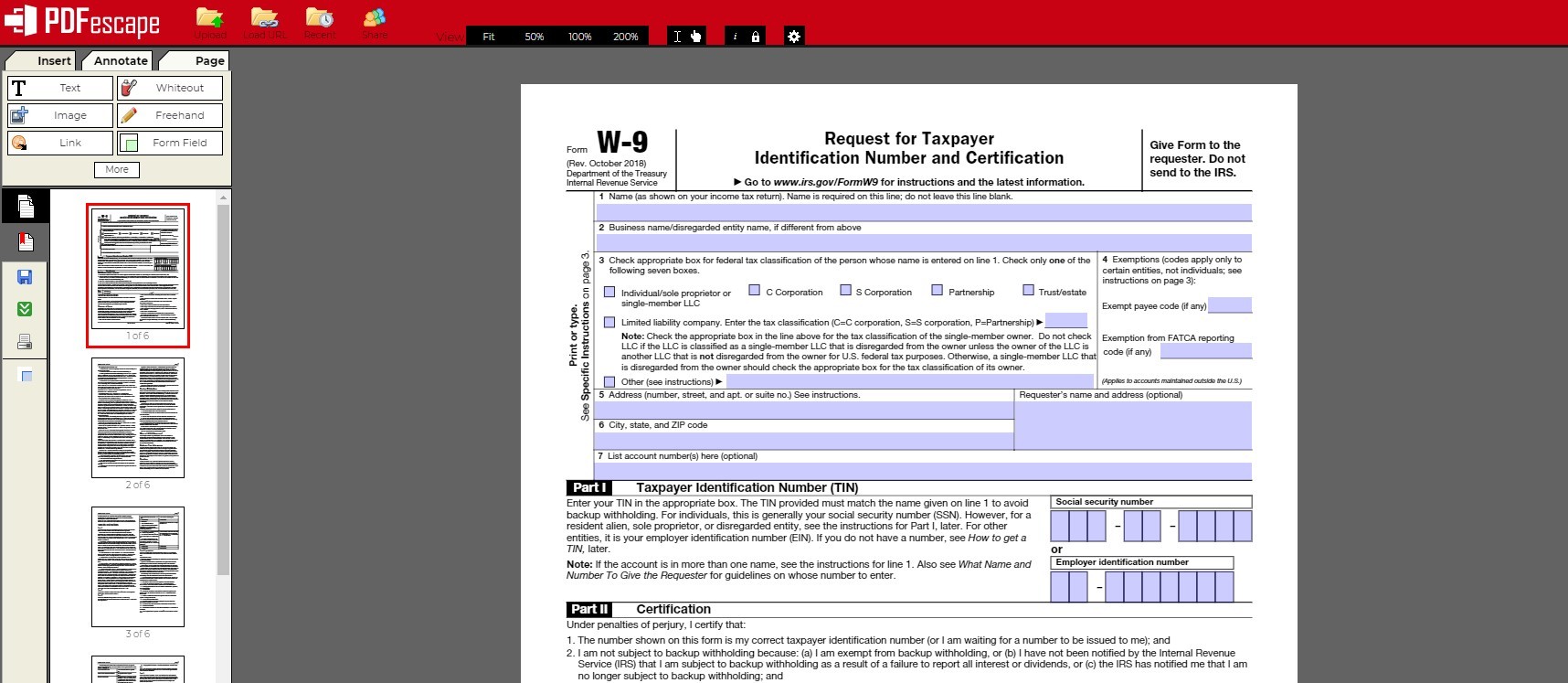 PDFescape is a free online PDF editor that limits file size to 10MB or 100 pages. You can access the application at https://www.pdfescape.com/. 
Features:
Create, view, and edit PDF files.
Annotate PDF documents.
Fill out PDF forms.
Password-protect PDF files.
---
Bonus: SodaPDF Online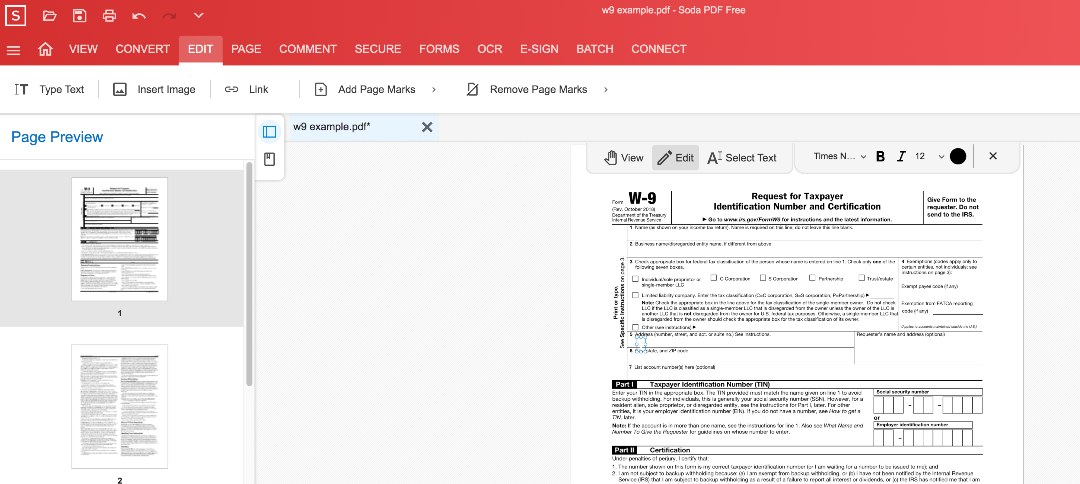 You can create an account and get access to basic features such as: create, merge, split and compress PDF files at https://online.sodapdf.com.
Choosing the Best PDF Editor in 2023: What to Consider?
When you are selecting the right PDF editing solution for your needs you should consider the features set that addresses your requirements. If you need basic functionality and are not interested in creating PDF documents, the free tools will be sufficient for your needs. You might find that the built-in Mac capabilities of the Preview app give you all the functionality that you need.
More extensive work with PDF files probably warrant the use of a full-featured, paid application. All of the tools mentioned above can get the job done and offer free trial versions. See which ones look good to you and give them a try. Once you find the one you want, it is usually more cost-effective to purchase the tool outright than use it on a subscription basis.
FAQ
Editing a PDF file on Mac can be done using the built-in Preview application:
Open the PDF file within Preview by selecting it and double-clicking or simply alternately hitting Command + O on your keyboard.
Once the document is open, select the "Markup Toolbar" from the top of your screen, then use the selection tool to highlight text for editing.
You can also add shapes such as arrows and circles in order to draw attention to important bits of info as well!
For even more flexibility you can download many PDF editor apps which will give you an even greater range of features, allowing you to fully customize your document.
Skim is one of the best free alternatives to Adobe Acrobat for users who find themselves needing a PDF reader and writer. Skim enables its users to annotate text and view notes as if they were writing directly on the PDF itself. Not only that, but Skim also allows you to sync your annotations with popular reference managers such as Zotero and Mendeley, making this a great choice for students and researchers alike.
If you're looking for a free way to edit your PDFs, Adobe has you covered. Through their website, you can use the edit pdf online feature to edit text and images in your PDFs with minimal fuss. In addition to various other edits, such as cropping or adding hyperlinks, there are also some layout changes you can make.