First released in 1993, Adobe Reader can be found on countless home, school, and business computers around the world. This free PDF viewer is available in most major languages, and its comprehensive support for the PDF file format is often used as a reference point for other PDF applications to meet. But just because Adobe Reader is the most widespread PDF viewer on Mac and other operating systems doesn't necessarily have to mean that it's also the best.
The goal of this article is to examine what makes Adobe Reader, and more specifically Adobe Reader for Mac, so popular and compare it to select PDF reader for Mac applications to see if it's really as good as its download and user statistics would suggest.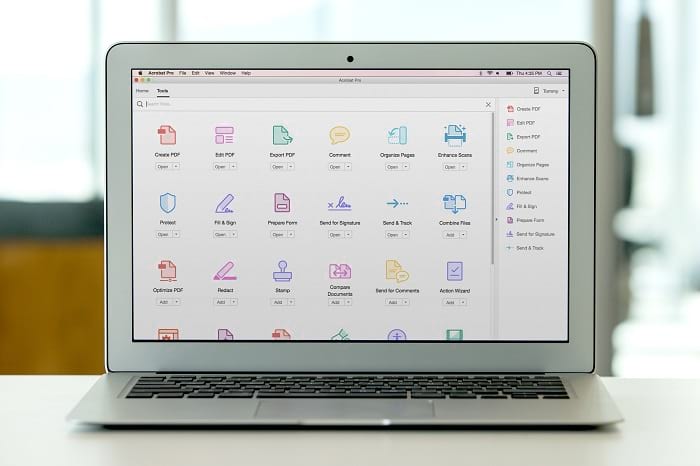 Best Features of Adobe Reader for Mac
Adobe Reader for Mac is a capable PDF viewer that allows you to view, print, and annotate PDF files for free. If you register with Adobe, you can connect Adobe Reader for Mac to Adobe Document Cloud, which is a suite of cloud-based software applications from Adobe Systems that provides PDF-related services, including conversion and document exchange.
For example, EchoSign lets users send, e-sign, track, and file documents online; ExportPDF makes it possible to convert PDF files into editable Word or Excel documents; and Adobe Send is an alternative to email attachments and FTP sites for sending, sharing, and tracking large files. Adobe Document Cloud is fully localized in English, German, French, Japanese, Italian, and Spanish.
Apart from the cloud, Adobe Reader for Mac also supports your mobile devices, allowing you to work with PDF files on your iPad or iPhone thanks to the free Adobe Acrobat Reader mobile app. Just like its Adobe Reader for Mac, the mobile app supports Adobe Document Cloud, annotating, digital signatures, text editing, and more.
Wanting to take the mobile PDF experience to the next level, Adobe also released the Adobe Scan and Fill & Sign mobile apps. Adobe Scan quickly scans any documents and turns them into versatile Adobe PDFs, while the Fill & Sign mobile app lets you fill, sign, and send any form electronically from any mobile device.
Adobe Reader for Mac can also convert PDF files to Word documents with a single click. This is particularly useful in the business world, where documents are often shared as PDF files for compatibility reasons, only to be edited multiple times as they are passed around.
Another feature aimed at businesses and institutional users is the possibility to extend Adobe Reader for Mac using the free Acrobat SDK. This set of tools contains header files, type libraries, simple utilities, sample code, and documentation, and it helps software developers interact with Acrobat technology, allowing for inter-application communication and the creation of plugins and scripts.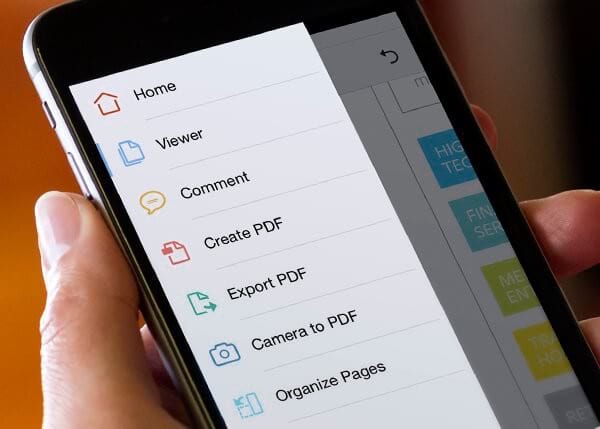 As you can see, Adobe Reader for Mac is a highly capable PDF viewer, so it might surprise you to learn that it's not even the most capable PDF application developed by Adobe, that would have to be Adobe Acrobat DC.
Steps on How to Download Adobe Reader for Mac
To download the free Adobe PDF reader for Mac, head to Adobe's official website and follow our instructions:
Select the "PDF & E-signatures" option from the menu at the top of the website.
A pop-up menu will appear. Select "Reader DC" under Featured Products.
Click on "Download now".
The download page should automatically suggest Adobe Reader for Mac. If it doesn't, click on "Do you have a different language or operating system?" and select the right version for your operating system.
Pay special attention to the middle column, titled Optional Offers. Unless you uncheck both offers, Adobe Reader for Mac will automatically install the McAfee Security Scan Plus utility and McAfee Safe Connect.
Click on "Install now" to download the Adobe Reader for Mac installer.
Install Adobe Reader for Mac as you would any other Mac application.
4 Best Alternatives to Adobe Reader for Mac
Adobe Reader for Mac is often the only PDF application people know about, but there are actually many excellent alternatives, most free and some with more features than Adobe Reader for Mac.
PDF Expert is an economical alternative to Adobe Acrobat Reader for users with macOS computers and iOS devices that need to work with PDF files. The tool sports a simple and intuitive interface that allows easy access to its impressive list of features. Tabs are used to switch among multiple documents and the app is a nice solution for reading PDFs.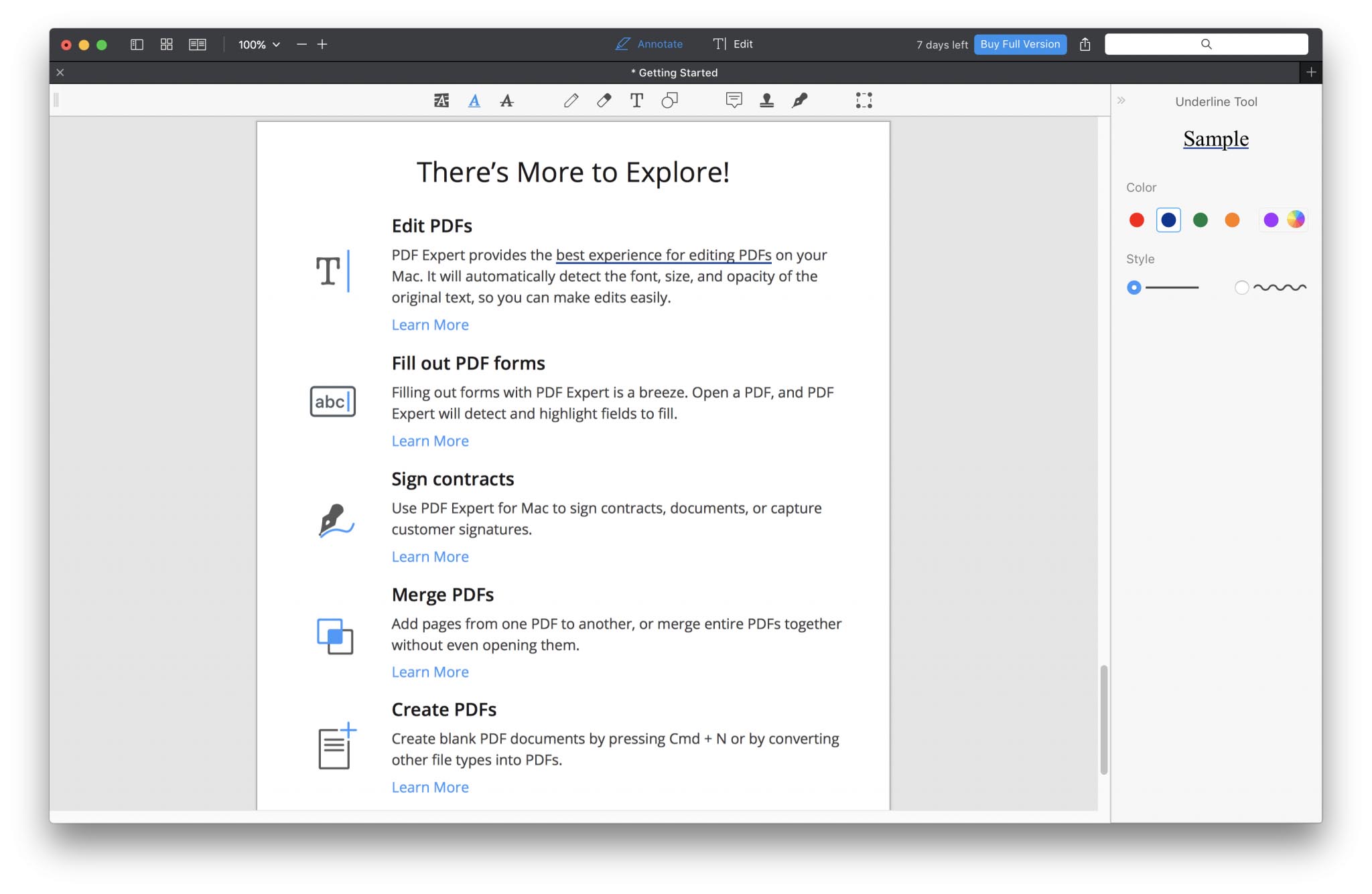 This versatile application enables you to edit and annotate documents using text markup, shapes, or freestyle drawings. Files can be merged without having to open each one individually and the tool offers three options with which to add your signature to the document. You can easily fill out forms created in Acrobat or a similar program. The program offers multiple view modes to help compare documents and the ability to password-protect your PDF files. It offers all of the features most users need for working with PDF documents.
Foxit Reader is a lightweight and fast PDF solution with a familiar user interface and plenty of features. Going being PDF viewing, Foxit Reader features ConnectedPDF, cutting-edge technology that powers document intelligence, security, and collaboration services for PDF files.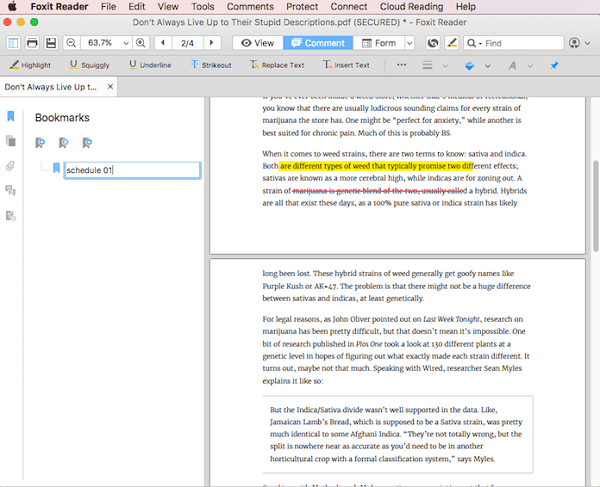 With ConnectedPDF, users can grant and revoke access to the document, grant specific readers specific document access rights, track document usage, view all versions of the document in an intuitive document version tree, and share content quickly, easily, and securely by generating a file link and sending it via email or to social media, among many other things.
Because Foxit Reader utilizes a familiar ribbon toolbar, learning about its capabilities and accessing all of its features is effortless. PDF compatibility isn't a problem with Foxit Reader. You can leverage existing forms and workflow with standard PDF (Acroforms) and XFA (XML Form Architecture) form filling, and open any PDF file without being greeted with an indecipherable mess of letters and numbers.
Skim is a compact yet capable PDF reader and note-taker for macOS. It was designed to help Mac users read scientific papers in PDF, but you can, of course, use it to open and read any PDF file you want. Its features include text highlighting, making snapshots for easy reference, navigating using the table of contents or thumbnails, convenient reading in full screen, magnification, smart cropping tools, Spotlight support, and more.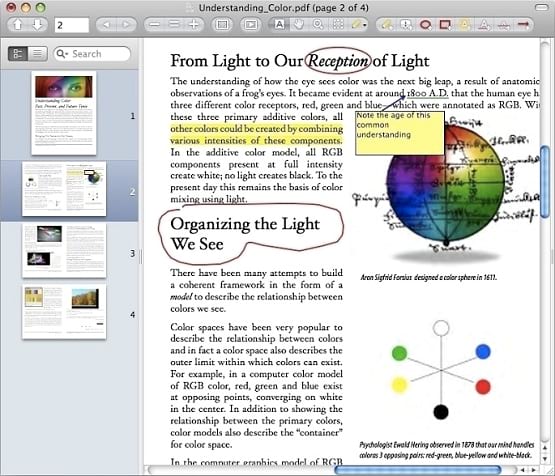 Okular is a universal document viewer developed by KDE, an international free software community that develops free and open-source software. Apart from Mac, Okular also runs on Linux, Windows, and *BSD. It supports PDF, Postscript, DjVu, CHM, XPS, ePub, and several other document file formats. Okular is a suitable Adobe Reader Mac alternative for those who only want to open PDF files and aren't concerned with their editing.
To use Okular on Mac, you first need to install KDE. You can learn how to do so on this page. We recommend using Homebrew, a package manager for macOS.
None of the PDF applications we've mentioned so far support one critical feature: PDF recovery. To recover your lost or deleted PDF files on Mac, you need to install a dedicated data recovery application, and Disk Drill is easy to recommend. Unlike many other data recovery applications, Disk Drill is extremely easy to use, featuring a signature one-click data recovery process that makes data recovery absolutely effortless. Apart from its ease of use, Disk Drill also stands out with its support for over 200 file formats and most storage devices.

Data recovery for free
Your Companion for Deleted Files Recovery
Adobe Acrobat Reader for Mac Versus Adobe Acrobat DC
Adobe Acrobat DC is a complete PDF viewing and editing solution packed with best-in-class tools to satisfy all PDF needs. Whereas Adobe Acrobat Reader for Mac is aimed chiefly at the consumers of PDF files, Adobe Acrobat is aimed at the authors of PDF files.
You can use it to easily scan and transform any document into an editable PDF file, compile multiple PDFs into a single one, or convert files into rich PDFs in a single click. Let's say your boss sends you a year old white-paper that she would like to be updated. Instead of having to recreate the whole thing from scratch, you can simply open it in Adobe Acrobat DC and individually edit each element of the document.
Versions
Adobe Acrobat DC is available in two versions: Pro and Standard. Compared to the Standard version, the Pro version adds one-click creation of rich PDFs from the Acrobat ribbon in Word, the option to add or edit the text in a PDF on your iPad, the ability to scan paper to PDFs you can edit instantly with fonts that match the original and compare two versions of a PDF using an easy-to-scan results summary of all differences, and it also supports the creation and validation of PDFs based on WCAG 2.0 and PDF/UA accessibility standards.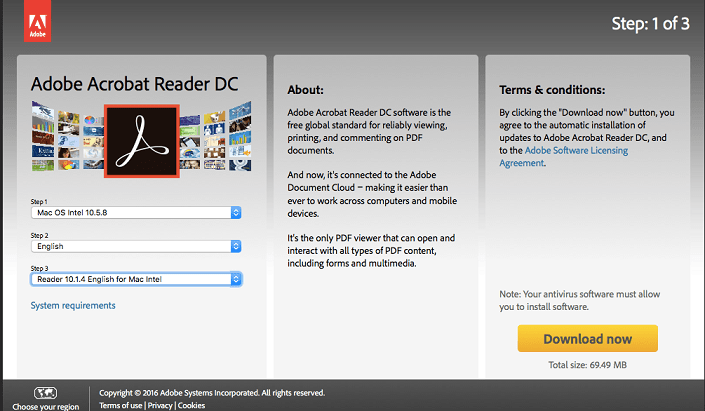 Price
As you might expect, Adobe Acrobat DC, both Pro and Standard, isn't free. Individuals can purchase Acrobat Pro DC for €18.14 if they pay annually or for €30.24 if they pay monthly. Adobe Acrobat Standard DC costs €15.72 a month when paid annually or €27.82 when paid monthly. Adobe also sells Acrobat DC for teams and enterprises with several extra features, including advanced 24/7 tech support.
Just by reading what features Adobe Acrobat DC brings to the table, it should be obvious to you whether you need it or not. Generally, everyone who works with PDFs on a regular basis should consider upgrading to Adobe Acrobat DC from Adobe Acrobat Reader Mac.