Sometimes the Mac shows a message on the monitor saying that there is not enough disk space Mac available on the computer. A Mac disk space analyzer is a tool that helps in finding how to free up disk space on Mac. Here below is a list and a brief description of five of them, currently available on the market.
List of the Best 5 Free Disk Space Analyzers for Mac
1. Disk Drill (Free feature)
Disk Drill provides a free disk space analyzer for Mac. The app permits to visualize hard drive usage, check disk space on Macs, identify which items can be removed or transferred onto another drive, and clear disk space on Mac.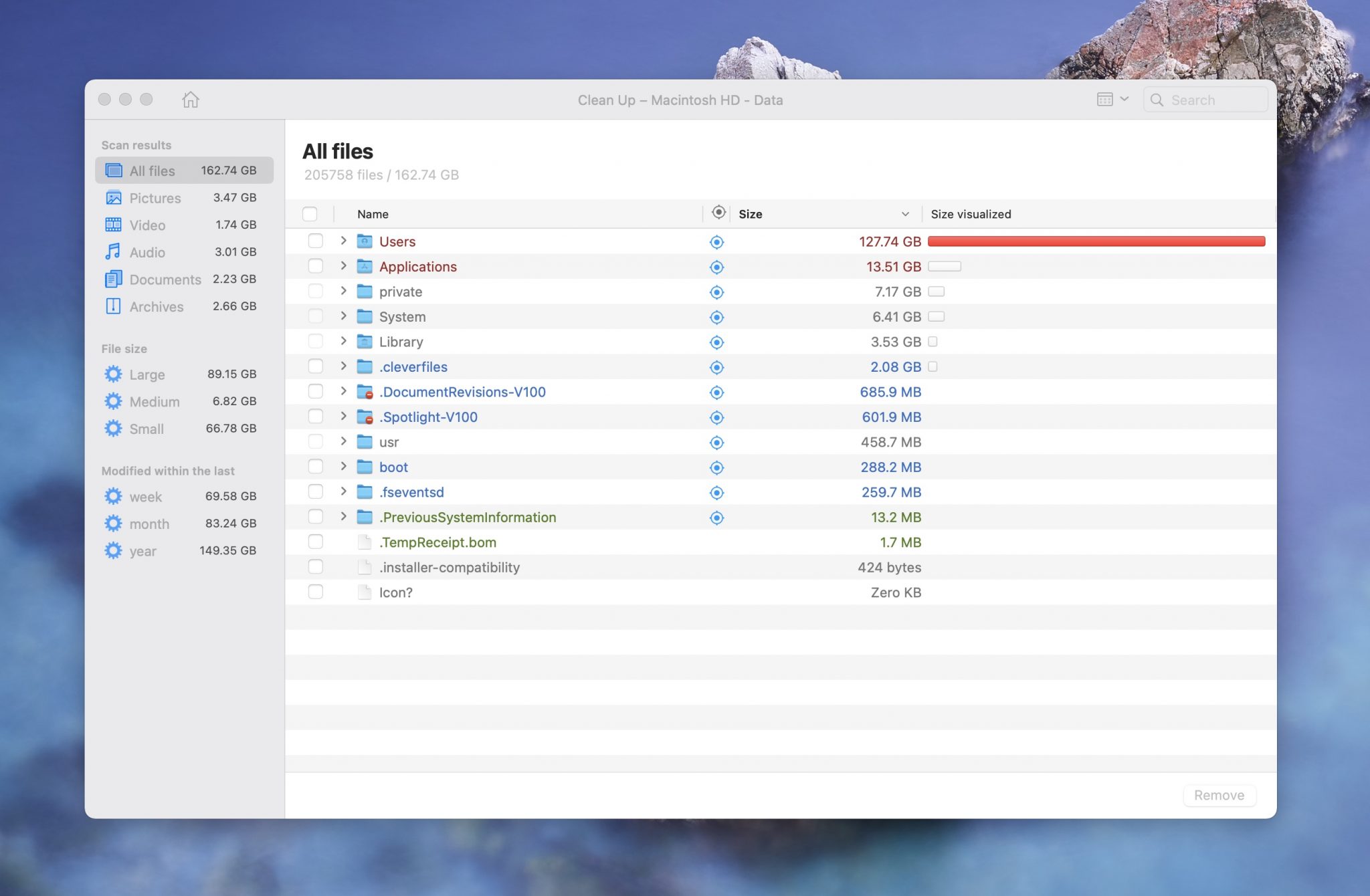 The results are presented in a very clear and intuitive manner, showing not only size values, but also a bar-type chart for easy visualization, with files organized according to size from the largest one, down.
In addition, the Disk Drill Mac disk space analyzer permits users to select different views, according to file types. Thus, there are tabs for selecting all files, pictures, videos, audio files, documents, or archive files. This functionality comes in handy when selecting how to clean up disk space Mac, as critical documents, photos of loved ones, or favorite songs or movies, can be easily identified.
Disk Drill has the added advantage of being a data recovery software, so if the user mistakenly deletes the wrong file, it can also solve the recovery problem.
While not as graphical as DaisyDisk, Disk Drill does present a both graphical and textual interface to work with.
In summary, Disk Drill Disk Space Analyzer is a very comprehensive tool, allowing the user to clean up disk space, and correct unintended deletes. All operations are intuitive, which enhances efficiency.

Data recovery for free
Your Companion for Deleted Files Recovery
🙂 Pros
Free
Easy to install
Modern interface
Search functionality
Comes with other features such as powerful data recovery
2. DaisyDisk
DaisyDisk checks & frees up disk space on Mac computers with efficiency and simplicity. This is mainly because it has a beautiful interface, presented in the manner of an interactive wheel for easy and intuitive visualization.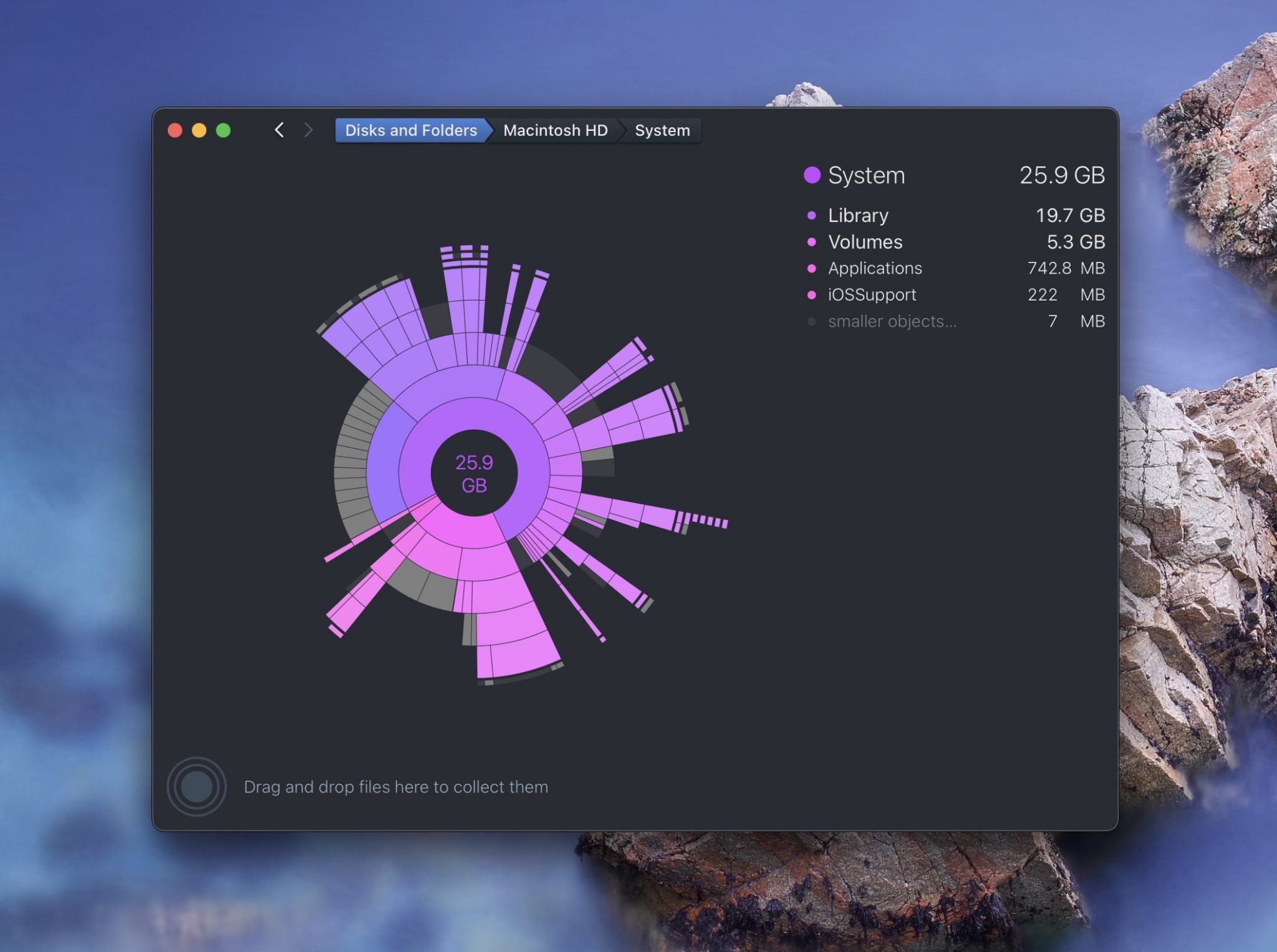 DaisyDisk is very fast and shows an overview of all disks connected to the Mac. Changes are updated in real-time, making it ideal for analyzing and making a wise decision on what to delete and what to keep.
This tool is very popular amongst IT professionals and artists, which are the most common users of Macs. Although this is a commercial tool, it has a free trial version available, which can be used to clean up disk space Mac in a casual manner.
Overall, DaisyDisk presents an option for analyzing disk space on Mac and deciding where to clean, which is very user-friendly and easy to learn, even for the non-technical user. I would highly recommend DaisyDisk and it is worth purchasing.
🙂 Pros
Beautiful and simple interface
Allows you to dive deep into your Mac hard drive
🥺 Cons
The trial version has limited functionality
3. GrandPerspective
GrandPerspective is a free disk storage analyzer for Mac, which is capable of creating a very comprehensive mapping of a computer's disk usage.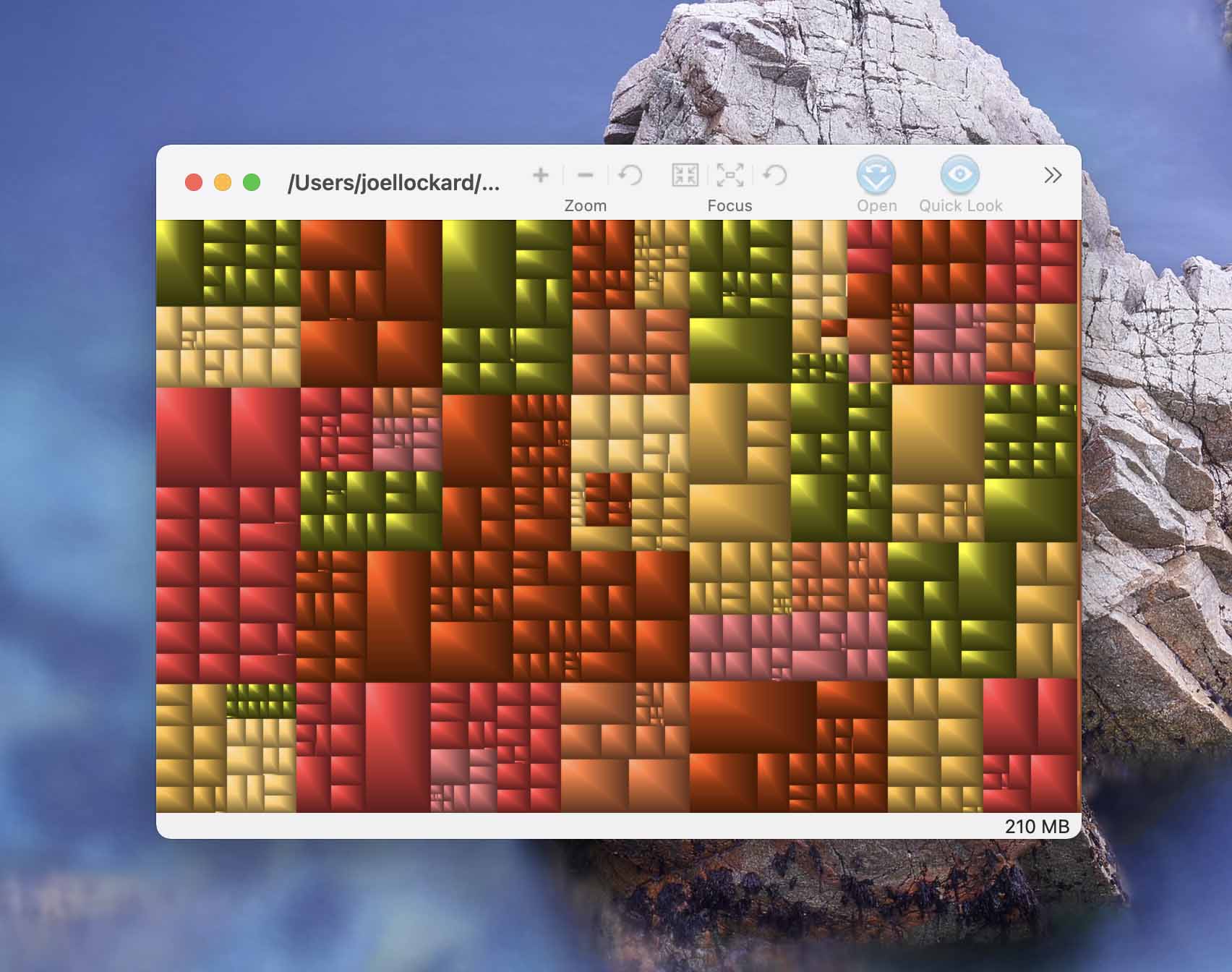 Although some reviews indicate that the interface appears a bit old, results are presented in an efficient way, by means of a drawer-like information display.
On the downside, even though GrandPerspective presents plenty of information to the user, it doesn't display a disk overview, somehow contradicting its name.
In general, GrandPerspective presents a good option for the average user, who is looking for a simple tool, which can do a good job in freeing up drive space quite quickly.
🙂 Pros
Easy to identify which files are taking up a lot of space
Scans folders and any other location on your Mac
Small download size
🥺 Cons
The interface was harder for me to navigate than some of the other offerings
Once you've identified the large files and have deleted them, it can be harder to use
4. Disk Inventory X
Disk Inventory X is a free disk space analyzer, available for Mac OS X 10.3 and later versions. This app presents an overview of all disks on a machine. The results are presented in a graphical way called treemap. The treemap shows the files and folders coded by type, and shows the sizes and amount of files contained in each folder, inclusive of subfolders. The size of each file in a folder is also specified.
In addition, more information about specific data is available, when the user clicks on an item on the map.
The data can also be presented in an organized list, with files and folders displayed according to their size, from the largest to the smallest one.
Disk Inventory X provides the user with the capacity to analyze an entire drive, or just a selected folder.
The main characteristics of this application are its ease of use and friendly data presentation. Treemaps and lists have a direct and right-to-the-point way to present information, which enhances the possibilities of making the right decisions when having to choose what and what not to delete.
Overall, Disk Inventory X presents an excellent choice, considering the fact that it's free and presents the necessary information in a direct and easy manner.
🙂 Pros
Free
Comes with both a textual and graphical interface
Easy to use sidebar makes it easy to scan folders
🥺 Cons
Doesn't come with any extra features
5. OmniDiskSweeper
OmniDiskSweeper is a free utility to clear disk space, which presents the results in a column view similar to Finder, making it a very familiar tool to work with. This tool presents the found files in list form, organized in descending order according to size.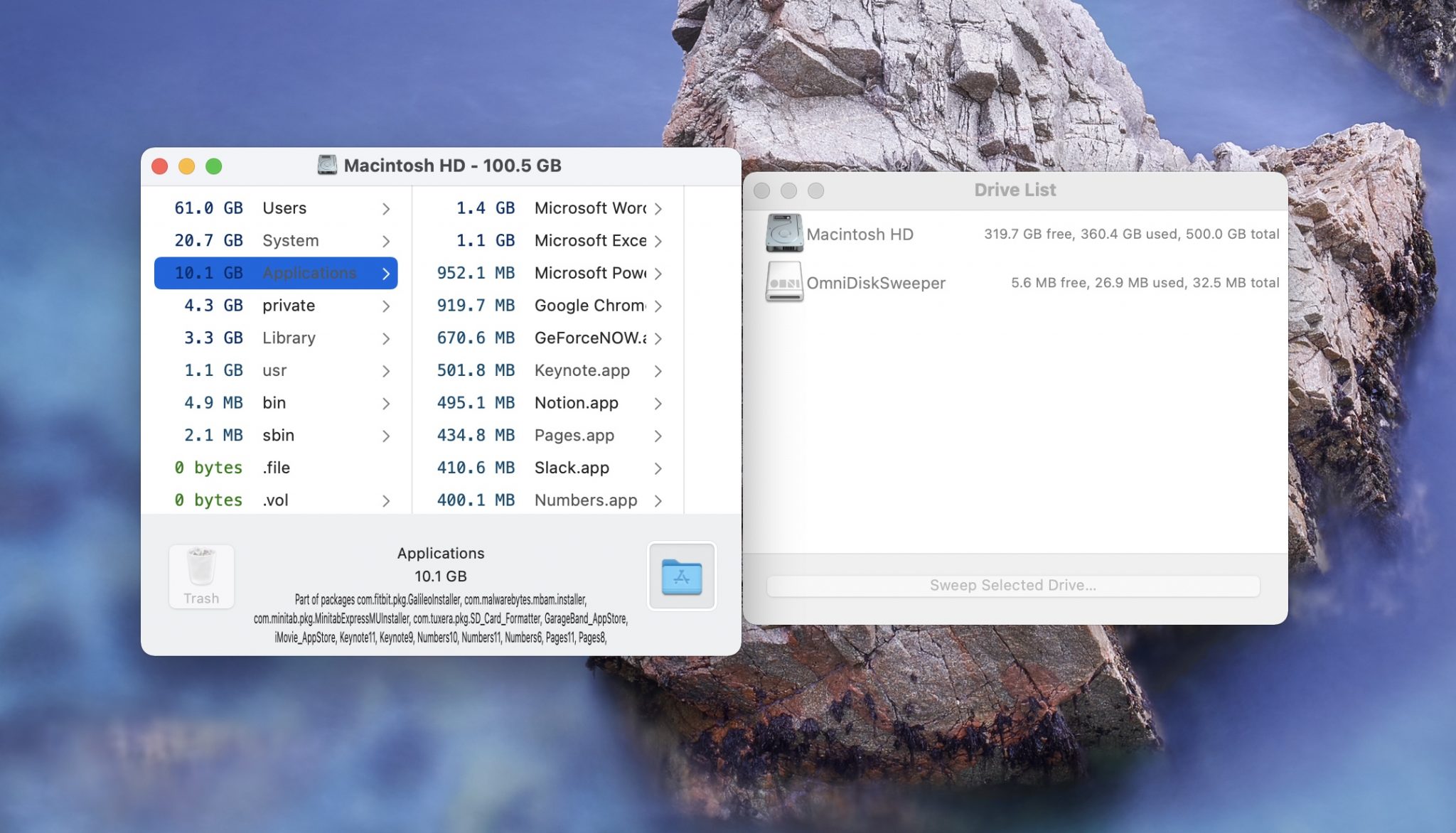 In brief, this small but effective app, can be very handy when the computer indicates that there is not enough disk space Mac. The familiar presentation type is of great advantage, particularly for the casual, not so technical user.
🙂 Pros
Simple, fast, and easy to use scan features
Uses colors to indicate the amount of storage something is taking up
Stacking menus make it easy to go into a folder and then back out of it
🥺 Cons
Doesn't offer a graphical map of your data like other offerings
Conclusion
As you can see, there are multiple ways to free up disk space on your Mac. All of them work well and help you get the job done.
Disk Drill is one of the best because it comes with a Clean Up feature but also many others, such as some of the best data recovery that you can find.
FAQ
We can use Disk Drill to analyze disk space on our Mac.
Download and install Disk Drill.
Launch Disk Drill and then select the Clean Up feature from the left-hand side.
Select your storage device and then select Start Scan and wait for the scan to complete.
Review what is taking up disk space and then remove what you don't want on your Mac anymore.
On your Mac, go to the Apple logo in the upper left-hand corner and click on it.
Then, click on About This Mac.
Go to Storage and click on Manage…
Review and delete files here that are taking up a lot of space.
For a more detailed and powerful experience, download and use one of the options mentioned above such as Disk Drill.