If you're looking to root your smartphone or tablet — Kingo Android Root might be the right app for you. Traditionally, rooting your phone used to require some Linux knowledge and quite a lot of complicated setup. Even then, it didn't always work. Now rooting is easy with Kingo Root, no matter what device you're trying to get complete access of.
What are the Benefits of Rooting Your Android Device?
Your manufacturer will have set up your device in a user-friendly manner that's aimed at keeping everyone happy. While this is enough for most users, it doesn't allow complete control of your device. That's where rooting comes in.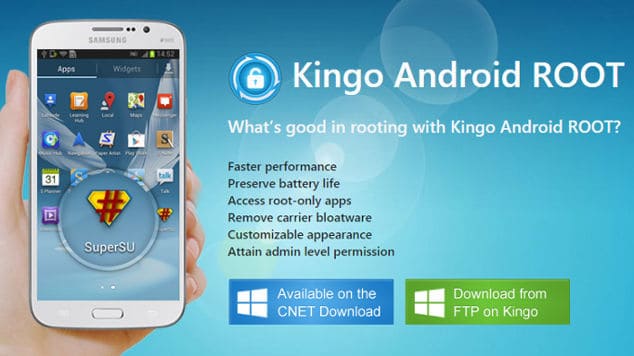 A rooted phone or tablet opens up a number of possibilities for the user. That's you. If you want to really open up the usability of your Android device, rooting might be the only option. If you're trying to recover deleted files with an app like Disk Drill — you'll also need to root your system first.
Recovering Old Files
If you've deleted something important by mistake or without realizing — you might think you're stuck in a tough situation. Thankfully, there is help out there with apps like Disk Drill. More and more people are realising how useful Disk Drill can be for recovering old files or data from Android devices — but you'll need to root yours first.
Not all deleted files are permanently removed — but in order to restore them intact you'll need to use a recovery suite that's designed specifically for the job — like Disk Drill. If you've ever found yourself in a situation where you need to recover something you deleted from an Android smartphone or tablet by mistake — you're going to need to root your system to find a solution. While recovery software can work on Windows and Mac systems, the permission structure of Android platforms means rooting is inevitable.
Getting Rid of Bloatware
Firstly, your device comes with a ton of stuff already pre-installed on it that you're probably never going to need. Pre-installed apps are hard (or impossible) to remove without a rooted device.
Once your Android is rooted, you're free to do what you want with it, and that includes removing unwanted bloatware. All those apps not only take up storage space that you might be able to put to better use, but they slow down your overall speed. If you want a quick, streamlined device — try rooting.
Fully Customize Your System
With a kingo Android root device, you're basically free to do what you want with it. That includes installing a custom operating system with the help of kingoroot. There are tons of mods available thanks to a strong development community — most of these are designed to improve the usability of your phone in different ways. Some of them might be right for you.
More Reliable Backup Utilities
Yes, you can backup your device's data with standard apps, but many of these rely on the cloud. This isn't always the most reliable way to backup your stuff. Once you root Android you can completely backup what you need, and store it however you want without the restrictions of a locked-down stock device.
Faster Updates
Sometimes, waiting for your manufacturer to release an update can be frustrating. Another benefit of rooting your device is how quick the modding community tend to release the latest updates or even the latest Android OS that's compatible with your device.
The Ability to Overclock
If you really want to get more oomph out of your phone, rooting might be what you're looking for. Many phones have far more power than they use in a normal setup and are limited by manufacturers. Rooting can help unlock this potential. If you really want to, you can underclock, too. That's the great thing about a rooted device — you're free to do what you want with it.
Full Control of File Directories
With a rooted device, you're free to explore your file system and do what you want. A non-rooted Android phone or tablet limits permissions and stops you from really having full control of your device. While this is fine for most users — it can sometimes mean you're stopped from doing what you want to do. With a rooted phone, you can change any permissions and play around with what you want. Just make sure you don't break anything.
Is it Safe?
Most of the time, yes. That's not to say there aren't occasional problems. The best advice — backup everything beforehand. Most of the time when you break something, or "soft-brick" your device — you'll be able to recover things by flashing a recovery file. Just make sure you know what you're doing and don't delete things unless you're certain it's not needed. Some files are crucial to the running of your Android device.
Why Kingo Root?
Traditionally, rooting was a complicated process. Firstly, you had to connect your device to a computer. This might seem simple for some — but what if you don't have a PC or Mac, or a Linux machine handy? Rooting was hard to do "on the go".
You also probably needed to know a bit of Linux and would have had to install a range of software on both your phone and PC. Now, you can simply root your device by downloading Kingo Root from its website. It does all the hard work for you.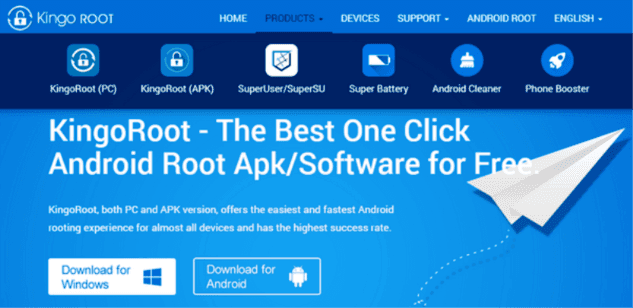 How to Root Your Android Device with Kingo Root APK?
Allow installation from unknown sources on your device. This is normally located in settings.
Download and install Kingo Root. This can be found on the official website, you need the file named KingoRoot.apk. Install the app and launch it.
Click the "One-click root" button. Now the app does the hard work for you. If this doesn't work, you can try the Kingo Root for PC option, which can be slightly more successful.
How to Root Your Android device with Kingo Root Windows?
Download kingoroot windows online for free. You can simply download the executable file and run it on your computer to begin. This is a great alternative to using the kingo root apk on Android directly.
Connect your Android device to the computer running kingoroot windows. Remember you should be connecting the device you wish to root, if you have more questions about how to root android you can read the FAQ's we have included in this article above or directly on the kingoroot website. You can also research online and read a kingoroot review or two if you want to learn more about kingoroot.
Follow the on-screen instructions to begin the root process. This will begin the process of rooting your Android phone with kingoroot. Your phone will reboot multiple times during this procedure and Kingoroot Windows will display success once the android root is finished.
Is Rooting for You?
If you've often wanted to experiment with a root Android device and have a bit more control over what you do with it — rooting could be for you. The great thing about Kingo Root is that it's a simple step that rarely causes any major problems. You don't have to make large-scale changes to your system just because you've rooted it. But if you want to — you can.
.updated:
June 3, 2021
author: