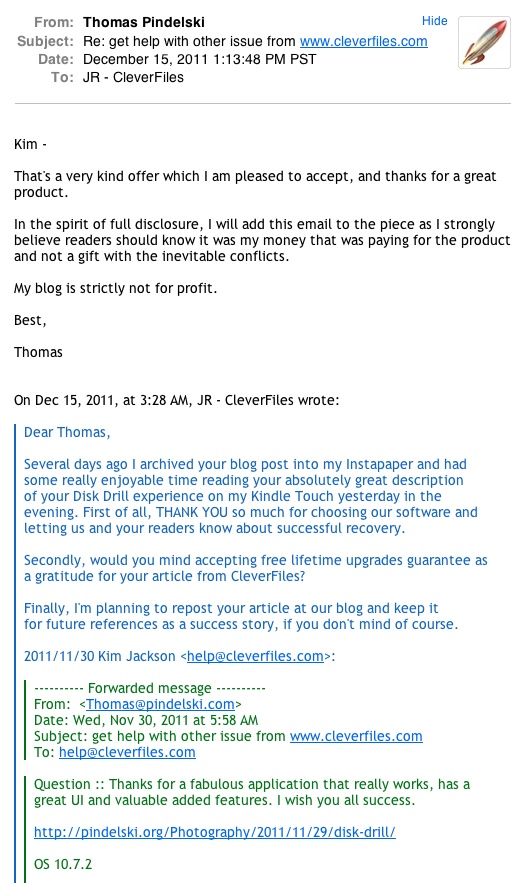 Thanks for staying with Disk Drill, one of the best data recovery apps for Mac. Today we are joyed to announce another polishing release. As always, you will get notified by our automatic update system if you already have Disk Drill installed, or you can always get the latest release directly from our website.
★ CHANGES & IMPROVEMENTS IN 1.8 ★
a bunch of new file signatures was added to Deep Scan's database based on your requests, among them: CPR (Cubase Project), CDA (CD Audio Track), AA (Audible Audio), IDML (Adobe InDesign Markup Language File), EPUB (Open eBook File), ENS (REAKTOR Ensemble), INX (InDesign Interchange File), FOS (Fallout 3/NV Saved Game File) – yeah! Fallout!
we keep improving the speed of Quick Scan, it should be much faster now as a result of a number of internal improvements
our developers worked hard to fix some occasional endless Quick Scans, and this should work much better now
no update without some crash tuning: most of the reported crashes and exceptions that were not related to QuickLook and OS X itself are also fixed
Realistically, we keep getting occasional crash reports with every new releases, but there are always fewer and fewer reported, and most of them are not related to code in Disk Drill. BTW, if you haven't, check out this awesome story by Thomas Pindelski: "Disk Drill: Drills deep. Works, too". It was published in 2011, but still has a lot of important life experience related to data recovery and Disk Drill's approach to it. I'm really sorry for being late to share it. Thomas, I want to thank you again for posting this awesome article at your blog.
Thanks
.updated:
June 3, 2021
author: