Recovering Missing Files With Disk Drill & VirtualLab
Disk Drill data recovery software can help you or your business recover those all important missing files. It can be used for free, provided your missing data is less than 500MB. If more than 500MB, the commercial version offers a very comprehensive data recovery and data loss prevention set of tools. It is available for Windows and Mac computers.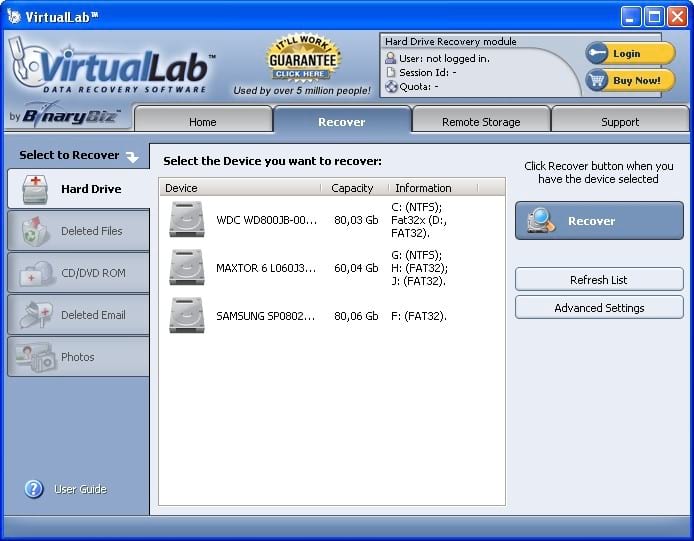 VirtualLab data recovery free, is also available for download. However, it requires a 1 GB activation key. It has a Windows version, and if you are a Mac user, you can get VirtualLab data recovery Mac. In addition, VirtualLab offers the services of VirtualLab data recovery as an online facility. But, if you love to do-it-yourself, Disk Drill offers a much better choice.
How to recover your missing files, without going to a VirtualLab?
When deleting a file, you are actually removing the directions to it, not its content. This is the basic principle of data recovery. The storage space may be overwritten by a new file, but this may not happen immediately, it may take days, weeks or even longer. If something is still there, Disk Drill will drill until it finds it.

Data recovery for free
Your Companion for Deleted Files Recovery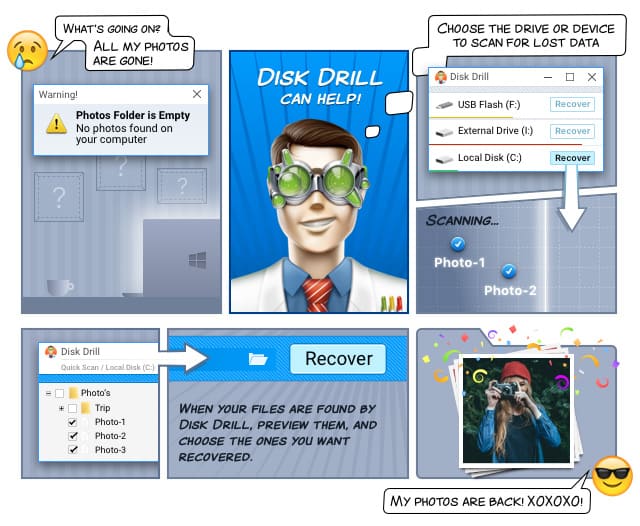 Once open, Disk Drill detects all connected drives, and their file systems. The software inspects in two modes: Quick and Deep scan.
Quick scan offers the possibility of doing a rapid search, by using the metadata still available in the file system. It is useful in case of recent losses.
In cases of old files, or when the file system has been damaged, deep scan can search at a binary level. It will reconstruct the files with the information it finds. As no metadata may be accessible, the names of the files may have a generic form, such as file009.docx. But, even in these cases, it may recognize the types of files, and save its contents.
The process can be interrupted anytime, and continued later on, either by pausing it, or by saving the session.
It can also be optimized with the "Preferences" option, which allows the user to select specific types of files. Disk Drill can recognize more than 200 signatures.
Once the results are ready, Disk Drill presents them together with a set of filters. Thus, files can be classified by type, size, and date. Now, the found files can be retrieved to a selected folder. The free version limits this to 500MB.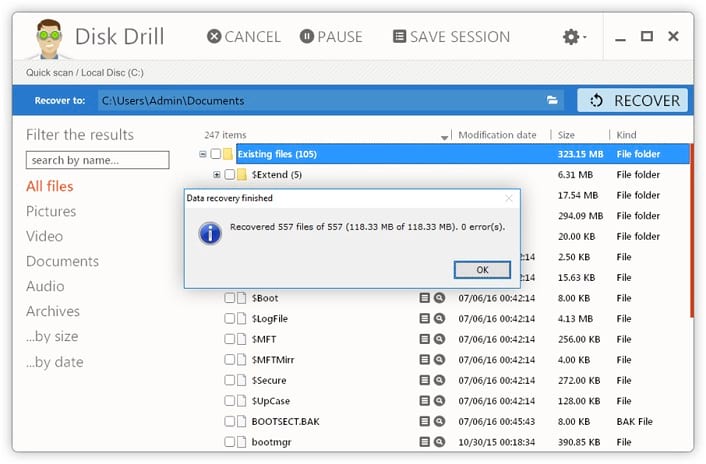 But remember, VirtualLab data recovery software free version, only allows for 1 GB. And, in addition, the VirtualLab data recovery download requires an activation key to let you use this 1 GB.
Moreover, in cases of Mac data recovery, Disk Drill will detect if it is necessary to rebuild the Catalog File, and it will place a button next to the partition labeled "Rebuild" instead of "Recover". Once rebuilt, the user can recover all missing files.
VirtualLab also offers partition recovery. However, you have seen that this VirtualLab data recovery free version, is not so free.
Of course, you may be tempted to piratebay for Disk Drill. However, don't forget that many times a "free" serial, key, crack, keygen, license key, registration code, torrent, download full version, includes "free" viruses, botnets, and other types of malware that may cause serious harm to your data. Pirated software may be like a VirtualLab, too good to be true.
How To Prevent Data Loss?
This is where Disk Drill excels above VirtualLab data recovery. It provides you with two powerful tools: Recovery Vault and Guaranteed Recovery.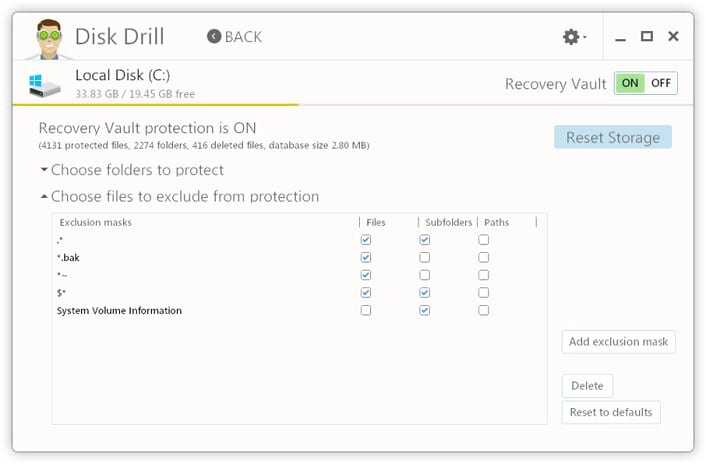 Recovery Vault acts as an extra layer to the Recycle Bin, keeping the directions to the deleted file. Guaranteed Recovery goes a step further, it keeps a copy of any file moved into a chosen folder.
In addition, Disk Drill provides the possibility of creating image files of the drives. Remember the advice of the experts: work on an image file, in order to prevent extra damage.
VirtualLab data recovery software provides none of these options. Thus, it can't be the choice of an expert. But, you can try and experiment with it, after all it is a "virtuallab".
Summarizing
If you are searching for VirtualLab, get Disk Drill instead. It will drill you into real virtual love.