Open and Recover Your VSD (Visio Drawing file) Files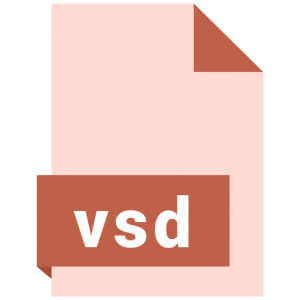 The VSD file format is used by Microsoft Visio, a diagramming and vector graphics application. Visio is part of Office 365, a subscription-based service from Microsoft which integrated various office products under one roof.
Businesses around the world rely on the VSD file format to create flowcharts, diagrams, floor plans, org charts, engineering design, and much more, all using modern templates with beautiful design and easily recognizable shapes that help convey meaning.
Business analysts use Microsoft Visio to help them with process modeling. Visio comes with built-in templates that comfort to industry standards, such as BPM, EPC, Six Sigma, and others. With Visio, it's possible to visualize any data and share it with others in an easy to understand form.
What Is a VSD File?
All versions of Visio can read and write the VSD file extension, and new versions also support the .VSD file extension. VSD is a binary-file format, and it's largely tied to Visio. On the other hand, the VDX file format is a Schema-based format with excellent documentation that embraces the principles of open-source development.
The latest version of Visio supports the new VSDX file format, which was based on Open Packaging Conventions (OPC) standard, a container-file technology initially created by Microsoft to store a combination of XML and non-XML files that together form a single entity such as an Open XML Paper Specification (OpenXPS) document.
The new file format uses the same compression as Zip files, and the VSD file format uses LZW-like lossless compression.
How to Open VSD Files?
You can open VSD files by purchasing either Visio Standard for $299 or Visio Pro for $589. You can also subscribe to Office 365 for $13 per month with annual commitment or for $15 with monthly commitment.
If you don't care about editing and only need to view VSD files, the freeVisio Viewer from Microsoft will do the job.
Alternative, you can use an online VSD convertor, likeZamzar, to convert VSD files to PDF.
How to Recover Deleted VSD Files?
But no matter which application you choose for VSD editing and viewing, there's only one good choice when it comes to VSD data recovery solutions – Disk Drill. Available for Microsoft Windows and Mac OS X, Disk Drill can help you perform VSD file recovery and keep your storage devices healthy and organized.
You can download it for free to test whether it will successfully recover you deleted VSD files. Disk Drill has been downloaded by millions of individual and enterprises users from around the world, app of which praise is polished interface and the ability to recover over 200 file formats with absolute ease.

Data recovery for free
Your Companion for Deleted Files Recovery
How to Repair VSD Files?
One thing that users really love about Disk Drill is the fact that they don't have study manuals and user guides to understand how to use the software. They can simply fire it up and know right away – Disk Drill is that intuitive.