What is MPG File Format?
A MPG file format is a file that uses a format standardized by the Moving Pictures Experts Group (MPEG). Designed to facilitate content exchange, MPG files are binary, compact, hierarchically organized, and backward and forward compatible. They are usually used for creating movies that are distributed on the Internet.
Characteristics and Uses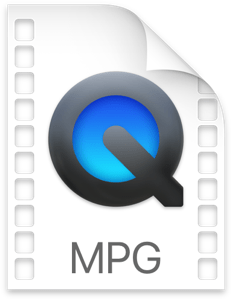 No file structure for the MPEG format has been defined. Everything is encoded into the data stream. There is no header or other type of wrapper. They use MPEG-1 or MPEG-2 compression.
What is MPEG?
The Moving Picture Experts Group is an organization that develops standards for compression of digital video and digital audio. This group is supported by the International Standardization Organization (ISO).
The format is defined in the ISO 13818, which has eleven sections. Each section is in an independent file named as 13818-I, where I is the number of the section. Amongst them, section 2 and section 3 describe the video and audio coding format respectively.
MPEG is based on television standards used in the United States. As European and Japanese standards are different, MPEG players must be designed to recognize these variations.
What Is MPEG-1 and MPEG-2?
MPEG-1 and MPEG-2 standards define compression technologies for digital video, with compression factors varying from 25:1 to 50:1.
MPEG-1 was created for coding progressive video, with a rate of transmission of about 1.5 million bits per second.  This technology was designed for Video-CD and CD-i media.
MPEG-2 was designed for compression of interlaced images, with a rate of transmission of 4 million bits per second or more. It is used in digital TV and DVDs. MPEG-2 players are compatible with MPEG-1 technology.
How Does MPEG Compression Work?
MPEG uses an asymmetric compression technique, which makes compression more complex than decompression. These files are therefore useful for cases such as archiving, where the video is compressed only once and decompressed many times.
The video compression is done with one of two available methods: interframe and intraframe encoding. The difference between them is that interframe encoding eliminates redundancies and intraframe encoding doesn't.
In order to do so, interframe encoding uses predictive and interpolative techniques. Predictive encoding avoids repetition of redundant data, resulting in higher compression ratios. Interpolative encoding can further reduce the file size by detecting differences between subsequent frames.
The audio streams compression is based on the European MUSICAM standard, with some improvements from other algorithms. It is a lossy compression method that eliminates data that humans cannot hear. It works on a temporal-base manner, compressing the differences between audio samples.
What Is the Difference between MPEG and JPEG?
JPEG stands for Joint Photographic Experts Group. Both MPEG and JPEG originally started as different committees of the ISO. However, the focuses are different. JPEG centers on still-image compression, and MPEG on encoding of audio and video data within a single data stream.
File Signature
Hex Signature: 00 00 01 Bx
Programs That Open MPG Files
Windows:
File Viewer Plus
Microsoft Windows Media Player
Apple iTunes
Nullsoft Winamp
CyberLink PowerDirector 15 Ultra
CyberLink PowerDVD 16
CyberLink PowerProducer 6
Xilisoft Video Converter Ultimate
Mac:
Apple QuickTime Player
Eltima Elmedia Player
Adobe Flash Professional CC
iOS:
olimsoft OPlayer
How to Recover Deleted MPG files
You may have your important memories, videos and other data in MPG files. An accidental file deletion is not an uncommon thing in our digital lives. Fortunately, there is a solution to restore deleted data. It is an application named Disk Drill, which is available for free!

Data recovery for free
Your Companion for Deleted Files Recovery
The MPG file recovery process is easy. Here below are the steps that you must follow:
Download Disk Drill from one of the above links.
Click on the downloaded program and follow the given installation steps.
Open Disk Drill by clicking on the app's icon. Disk Drill will automatically detect all connected devices. This application can recover MPG files from several devices, such as internal and external hard drives, USB flash drives, iPhones and many more.
Select the device that contains your deleted MPG files.
From the main menu, select Preferences, then Video, and then "mpg". In this manner, Disk Drill will look for this type of file only, reducing scanning time and increasing efficiency.
Press the "RECOVER" button next to the selected device. Disk Drill will scan it and present the results in the form of a list. This list can be narrowed by using the available filters, which can select data according to date and size.
The scan can be paused, cancelled or saved. A saved session can be continued anytime later, without any loss of information.
Select the files you want to recover and restore them to a folder of your choice.
Your MPG recovery is done!