What is M4V File Format?
The M4V is a file container format developed by Apple Inc. It can contain audio and video in the H.264, AAC and Dolby Digital codecs. The container is protected by Apple's FairPlay (Digital Rights Management or DRM) protection technology. This means that the computer needs to be authorized via iTunes with the user's account.
Characteristics and Uses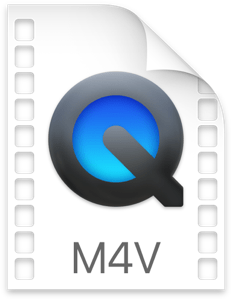 The M4V file consists of a sequence of chunks. Each chunk has an 8 byte header. The first chunk is of type "ftype", and subtype "M4V_" at offset 8. The next chunks must have any of the following signatures: "ftyp", "mdat", "moov", "pnot", "udta", "uuid", "moof", "free", "skip", "jP2 ", "wide", "load", "ctab", "imap", "matt", "kmat", "clip", "crgn", "sync", "chap", "tmcd", "scpt", "ssrc", or "PICT". The M4V file is obtained by iterating chunks until an unknown type is detected.
M4V files can contain closed subtitle tracks tagged with special metadata. These subtitles can be recognized and decoded by QuickTime, iTunes, iPhone and iPod touch. A three digit ISO code identifies the track's language. These tracks are useful for translating foreign language movies.
Apple uses this file format in TV episodes, movies and music that it sells through the iTunes Store. The main advantage of M4V over MP4 is the higher definition paired with smaller storage space.
Most M4V videos can only be played in Apple devices. However, as the format is similar to MP4 files, unprotected M4V files can be played in MP4 players, through previous conversion by using special software, or sometimes, just by changing the file extension from .m4v to .mp4. There also is available software that converts M4V to other formats, such as MOV for the QuickTime player on Mac.
File Signature
ISO 8859-1: ….ftyp
mp42
Hexadecimal: 00 00 00 18 66 74 79 70
6D 70 34 32
Programs That Open M4V Files
Windows:
File Viewer Plus
Microsoft Windows Media Player
Apple iTunes
Nullsoft Winamp
Corel VideoStudio Pro X8.5 Ultimate
Media Player Classic
VideoLAN VLC media player
PCF Miro
Mac:
Apple iTunes
Apple QuickTime Player
Eltima Elmedia Player
ShedWorx Smart Converter
VideoLAN VLC media player
PCF Miro
Linux:
VideoLAN VLC media player
PCF Miro
Web:
iOS:
Apple Music
VideoLAN VLC for iOS 2
PentaLoop PlayerXtreme Media Player
How to Recover Deleted M4V Files
As you well know, losing files due to an unintended deletion is quite common in our digital lives. The problem can be solved with Disk Drill, a data recovery app available for free!

Data recovery for free
Your Companion for Deleted Files Recovery
Disk Drill works based on the principle that when you delete a file, you actually only remove a link to the file's content. The data remains untouched until overwritten by the operating system. Disk Drill uses powerful algorithms to search and find your lost data. This app does the hard work, and guides you through the process.
The M4V file recovery procedure is as follows:
Download Disk Drill from one of the links above.
Install Disk Drill by clicking on the installer's icon and then just follow the given steps.
Open Disk Drill by clicking on the application's icon. The program will detect all connected drives. Disk Drill supports a wide range of devices, such as internal and external hard drives, USB flash drives, memory cards, iPods and more. Select the drive that contains your files.
Narrow the search by selecting "m4v" file format from the main menu.
Ask Disk Drill to recover your files. The app will scan the selected drive, searching for "m4v" files.
You can pause or cancel the scan. You can also save the session and continue later on, without any loss of the work already done.
Once the scan is done, Disk Drill presents the results in the form of a list. You can narrow this list by using the filters available in Disk Drill. Select the files you are interested in, and restore them to a folder of your choice.
Your M4V recovery is done!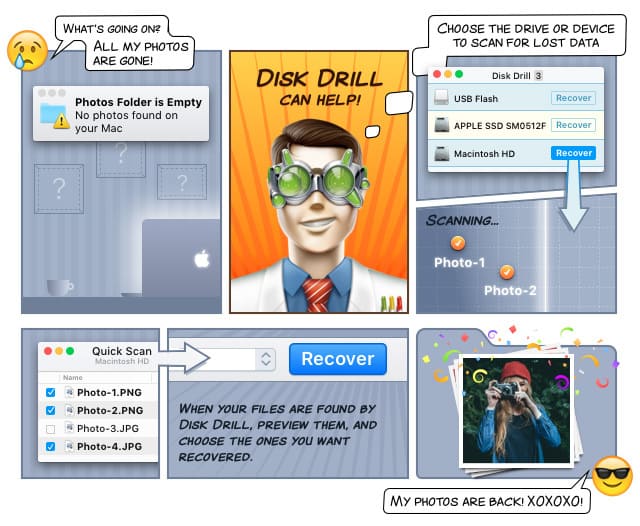 How to Use Image Files to Recover M4V Files
Image files are a great tool to recover M4V files without the risk of damaging the device. They are bit-by-bit copies of a digital device. Thus, they contain all deleted files still available. Their use is a standard practice in Digital Forensics.
Disk Drill offers you an option for image file creation. Once the image copy is ready, you can attach and scan it. The scanning process is the same as indicated in the steps above.
You should also consider image files for your backups. In this manner, your full drive is saved, and you can recover old deleted files in the future. On the downside, the copy may also contain some considerable unused space.