What Is DIR File Format?
The DIR file format is used in Shockwave movies or interactive web apps created with Adobe Director. This file format was originally created by Macromedia as a project file for its Macromedia Director software. Adobe Director is an app for authoring Shockwave (part of Flash) content.
Characteristics and Uses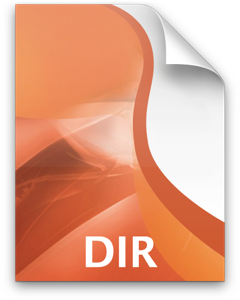 In 2005 Adobe Systems purchased Macromedia, and started using .dir files. Thus, version 11.5 and later versions of the Adobe Director software now use .dir files.
A DIR file works on the idea that the author is the director of the film, and thus he defines the sequences, effects and other aspects of the film.
In order to do this, a DIR file saves work progress. It contains project resources, links to external files, scripting code and a timeline. The timeline defines the sequence of a video.
In order to be playable by Adobe Shockwave, a DIR file must be produced into a .dcr (Director Compressed Resource) file. DCR files can be distributed and embedded into web pages.
Thus, Adobe recommends not to distribute a movie in DIR format, unless the intention is that the users can modify the movie using Adobe Director.
Adobe Director has evolved, and today can be also used to create games and eLearning material for iOS, Mac and Windows devices, and for the web. It allows you to integrate major file formats, such as FLV, swf and native 3D content.
Programs That Open DIR Files
Windows:
Mac:
Concerns
One of the main problems with DIR files is that different versions are not compatible, and must be transformed with software in order to be used.
Other DIR File Formats
DIR extension is used in other file formats. This may create some confusion as the files involved are of several different types.
For example, directory names use the .dir extension. Android uses the file lost.dir to store any damaged or recovered file discovered during a system boot up, which happens every time that you turn your phone on. Microsoft uses the file mscreate.dir in many of its products installations. Jupiter Networks, a company that develops network solutions, uses the .dir extension in their Directed Real Configuration files. Ecoclimap databases also use this extension to define a global landscape surface. Packages built for Debian Linux may also use .dir files.
How to Recover Deleted DIR Files
Nowadays, our busy digital lives include cellphones, computers and other digital devices. With so much information to manage, it is easy to unintentionally delete a file. DIR files are no exception. But they are important as they contain project's data.
Happily there is a solution. It is a data recovery app available for free!

Data recovery for free
Your Companion for Deleted Files Recovery
DIR file recovery with Disk Drill is straightforward. Just follow these steps:
Download Disk Drill from one of the links above.
Install Disk Drill by clicking on the installer's icon, and then follow the given steps. Disk Drill will tell you what to do.
Open Disk Drill by clicking on the app's icon. Disk Drill will automatically detect all connected drives and list them. Disk Drill's drive-support set is very wide. It includes internal and external hard drives, iPods, USB flash drives, memory cards and many more. Select the drive that contains your deleted files.
From the main menu, select "dir" video file format. In this manner you narrow your search, as Disk Drill will ignore other file formats.
Recover your files. Disk Drill uses several powerful algorithms that search for all data still available on your drive. Luckily, when you delete a file, the operating system only removes a reference to the data. The file's content remains untouched until overwritten by another file.
You can pause or cancel the scan. You can also save the session and continue later on, without any loss of the work already done.
Once the scan is done, Disk Drill presents the results in a list form. This list can be narrowed with Disk Drill's filters by data or size.
Select the files you want, and restore them to a folder of your choice.
Your DIR recovery is done!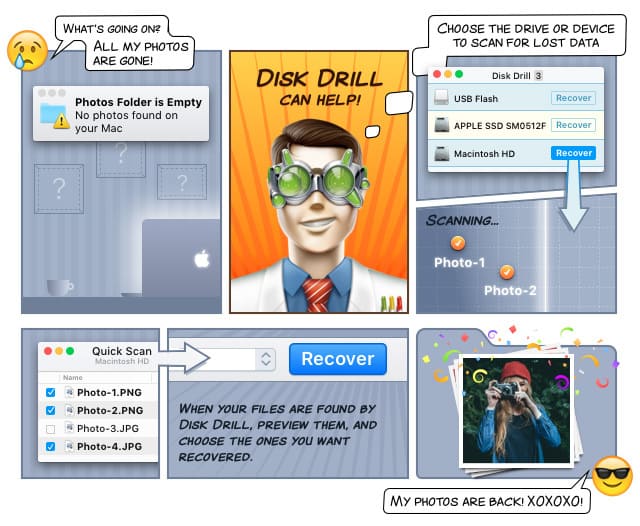 How to Use Image Files to Recover DIR Files
Image file creation is another functionality of Disk Drill. They are a bit-by-bit copy of a digital drive. Thus, you can use them to recover your files in a safer manner, as your original drive remains untouched. This is also a standard procedure in Digital Forensics.
Once the image copy is ready, just attach it, and ask Disk Drill to perform a search on it. The process is the same as indicated in the steps above.