What is AI File Format
You have three choices when you want to save a file from Adobe Illustrator in a printable form: an Adobe Illustrator Document (.AI file format), Illustrator EPS (.EPS file format) and Adobe PDF (.PDF file format).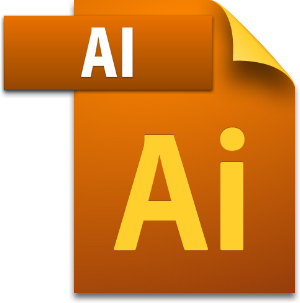 The .AI file format is the original format of Adobe Illustrator, and only this program can open and read and .AI file.
Adobe Illustrator is a vector graphics editor created by Adobe Systems Incorporated. The program was originally created for the Apple Macintosh in 1986. The latest version is Illustrator CC 2017. The program was designed as the companion of Adobe Photoshop, which is a digital photo editor.
The .AI file format represents a single page vector-based graphics. The format is proprietary, and there is no publicly available information. Thus, only products accepted by Adobe Systems can handle them without problems.
.AI files use a subset of the PostScript Description Language (PDL). They may also include a bitmap version of the image for previewing. As such, these files contain lines with ASCII characters, which may represent comments, data and commands, or a combination of commands and data. In addition, they use concepts such as path, stroke, fill and graphic state.
The structure of the file consists of an ID line, a header, and a content section where the graphics are defined. A header contains structures and comments known as Prolog. Following it, there is a script section with drawing commands, objects, a section named Page Trailer, and a section called Document Trailer. The end of a file is indicated with %%EOF.
.AI files are commonly used for logos and print media. As they are vector based, the content can be resized without losing image quality. Although the .AI file format is based on the .PDF file format, it is not a file type that Adobe programs can always read. In order to show its content, it usually includes a .PDF file format version 1.4 inside it that can be displayed.
The .AI file format is a good option when still working on a file containing graphics, and its structure is a simplified version of an EPS file.
What is the Digital Signature of a AI File
ISO 8859-1: %PDF
Hexadecimal: 25 50 44 46
How to Open AI Files
The following applications can handle .AI files:
Adobe After Effects
Cinema 4D
CorelDRAW
Corel Paint Shop Pro
DrawPlus
FlexiSign
FreeHand
Ghostscript
Inkscape
Scribus
Skencil
sK1
UniConvertor
Xara Xtreme
XnView
Zanzar
.AI files can also be viewed with the following applications:
Adobe Reader
Adobe Photoshop
Preview
How to Recover Deleted AI Files
Your Adobe Illustrator files may contain information dear to you. Unfortunately, it is quite easy to unintentionally delete one of them, leaving you with the open question: how to recover AI files?
Disk Drill is an app that was designed to do that job. It works on many different devices such as internal and external drives, USB based drives, memory cards, iPads and many more. It can also work on image files, which are bit-by-bit copies of an original drive. As they are an exact copy, they also contain all deleted data still available on the drive.
Disk Drill uses search algorithms that reconstruct content still existing on the drive. If the original name is not found, the app assigns a generic one, such as file001.ai. However, the content of the file may not be fully available due to having been overwritten by the operating system.
Disk Drill is available for free!

Data recovery for free
Your Companion for Deleted Files Recovery
Steps for Recovering AI Files Successfully
Once you downloaded the installer, do the following:
Install Disk Drill by clicking on the installer's icon. Then, follow the given steps. The program will do the hard part of the job.
Open Disk Drill. The program detects all connected devices. If you want to use an image copy, just attach it. Once you have found the device that contains your .AI file, select it.
Narrow your search by choosing .AI file extension from the "Preferences" menu. In this manner your AI file recovery will be more focused, and therefore faster.
Ask Disk Drill to begin the AI file recovery process. The search can be paused or cancelled at any time. Disk Drill also provides a session saver, which allows you to continue later on without any loss of the work already done. This option is particularly useful when working with devices of a large size, as the AI recovery may last for several hours.
Once the AI recovery is done, Disk Drill presents the results in the form of a list. This list can be narrowed down by using the filters by size or date provided in the app.
Look for the AI file(s) that you want to recover and retrieve it (them) to a folder of your choice.
Your AI file recovery is done.