Adobe Illustrator files are an excellent way to create vector-based graphics and are one of the go-to file types for graphic designers looking to create logos or similar jobs. A lot of effort can go into developing these kinds of projects and losing them just because you forgot to save your progress or accidentally deleted the file can be heartbreaking.
💬 If you work with these extensions often, you'll be glad to know that there are a few ways you can retrieve unsaved or deleted Illustrator files. In this guide, we'll teach you how to do just that, and you'll also learn a bit more about what Illustrator files are and what they're used for.
What is an AI File
Adobe Illustrator files – known also as AI files for short – is a type of graphics file format developed by the renowned Adobe systems. They were introduced way back in 1987 and remain an incredibly popular file extension in the world of graphic design. Similar to the SVG file format, AI files are vector-based, meaning that they're made up of various lines that are connected through certain points.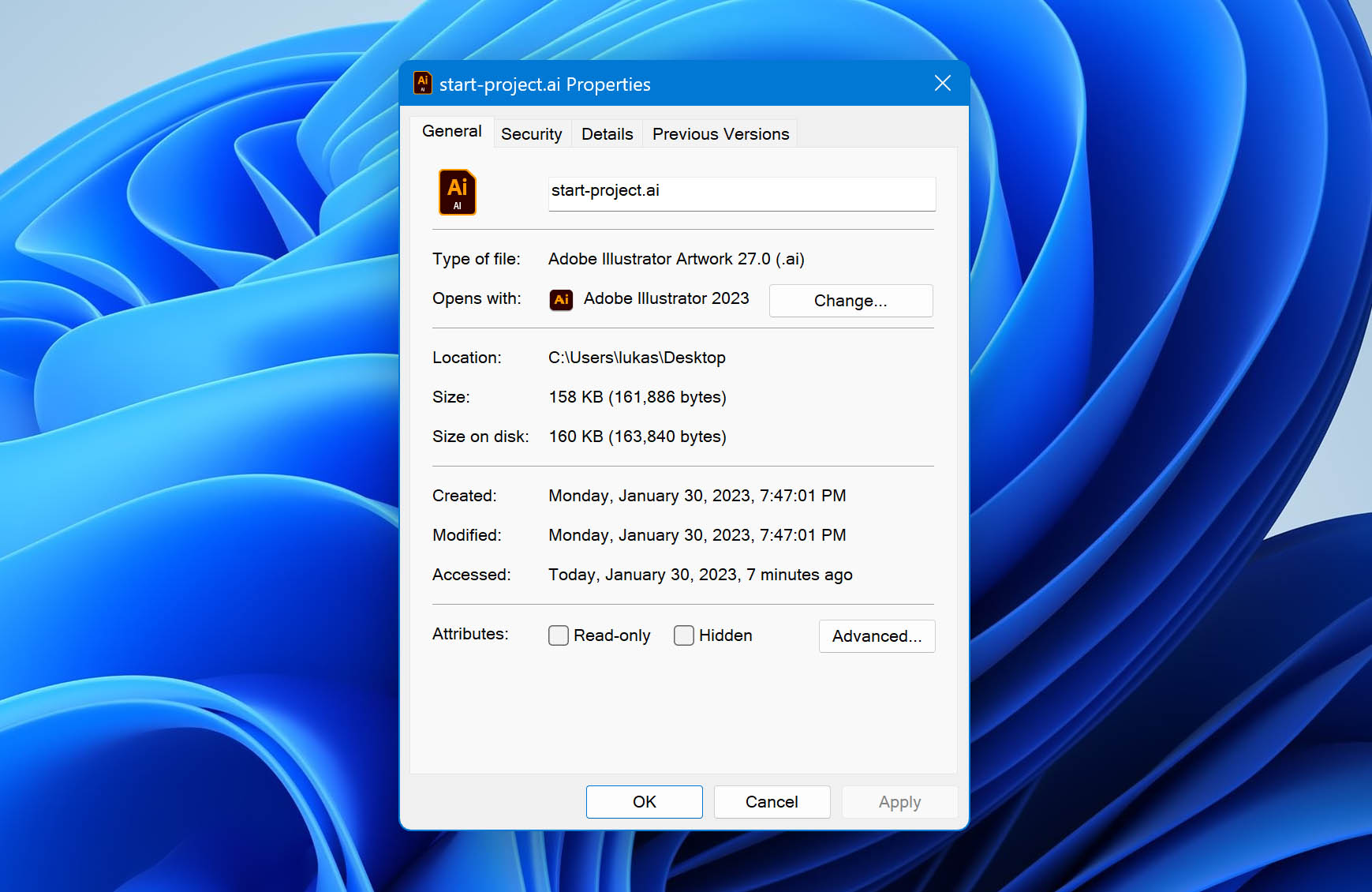 Its trademark feature is the fact that the images can be freely blown up or shrunk down without any compromise in quality, making it the perfect file type for designing logos, signages, and various other forms of print media. While the Adobe Illustrator program is the originator of AI files, they can be accessed by other programs as well.
How To Recover Deleted Illustrator Files
Spending hours or even days working on an important logo design only to delete it by mistake can be an absolute disaster. Don't start pulling your hair out just, however, as there are quite a few methods you can use that might help you recover deleted Illustrator documents. Just know that some of these techniques only work for specific data loss situations and may require you to have a particular feature enabled before the deletion occurs.
How To Recover Permanently Deleted Illustrator Files With Software
One of the best data recovery apps for AI files is Disk Drill – a premium solution that boasts a remarkably high recovery rate, an inviting user interface, and tons of useful extra features. You can even use it to create backups and resume previous recovery instances. To top it all off, Disk Drill has a free version with all the bells and whistles of the paid variant, though it does limit the number of files you can recover to 500MB for Windows users. Here are the steps you should follow to retrieve files through Disk Drill:
Download the setup file from the official Disk Drill website.


Data recovery for free
Your Companion for Deleted Files Recovery

Launch the downloaded setup file and go through the installation process until completed successfully.

Please note: Better not to install the software on the disk from which you lost the files.

Run the Disk Drill app, select the storage medium you'll be recovering from, then click the Search for lost data button to continue.
The scanning process will now begin. How long this takes depends primarily on the size of the drive you're scanning and its read speed capabilities. Instead of just waiting for the scan to complete, you can click any of the on-screen category icons to jump into the results page and browse through the recoverable files found so far.
On the results page, AI files should appear in the All Files category since they're a fairly unusual file type that Disk Drill can't properly categorize. Make sure you uncollapse the Found files dropdown and navigate to the folder your missing files were last in. You can tick the checkboxes next to the file names to highlight them, then click the Recover button to move on to the next step.

Check the file's Recovery chances to be sure the file is recoverable.

You'll get a pop-up asking you to select the location where you want your recovered files saved. This destination has to be on a different storage medium than the one you were scanning earlier in order to avoid problems with overwriting files. When you're all set, click OK.
Disk Drill will now start actually recovering files, which shouldn't take all that long given how AI files aren't particularly large. When the process is completed, you'll see a Show recovered data in Explorer button on the screen. Click that button if you want to be taken directly to the folder where your recovered files are located.
Recover Illustrator Document Using Revert
There are times when you think you're heading in the right direction with a design, only to find out hours later that all those additions weren't as great as you thought. Lucky for you, Adobe Illustrator comes with a Revert function that pretty much rolls back all the changes since your last save.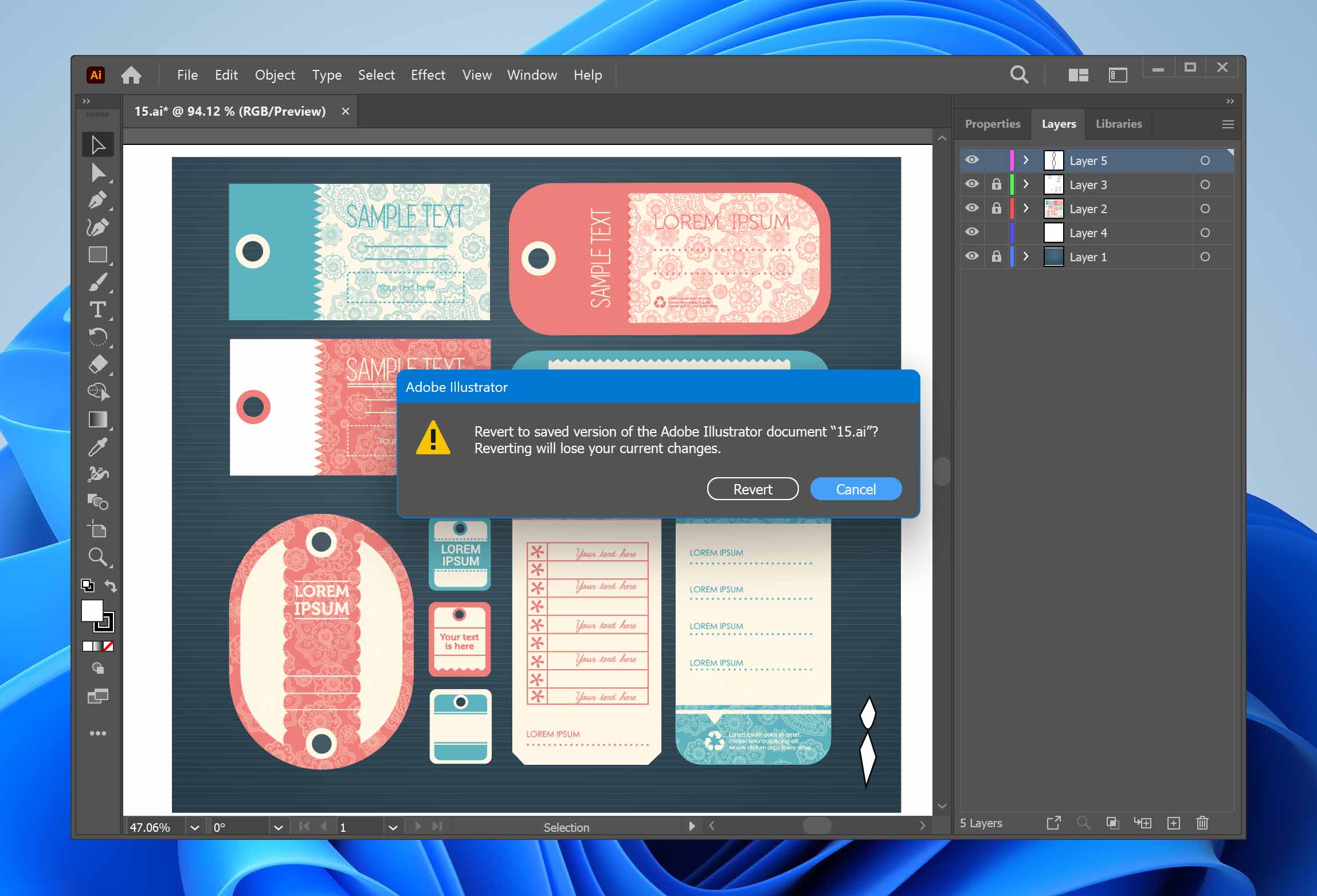 Please note: Revert option doesn't work if you reopen your file.
To do so, all you have to do is hit the F12 button. Alternatively, you can click the File dropdown and select the Revert option. In Illustrator, go to File > Revert to revert your document to the last saved version.
Recover Files From an Illustrator Backup
Fair warning, this method requires you to first enable to program's backup feature. This forces the app to make frequent backup files in case of crashes or if you shut down your device without saving up your progress. To enable this feature, follow these steps:
Bring down the Edit dropdown then select Preferences > File Handling.
Make sure the Automatically Save Recovery Data Every option is enabled and choose the intervals in which you want your backups to be created.
Right below that, you can select the location where you want the backups to be saved. The default destination is "C:\Users\[User Name]\AppData\Roaming\Adobe\Adobe Illustrator [version number] Settings\en_US\x64\DataRecovery".
If you want to access any of your backups and save them permanently, here's what you have to do:
Head to your designated Adobe Illustrator backup location.
Open the backup file you want to save. You may have to right-click the file, select Open With, and choose Adobe Illustrator from the list of programs.
After the AI file appears in Adobe Illustrator, go to File > Save As, then save the file in your desired location.
Recover Illustrator Files From Windows Recycle Bin or Mac Trash
This data recovery method only works if you deleted your AI file by using the Delete key or right-click > Delete command. If you used the Shift + Delete method, then you'll need to try using a data recovery program to get your files back. Here's how you can restore deleted files from your Recycle Bin:
Either open the Recycle Bin on your Windows desktop or bring up the Run command window by pressing the Windows + R keys, then type in "shell:recyclebinfolder" and press the Enter key.
If your AI files are there, highlight the ones you want to recover and choose the Restore option.
The files should now be returned to the folder they were in before being deleted.
If you're sporting a Mac computer, then getting your deleted files back might just be a bit easier. All deleted files go to the Trash tool and remain there until manually erased unless you specifically set the Trash to empty itself at certain intervals. This means deleted files aren't gone completely the moment they're erased. Follow these steps to recover files from your Mac Trash:
Click the Trash icon on the far-right corner of your dock.
If you find your AI files here, highlight the ones you want to recover then right-click and select the Put Back option.
You'll find your files in the location they were last in before being deleted.
Restore AI Documents From a File History
Newer iterations of Windows are shipped with a useful tool called File History that allows you to restore files to their previous versions. It can also be used to recover disappeared or deleted files, though you won't have any luck with unsaved information. 
Keep in mind, however, that you'll need to enable the feature before the data loss, or else your files won't show up. Furthermore, your files need to be located in one of the folders File History encompasses and you need a second storage medium for the tool to store backups in. Here are the instructions for using File History:
Bring up the search tool on your taskbar, then type in "Control Panel" and select the top result.
Select System and Security and head to File History.
Click the Restore personal files link on the left side of the window.
Navigate to the folder your AI files were located in, then highlight the ones you want to recover and click the rounded green arrow along the bottom of the window. The data should be returned to the folder they were last in.
How to Repair Corrupted AI Files
There are various reasons why your AI files may be corrupted, including an interrupted save attempt, power failure, virus/malware attacks, and more. AI files are often inaccessible by Adobe Illustrator when this happens, but there is a way to potentially repair these files by converting them to PDF format before returning them to the .ai file type.
To start things off, you'll need to convert your AI file to PDF. You can do so using either Adobe Photoshop or Acrobat. For the purposes of this guide, we'll be using the former.
Launch Adobe Photoshop and click File > Open.
Navigate to the AI file you want to convert and double-click it to open. You'll receive a pop-up about PDF import settings. Just click Open to continue.
Head to File > Save As.
Bring up the Save as type dropdown and select Adobe PDF. Choose the location where you want the file saved then click the Save button to finalize the process.
Since we now have our PDF file, you'll need to open the file in Adobe Illustrator and then save it in the .ai format.
Launch Adobe Illustrator and click File > Open.
Navigate to the PDF file you want to convert and double-click it to open.
Click File > Save As, then select Adobe Illustrator in the Save as type dropdown. Once you're all set, click the Save button to finalize the conversion process. Your previously corrupted AI file should now be accessible with Adobe Illustrator.
How To Open Illustrator Files on Mac and Windows
While there are a few image openers and other programs available online that are capable of opening the .ai extension, it's a proprietary format used by Adobe Illustrator. As such, that's the app we'll focus on in this guide. These are the steps on how to open .ai files in Illustrator:
Launch the Adobe Illustrator app, then click File > Open.
Navigate to the folder where your AI file is located and double-click on the image you want to open.
Your AI file should be rendered on screen.