If you experience a data loss event while working with your Mac, you may need to employ data recovery software in order to restore some valuable files or data.
The protections of the Trash bin may not be enough to save your files. EaseUS Data Recovery Software for Mac is one of your options for use in this type of data loss scenario.
EaseUS Data Recovery Wizard Review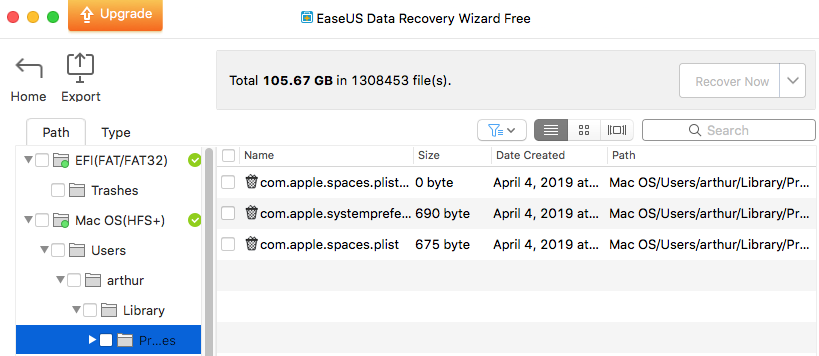 EaseUS Data Recovery offers a simple tool with which Mac users can combat data loss scenarios. You can use the application to recover data on the newest versions of macOS. It allows you to recover lost and deleted files from any type of drive or removable storage media and provides support for the APFS file system. It can save you from inadvertently formatted drives, lost partitions, system crashes and emptied Trash bins.
The application features a Recovery Wizard that guides you through a three-step process that scans and recovers your missing files.
It also provides additional free utilities to monitor your disks and protect your data. You can protect your computer by creating a bootable USB drive that can be used to recover files from your computer's main hard disk.
You can also recover data from Time Machine backup drives. The software offers a free version with which you can test drive the app's functionality.
---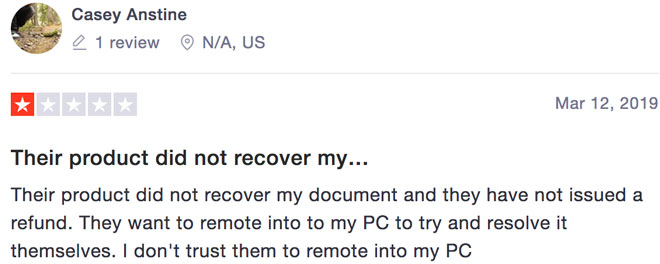 While this tool may recover your lost data, not all users are totally satisfied with their recovery results after using the application. In some cases, it has been difficult to obtain a refund when the software fails to deliver as advertised.
We will present some alternatives for you to consider when searching for data recovery software for the Mac.
5 Best Alternatives to EaseUS Data Recovery Software
Our first choice for an alternative to EaseUS is Disk Drill data recovery software from CleverFiles. It is a full-featured application that goes far beyond simply providing for the recovery from data loss events.
CleverFiles offers a 50% OFF competitive discount that enables users of other licensed data recovery software to purchase Disk Drill at half price. It's a great data recovery tool for your Mac.
Before delving into its features, here is an example of how easy it is to recover your deleted files with Disk Drill:
Download and install the application.

Data recovery for free
Your Companion for Deleted Files Recovery

❗It is recommended that you use a different drive than the one you will use for the recovery to minimize the potential for inadvertently overwriting files.
Select the disk where the lost files were located by clicking the Recover button to scan your drive.
Preview the files to be recovered and select those that you want to restore.
Click the Recover button a second time and your files will be recovered.
Features:

 A free download of Disk Drill allows you to preview the files that can be recovered before upgrading to the Pro version to complete the recovery. The application employs advanced scanning algorithms to scavenge your storage devices and can reconstruct and recover files in hundreds of different formats.

 You can perform a Quick Scan to rapidly recover data and a Deep Scan to find data that is more difficult to restore.
After 48 hours of thinking I lost 3TB of footage on my drive, I can proudly say that I recovered all of it with zero errors. Shout out to @Cleverfiles for helping me out!

— Jon Asher (@jon_asher) March 26, 2019

 You can generate a bootable USB drive that enables you to use the tool to safely recover data from your system's main hard drive. All types of storage devices including SD cards and removable storage devices are supported for recovery by Disk Drill.


 Additional features of this software include disk monitoring and optimization tools. You can use the free duplicate finder to trim away excess storage and regain valuable space on your hard drive. Use the free Recovery Vault and Guaranteed Recovery features to better protect your important data.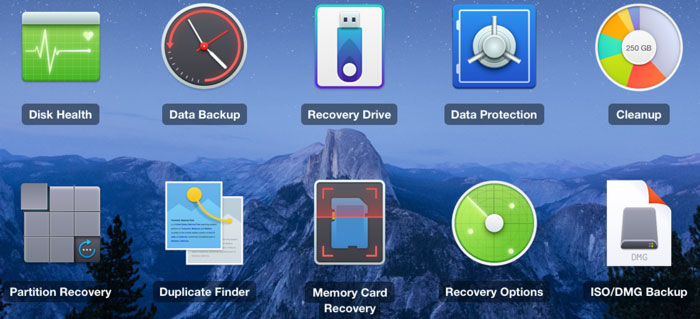 ---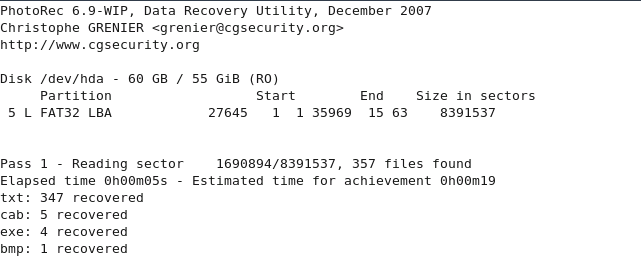 Here is a freeware tool that is distributed under the GNU General Public License. This utility operates on any type of file system as it ignores the formatting to address the underlying data structures. PhotoRec is meant to recover files and has a companion product called TestDisk that is used for recovering partitions and repairing damaged disks.
This free application protects your files from accidental overwriting by enforcing read-only access while recovering files. It is capable of restoring files in many different formats.
You can use the tool to attempt recovery from memory cards, portable media players, and digital cameras as well as all types of hard drives. It does not have an easy to use interface as do some of the other data recovery tools, and as freeware, timely support may be difficult to obtain.
---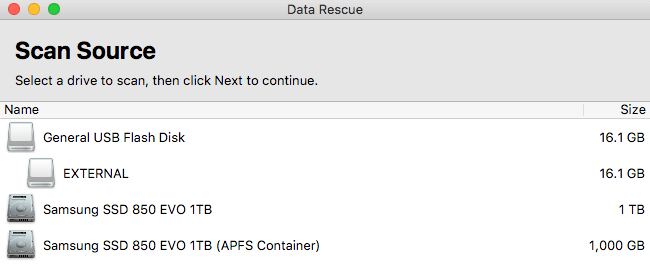 This data recovery tool works on all versions of the macOS and offers a number of outstanding features. The software recognizes over 100 different file formats and can recover data from your Mac desktop or laptop as well as SD cards and external drives. It can be set to exclude duplicate files during recovery to save storage space. Advanced filtering and search capacities streamline your recovery efforts.
Email notifications regarding current or completed scans can be generated to keep you apprised of their progress. The tool is easy to use and is designed to assist the average computer user to deal with data loss. It provides the ability to preview files before recovery to ensure the validity of your restore. You can demo the software for free to see if it has the capabilities that you need.
---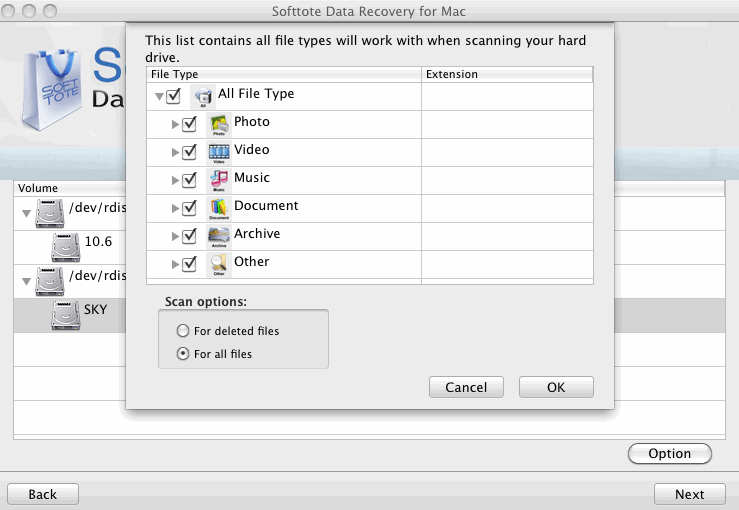 Another quality data recovery application is this offering from Softtote. This product is designed to make it easy to recover various types of files with the inclusion of three wizards to streamline the recovery process. Choose from the Photo, File, or Lost Partition wizards to focus on the type of recovery you need to perform. The utility supports all versions of macOS and enacts recovery from all types of storage devices including memory cards, USB drives, and SD cards.
You can shorten the time to complete a scan by using the flexible filters included in the program. An intuitive user interface makes it easy to work with this powerful recovery tool and you have the ability to preview files before you recover them. A free download is available to let you test drive the software to see if it suits your needs.
---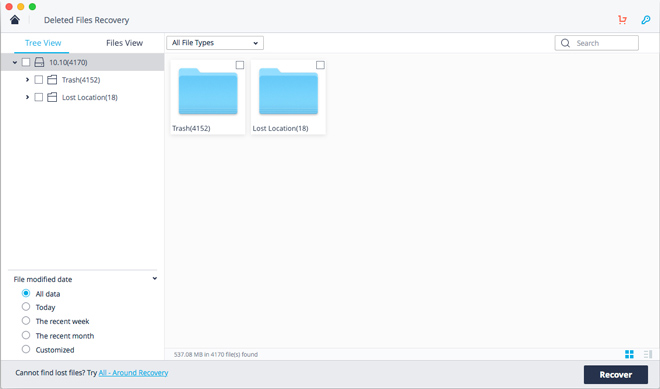 Recoverit is the final data recovery tool we will review. This application, developed by Wondershare, is a comprehensive solution that enables you to recover many types of files including encrypted APFS files. Recoverit can be used to recover files from many types of storage devices including flash drives, internal drives, and removable storage devices.
A unique feature of this software is the inclusion of pre-programmed recovery scenarios that help you deal with issues such as lost partitions, virus attacks, or deleted filesystems. This makes it easy for non-experts to address the specific type of data loss they have experienced.
---
Conclusion
All of the data recovery solutions reviewed will address data loss events on your Mac or Windows PC to some degree. A full-featured and comprehensive tool like Disk Drill offers the capability to recover from any type of missing or deleted files and provides advanced capabilities designed to protect your valuable information. It can prove to be an invaluable asset when faced with the prospect of lost data.