Dallas, Texas, has multiple data recovery services that can help you get missing and deleted files back from your Windows or Mac computer, Android or iPhone smartphone, micro SD card or any other storage device. A quality data recovery center will have professional staff who know how to get your missing files back. They are frequently certified in precisely the skills needed to do just that. Each Dallas-area location listed below has the tools and knowledge to solve your emergency.
Personal and Business Emergency Data Recovery in Dallas, Texas
Find Data Recovery Services on the Map in Dallas, Texas Near You 
If you prefer saving the time and money required to get to a physical data recovery lab, you may also want to consider a digital solution that you can access right now, completely free. We'll discuss that option below.
Alternative Recovery with Data Recovery Software
Data that has been deleted or lost may seem gone forever, but that's rarely the case. Those files don't just cease to exist. They continue to live inside your hard drive or SSD but in a state that is taken off the digital ledger that records your device's contents. This new state allows the deleted files to be written over with new information, which maximizes the finite space of the device. Eventually, those deleted files will be so written over that they cease to be usable, but until then, there is a chance that you can retrieve them using data recovery software.
We'll walk you through the Disk Drill process.
One. First, download the software. 
Two. Now, find the device with the files you're hoping to get back or recover. Any device that is in or attached to your computer will show up in the center of the main Disk Drill interface.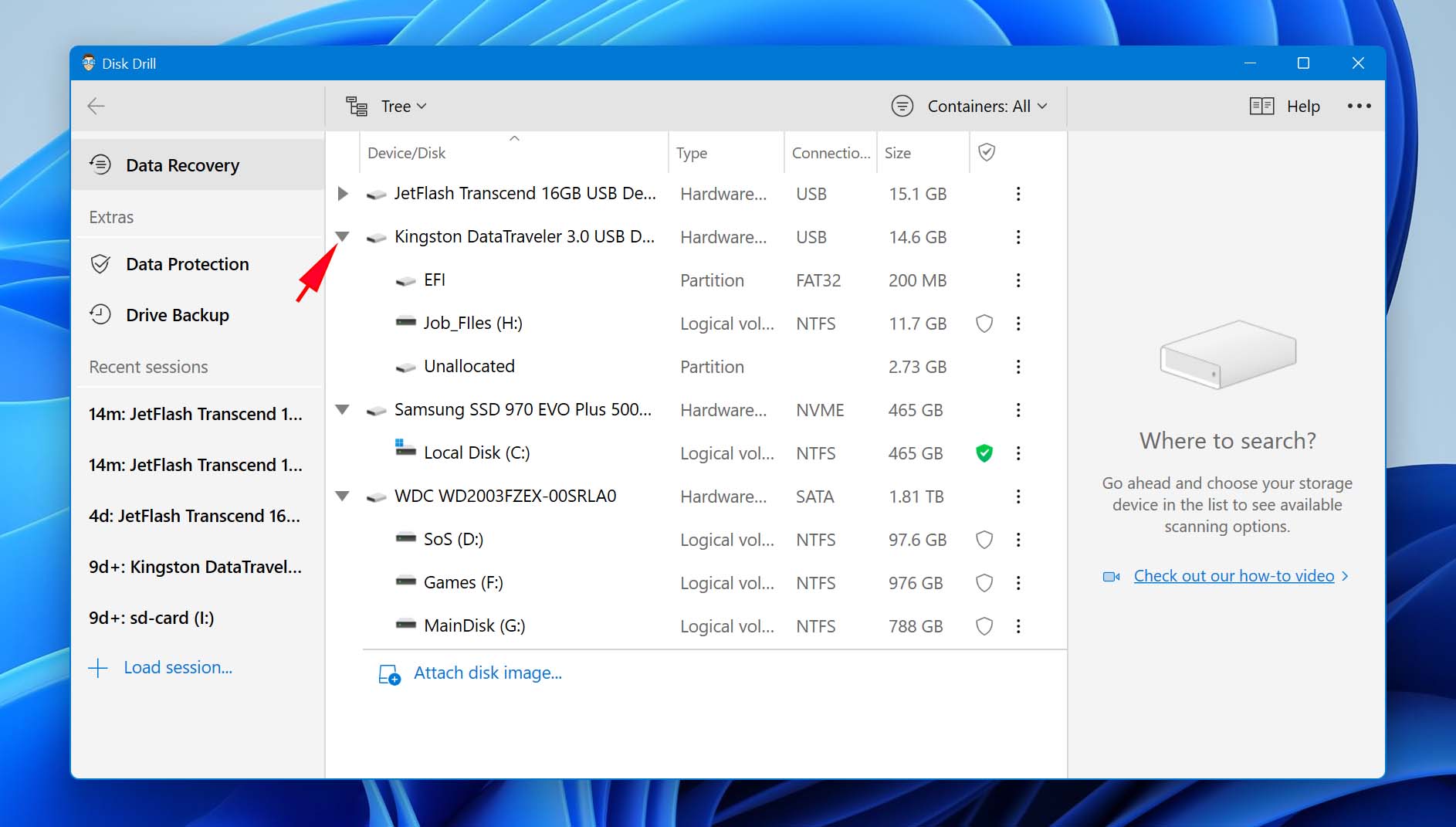 Three. Once you've selected the device that you want to recover from, the right pane will show a button reading "All recovery methods" and a button reading "Search for lost data".
For now, we'll ignore the other options within the "All recovery methods" button. The default is fine for these introductory purposes. So, with that selected, press "Search for lost data".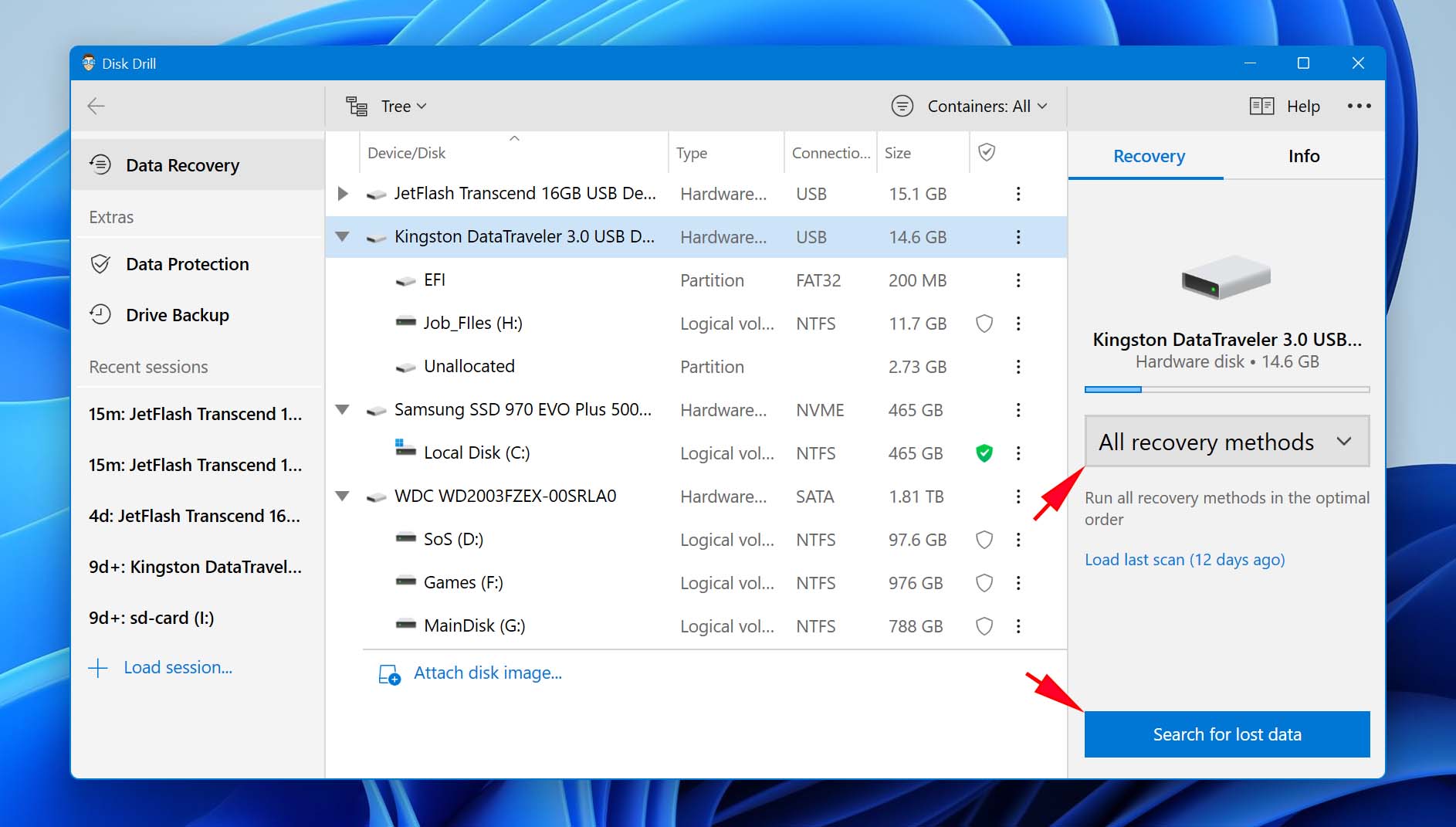 Disk Drill will now go to work scanning your device. You may be surprised at the number of files it shows, but remember that it's not only scanning all your workable files but also all your deleted and otherwise buried ones. 
You can also look at files that have been found while Disk Drill completes its process in the background.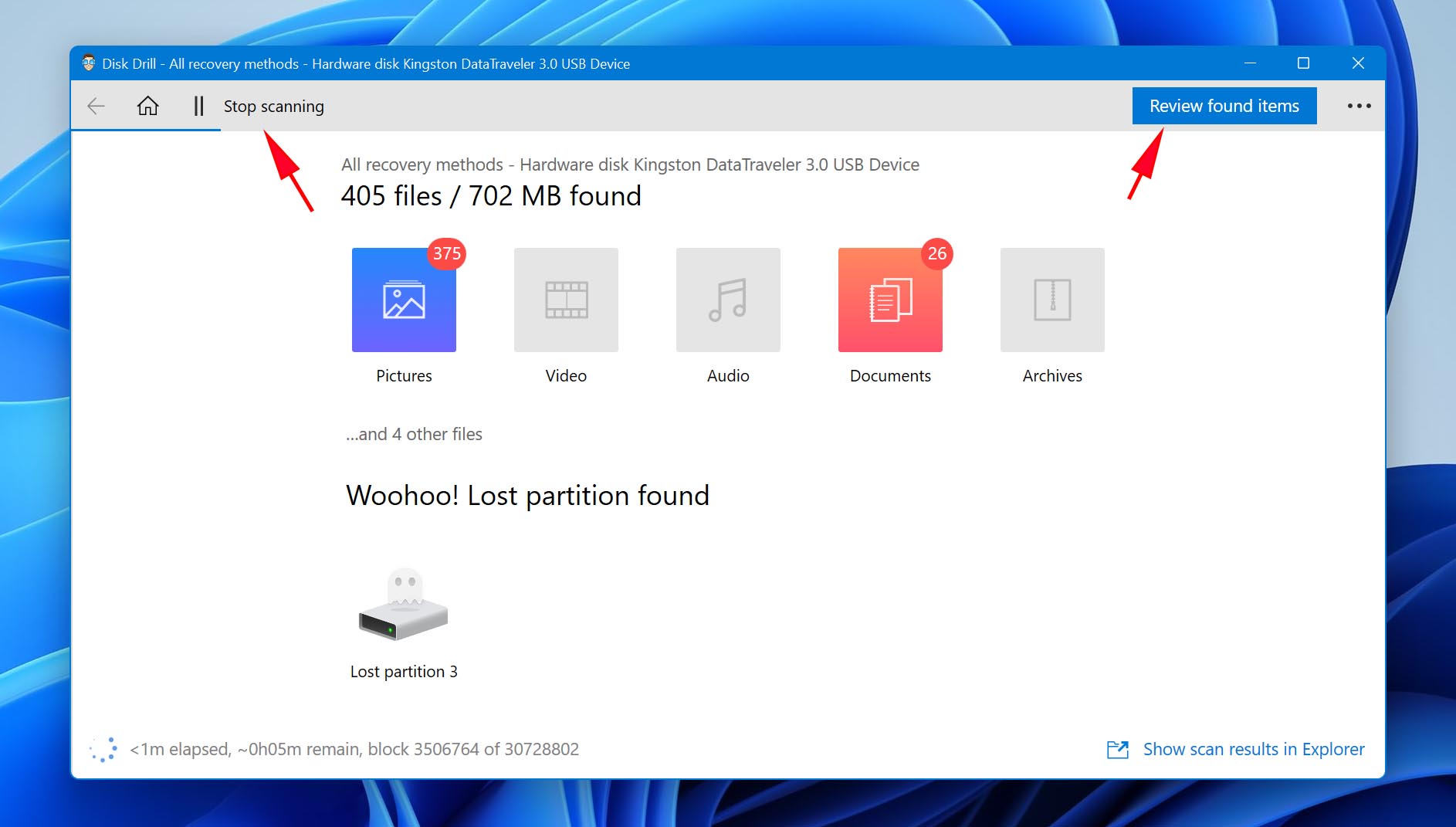 Four. You'll wind up seeing a screen with a list of discovered files lumped into segments. You can recover the entirety of the files that have been found by selecting "Recover all".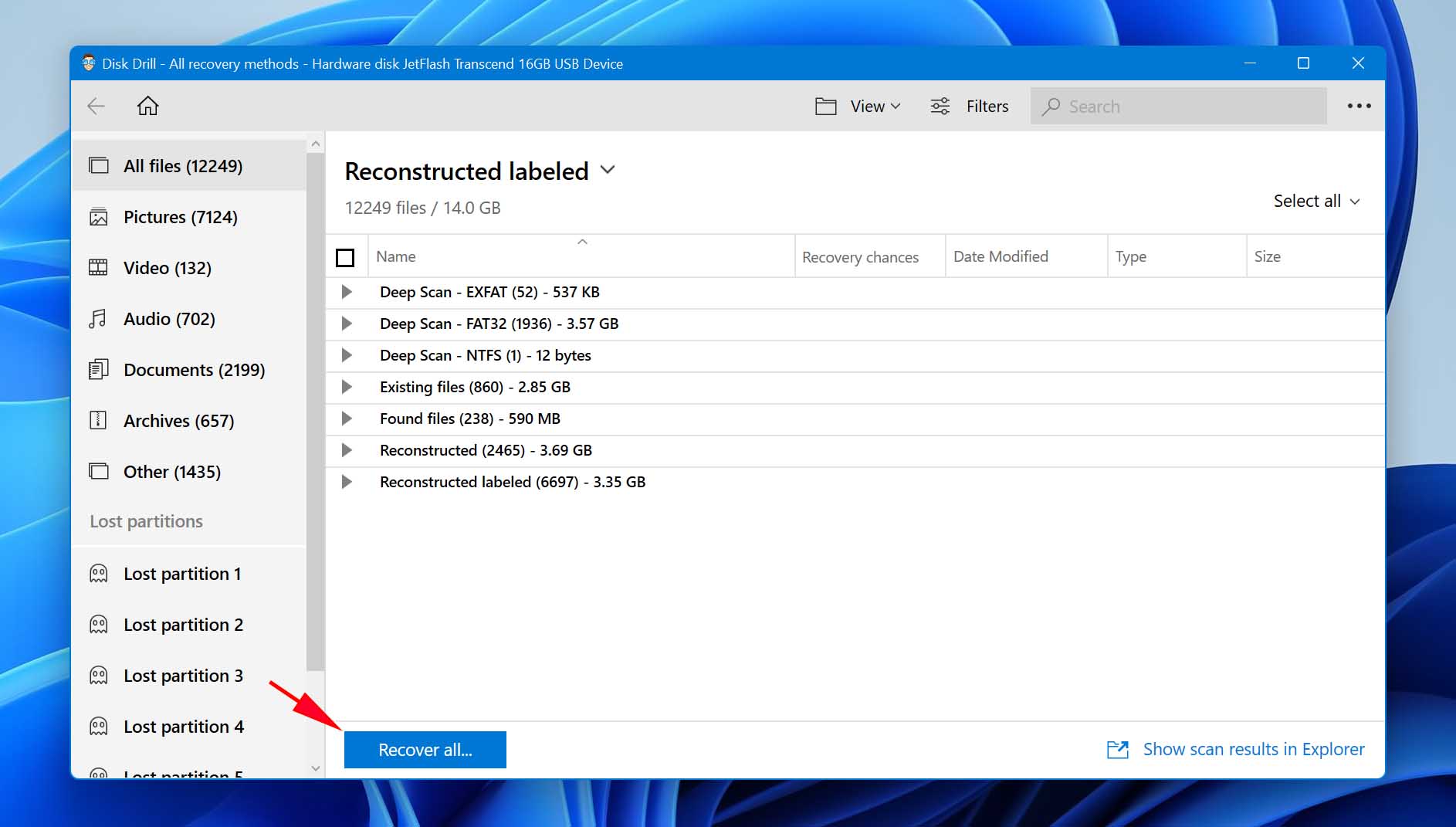 Or, you can select singular files by clicking on the checkbox to the left of those files. This will produce a blue button that says "Recover" (rather than "Recover all").
Click the "Recover" button.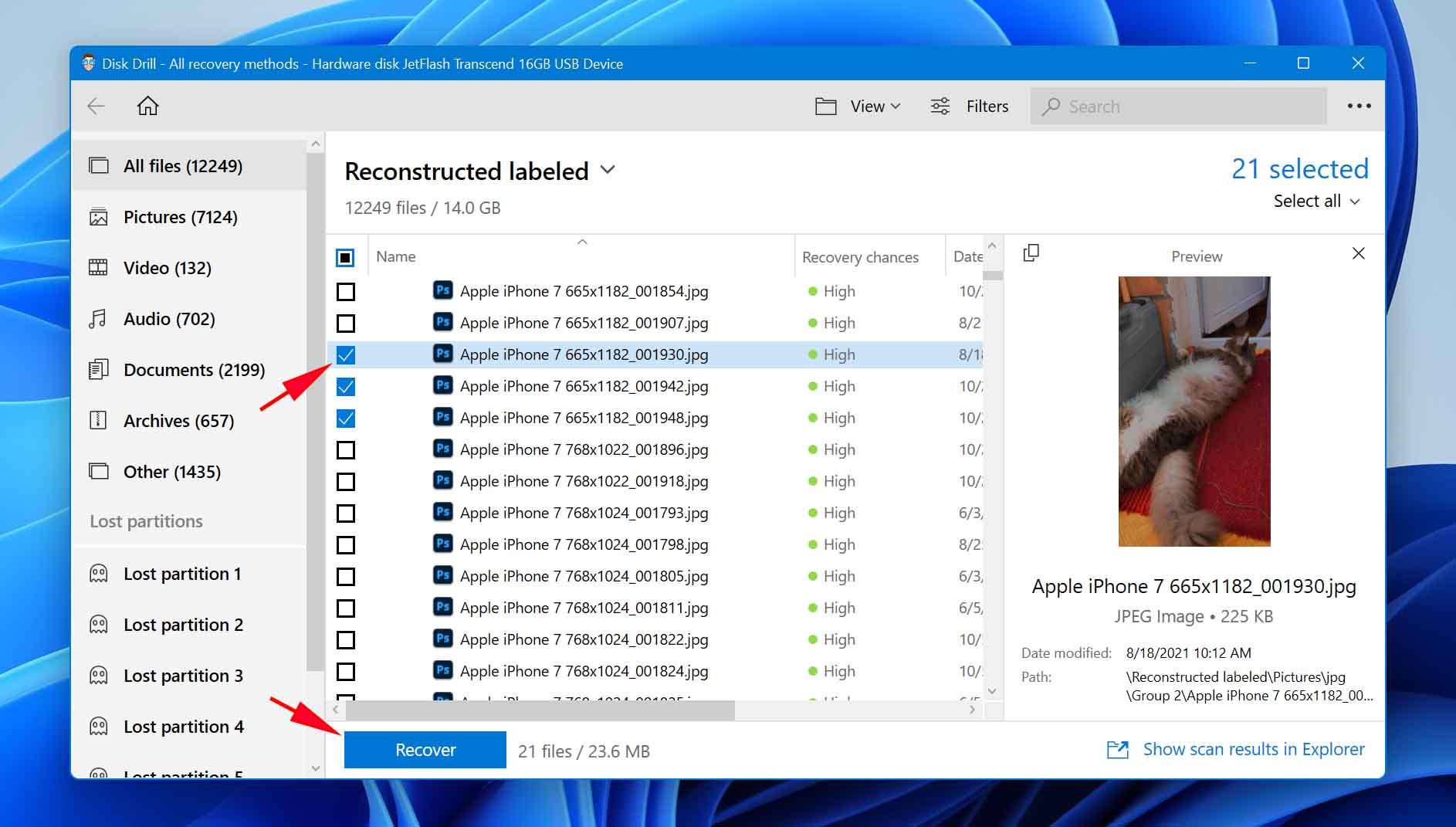 Disk Drill will ask you where you want to save your recovered files. You can select any place you want on the device, but make sure you note where it's sending it. 
With that, you should have your files back. The scanning sessions are all saved by Disk Drill, meaning that you can access them later without having to restart the scan from the beginning. If you stopped scanning and restored your files before the process was completed, you can simply resume that process and start where you left off.  
If you had any issues with the software, check out the Disk Drill troubleshooting page for answers to common problems. Whether you elected to become a Disk Drill customer or a customer of a data recovery center, we hope this page was useful to you.