Let's be blunt: you don't want people seeing what you're doing on the Internet. Whether it be looking at adult websites, trying to get around government firewalls to get to censored information, or want to use torrents and don't want nasty letters from your Internet Service provider when you do.
Or you're at a public WiFi and don't want that guy sitting in the corner with the packet sniffer to see all of your banking information and start buying jewelry for his girlfriend with your credit card.
This is why using a trusted Virtual Private Network (VPN) provider is a good idea. Nobody can tell what you're looking at or downloading, because your connection through VPN is encrypted. All the Internet provider, whether it be your cable company or where you work, knows is you've connected to a VPN, and that's it. What you do from there is private, and only for you to know.
Just remember –
there's a difference between having a VPN, and a VPN provider or tunnel
. Anyone can
set up a VPN
between any two or more computers. This way they can all communicate with each other without anyone snooping in. A
VPN provider
lets you make an encrypted connection to a network that then connects you to the rest of the Internet. Depending on the speed and quality of the
VPN connection
, it's just like connecting directly through your local WiFi or Internet connection.
The following is a list of the best free VPNs for Mac. A really good VPN connection can cost anywhere from $10 to $30 a month, but these are just as good for getting started. 
VPN Testing Statistics
| | |
| --- | --- |
| Number of VPNs tested on Mac | 21 |
| How long we test VPNs | 1 month |
| IP addresses | Dynamic |
| Logs | No logs |
| Pro version price | From $3.30/month |
The List: The Best Free VPNs for Mac
So with that, let's go over the list of the best free VPNs for Mac users.
NordVPN employs military-grade, 256-bit key AES encryption to keep your online data safe. If you are serious about protecting your online identity and anonymity, you will be better served by purchasing a full-featured VPN. We believe that NordVPN is your best choice.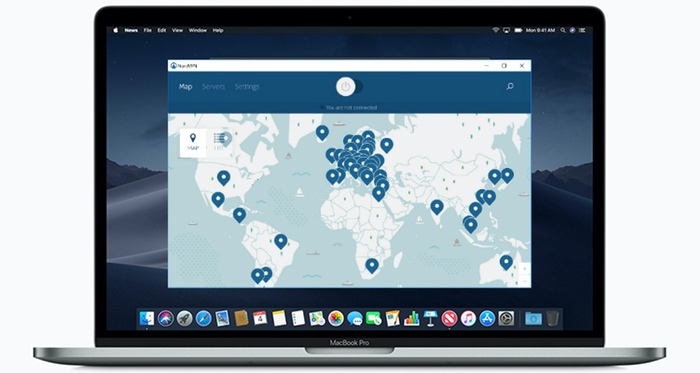 🎁 Deal:
Get one of the best VPNs out there with
70% OFF
. For a limited time only, you can get 
NordVPN for only $3.49 a month.
Some of the features that bring NordVPN on top of the list:
The ability to hide your IP to keep your Internet activity anonymous.
Support for six simultaneous connections that can be used on your Mac as well as Windows, iOS, and Android devices.
Fast speeds with 5100+ servers in 62 locations.
Privacy – strict no logs of user activity.
Built-in ad and malware blocking.

Automatic kill-switch that shuts down your connection if your VPN connectivity is interrupted.

Onion over VPN routes traffic through Nord's VPN and then sends it to the Onion Router for added protection, such as when accessing the dark web.

SmartPlay technology that ensures access to over 400 geo-restricted streaming services such as Netflix, Hulu, Pandora, and Amazon Prime.
Double data protection sends your data through two VPN servers before reaching its destination, effectively encrypting your data twice.
Torrenting/P2P allowed.
24/7 live chat.
How to use Nord VPN for Free:
Start your risk-free NordVPN trial, you can cancel your subscription at any time. There are no costs. 
NordVPN offers a 30-day money-back guarantee. 

Flexible pricing plans make it easy to try this valuable privacy tool.
We didn't pick TunnelBear just because it's an adorable name with a mascot that looks like what would happen if Mario was turned into a bear and came out of a warp pipe.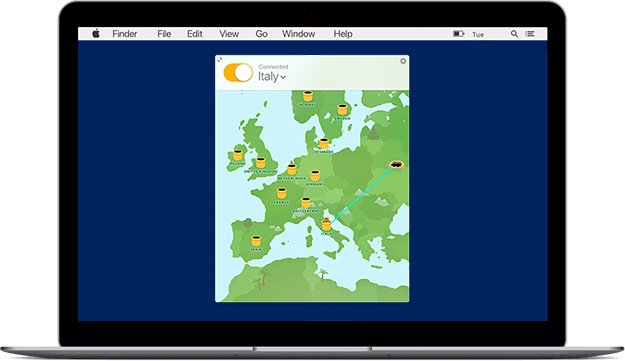 🎁 Pro Deal:
Save up to 67% of TunnelBear Annual Plan.
Click here
to get a discount. You can secure up to five devices with one paid TunnelBear account.
TunnelBear, like the other services, features protections like AES 256-bit encryption and no logging.
What TunnelBear adds is a strong push for protection with:
VPN blocking protection: Some websites and Internet services will block users if they detect that the connection is coming in from a VPN. TunnelBear has systems that make these connection less detectable, so your communication can still go through while protected.
Vigilant Mode: This is a very cool feature. If a security issue is detected at any point, then TunnelBear will cut off all unsecured traffic until connections are properly restored. So when something tries to breach the connection, you can be assured that people can't try to get around and see what's happening through unsecured channels.
TunnelBear has services in 20 countries, and it's expanding all the time.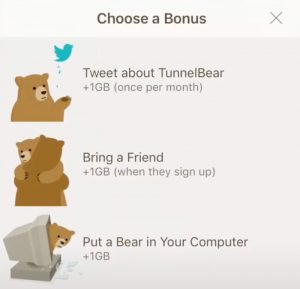 How to use TunnelBear for Free:
500 MB of available data, the free data will renew monthly.
You can get another 1 GB if you tweet about them or refer a friend. 
ProtonVPN provides their security with what they call the "Secure Core". Rather than just have their users connect and then route them to the Internet through one location, they protect users by forwarding the traffic through multiple servers. This means that people won't be able to find out where the original computer connected from, increasing your privacy.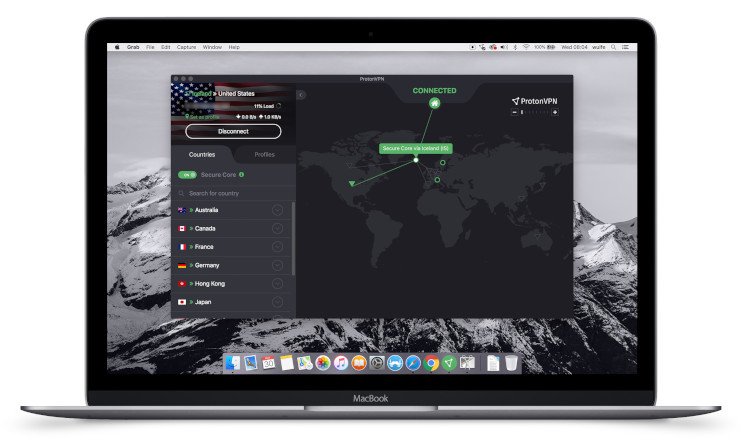 Along with these features, it includes:
Security with AES-256 encryption
Forward Secrecy where each connection receives new encryption key, so even if someone traced your transmissions before, they can't use that information to decrypt new ones.
Legal protection being based in Switzerland, where privacy laws are the strongest in the world.
How to use ProtonVPN for Free:
Here you can register and download ProtonVNP for free. The free version offers 1 VPN connection, servers in 3 countries and No ads. 
ProtonVPN also features no logs so users don't have to worry that their information will be betrayed later. They include clients for Windows and Mac VPN connections. As an added plus, ProtonVPN has physical security from the use of an old fallout shelter. War never changes, but with strong physical and encryption security, ProtonVPN can keep your connection secure.
Hotspot Shield is one of the most popular choices out there.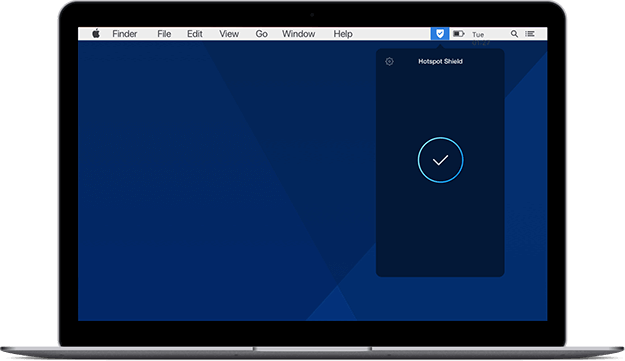 It has a free VPN option that includes both 128 and 256-bit AES encryption, and features like:
Connection for up to 5 different devices. Most of the free VPN offerings only allow one connection at a time, while HotSpot Shield allows 5 different devices to connect through the same account.
Kill Switch: When a connection issue through the VPN occurs, the computer can start trying to use the regular insecure connection rather than the secure encrypted VPN connection. The Kill Switch stops all communication from the computer to the Internet until the VPN connection is restored, so the traffic that needs to stay private is "always" private.
2500 servers across the globe. This means wherever you go, there's going to be a local connection that keeps up the speed and security.
How to use Hotspot Shield for Free:
7-Day free trial.
You can get 500MB free per day (up to 2 Mbps).
Windscribe comes with a free version. For those who want a little bit more, the price is affordable starting at $4.08 a month and going down with a longer commitment.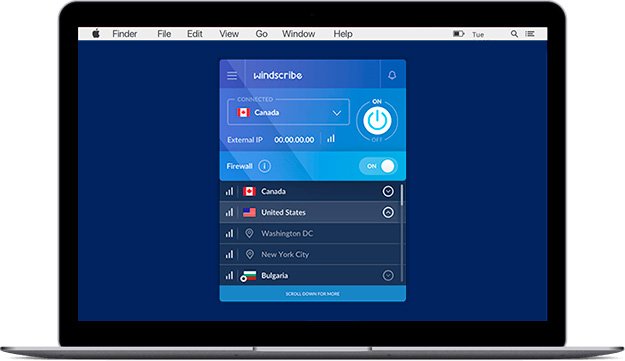 Every list is going to have Windscribe on it. It meets all of our target points:
Secure with AES-256 encryption.
Private by not keeping logs. Which means even if someone requests they identify what a customer accesses, they can't because they don't store the information.
Robust with servers in 55 countries and 110 cities, so you know wherever you go there's a way to connect reliably.
10 GB per month of bandwidth traffic.
Windscribe provides a VPN client for Mac, but also has Windows and Linux clients for users of other operating systems. Even better, it can be integrated into browsers like Chrome or Firefox with an extension, so you can just connect the browser through their VPN, and off you go.
Honorable Mention: VPN Gate
VPN Gate is interesting because it's the outgrowth of an academic project. It's made up of public VPN relay servers, so it's a community of people working together to provide secure communications for others. It allows protection for people trying to get through government firewalls or just wanting to secure their connection over public WiFi connections.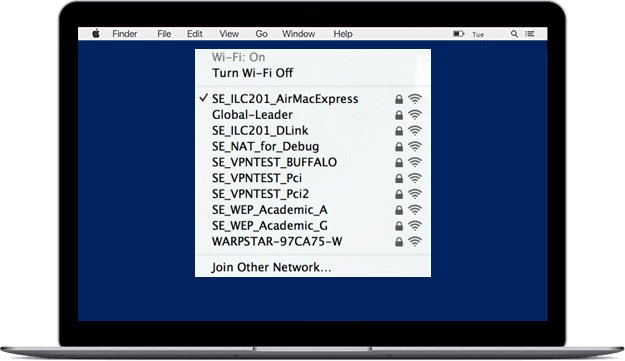 Being a university project, it has clients for any number of operations systems, including a Mac VPN client.
Because of this, it has some features the others don't:
No registration. Every other service listed requires people to register in the hopes that eventually they'll move to the paid version. VPN Gate doesn't have a paid version, so it doesn't need registration – just install the client and go.
Additional users: Users can register to host VPN servers to add to the project, so it's always growing as the community pitches in.
VPN Gate is a fascinating experiment, and for those just looking to do some secure browsing without a ton of extra features, it's a great fit.
The Qualifications for Best VPN Service
Picking the best VPN for Mac OS X comes down to three things:
Reliability ✅
A VPN is no good if you can't connect to it. The biggest issue with free VPN providers is they usually provide fewer servers or slower access speed, and reserve the better systems for paying customers. Kind of a "try it out and upgrade later" system.
Security 🔒
 People use a VPN provider to keep their browsing and download habits private. So the connection has to use current encryption algorithms to keep hackers and other undesirables out.
Speed 🚀
There's not much of a reason to connect to a VPN provider that makes you feel like you're using an old dial-up modem. A good VPN provider provides fast access so you aren't spending all day waiting for something to happen.
It's Your Privacy
Your information, your browsing habits, your connections with the world are your business, and not anyone else's. Don't give up your privacy to use a public connection, or even within the privacy of your own home. A good VPN for Mac can let you explore the world without fear. Hopefully, this list has helped make your life easier, and more secure.