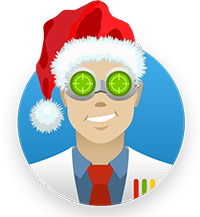 HO-HO-HO! Here's the updated release of Disk Drill 2.4. The new build tagged 414 is hitting your Macs right in the mid of Xmas celebrations. You may look for a special offer inside of the new update, or learn about the changes of this release:
new

Deep Scan learns new file signatures, including SVG (Scalable Vector Graphics), XMCD (MathCAD 14) and IBANK (iBank 5 app)

new

"Allocate Existing File System Data" scan method is now available for free in Disk Drill Basic

new

narrow down to smaller found items in scanning results by using "less than" option in addition to "over" in list filters

new

updated version of Fuse for OS X

improved

Core Storage drives scanning

improved

interaction with app notifications through Notification Center and Growl

improved

scanning results consistency when loading previously saved scanning sessions

improved

UI translations

fixed

random crashes in HEX mode when previewing recoverable data

fixed

occasional freezing of the scanning progress bar in OS X 10.10.01
Download Disk Drill 2.4.414 now!
We are still working on a couple of additional fixes and improvements. And we might be getting closer to the first alpha version of Disk Drill 3. Oh yes, Disk Drill v3. Stay tuned, we'll be looking for some early beta-testers very soon.
.updated:
June 3, 2021
author: