Owners of Macs or MacBooks should be well acquainted with their computer's System Preferences. It's the command center from which you can control and personalize just about every aspect of your machine. You use System Preferences to do everything from changing your background picture to configuring your WiFi network. Familiarity with the options within System Preferences will help you achieve greater productivity and enjoyment from your Mac.
There are many reasons that might require you to access System Preferences and you may need to open them up while doing any number of other things on your computer. For that reason, we have compiled a list of the various ways that you can access System Preferences on your Mac. Here we go.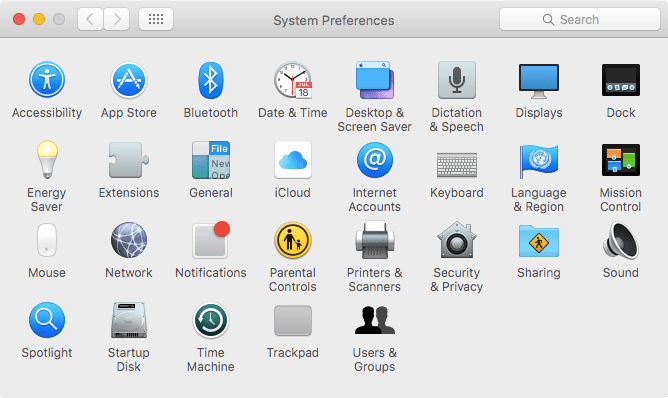 How to Access System Preferences on a Mac
Use Launchpad – You can open the Mac's Launchpad by clicking on its icon in the dock or via a hand gesture by pinching closed with your thumb and three fingers on your trackpad. Once Launchpad is open, simply click on the System Preferences icon to open it.
Use the Dock – You can choose to keep System Preferences in your Mac's dock so it is always easily available. If you decide to keep the System Preferences icon in the dock, you can access the various preferences in two different ways. A left click on the icon opens the preferences window where you can select the icon of the specific preference that you wish to display. You can also right click on the icon in the dock. This will present you with a list of the preferences so you can select the one you want without actually opening the System Preferences icon.
Use the Apple icon – Clicking on the Apple icon in the top left corner of your screen will open a menu. You can access System Preferences by selecting it from the menu and clicking. Using this method allows you to clear some dock space as the Apple icon is always just a single click away, making an easy and quick way to access the preferences.
Use Spotlight – Pressing the Command button and the Spacebar brings up a Spotlight search bar. Type in the preference you wish to access and select it from list of search results. You may need to modify your Spotlight settings to make sure that System Preferences are included in the search.
Use Keyboard Shortcuts – There are some default keyboard shortcuts that are built into macOS which offer access to specific System Preferences. After executing any of these shortcuts, the additional shortcut Command+L brings you to the complete list of System Preferences. The default shortcuts are:
Option + F1 or Option + F2 – accesses the Display settings
Option + F3 – accesses the Mission Control settings
Option + F5 or Option + F6 – accesses the Keyboard settings
Option + F10, Option + F11 or Option + F12 – accesses the Sound settings
You can create additional shortcuts which will allow you to access the important settings that you use regularly. The macOS user guide explains the process.
Customizing How Your System Preferences Are Displayed
The System Preferences window that opens when accessed by any of the methods outlined above provides you a default view of all the preferences available. The preferences are grouped by categories and by default all options are visible. You can make changes to this view which may make it easier for you to access the preferences that you want to use.
While accessing the System Preferences window, select View from the top menu. You can choose to 'Organize Alphabetically' or 'Organize by Categories' to change the order of the displayed preferences. You might find that one way is preferable to the other. Try it out.
You can also control which preferences are displayed. From the View menu, select 'Customize'. You will be presented with a display of the preferences icons and can select which ones to display by unchecking their checkboxes. If you find you only use a few preferences, this might appeal to you.
Using System Preferences is critically important if you want to personalize your computer and control various aspects of its operation. It's worth your time to see what you can do by accessing this part of your operating system.
.updated:
June 3, 2021
author: